specializing in sustainable and ecological designs, penda architects team up with wood consultants tmber to propose a modular and natural highrise tower in toronto. the tree tower is an 18-storey building that stands at 62 meters high, and will comprise 4500 sqm of residential areas and 550 sqm of public areas with a café, a children's daycare-center and workshops for the neighboring community. 

the tower tries to establish a direct connection to nature with plants and its natural materiality
head architects at penda chris precht and dayong sun believe that architecture serves as a bridge to connect nature, culture and people to strive for a better quality of living. 'our cities are an assembly of steel, concrete and glass. if you walk through the city and suddenly see a tower made of wood and plants, it will create an interesting contrast.' states precht. 'the warm, natural appearance of wood and the plants growing on its facade bring the building to life and that could be a model for environmental friendly developments and sustainable extensions of our urban landscape'.

trees and plants are also key components found on the building's façade
one of the key element in this project is the innovative use of wood and engineered wood technology found in the building. the tower is not only using massive wood panels as its main structural element, but has also timber clad panels as its façade. large out-door areas provide a space for herb and vegetable planters for the residents. the botany on the terraces offer a private garden for each apartments, which creates a certain degree of privacy within the density of the city. 'in a way, we are growing the material for an extension of the tower on its terraces', the architects joke. 'this connection helps further develop a true ecological high-rise, supplies its residents with fresher air and provides a lower carbon footprint.' says mark stein, CEO of tmber.

the trees also provide shade during the summer and helps to keep the temperature low on warm days

the extensive use of wood will set ambitious sustainability targets and will be a catalyst for similar developments in canada

the tower not only uses massive wood panels as its main structural element, but also uses timber clad panels as its façade

the tree tower is an 18-storey building that stands at 62 meters high

the project should be seen as a catalyst for future residential buildings that are more efficient to construct and more ecological to our environment
oct 31, 2017
oct 31, 2017
oct 17, 2017
oct 17, 2017
oct 06, 2017
oct 06, 2017
oct 02, 2017
oct 02, 2017
sep 29, 2017
sep 29, 2017
sep 13, 2017
sep 13, 2017
penda
(23 articles)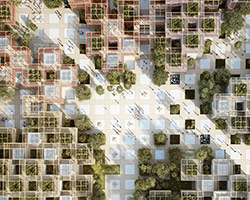 feb 08, 2017
feb 08, 2017
jul 21, 2016
jul 21, 2016
jun 24, 2016
jun 24, 2016
may 20, 2016
may 20, 2016
apr 07, 2016
apr 07, 2016
jan 07, 2016
jan 07, 2016