people's architecture office and people's industrial design office has completed the 'sliced house' project, a highly flexible work environment for xiaozhu, located within beijing, china's tech center. the startup company, which runs a peer-to-peer housing rental service, required an office interior fit for the fast-pace and unpredictable nature of their website. to match this, the 'sliced house' incorporates spaces and furniture that easily combine and separate mobile meeting rooms, as well as power outlets that swing to desired locations.

all images © people's architecture office
the interior design by people's architecture office, inserts the casual comfort of home life within the workplace through an array of various domestic spaces. in doing so, the 'sliced house' has been divided up, featuring small rooms split around an open, shared interior. these more private areas offer an impression of domesticity, including a kitchen, living room, and bedroom. within the large flexible zone, converted tricycles create workspaces and informal meeting rooms on wheels.
within the beijing-based office, it features custom-designed furniture by PIDO (people's industrial design office). included in this are the long span cantilevering tables that offer undisrupted space underneath for great seating flexibility. furthermore, the numerous mobile tetris tables can be detached, combined, and rearranged to form work stations for groups or individuals. additionally, large red 'umbrellas' swivel to different locations, providing overhead lighting as well as a electricity outlets.
project info:
client: xiaozhu.com
location: beijing, china
completed: july 2016
principals: he zhe, james shen, zang feng
project team: jiang hao, zhang zhen, amy song, ren depei, chen yihuai
photography: people's architecture office
Save
Save
Save
jul 28, 2017
jul 28, 2017
jul 27, 2017
jul 27, 2017
jul 19, 2017
jul 19, 2017
aug 19, 2017
aug 19, 2017
aug 17, 2017
aug 17, 2017
aug 12, 2017
aug 12, 2017
jul 26, 2017
jul 26, 2017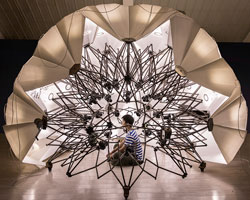 may 23, 2017
may 23, 2017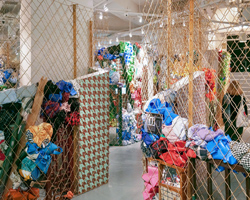 jan 23, 2017
jan 23, 2017
aug 19, 2017
aug 19, 2017
aug 19, 2017
aug 19, 2017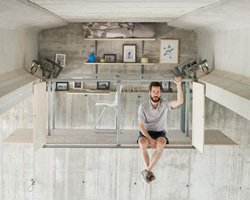 aug 17, 2017
aug 17, 2017