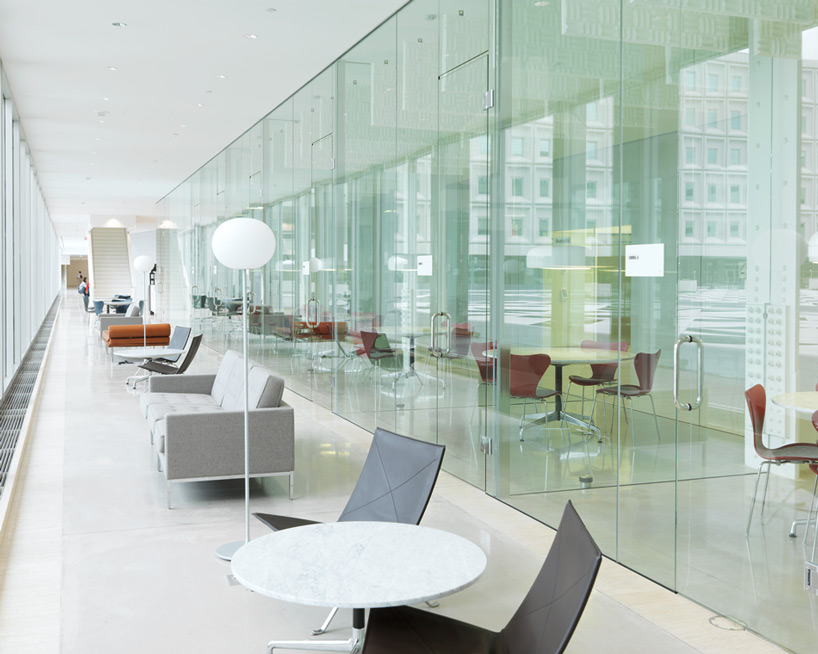 jul 06, 2014
peter ebner and friends transforms 3M headquarters in minnesota
peter ebner and friends transforms 3M headquarters in minnesota
photo © paul ott
all images courtesy of peter ebner and friends
the global headquarters for the 3M company, located in st. paul, minnesota, has underwent extensive renovations involving a team of architects including atelier hitoshi abe and peter ebner and friends. either firm had separate responsibilities in the transformation of the corporation's work complex, which is comprised of four structures surrounding a central square that previously served as a parking lot. specifically, peter ebner carried out the redesign of the lower two floors of the main office tower (known as 'building 220'), a new media and conference building ('the exchange'), as well as the addition of a large landscape park on the edge of the site.
see designboom's coverage on the portion completed by atelier hitoshi abe here.

meeting areas on the ground floor are visually open to promote transparency among the company
photo © paul ott
originally built in the 1960s, 'building 220' is a 14-storey structure distinguished by its pleated glass façade. the ground floor has been rearranged with the reception area on the south and a meeting area occupied by a series of glass pods on the north. the former is accessed by a round-about driveway, and faces toward a large garden, while the latter opens toward the site's central plaza.

facing the central courtyard, a row of pods with glass partitions allow for small meetings
photos © paul ott
the project includes a variety of meeting areas which vary in size, but are all consistently treated with glass partitions to promote visual openness. this includes a row of pods along the north façade, for smaller gatherings, as well as more formal and more private conference rooms.
additionally, open and collaborative work is encouraged in a communal space on the north side of the first floor. a 42-meter length bank of tables lines the room, with embedded touch screen computers, which allow employees to communicate via digital and analog means simultaneously.

a long table of touch screen computers allows employees to work communally rather than in private offices
photo © paul ott

photo © paul ott

conference rooms are similarly treated with glass partitions for visual openness
photo © paul ott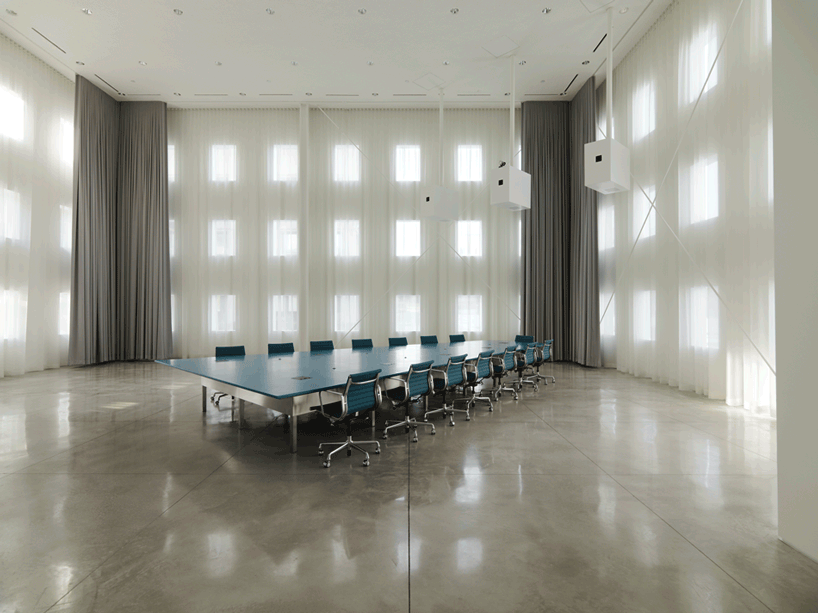 a double height conference room known as 'the exchange' features a variety of presentation methods
photos © paul ott

a spacious multipurpose space serves for larger presentations and events
photo © paul ott

'building 220' is distinguished by its pleated curtain wall façades
photos © paul ott

'the exchange' media box structure is comprised of three rows of windows
photo © paul ott
apr 05, 2017
apr 05, 2017
jul 30, 2016
jul 30, 2016
apr 17, 2016
apr 17, 2016
apr 06, 2014
apr 06, 2014
nov 10, 2012
nov 10, 2012
jul 21, 2017
jul 21, 2017
jul 16, 2017
jul 16, 2017
jul 11, 2017
jul 11, 2017