nov 09, 2014
peter haimerl tilts stone-clad concert hall in blaibach, germany
peter haimerl tilts stone-clad concert hall in blaibach, germany
photo © edward beierle
all images courtesy of peter haimerl architektur
as part of an urban redevelopment project aimed at revitalizing the center of blaibach, germany, architect peter haimerl has designed the town's concert hall as a stone clad rectangular volume, which emerges from the ground with an inclined orientation. the building's tilt produces the slope necessary for the auditorium's seating, while also creating the building's main entry from the adjacent public square. inside, the hall's surfaces are made of overlapping pre-cast concrete panels, whose composition conceals the lighting and regulates acoustical qualities of the space.
from the exterior, the concert hall reads as a stone-clad rectangular volume, angled at an inclined orientation
photo © edward beierle
when entering the building from blaibach's new village square, guests descend down a staircase beneath the angled volume, to reach a wood-clad foyer containing access to functional areas such as the wardrobe, bathrooms, and bar. the space circulates around the tilted volume, leading to the inner concert hall.
the building's main entry is accessed by a stair descending beneath the tilted mass
photos © edward beierle
inside the hall, a series of angular layers overlap with an orientation to the stage below. LED bulbs are discretely integrated within the walls and ceiling, to produce gradients of indirect light across the unfinished and variably-textured concrete surfaces. the auditorium's seating is intended to be visually transparent and seemingly floating, composed of steel wire chairs supported by slender fins beneath. the space's stage has been designed for the particular conditions of musical performances, as opposed to being flexible for multifunctional purposes.
the hall's surfaces are made of overlapping pre-cast concrete panels
photo © edward beierle
LED bulbs are discretely integrated within the walls and ceiling, to produce gradients of indirect light
photo © edward beierle
photo © edward beierle
seating is intended to be visually transparent, composed of steel wire chairs supported by slender fins beneath
photos © edward beierle
photos © edward beierle
the subterranean foyer area
photos © edward beierle
the space and stage have been designed for the particular conditions of musical performances
photo © edward beierle
apr 25, 2017
apr 25, 2017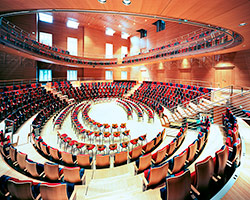 mar 11, 2017
mar 11, 2017
mar 06, 2017
mar 06, 2017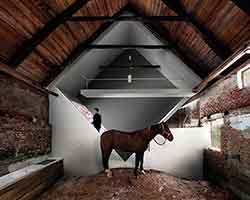 nov 15, 2015
nov 15, 2015