sep 15, 2016
peter zumthor to extend fondation beyeler art museum in switzerland
peter zumthor has been chosen to extend the fondation beyeler, an art museum located near basel in northwest switzerland. the extension will be constructed on a previously private plot of land, which, in a manner similar to the surrounding parkland, will be made completely accessible to the public. italian architect renzo piano designed the institution's existing building, which opened in 1997.
zumthor was selected by an international board composed of prominent figures, who noted the swiss architect's experience in the successful design of museum buildings. 'the sky above basel, the city and its surroundings — those are the landscapes of my youth. it is heart-warming to be able to design a major building here,' comments zumthor.

 the existing fondation beyeler building was designed by italian architect renzo piano
 image by mark niedermann
the fondation beyeler extension is being privately financed, and is expected to cost CHF 80 million ($82.2 million USD) — over half of which has already been committed. 'we are delighted to have secured one of the world's best architects as a partner for the project,' says hansjörg wyss, president of the beyeler-stiftung and the evaluation board, as well as the project's initiator. atelier peter zumthor & partner's design will be revealed later in 2016, after it has undergone further development.
portrait of peter zumthor is by martin mischkulnig, courtesy atelier peter zumthor & partner.
Save
Save
Save
Save
Save
Save
Save
Save
Save
Save
Save
Save
Save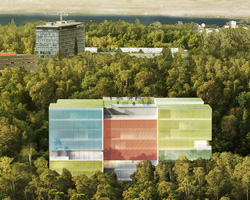 oct 31, 2017
oct 31, 2017
oct 31, 2017
oct 31, 2017
oct 23, 2017
oct 23, 2017
oct 03, 2017
oct 03, 2017
sep 21, 2017
sep 21, 2017
sep 19, 2017
sep 19, 2017
oct 30, 2017
oct 30, 2017
sep 22, 2017
sep 22, 2017
jul 26, 2017
jul 26, 2017