swiss architect peter zumthor has presented plans to extend the fondation beyeler, an art museum located near basel in northwest switzerland. the addition will be constructed on previously private land, thus creating an expanded green space that encompasses the museum's current park. the project, which is expected to cost in the region of CHF 100 million (approx. $100 million USD), seeks to make the institution more welcoming and accessible for visitors. 'I want to create buildings that are loved,' says peter zumthor. 'having the chance to do so in basel, the city of my youth, is a particular honor for me.'

all images courtesy of atelier peter zumthor & partner
fondation beyeler identified that its current building, completed by renzo piano in 1997, did not contain suitable rooms for cultural events, education, entertainment, and recreation — activities fondation beyeler says are integral to museums in the 21st century. until now, these events have been held in gallery spaces, not configured to host such programs. the extension will also provide additional galleries, allowing more of the growing art collection to be permanently presented.

the expanded green space encompasses the museum's current park
referencing the region's village-like character, zumthor's design distributes the various functions between three relatively small buildings, which blend into the natural environment. the plans include a simple service building for administration and deliveries, a transparent pavilion for events, and a 'house for art'. the ensemble of structures creates a link between the existing and acquired parks, which were both designed by landscape architect jean-françois caillat in the early 19th century.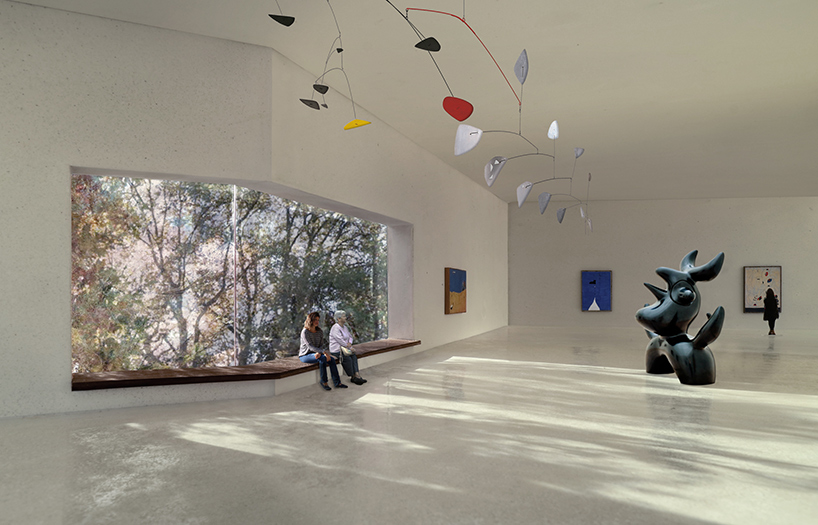 inside the 'house for art'
© successió miró / calder foundation, new york / art resource, NY / 2017, prolitteris, zürich
'peter zumthor brings great experience to the construction of cultural buildings and has the necessary sensitivity to build a museum of outstanding quality in this very special spot in the heart of riehen,' states sam keller, director of the fondation beyeler. 'the interaction between human beings, nature, art and architecture that has always characterized the fondation beyeler will be as successfully achieved as it was twenty years ago by renzo piano.'

the 'house for art' on the left, and the events pavilion to the right
the extension project — which includes the acquisition of the land and existing buildings, the funding of the new structure, and operating and maintenance costs for the first ten years — is being privately financed, with half of the CHF 100 million budget already committed. see designboom's previous coverage of the project here.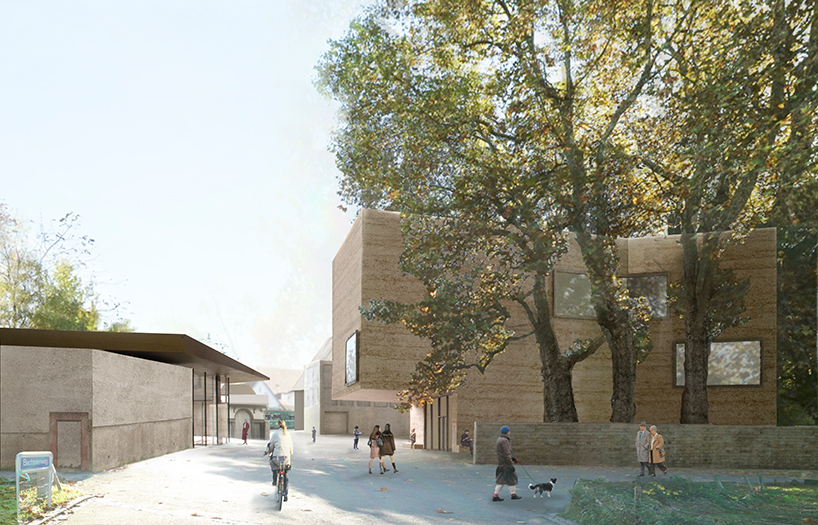 the ensemble of structures creates a village-like community
Save
Save
Save
Save
Save
Save
Save
Save
Save
Save
Save
Save
Save
oct 03, 2017
oct 03, 2017
sep 21, 2017
sep 21, 2017
sep 19, 2017
sep 19, 2017
aug 24, 2017
aug 24, 2017
aug 01, 2017
aug 01, 2017
jul 04, 2017
jul 04, 2017
sep 22, 2017
sep 22, 2017
jul 26, 2017
jul 26, 2017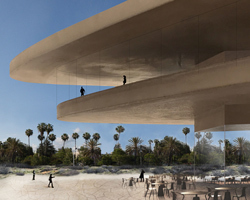 apr 10, 2017
apr 10, 2017