pezo von ellrichshausen completes first holiday home for solo houses

pezo von ellrichshausen has designed the first home for the solo houses series. now an annual initiative, emerging prominent architecture firms are tasked with encapsulating their design philosophies within a 200 square meter vacation home. innovation and creativity are limitless, providing designers with an opportunity to propose ideal structures with viable budgets. a hollowed monolithic concrete form rises above the landscape providing panoramic views of the matarranya region of spain.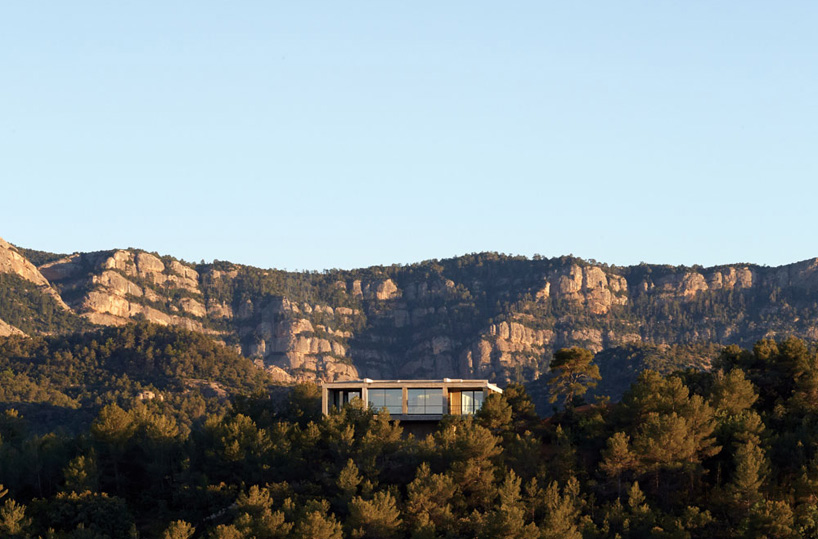 'solo pezo' by pezo von ellrichshausen architects for SOLO HOUSES
image © cristobal palma, courtesy of solo houses (also main image)
a substantial base is hidden among the surrounding trees, allowing the inhabitable element to float above the canopy. the volume is rotated such that the corners point in cardinal directions. the circulation consists of a focal courtyard containing a pool, which extends choreographed views through punched fenestration. thick interior concrete walls contain elements needed for service functions while simultaneously providing a heightened sense of privacy and enclosure.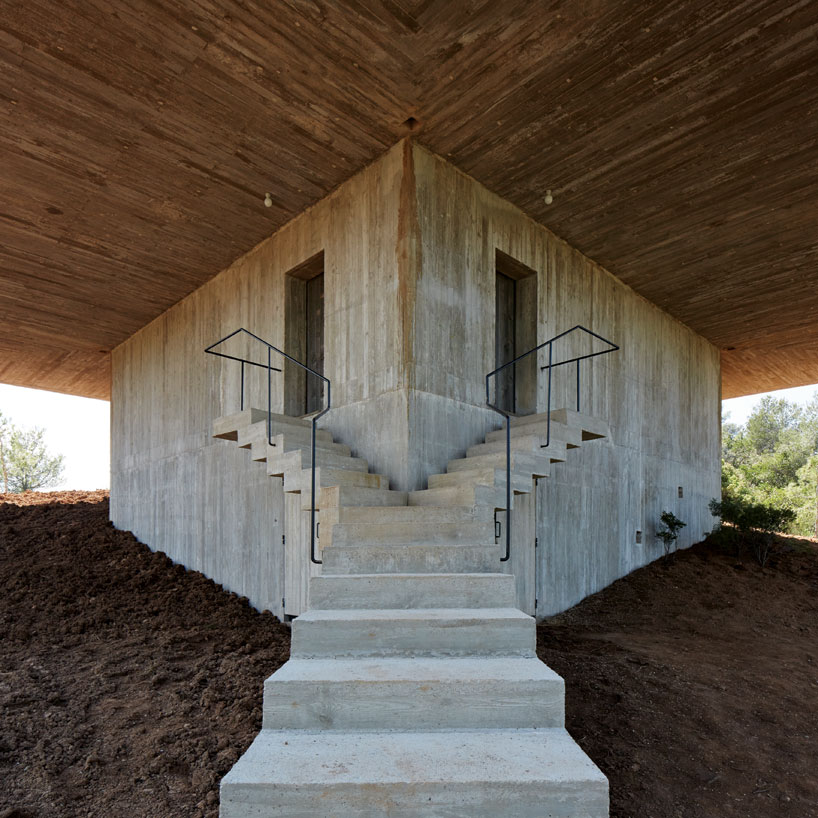 the symmetrical entrance introduces the monolithic concrete structure, emphasizing strong verticals and horizontals
'solo pezo' by pezo von ellrichshausen for SOLO HOUSES
image © cristobal palma, courtesy of solo houses
living spaces are swept to the perimeter veranda, which serves as a hybrid observation platform with full-height windows that fold back to become and open air balcony. the programs flow seamlessly together, encompassing the inner court without partitions. impressions from the wooden form-works create a surface texture on the monochromatic facade and gives scale to the continuous room. a photovoltaic solar system for electricity, closed loop underfloor radiant heating, onsite waste decanting and water storage create a self supporting and energy efficient residence. further exploration is accommodated on the concealed roof carpeted with native vegetation.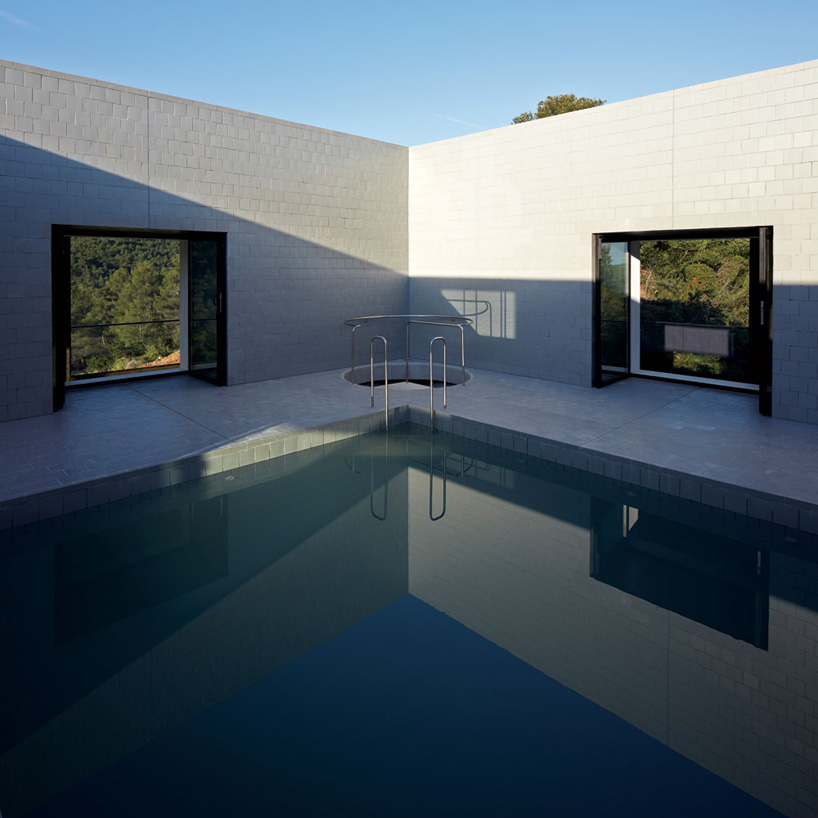 tiled walls surrounding the pool provide important shade for cooling in the mediterranean heat
'solo pezo' by pezo von ellrichshausen for SOLO HOUSES
image © cristobal palma, courtesy of solo houses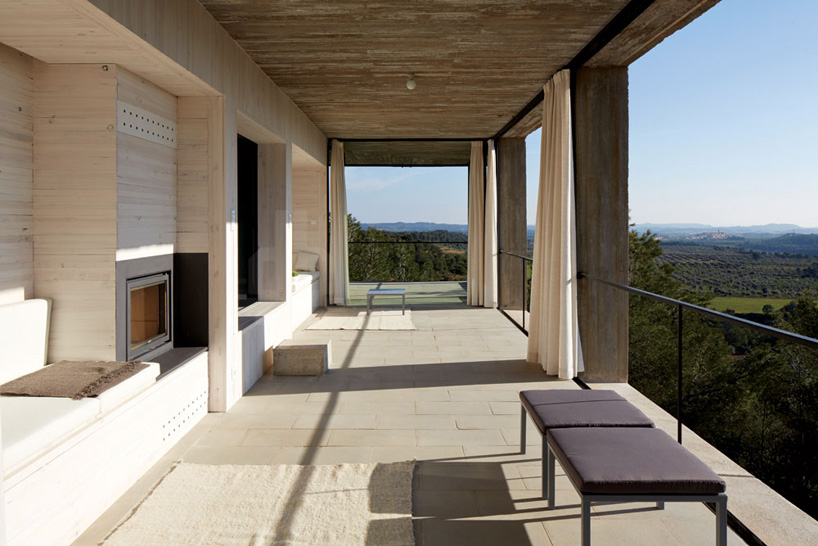 the simplicity of relaxation is expressed with minimal furniture designed by the architects
'solo pezo' by pezo von ellrichshausen for SOLO HOUSES
image © cristobal palma, courtesy of solo houses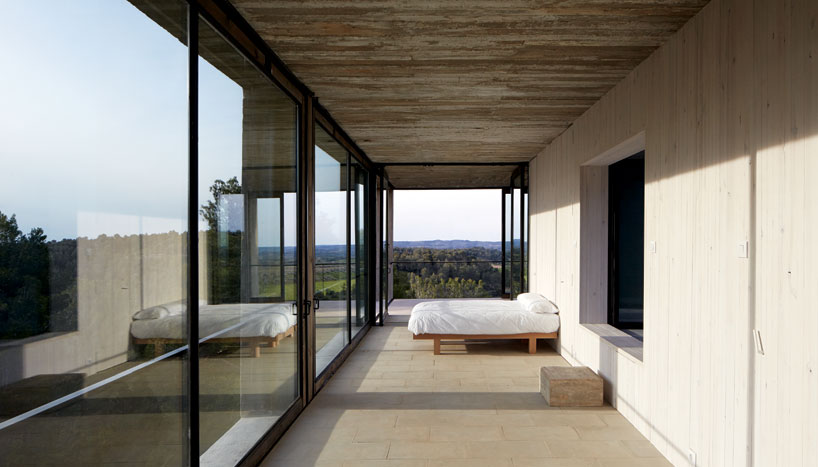 'solo pezo' by pezo von ellrichshausen for SOLO HOUSES
image © cristobal palma, courtesy of solo houses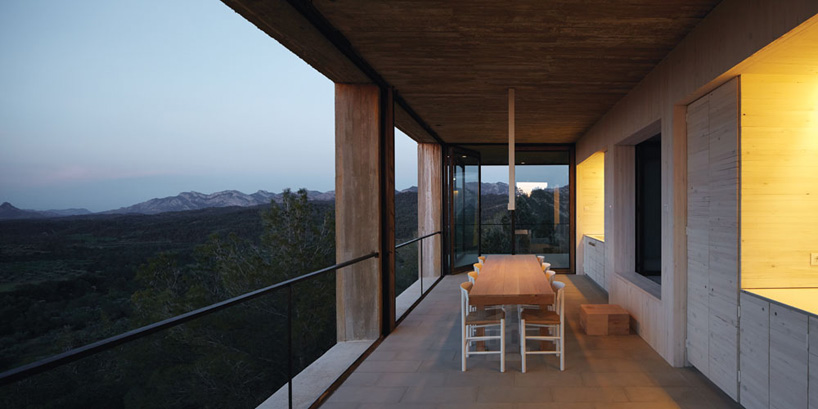 'solo pezo' by pezo von ellrichshausen for SOLO HOUSES
image © cristobal palma, courtesy of solo houses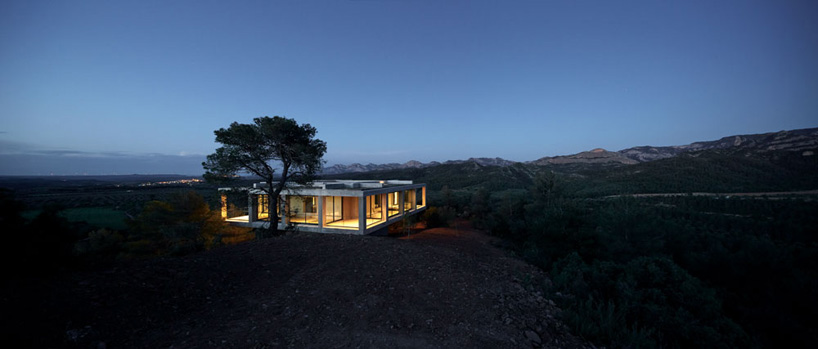 the floating platform dominates the valley
'solo pezo' by pezo von ellrichshausen for solo houses
image © cristobal palma, courtesy of solo houses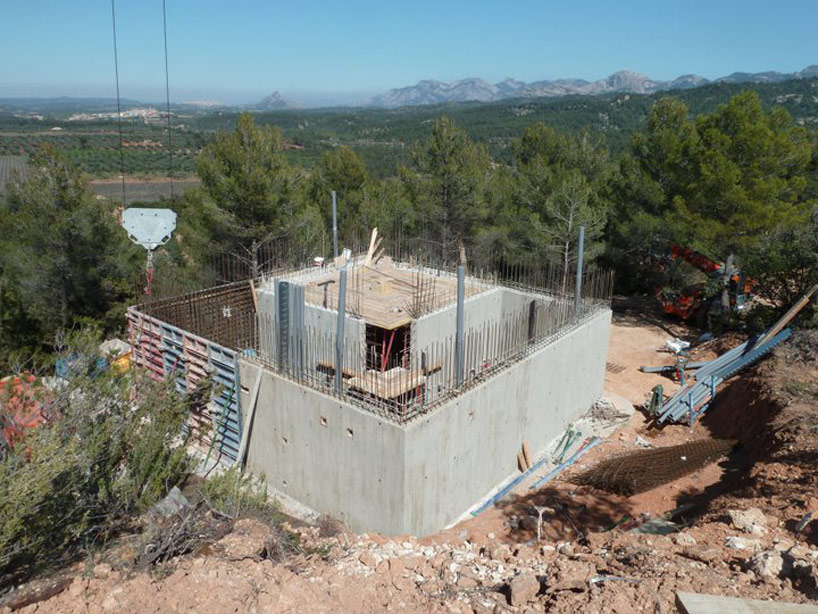 image courtesy of solo houses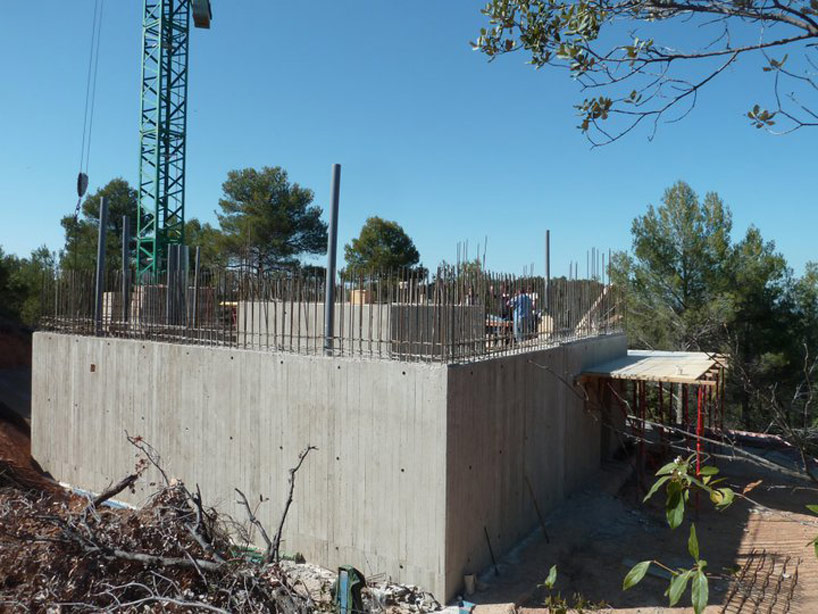 pouring the foundation structure
image courtesy of solo houses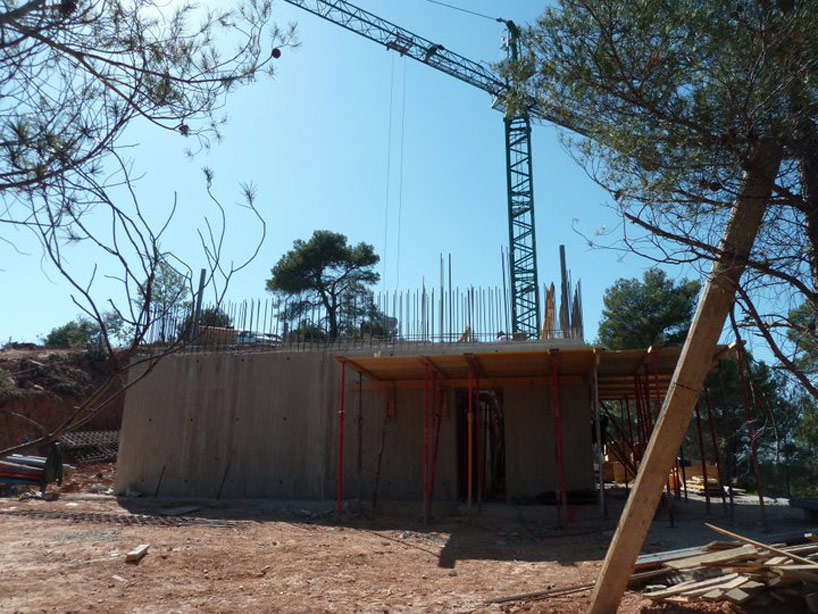 image courtesy of solo houses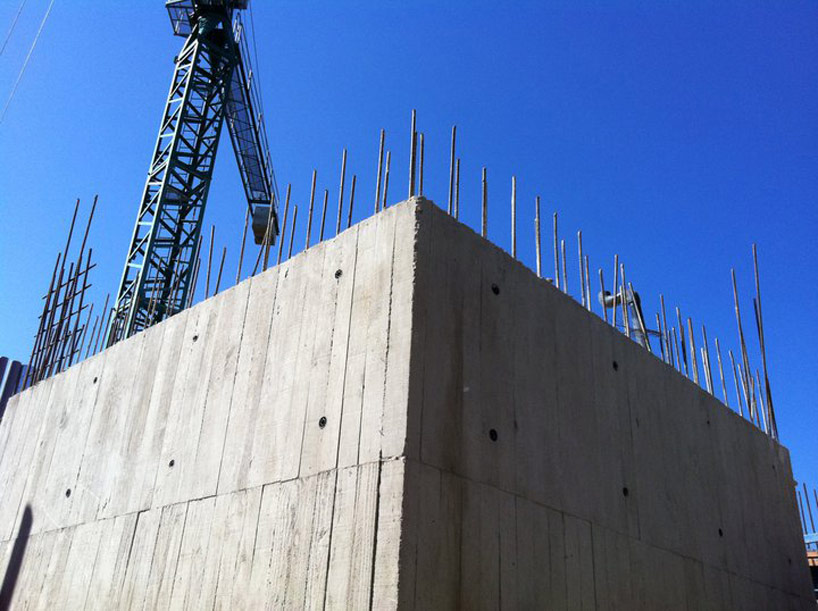 exterior wall detail
image courtesy of solo houses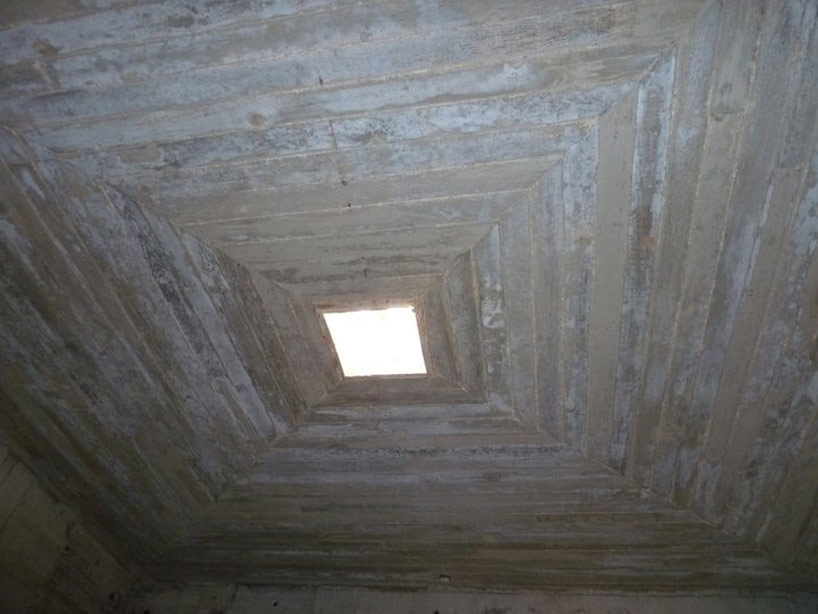 interior detail
image courtesy of solo houses

rising high above the tree tops, the house has 360 degree views of the matarranya region
image © solo houses

full-height windows that fold back completely allow play between open and enclosed exterior along the terrace
image © solo houses

veranda overlooking the surrounding landscape
image © solo houses

enclosed pool area with selected views of the surrounding landscape
image © solo houses

floor plan / level 0
image © solo houses

floor plan / level 1
image © solo houses

section
image © solo houses

section
image © solo houses

elevation
image © solo houses

elevation
image © solo houses

section perspective
image © solo houses

model
image © solo houses

process sketch
image © solo houses

process sketch
image © solo houses

project info:
location: polygon 13, parcel nº 245, cretas, teruel province, spain
architects: mauricio pezo, sofia von ellrichshausen
associated architects: alberto haering, gonzalo urbizu
collaborators: bernhard maurer, valeria farfan, eleonora bassi, ana franzisca freese
construction: estentor, oscar arias and oscar martin
Save
Save
lauren grieco
I designboom
jun 23, 2013
more comments