jun 12, 2013
playze: tony's organic club, shanghai, china
playze: 'tony's organic club', shanghai, china
photo © bartosz kolonko
all images courtesy of playze
the shangahi-based office of international firm playze continued their commitment to sustainability with 'tony's clubhouse', a showroom and restaurant space that reuses an unclaimed pavilion, exemplifying a shared vision between client and architect — promoting a natural lifestyle. located in the burgeoning financial district of lujiazui, the new club house takes advantage of a building constructed for the pudong landscape masterplan. with no particular program in mind, the edifice sat unused for decades. having fallen into disrepair, it was in need of a proven occupant. playze and tony's have already successfully shown that consumers, farm production and the built environment need not be separate entities with 'tony's farm' (see more about the project on designboom here). thus, the extension of the program already established by one shanghai's largest organic farms, fit. 
defined by its series of shaded curtain walls, the clubhouse is home to an organic restaurant and VIP dining areas as well as a semi-private balcony, exhibition stair and show kitchen. a vertical hierarchy of privacy is further established by the high-performance building envelope, in which ropes act as a shade structure according to solar movement. the curtains of rope torque to create a dynamic building facade as well as a perforated skin that minimizes energy loss, increasing the sustainability of this urban agricultural archetype. composed of two overlapping layers of different colored cords results in a moiré effect. 

a fabric skin provides sun shade and contrast to the hard-surfaced context
photo © bartosz kolonko 

the color and form of the applied facade are indicative of the organic program inside
photo © bartosz kolonko 

panels can be rotated electronically by the user according to the desired level of privacy and shading
photo © bartosz kolonko

'tony's organic club' joins the pudong skyline
photo © bartosz kolonko 

46 individual strings make up each panel, allowing more flexibility than a solid textile
photo © bartosz kolonko 

show kitchen
photo © bartosz kolonko
the interior is a composition of oak boxes which create a pixelated assemblage that carries out through the three lower floors of the building. these cubes can be arranged in specific layouts according to the various events held within–from presentations, exhibitions, public receptions and infrmal meetings a public restaurant, private dining rooms and organic food store visually and physically connect the spaces. the fourth floor is dedicated to executive clientele, with an open kitchen that opens up onto a large terrace offering views across the river to puxi.

dining area
photo © bartosz kolonko

bar and restaurant at the ground floor
photo © bartosz kolonko 

locally sourced wood is used throughout the project, giving warmth to the expansive space
photo © bartosz kolonko 

flexibility of the arrangements of platforms at the stair accommodate a wide variety of presentations, exhibitions, receptions, and meetings
photo © bartosz kolonko 

after falling into dis-repair the pavilion was renovated with a new floor and split level accommodating the vip dining area
photo © bartosz kolonko 

led lights illuminate each panel of the facade
photo © bartosz kolonko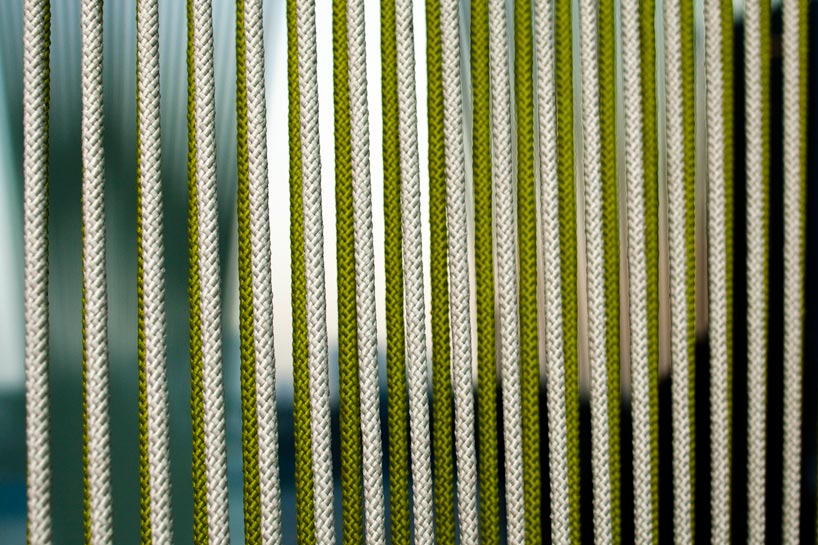 detail of the double layer of strings
image © peter dixie/lotan architectural photography

(left): bi-colored dual layered strings create a moiré effect
(right): skin detail. 
image © peter dixie/lotan architectural photograph
project info:
client: tony's farm
architect: playze
location: shanghai, china
completed in: january 2013
built area: 1230m2
team: mengjia he, pascal berger, marc schmit, martina knotkova, mching wang, didier callot, felix zheng, maggie tang, benny hou, daisy yuan, james liu, chao yu
light design: unolai
photo credits: bartosz kolonko
playze
(3 articles)
oct 14, 2014
oct 14, 2014
dec 04, 2012
dec 04, 2012