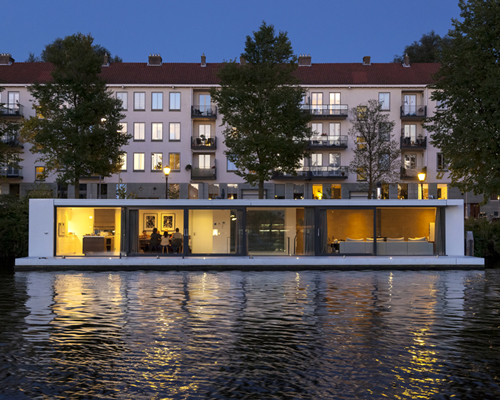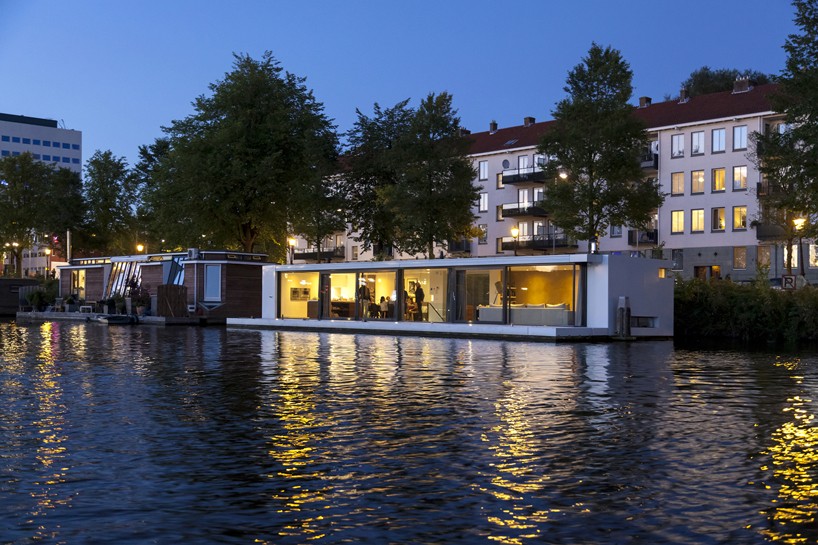 nov 02, 2015
live on the river with +31 architects' floating villa in amsterdam
live on the river with +31 architects' floating villa in amsterdam
all images by ewout huibers
multidisciplinary practice +31 architects have docked their watervilla design on the river amstel in amsterdam. a growing number of river-based homes have been realized not only for its distinctive location but it is one solution to help protect the land against flooding. due to its flexible connection to the quay, the buoyant construction adjusts to the rise in water when the tide changes. the form of the floating homes is based on a hollow concrete box and a solid pontoon; allowing it to be lighter than the water itself. evoking a feeling of being on vacation, the watervilla is characterized by its long, rectangular construction with a perforated glass façade.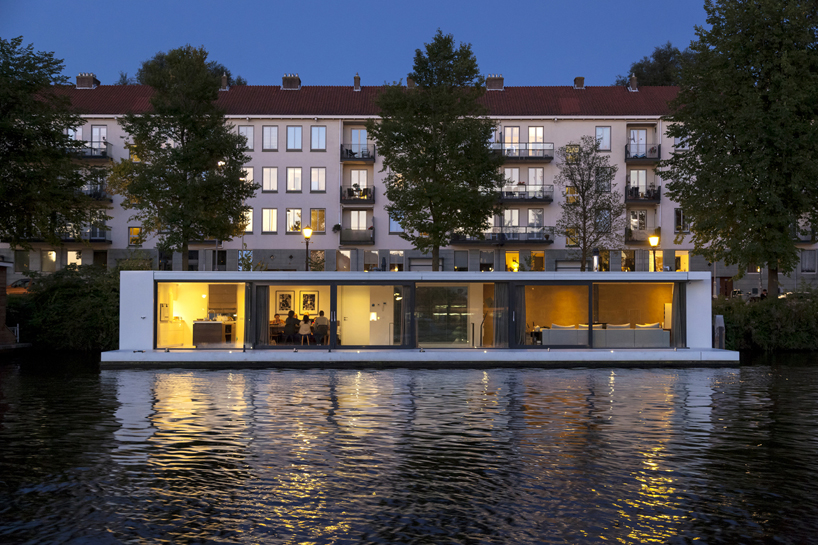 floating homes have become a more popular option in the netherlands
large sliding doors open up to a terrace to reveal its waterside location, offering a smooth transition between inside and out. a lower floor is connected by a floating staircase which descends down a void- stimulating visual drama, while making the home feel larger. contemporary furnished details have been integrated to further enhance the living space. environmental aspects have also been taken into consideration, this includes three large sun screens that are positioned flush to the flat roof and are electronically powered to slide automatically depending on the temperature – promoting a cooling effect throughout the home.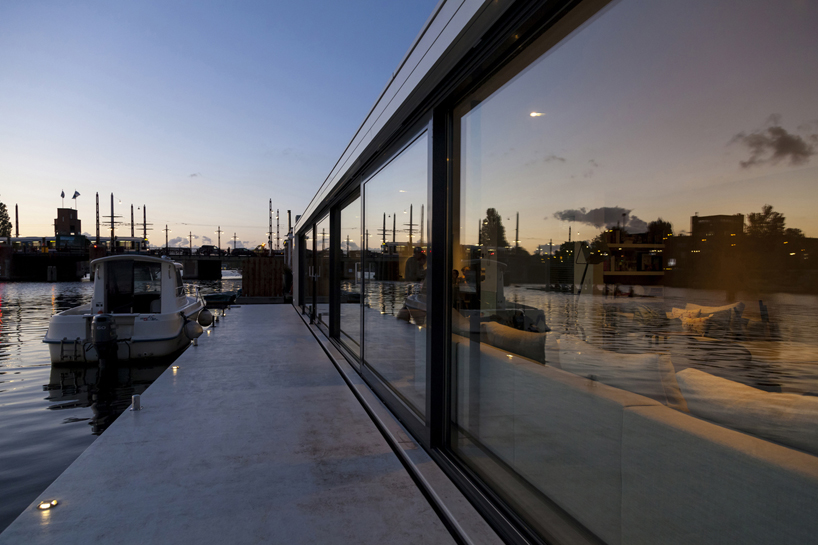 to promote the interaction with the outside, a floating terrace is moored along the entire length of the villa
'in our approach for designing houseboat architecture we always look for a contemporary and modern design without losing the characteristics of the typical houseboat. the biggest inspiration is the water itself. in our design we try to maximize the view to the water and if possible make the living areas as close to the water as possible so you are able to feel and even touch it.' – +31 architects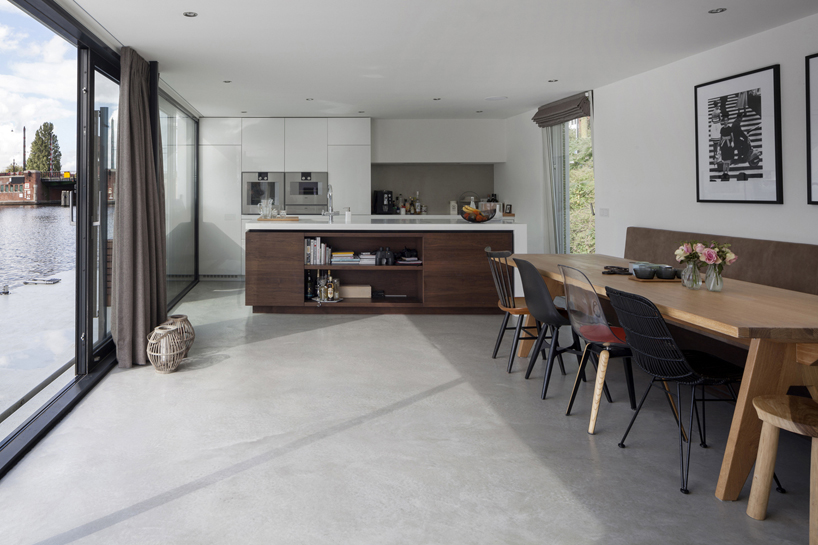 the main living area faces out towards the river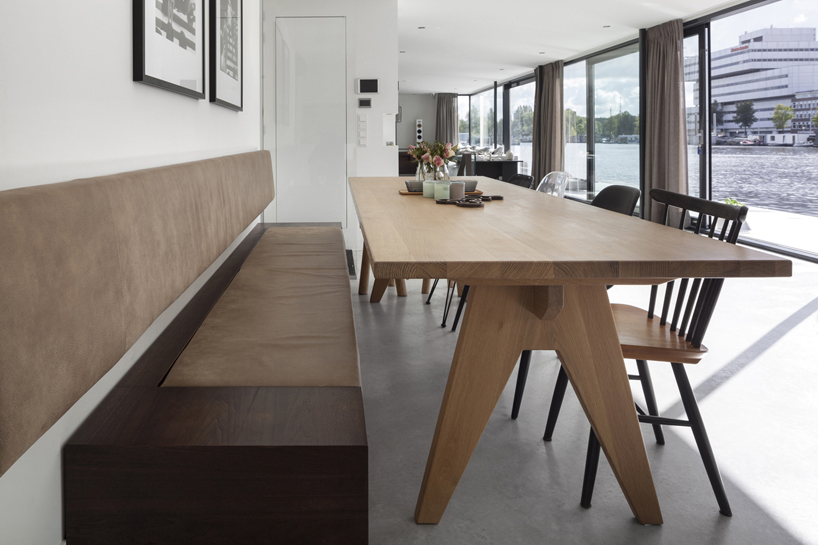 the construction automatically rises with the water when the tide changes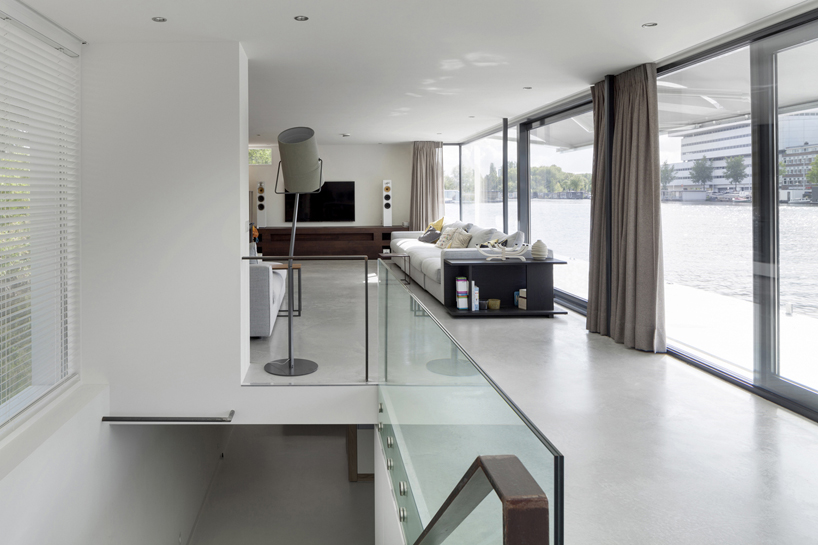 three large sun screens are integrated into the edge of the flat roof which open and close automatically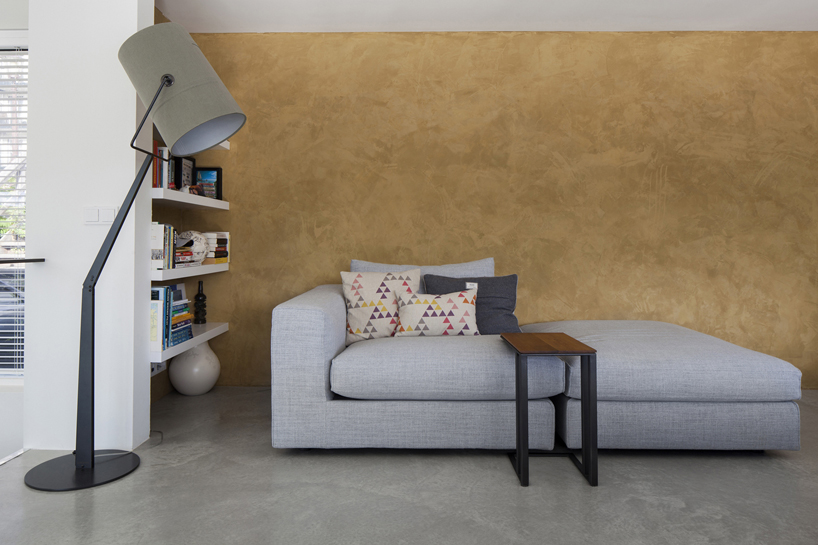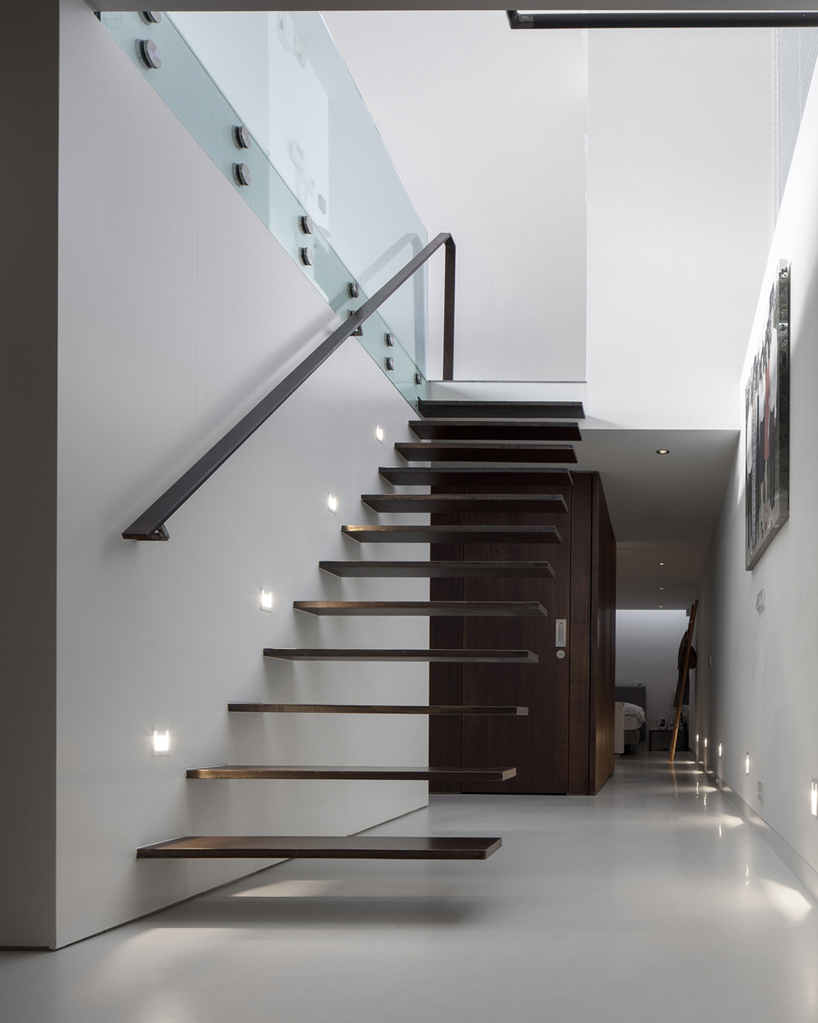 a floating staircase leads to the downstairs level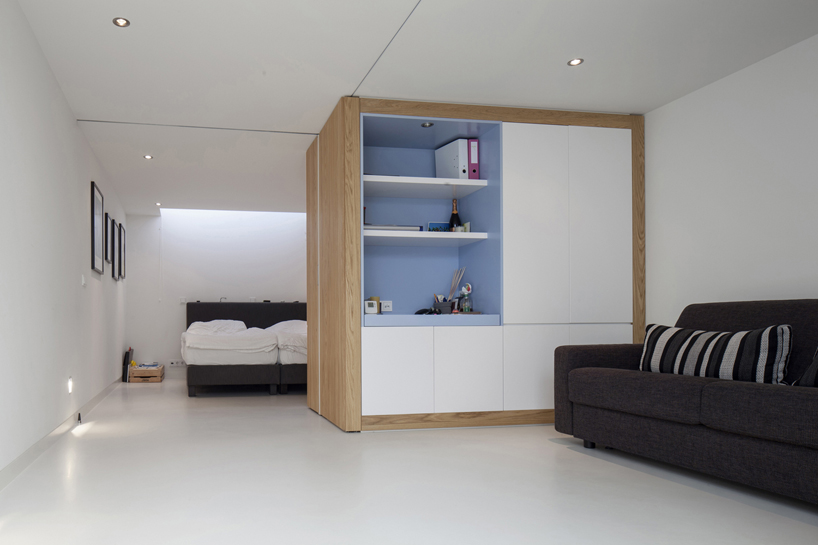 the bedroom and bathrooms are situated on the lower floor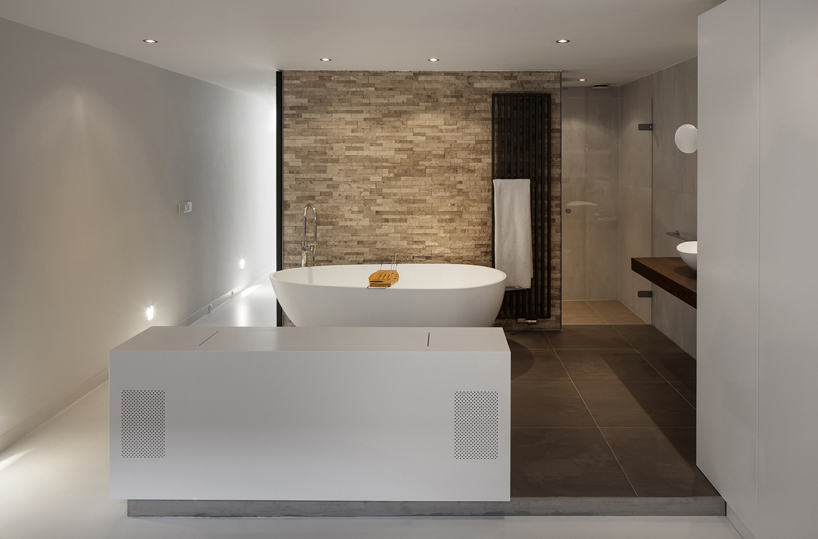 the lower ground bathroom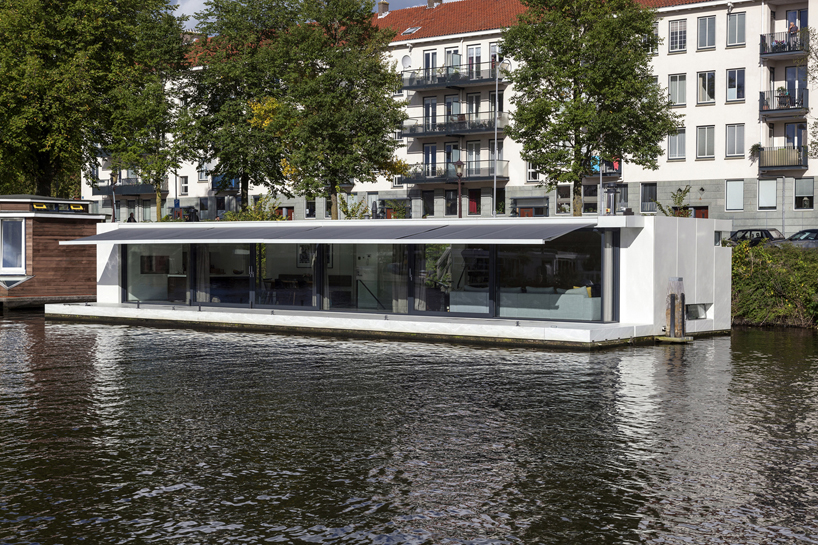 absence of a physical barrier between the living area and the terrace invites people to take a dive into the river amstel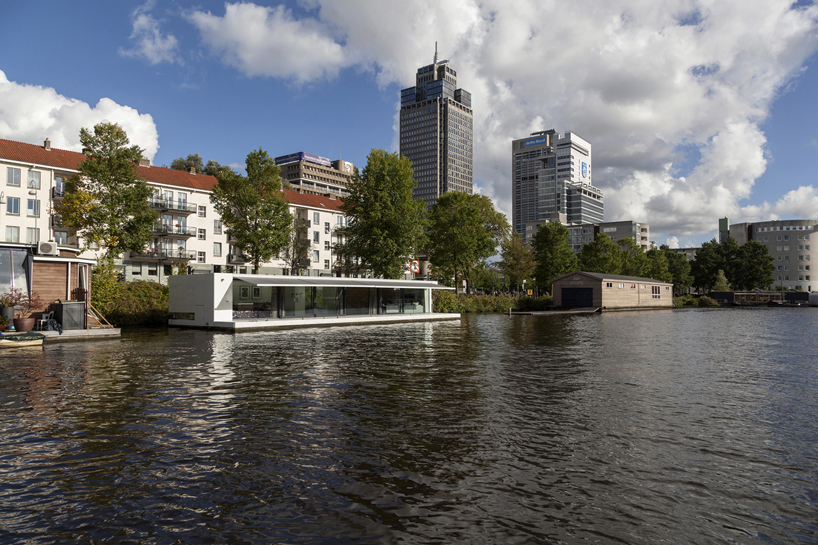 most part of the netherlands lies beneath sea level, to protect the against flooding, dikes and dunes have been built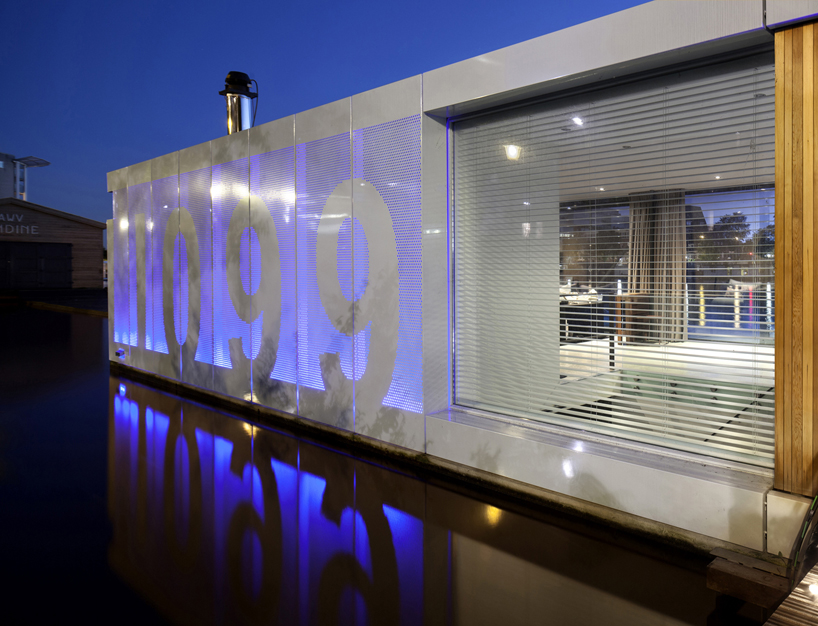 depth was added to the facade by a subtle pattern of perforations on the façade
project info:
architect: +31architects
project team: jasper suasso de lima de prado and jorrit houwert
location: weesperzijde 1099, amsterdam, netherlands
client: private
building contractor: post arkenbouw, marknesse
cabinets: forsa meubels, utrecht, the netherlands
key materials: aluminium cladding by kamplacon and aluminium windows by sapa
built-up floor area: 200 sqm
year of completion: 2015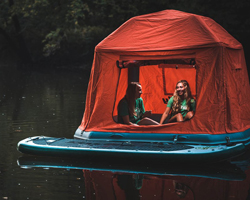 oct 10, 2017
oct 10, 2017
oct 04, 2017
oct 04, 2017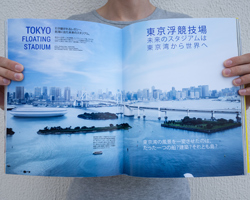 jun 22, 2017
jun 22, 2017
jun 11, 2017
jun 11, 2017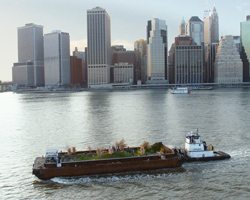 may 30, 2017
may 30, 2017
may 19, 2017
may 19, 2017
nov 18, 2010
nov 18, 2010