simpsonhaugh and partners is a UK architecture firm with offices in both manchester and london. founded in 1987 by rachel haugh and ian simpson, the studio has compiled a wide-ranging portfolio of award-winning projects, united by the underlying themes of urban renewal, sustainability, and a desire to conceive appropriate forms for emerging typologies. to find out more about the projects that simpsonhaugh is currently working on, designboom spoke with architect rachel haugh, who also discussed what can be done to ensure that more women are able to continue within the profession. read the interview in full below.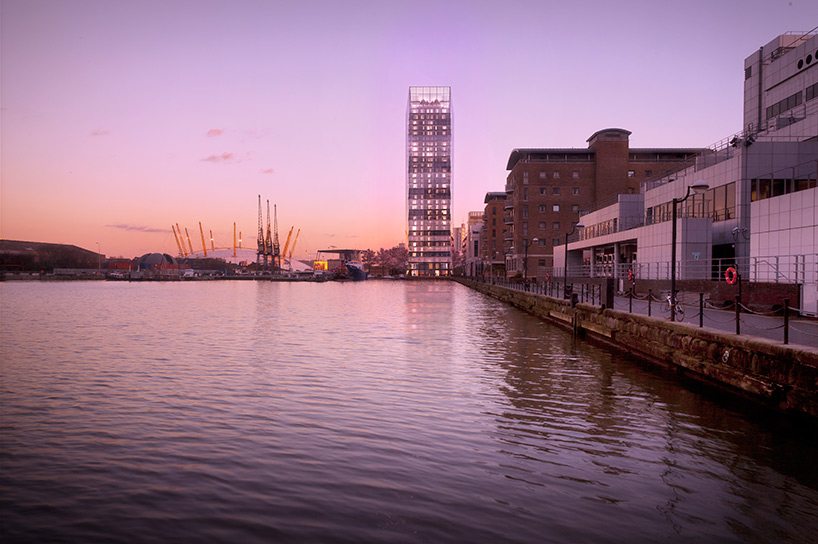 dollar bay, london
(main image: one blackfriars, london | both images courtesy of simpsonhaugh)
designboom: you are currently working on two skyscrapers in the center of london. can you talk about the challenge of designing a highrise building within such a complicated urban fabric?
rachel haugh: there are two key challenges when designing a highrise building: the building's relationship with street and place, and its contribution to the city's skyline. firstly, it is fundamental that the building contributes at an urban design level and integrates with the street to create a sense of place. it should add to the public realm and be accessible and intriguing. the building should also contribute to a city's skyline and complement both the historic and contemporary structures. it should hopefully be a beautiful addition to a city's silhouette and provide an elegant marker for place.
it is possible to design beautiful, elegant and appropriate solutions and create new homes that can actually contribute to a city at street level and skyline and reinforce the historical context. london is a world city, it needs to evolve and grow and it needs to be brave and proactive in its vision and embrace change.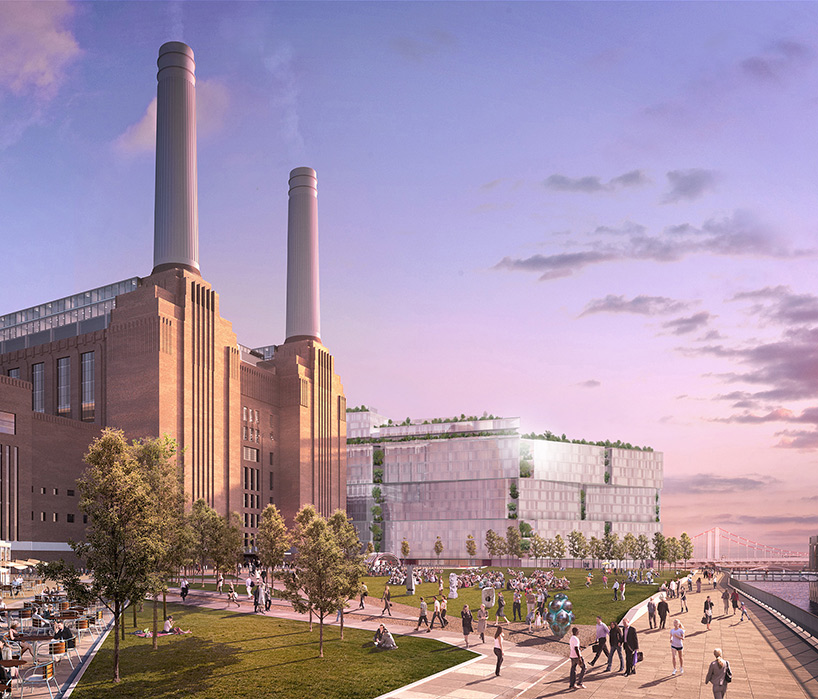 battersea power station phase 1, london
image courtesy of simpsonhaugh
RH (continued): our proposals for a major new mixed-use development at one blackfriars include a 170m tower at the bridgehead that joins the sequence of landmarks along the southbank. the tower is one element in a composition of three forms that are sensitive to the urban grain and that also define new pedestrian routes through the site which converge in an inviting landscaped plaza.
the elegant expression of the tower creates a beautiful new silhouette on london's skyline. it's slender raking volume minimises the tower's footprint and maximises the extent of the public realm. the tower combines a variety of apartment types and includes a viewing lounge. a podium building contains leisure facilities, bars and restaurants thus animating the street frontages and populating the plaza. hovering above the podium along rennie street is a 4 storey linear form that houses the bedrooms of the hotel. these three buildings are arranged around the new public plaza and provide 273 apartments, 161 hotel bedrooms and 10,000sq ft of retail floorspace.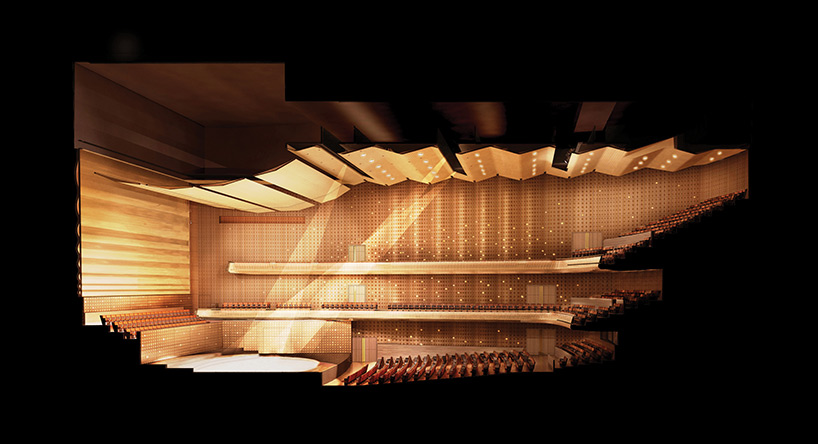 queen elisabeth hall, antwerp
image courtesy of simpsonhaugh
DB: many of london's recent tall buildings have proved controversial. is that something you think about when taking on these big projects?
RH: no, we focus on our own projects and the issues affecting these. anything new is generally controversial but if it's well-designed and beautifully crafted, any low or high-rise building has the means to embed itself successfully in to a city's context.
DB: the battersea power station project is a particularly exciting development. can you tell us about simpsonhaugh and partners' involvement?
RH: the practice's core values originated from a shared belief in the power of high quality design to lead the regeneration of post-industrial cities, and we were delighted to be selected to develop design proposals for the first phase of this important and transformational project.
we have designed and are currently delivering the first phase of the overall battersea power station redevelopment: the first phase of a brand new neighbourhood for london, a truly sustainable and mixed use place, combining new homes, studio office space, gym, village hall, residents' lounge facilities, shops, bars, restaurants and a new riverside park; the delivery of high quality homes with fantastic views of the river, power station and park; a 'village' contained within a single building, a new community; a unique and beautiful new building which we hope will become an exemplar for high quality residential schemes and which will complement its important historic context.

beetham hilton tower penthouse, manchester
image by retu guttil
RH (continued): the battersea power station phase 1 project presented a unique and exciting challenge to the practice. the power station, designed by sir giles gilbert scott, has remained a bold and iconic london landmark since its completion in the 1930's. although the power station has been decommissioned for over 20 years, it has endured as a much loved, instantly recognisable structure, and has featured heavily in popular culture and imagery, such as pink floyd's famous 1977 album cover.
the general form and massing for each phase of the masterplan was established prior to our involvement by the consented masterplan scheme, and described within a prescriptive set of parameter plans and design codes, with which our proposals had to comply. the brief called for a building of significant scale immediately adjacent to the power station, and the key architectural challenge was how to reconcile these prescriptive requirements with the character and importance of the setting.
our aim at the outset was to develop an elegant and restrained architectural response to the unique setting adjacent to the power station and the river thames. it was very important that the articulation and façade treatment should be developed to respect and complement the heavy, rectilinear masonry volumes of the power station building, whilst creating a new contemporary identity for the pioneer phase of an emerging residential neighbourhood within the city.
our starting point was 'home' and we worked from the inside out, creating homes full of natural light, well proportioned space, flexible and regular sized rooms with tremendous views of the power station or river immediately on entering the space. communal circulation spaces are given equal priority, offering fantastic views, providing space for sitting, meeting and contemplation and drawing natural light into the heart of the building.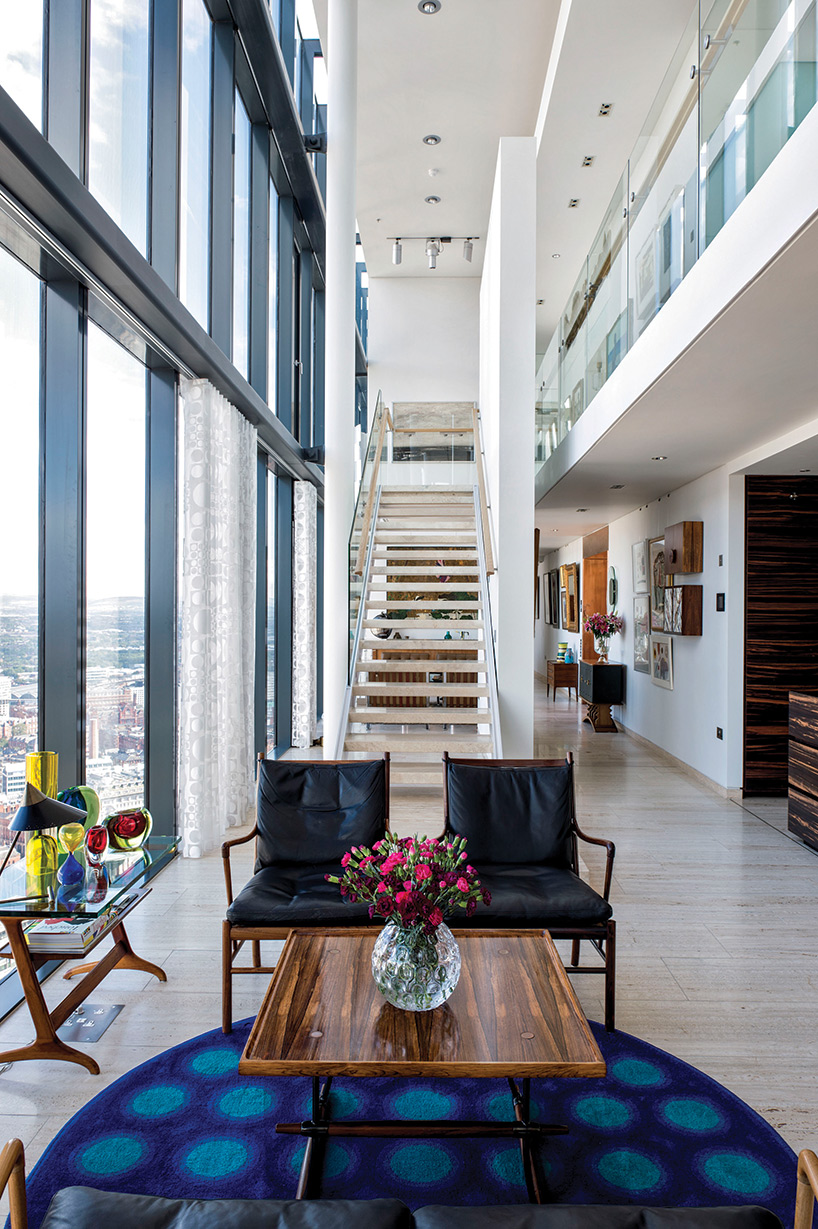 beetham hilton tower penthouse, manchester
image by retu guttil
RH (continued): the formal mass of the building has been articulated through a series of undulating horizontal ribbons, comprising groups of floors gathered together and expressed as a series of interlocking blocks, separated vertically by recessed slots providing natural light and views to the circulation cores. the crystalline, shimmering form of the building is achieved through the use of a twin glazed envelope, the outer layer of low iron glass providing a nuanced balance of transparency and reflectivity.
the form mediates across two scales: the distant and the intimate. from across the river, the architectural expression consists of simple elegant rectilinear forms, spanning over 4 floors, dynamically overlapping each other. at a more intimate scale, the rich layering, animation and depth becomes clearer and legible. the layered ribbons of accommodation integrate and visually unify the varied apartment typologies, creating a cohesive whole.
the neutral colour palette and articulated crystalline surface of the building contrast with the robust and heavy nature of the power station's masonry construction complementing, referencing and deferring to the grandeur of the planar surfaces of the iconic structure, and partially framing the building in key views across the river. together with the qualities of reflection and depth inherent within the façade, this will create a beautiful and complementary addition to this important setting.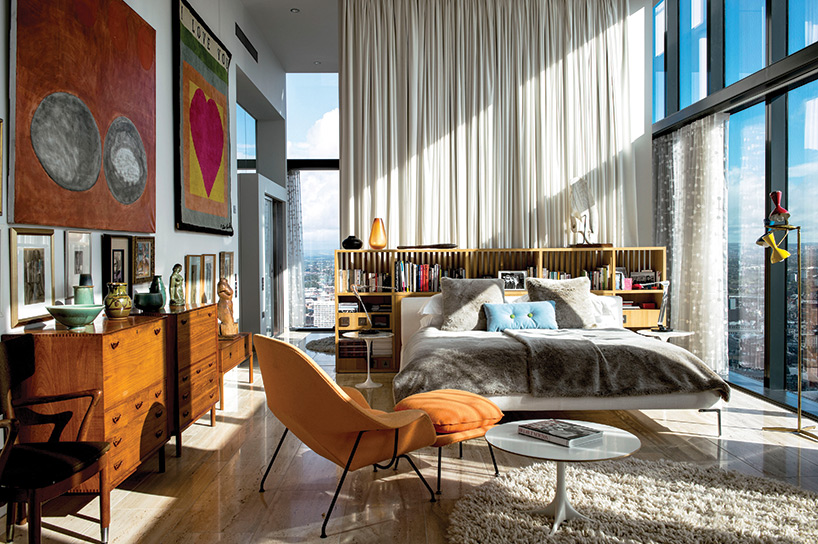 beetham hilton tower penthouse, manchester
image by retu guttil
DB: is it fair to say that architecture has a problem with attracting women to enter the profession? if so, what could be done to counteract this?
RH: no, it's not fair to say that, architecture is currently considered a very appealing career for both men and women. it doesn't have a problem attracting women, the intake onto university courses is virtually 50:50. however the retention level is poor so it's not about getting 'women into architecture', it's about retaining them in that career. the extent of commitment required, the level of remuneration, the classic female 'juggle' of family and career and the resultant effect on progression are challenges that are all interlinked and part of the problem.
there doesn't appear to be a 'quick fix', it's an issue that is to a great extent inherent in the current demands of the construction industry: architecture does not lend itself well to part time working, it's difficult to juggle the demands of a family and personal life while leading a project where an immediate response may be required 5 days a week. however, removal of the long hours culture, ie the expectation that the best work can only be produced by spending long, anti-social hours at an office desk, changing attitudes to being 'on call' at all times, a greater level of creative thought around how to manage part time work and flexible working methods, increased, more appropriate and equitable levels of remuneration and the provision of more extensively available support mechanisms such as mentoring schemes may go some way to help. our practice is a partner of the AR women in architecture campaign which was established five years ago and has already been hugely successful in raising awareness and changing attitudes.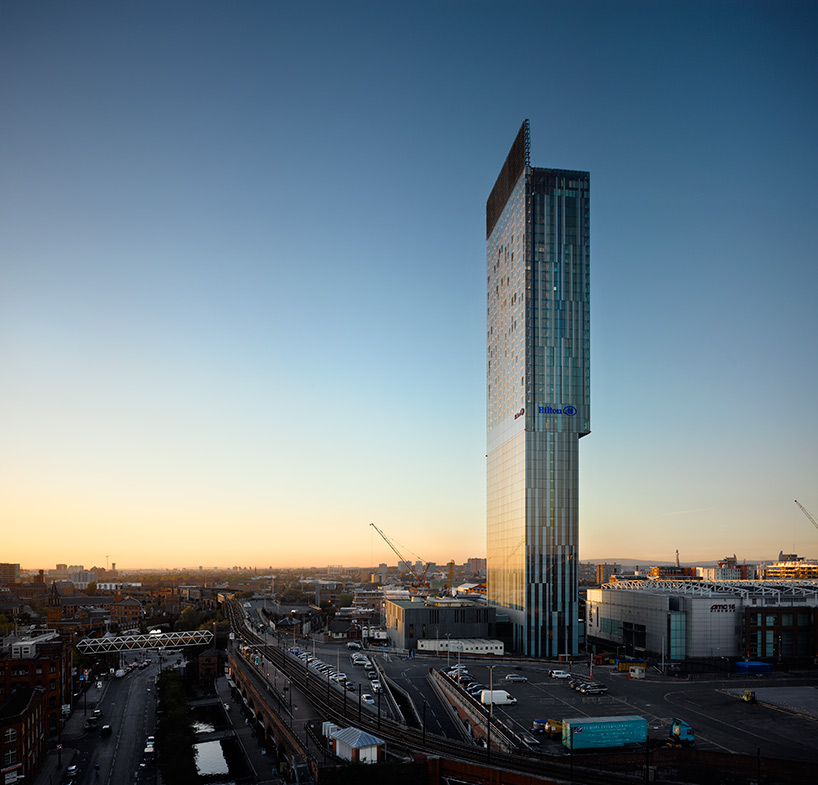 beetham hilton tower, manchester
image by daniel hopkinson
DB: what originally made you want to study architecture and become an architect?
RH: I had a passion for drawing, was introduced to peter blake's monographs on le corbusier, mies van der rohe and frank lloyd wright at an early age, was inspired, yet received careers advice against it and, as a result, became more determined in my choice! the books are still in our office library and a later encounter with the teacher involved resulted in the acknowledgement 'well, it just shows how wrong teachers can be!'
DB: overall, what would you say is your biggest strength and how have you developed that skill over time?
RH: design rigor and meticulous attention to detail. I have always been a passionate advocate of the detail essential to maintain the quality of the design through the delivery stages and I hope I have communicated this effectively within the practice. we aspire to deliver all our projects and we enjoy the process: the careful selection of materials and the crafting of those materials to form a carefully considered surface, interface, junction, component, detail and ultimately holistic piece of architecture that retains the vision at all levels.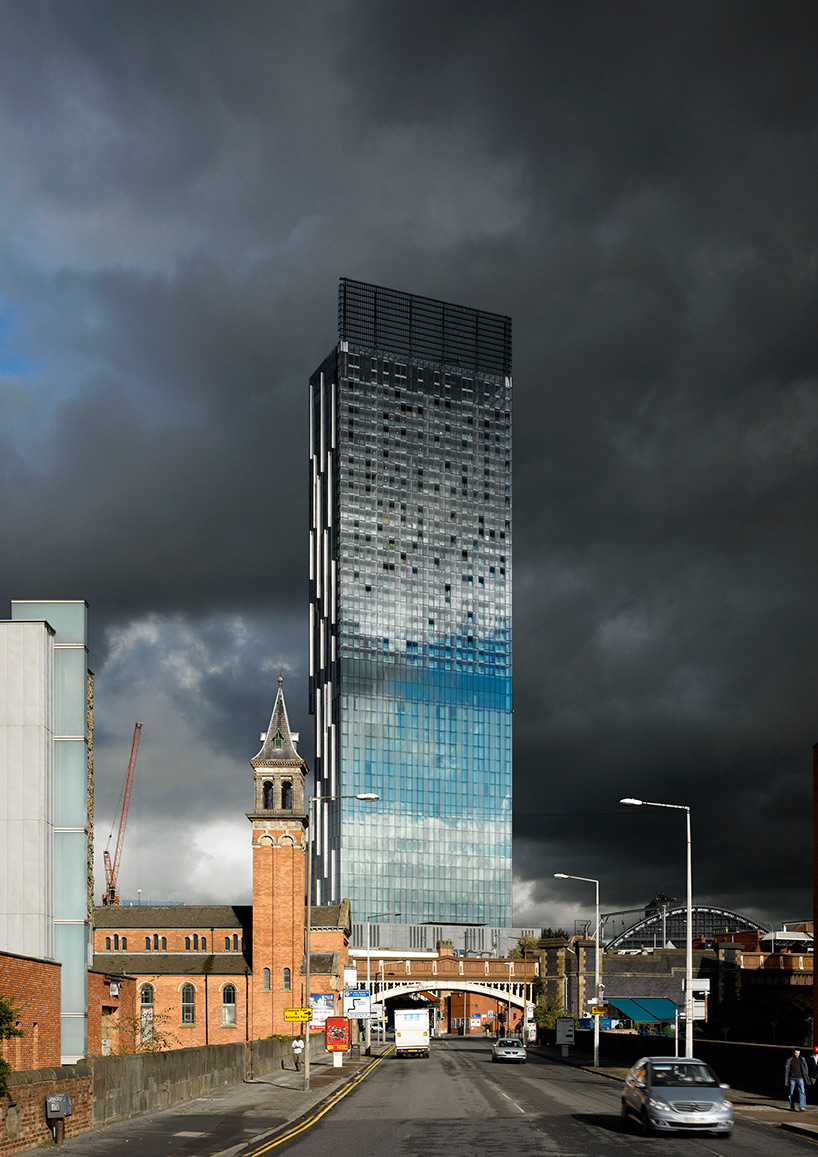 beetham hilton tower, manchester
image by daniel hopkinson

DB: which architects or designers working today do you most admire?
RH: any architect who designs and delivers a high quality building has my respect because I know just how difficult it is! well known individuals include lord foster for his consistent high quality of output across all scales, building types and continents, jean nouvel for his innovation and ambition and steven holl for his strength of concept and creative use of form, material and texture as a means of expressing an idea. I also find inspiration in contemporary women such as miuccia prada who has created and sustained an internationally renowned and celebrated brand which is consistently fresh, innovative and at the forefront of the fashion industry.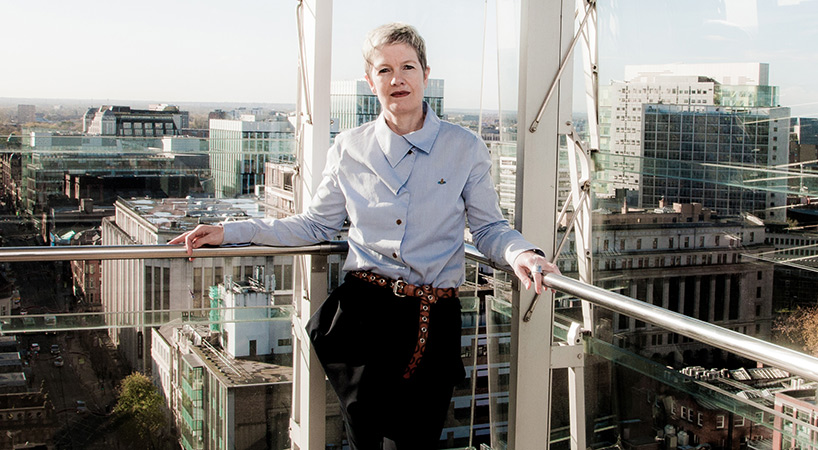 portrait of rachel haugh
image courtesy of simpsonhaugh
DB: outside of architecture, what are you currently interested in and how is it feeding into your work?
RH: skiing – it allows me to refresh and clear my mind ready for the next challenge. I'm also interested in all forms of art and culture; inspiration comes in all guises. a recent acquisition has led to a collaboration with an artist to produce a comprehensive piece of work that responds to the construction of one of our major projects. the resulting art work will form an integral part of our interior design.
DB: do you have a personal motto?
RH: 'I want to create great architecture and work with people who share that vision.'
philip stevens
I designboom
may 22, 2016
a diverse digital database that acts as a valuable guide in gaining insight and information about a product directly from the manufacturer, and serves as a rich reference point in developing a project or scheme.
designboom will always be there for you
milan, new york, beijing, tokyo

,
since 1999