mar 23, 2015
rapt studio to transform industrial warehouse into office development
rapt studio to transform industrial warehouse into office development
all images courtesy of rapt studio
'make' is a project by southern california-based real estate developers cruzan. working with rapt studio and OJB landscape, they are converting a 175,000 sq foot industrial warehouse into a large office development. previously a home to the floral trade, the warehouse is by the coast in carlsbard, california. the renders show that the new community-orientated space will incorporate many outdoor opportunities including storage for bespoke bikes, surfboards, and using the theme of 'making', the aim of the architecture and interior is to encourage the formation of new ideas and products, whilst creating a harmony between the built and natural environment.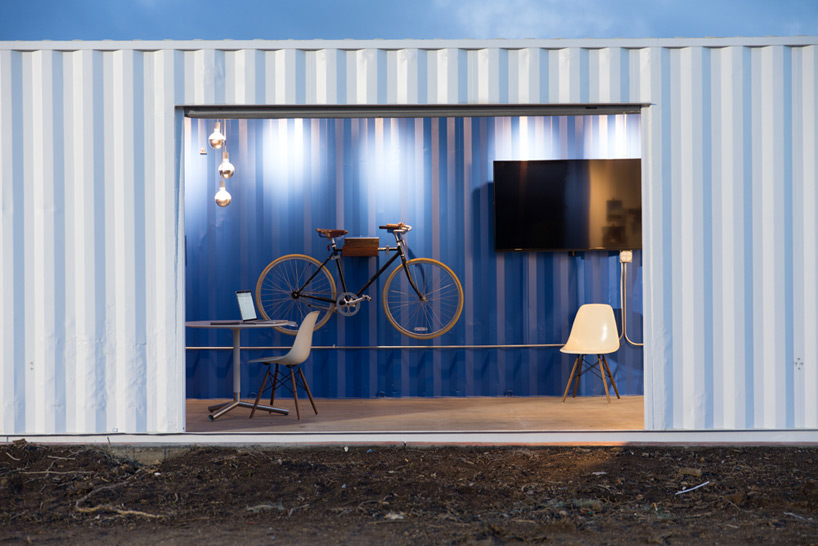 a central distribution point for a bike share service that allow transport to the beach and neighborhood amenities
the concept of cultivating the community and social interaction is conveyed throughout the dynamic environment. there will be facilities such as a café, rotating food trucks, fitness center and an outdoor amphitheater to host special events. a distinctive feature that has been completed is the two shipping containers on the site, painted by jason woodside, they have both been redecorated and converted, one into a modern coffee shop and the other into a storage and distribution point for bikes. rapt studio has developed a strong graphic language that has been used in all aspects of the project, from the office stationery, surfboards and on the shipping container walls.


redecorated shipping container

surfboards by salt surf

linus bikes and surfboards both showing branding by rapt studio

the shipping containers open to create a social space

the containers at night

render of the exterior landscaping of the office

outdoor seating and café

community-oriented space

office interior

open-air amphitheater for events and socializing 

the 175,000 sq feet converted office space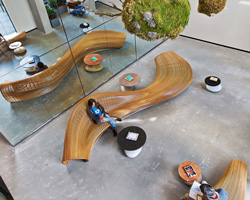 nov 03, 2016
nov 03, 2016
aug 31, 2014
aug 31, 2014
jul 20, 2014
jul 20, 2014
jul 13, 2014
jul 13, 2014
jan 02, 2014
jan 02, 2014
dec 24, 2013
dec 24, 2013