2017 pritzker prize winning-firm RCR arquitectes has joined forces with renowned catalan chef albert adrià to create a 'frozen and enigmatic' restaurant interior in barcelona. adrià — who is known for his experimental cuisine and surprising menus — spent three years planning the project, and sought to develop a setting that reflected his avant-garde offerings. 'the type of cuisine we make is determined by the space,' he explains. 'if we were, for example, surrounded by nature, we would cook entirely different dishes.'

the 'frozen and enigmatic' restaurant interior is found in barcelona
adrià's vision began to take shape once he met with RCR arquitectes, who created a large watercolor drawing that outlined the design concept. working alongside architect pau llimona, the team decided to bring the project to life using neolith, a material developed by TheSize. RCR wanted to apply the watercolor effect to the entirety of the sintered stone interior — something that had not been achieved before.

the setting reflects chef albert adrià avant-garde cuisine
through extensive research and development, neolith developed the technology to recreate the design on slabs, producing a replica of the drawing. 'we had to expand the original design, all the while trying not to lose the quality of definition offered by the original drawing,' explains carlos garcia, product designer at TheSize. 'each pixel was equal to two meters of final floor.' once this was achieved, an exact color match had to be sourced in order to fit in with the other materials and decorations found throughout the restaurant.

a watercolor effect has been applied to the entirety of the sintered stone interior 
as each slab is unique, and has to fit perfectly in place, enigma's large floor area presented the biggest challenge. consequently, neolith initially installed the entire floor off-site and used a drone to take images from above, ensuring that there were no inconsistencies. the restaurant's curves and narrow aisles meant that some slabs had to be precisely cut into smaller pieces — some just 3 centimeters wide.

the texture appears throughout the restaurant's floor area
taking inspiration from cartography, a coordinate system was used to label every slab in order to know its exact position. the pieces could then be assembled on site like a giant 3D jigsaw puzzle. 'we like the idea that it is an enigma, which is difficult to explain,' says RCR arquitectes. 'it is an enveloping space that melts, disappears, almost a labyrinth. between materiality and conformation, a whole series of organic movements is created. shadows, transparencies, and a watery presence, nebular.'

the restaurant has been conceived as an enveloping space that 'melts' and 'disappears'

appliances in the kitchen take on a uniform appearance

kitchen staff preparing food on the unique surfaces

the pattern is even found in the restroom

an overhead view of the watercolor pattern

the restaurant's more intimate bar area
Save
Save
Save
Save
Save
Save
Save
Save
Save
Save
Save
Save
Save
aug 16, 2017
aug 16, 2017
aug 14, 2017
aug 14, 2017
aug 13, 2017
aug 13, 2017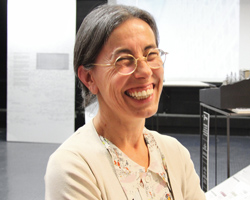 jun 15, 2017
jun 15, 2017
may 29, 2017
may 29, 2017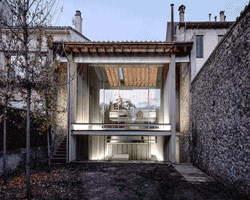 mar 02, 2017
mar 02, 2017
aug 14, 2017
aug 14, 2017
aug 13, 2017
aug 13, 2017
aug 10, 2017
aug 10, 2017