the nature of man's relationship with the natural environment can be read through the speculative infrastructure of the era. contemporary proposals are largely expressive of the desire to resolve the evident and ongoing disruption of nature by the built environment. the existing systems of infrastructure on which the modern world relies are now being reimagined by teams of architects and engineers worldwide. new typologies of power plants, ecosystems, and habitable structures are being envisioned to both reduce the production of harmful waste as well as absorb that which has already been produced in excess.
in this edition of readers radar, designboom revisits the most ambitious ecological infrastructure proposals envisioning the future of environmental architecture.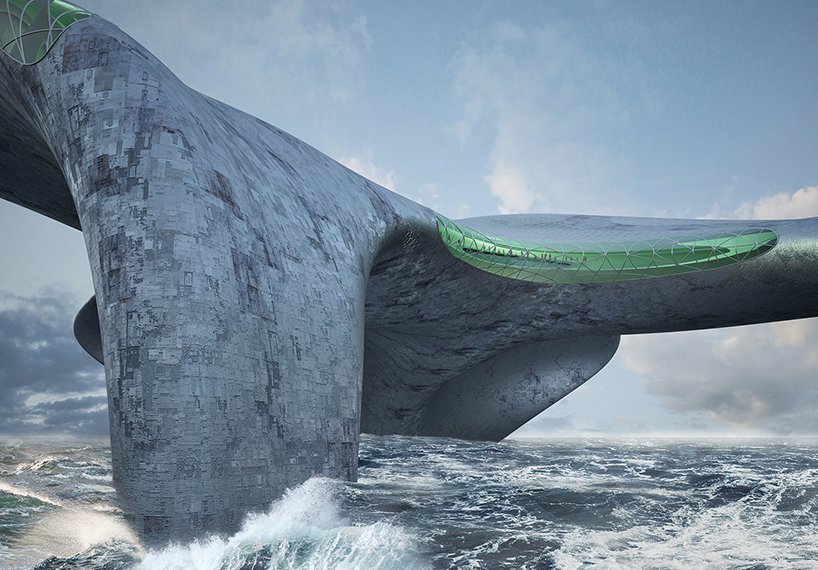 image courtesy of hov
'flolony' is a changeable buoyancy floating housing unit, built of repurposed naval architecture materials. equipped with autonomous energy, the project's expressive geometry enables the vessel to adapt to any varying — even extreme — environmental conditions. developed by italian studio hov, the partially submerged structure is controlled by a panel of automatic systems which ensure the supply of such vital elements as sunlight, air, and water to be used for the productive metabolism of the colony. in this project simulation, a realistic social model is applied to the structure. the colony represents a complex organism and activates a system of relationships among the inhabitants that is typical of small and tightly connected groups, and also represents an alternative to the social models characterized by collective intelligence.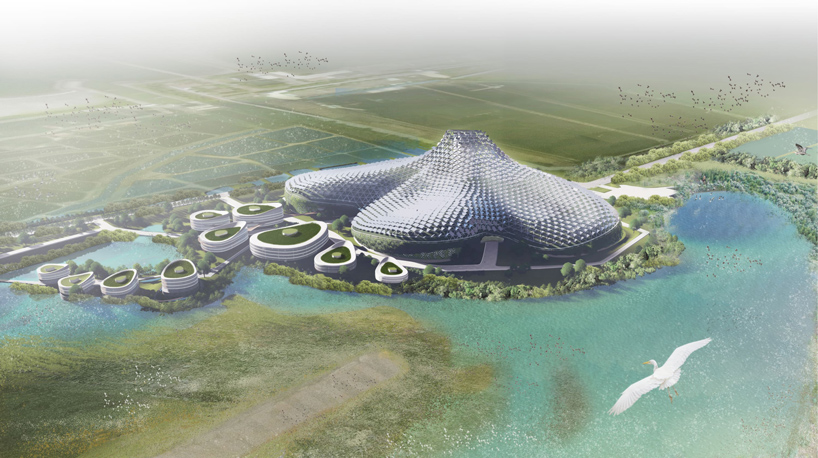 image courtesy of MEPM Lab
to decrease the pollution in taiwan and optimize the production of electricity, MEPM lab proposes 'recrystallization', an alternative way to build a power plant as part of the hsinta ecological power plant competition. the team proposes a new system in response to the reality that 50% of energy in the state is currently generated by coal firing. through this ecological proposal, heat left over from turbine generators will be economically redirected to warm local fish farms, or to be used by the local community. there will be no CO2 emissions or particles such as PM2.5 or PM10 released from the plant — they will be captured on site. while it is impossible for the site to be carbon neutral, because the energy generated is transmitted and used off-site, the proposal utilizes virtually the entire plant as a carbon sink to maximize carbon sequestration naturally.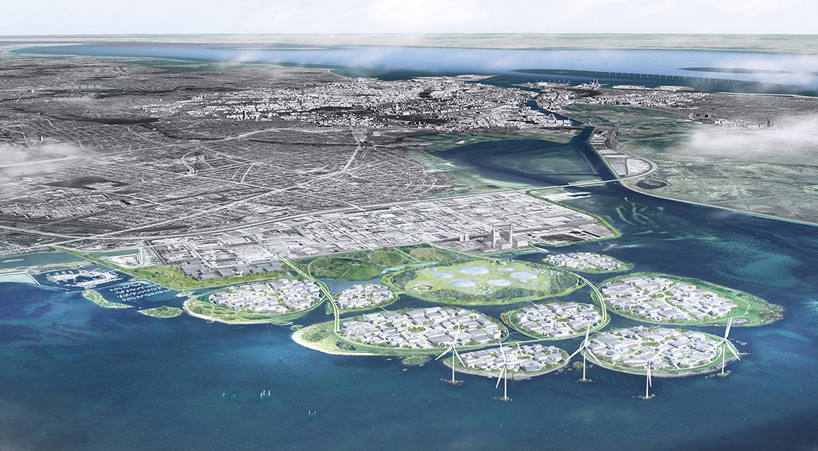 image courtesy of urban power
urban power has designed the 'holmene' scheme, which envisions nine islands to be constructed just 10 km south of copenhagen. the danish government and mayors of greater copenhagen announced the plans for the 3 million sqm land reclamation project, and it is set to be the largest of its kind in scandinavia. the vision deals with urgent environmental and commercial challenges and aims to create a large publicly accessible natural area for sports, recreation and improved biodiversity. the project by urban power will create an area reserved for green technologies and the biggest waste-to-energy plant in northern europe. bio-waste and waste water from the regions 1.5 million citizens will be handled here and turned into clean water, resources and bio-gas.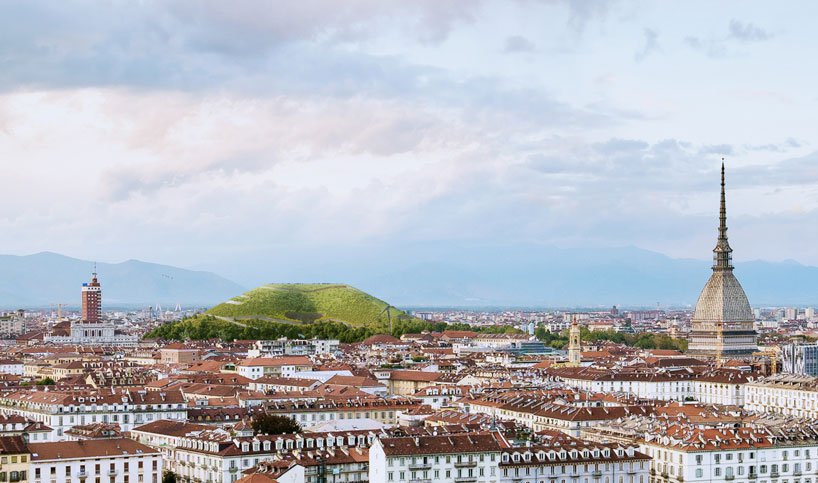 image courtesy of angelo renna
preoccupied with the issue of air pollution, amsterdam-based designer angelo renna proposes to build an artificial mountain to make the environment cleaner. made of soil excavated from the construction site of the railway tunnel connecting turin to lyon, the 90-meters-high 'sponge mountain' will be able to absorb the CO2 from the atmosphere. renna's mountain is 90 meters high with a surface of 11 hectares, capturing CO2 from the atmosphere thanks to its engineered soil — a mixture of sand and concrete. the sponge mountain is not only a green landmark for the city of turin but also a place for leisure where people can go for a walk, run or just play with their dogs.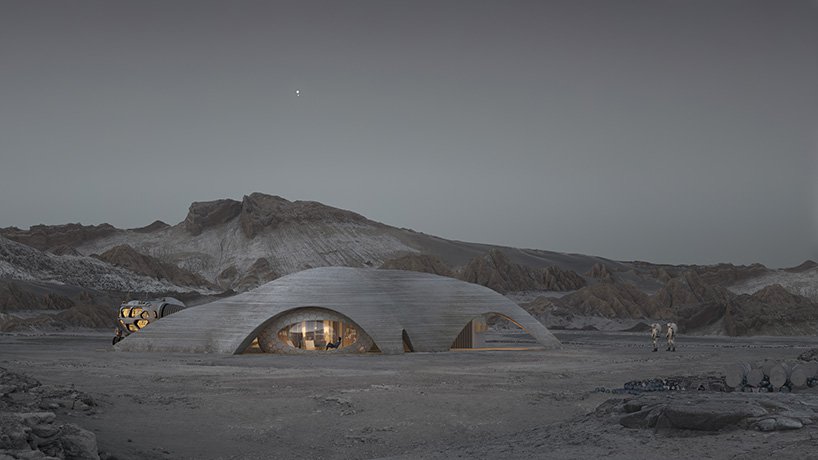 image courtesy of hassell
international design practice hassell reveals its vision for human habitation on mars, after being listed in NASA's top 10 for its 3D printing centennial challenge. the competition sought perspectives from outside the aerospace industry, to explore how a human habitat could be designed and delivered on mars using autonomous 3D printing technologies and sustainable design practices. the approach by hassell and engineers eckersley o'callaghan puts people first — it moves beyond the idea of astronauts as operators, to create a habitat where people can not only survive life on mars but really thrive there.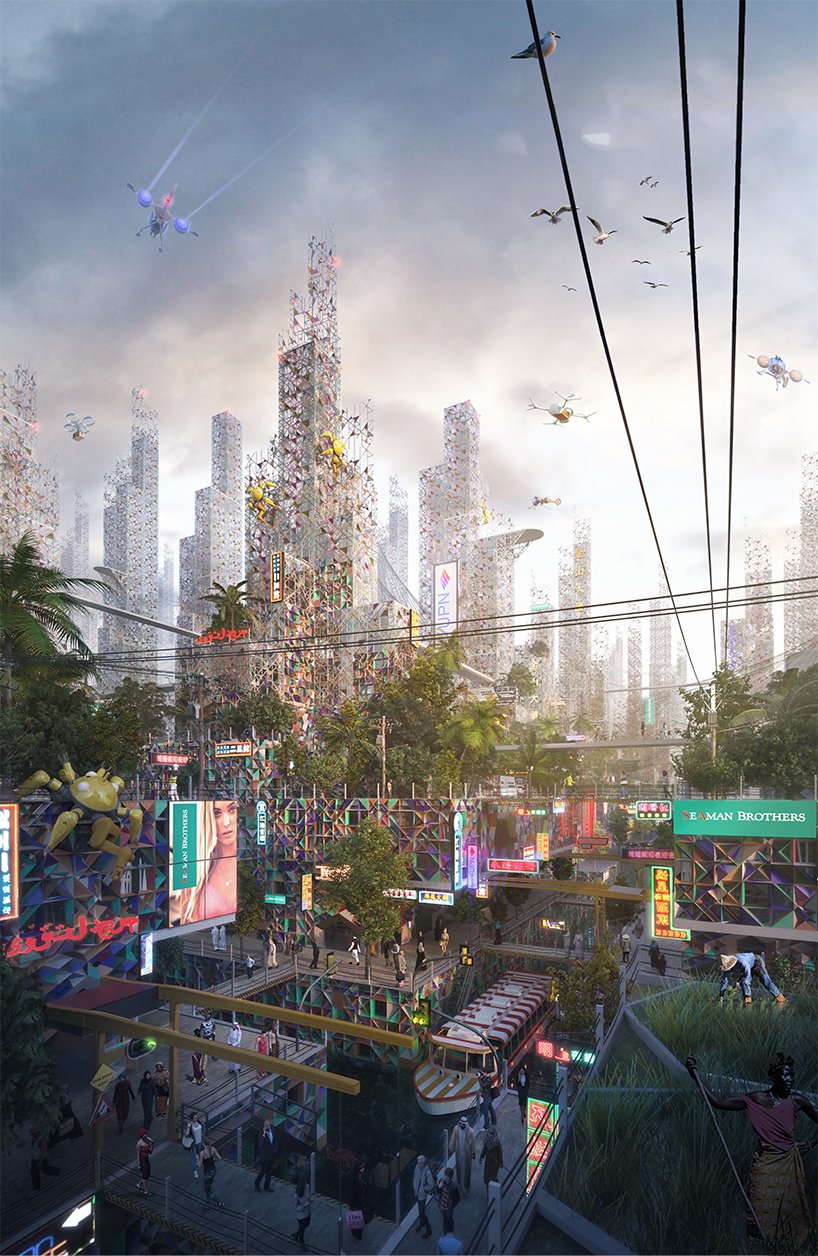 image courtesy of freischärler
australia-based studio freischärler, founded by noël schardt and bjøern muendner, proposes the united plastic nation, an ever-growing, floating city which collects and recycles plastic from the oceans. the project imagines a self-sufficient structure built with 3D-printed materials produced by a swarm of robotic drones and sustained with food grown in vertical aquaponic farms, water and waste that is cycled through closed systems, and energy produced by waves. freischärler's united plastic nation grows both horizontally and vertically along a new york-like grid, forming an unsinkable iceberg structure. divided in residential, industrial, recreational, and commercial zones, the ever-growing city passes by all continents, connecting regions of poverty with those of wealth and prosperity.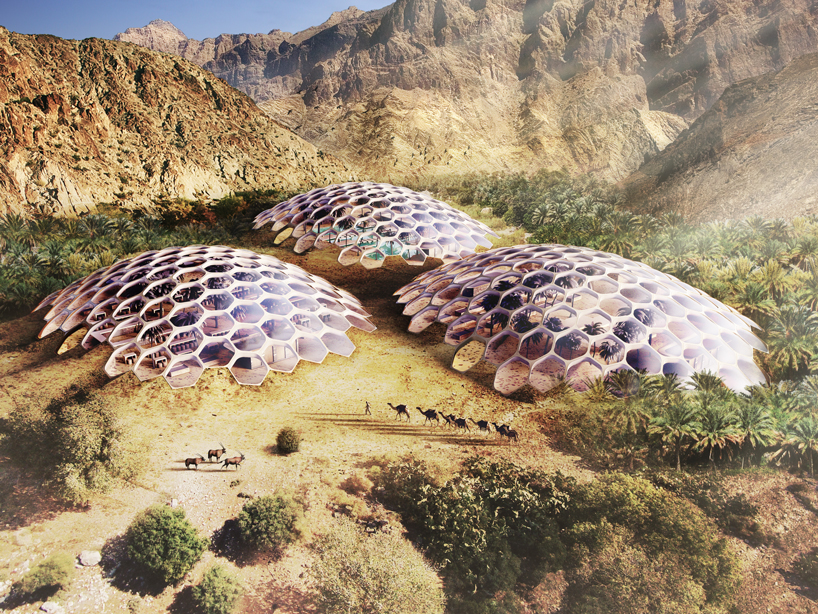 image courtesy of baharash architecture
the biodomes wildlife conservation center aims to boost ecotourism and conserve the mountainous regions of united arab emirates, which are home to rare species of arabian wildlife. designed by baharash architecture, the biodomes will be located in the al hajar mountains, the eastern region of UAE, and will provide facilities for a wildlife conservation center as well as an adventure-based wilderness retreat. baharash architecture has been challenged to design three self-sustaining biodomes, which would easy to assemble on site and provide visitors with a unique experience and a sense of being outside, in nature. the pieces are made of prefabricated parts, while some of their environmental features include 100% renewable energy, onsite wastewater recycling for irrigation and onsite waste management.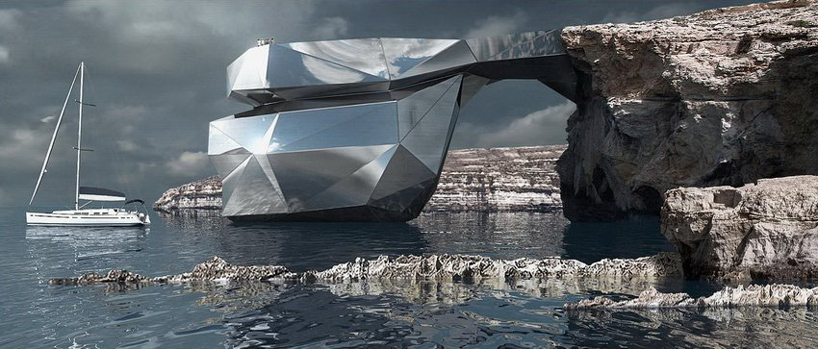 image © svetozar andreev
in collaboration with elena britanishskaya, the architect svetozar andreev, proposes to transform malta's collapsed 'azure window' into a steel exhibition space. tieqa żerqa, more popularly known as the azure window, was an icon of the maltese islands, however, following a storm in march of 2017, the arch collapsed into the sea. the 'heart of malta' project plans to create a new visual landmark by creating a polygonal architectural form with mirrored steel faces, which will blend into the landscape and have the same size and proportions as the original limestone arch. the proposal by andreev and britanishskaya envisions a new form comprising of over 5,000 square meters of exhibition space laid out over five spiral floors, with a dynamic laser show in which each spiral step represents one thousand years of maltese history.
oct 16, 2019
oct 16, 2019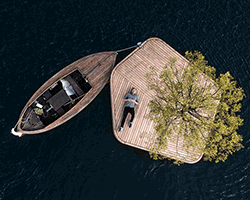 sep 15, 2019
sep 15, 2019
jul 18, 2019
jul 18, 2019
jan 23, 2019
jan 23, 2019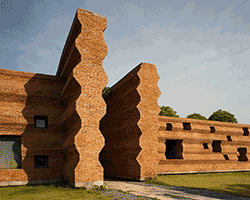 sep 03, 2018
sep 03, 2018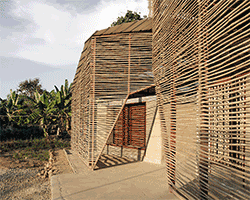 aug 13, 2018
aug 13, 2018
a diverse digital database that acts as a valuable guide in gaining insight and information about a product directly from the manufacturer, and serves as a rich reference point in developing a project or scheme.