the architect of an educational space has a direct influence on young, developing minds. the 'school' as a program presents an ambiguity which borders on public while still maintaining a atmosphere of privacy and familiarity. an investigation into the design of schools around the world often lends a perspective of the priorities of different cultures; an architect might make use of revitalized colloquial building techniques to help children understand and appreciate the architectural heritage of their region. alternately, a school might be designed with environmentally sustainable methods so as to serve as not only a classroom, but as an educational tool in itself.
to celebrate the upcoming school season, designboom looks back on the top ten educational spaces covered in the past with this 'back to school' edition of readers radar.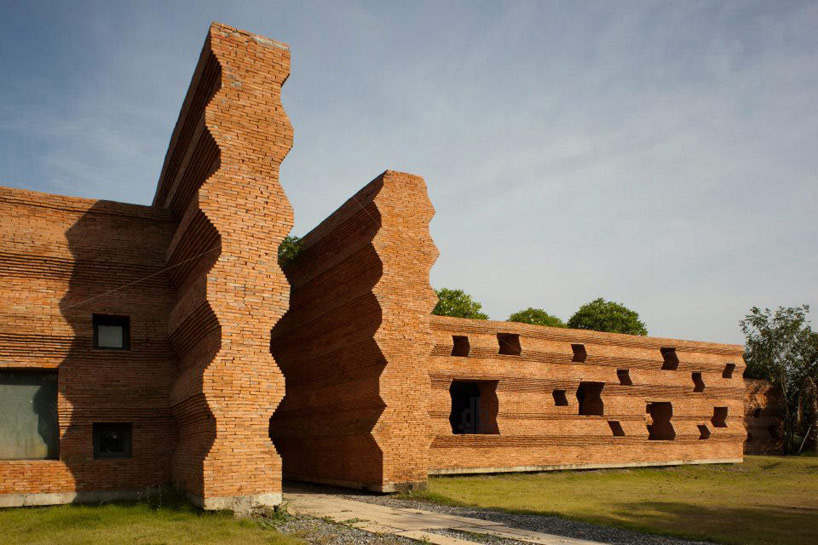 image courtesy of bangkok project studio
designed by thai architect boonserm premthada of bangkok project studio, the undergraduate kantana film and animation institute is the largest film studio in thailand. the project is characterised by its colossal eight meter high walls of handmade brick. studio founder boonserm premthada conceived of a built form with the intention of offering a reflection of the creativity of the students. the undulating masonry is punctuated by orthogonal apertures at irregular intervals that serve both to help ventilate the spaces and provide quiet enclaves for sitting and relaxing. while the building is supported by an inner steel structure, the gap between the inner and outer skin of the edifice guards against heat transfer and naturally cools the spaces.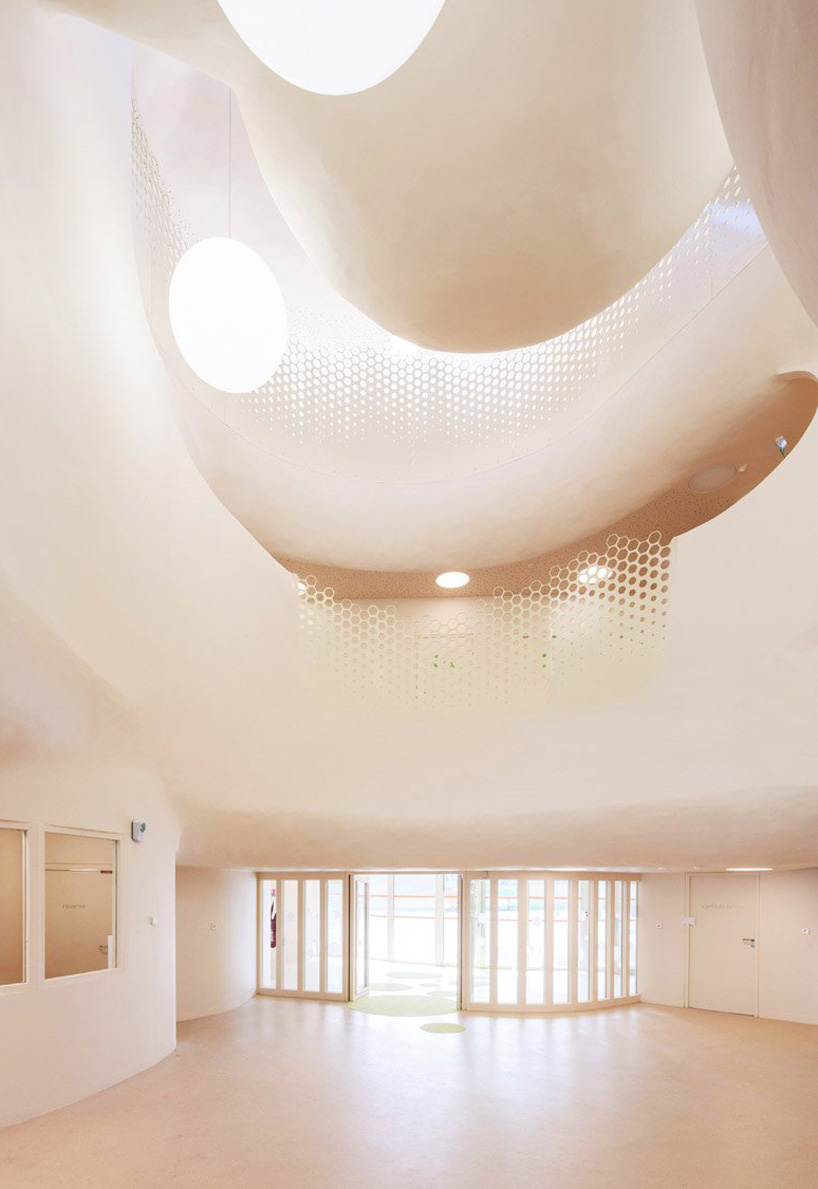 image courtesy of paul le quernec architects
constructed in saint-denis, france, paul le quernec architects has designed the 'niki de saint-phalle – petits cailloux' education complex. the clover-shaped building houses a nursery and primary school that were developed considering the different ways of teaching these institutions conduct: children entering the school in diapers and leaving it knowing arithmetics, science, geography and how to read, perfectly illustrates how huge the gap is between these two aspects of schooling. the architectural concept was based on the human brain and its two hemispheres, that although symmetrical, are not identical due to their distinct vital functions.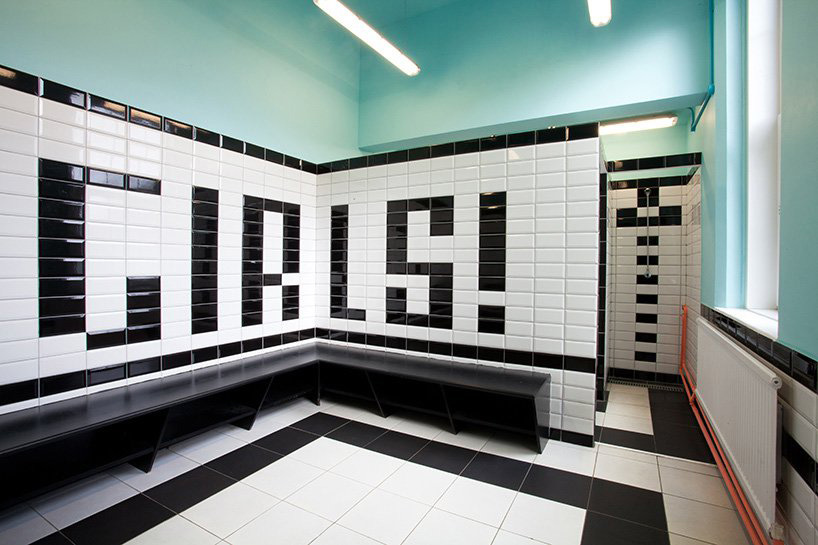 all images by maximo recio
designer maximo recio, in collaboration with architects alvaro fernández and pablo padilla, has completed the renovation of 14 bathrooms and two locker rooms at the 'vicente cañada blanch' public school in notting hill, london. the interior uses a bright color palette of black and white tiles to create a cost-effective sense of identity and playfulness within the educational facility. paint significantly lightens the rooms, and is used to highlight water and electrical systems. messages, drawings, and patterns composed with tiles encourage children to use facilities responsibly and increase hygiene.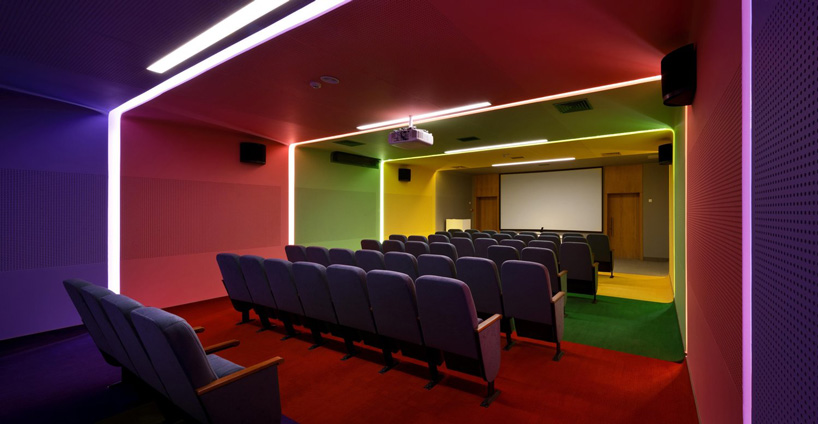 image © andrey avdeenko
completed by dreamdesign studio, this 80,000 sq.m school in kiev brings together creativity, aesthetics, originality and taste within a cheerful learning environment. titled 'new school', the project is initiated out of a necessity to create conditions suitable for a progressive and contemporary generation. from an early age, children are directly influenced by their environment which helps raise their awareness as well as shape their taste and creative thinking. dreamdesign has organized a comfortable and exclusively vibrant study space that challenges the usual attitude of adults and children towards schools. the hub is designed in a way that draws children's attention to the essential aspects of design, as ergonomics and aesthetics.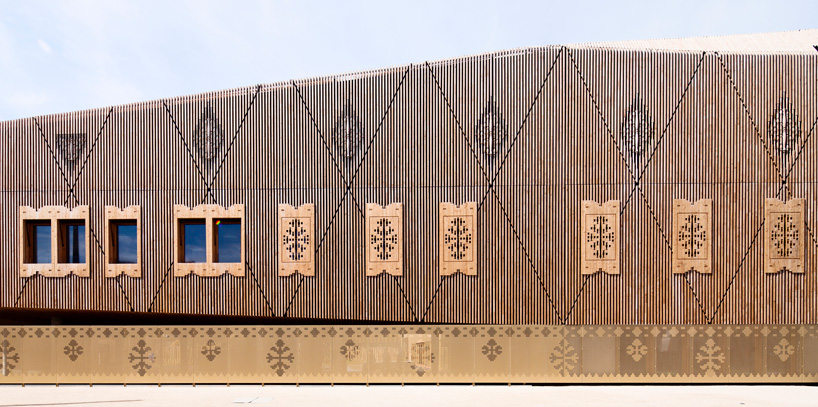 image © luc boegly
set in the seine-saint-denis commune of france, the casares doisneau is an intermunicipal school complex by AAVP which celebrates the rich architectural heritage of the region. from the very start, the challenge for AAVP has been to reinterpret the whole story in an allegorical fusion of architectural heritage and social memory. the richness of seine-saint-denis' industrial buildings and the spaces which emerge from them lose themselves in the collective memory. hence, the architects set out to restore this iconography of the town and lend it a contemporary significance that can last for many generations. designers at AAVP ask: 'what could be more ambitious than to reveal it to the local population and children through a sensitive approach which makes it relevant?'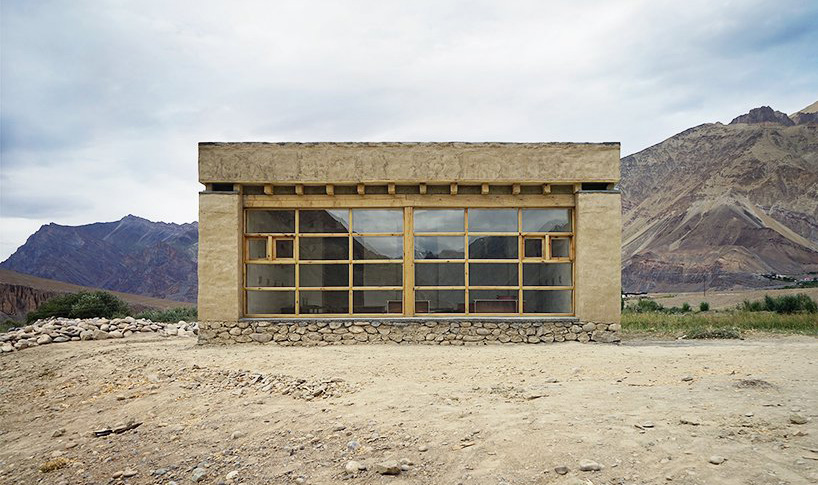 project images by balázs szelecsényi, brigitta kovács, borbála bagi, szilvia odry
with a population of over 1.3 billion people, india is home to the second most populated countries in the world. consequently, distributing public resources among 3.2 million square kilometres of land becomes a difficult and controversial task. ladakh is one of the most sparsely populated areas in kashmir and as a result, no school standards have been developed for the region — instead, the same buildings are built on lower altitudes. these buildings, lacking heating and insulation, are not suitable for winter use at 3800 meters above sea level. thus, the himalayan region suffers from a forced winter break lasting 3 months. the local community of tanpo village ultimately had to hold winter classes at various locations in different living rooms. the csoma room foundation, based in hungary, constructed the tanpo solar school — the second educational facility designed and constructed by the foundation. the program was requesting a solar room providing shelter for 25-30 kids during winter daylight hours.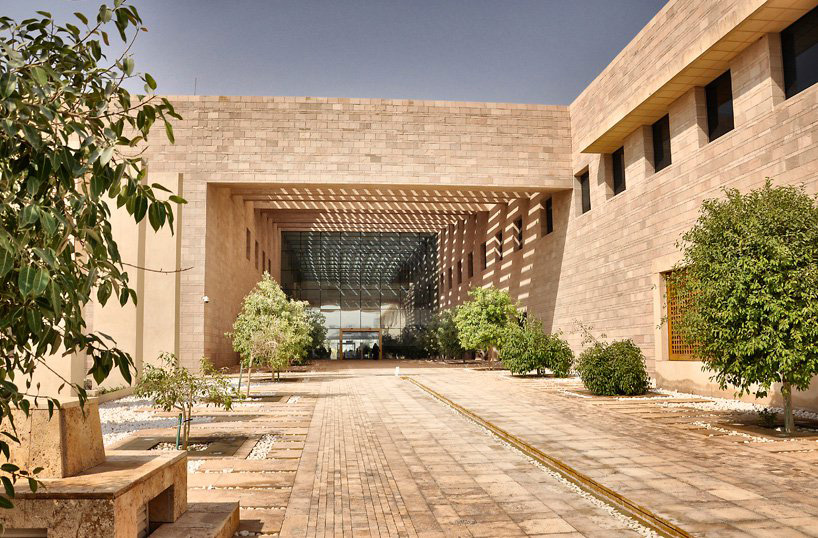 photo © pygmalion karatzas
the master plan of education city's campus in doha, qatar, designed by arata isozaki, is a harmonious blend of architecture and exterior spaces. the main feature is the green spine crossing the site from north to south. within this context, legorreta + legorreta was selected to design carnegie mellon's 'college of business and computer sciences.' the campus offers an environment where teachers and students can interact, incorporating traditional concepts of islamic architecture such as arcades, gardens, and fountains. the atriums are covered at roof level, with pergolas creating coverage wherever necessary according to the time of the day.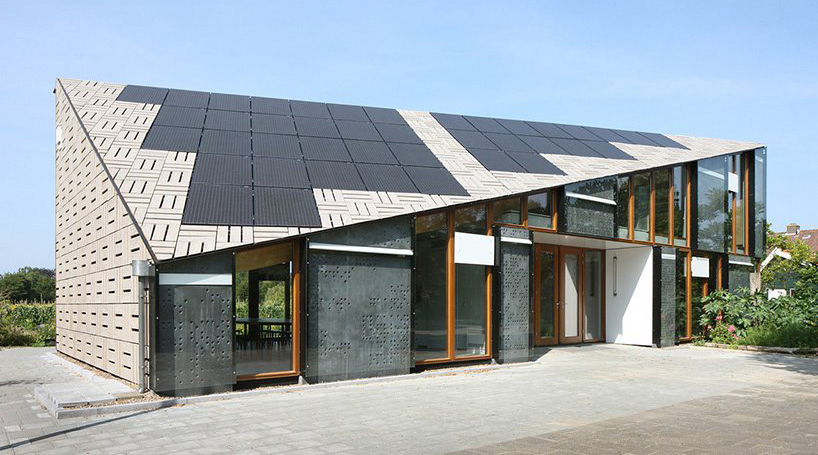 image courtesy of bureau SLA
in amsterdam, every primary school student is provided with his or her own 6-square meter garden to care for. these students are also enrolled in classes where they learn about nature and the environment, held in one of the buildings dedicated to this purpose throughout the city. as of this year, amsterdam noord becomes host to the 'nature & environment learning centre' designed by bureau SLA specifically for this purpose. this new building replaces two temporary structures which housed the program for the previous five years. in addition to being the first purpose-designed and built centre in the program, it's also unique in that it works both as a classroom and as an educational tool itself: the building's sustainability can be seen and felt by all who come in contact with it.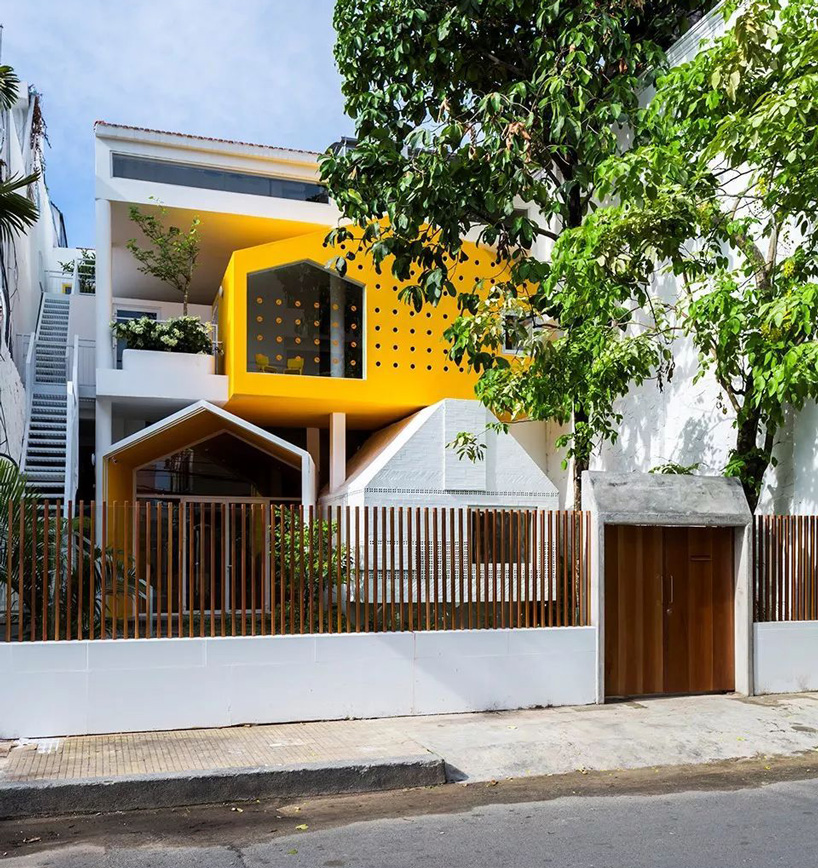 all images © oki hiroyuki
ho chi minh city, or saigon, is a vietnamese city whose society has progressed in such fast pace, leaving marks even on construction and architecture. some common practices include deliberately reconditioning old existing buildings and giving them new functional and aesthetic purposes. this is normally done by accompanying a more complex spatial demand, with limited resources, and time. despite these constraints, local-based architectural practice kientruc-o transformed an old monolithic space, into a bright, exuberant, and full of vitality kindergarten, a place that fosters the new generation of vietnamese people.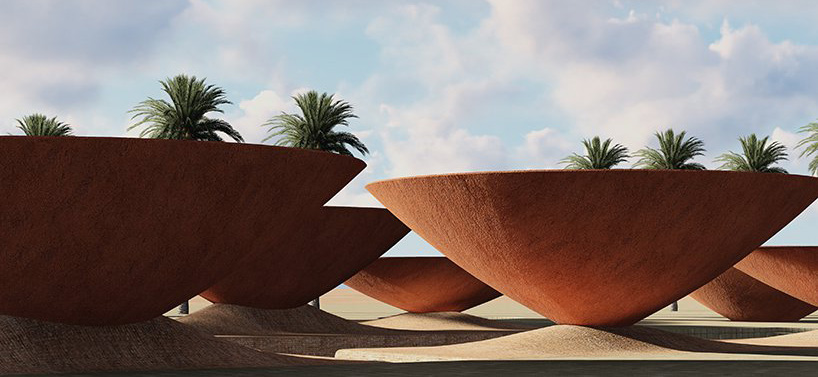 according to BMDesign, more than half of iran has an arid climate and environment, each year expanding more and more. big lakes like lake urmia have shrank to a fraction of their size, gradually disappearing, or zayandehrud – the largest river of the iranian plateau – has parched and left a metropolitan city like isfahan encountering serious consequences. consequences like thousands of farmers losing their jobs or the city itself on the brink of rationing drinking water.
oct 16, 2019
oct 16, 2019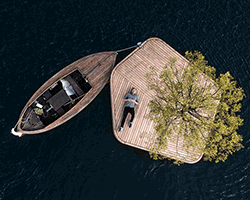 sep 15, 2019
sep 15, 2019
jul 18, 2019
jul 18, 2019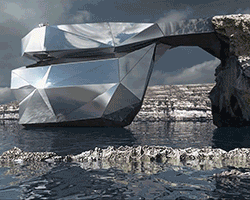 feb 08, 2019
feb 08, 2019
jan 23, 2019
jan 23, 2019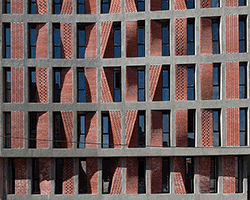 oct 10, 2018
oct 10, 2018
aug 11, 2020
aug 11, 2020
jul 24, 2020
jul 24, 2020
jul 21, 2020
jul 21, 2020
a diverse digital database that acts as a valuable guide in gaining insight and information about a product directly from the manufacturer, and serves as a rich reference point in developing a project or scheme.