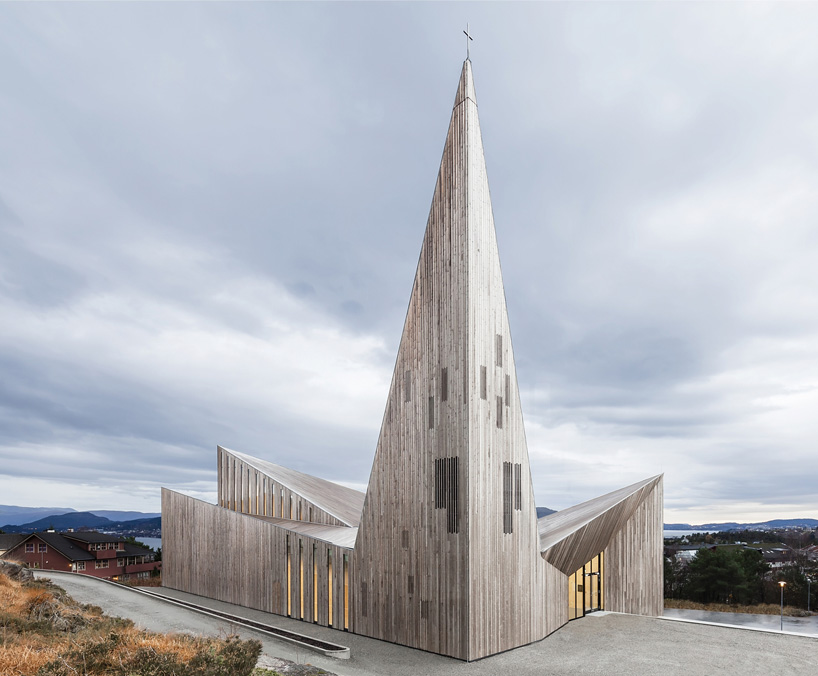 dec 02, 2014
angular formed church of knarvik by reiulf ramstad opens in norway
angular formed church of knarvik by reiulf ramstad opens in norway
photo by hundven-clements photography
all images courtesy of reiulf ramstad architects
the 'community church of knarvik', located high on a hillside in the homonymous norwegian town, has held its inaugural service. the building's design comes from reiulf ramstad architects, who won the commission from a competition held in 2010. their scheme, now realized, is shaped with an angular formal language, which loosely references the geometries of the region's mountains and fjords. the singular volume is wrapped in wood cladding on its exterior and interior, while featuring vertical bands of glass on its long elevations. beyond its expressive spatial quality and primary function for christian services, the facility also serves as a cultural center for a variety of gatherings such as arts and music events.
the wood clad building is shaped with angular forms
photo by hundven-clements photography
in seeking to be inclusive of the entire community, the spatial forms and detailing are not directly referential to christian symbols, but remain relatively open in meaning. in regards to access, a cascading staircase connects with the town's center while roads and parking partially wrap the facility for car transport.
see here for designboom's coverage of the church when it won the initial competition in 2010.
a staircase and amphitheater steps cascade down the hillside next to the church's main entry
photo by hundven-clements photography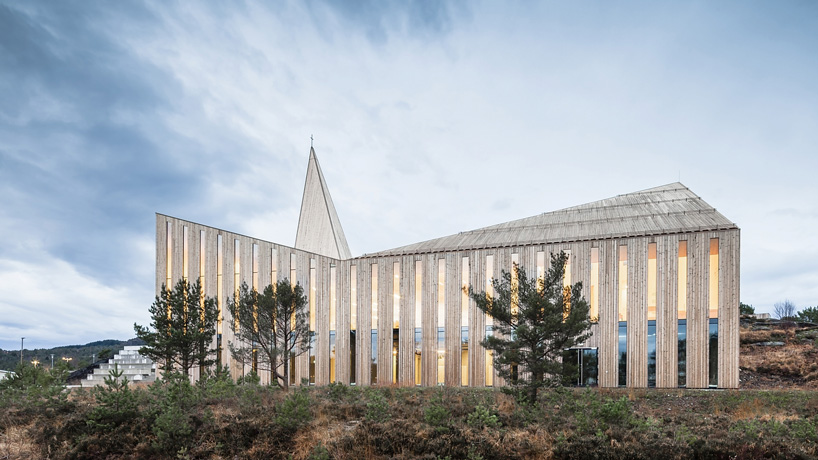 the structure's long elevations feature vertical bands of glass
photo by hundven-clements photography
photo by hundven-clements photography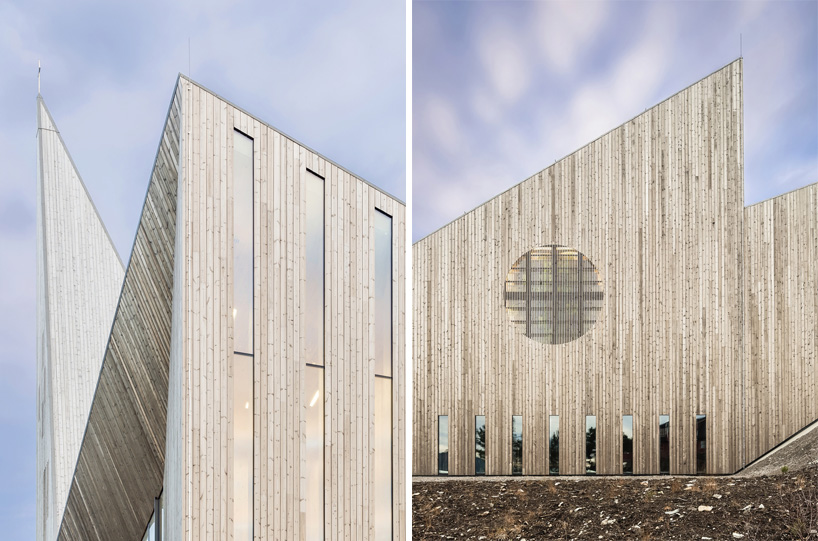 photos by hundven-clements photography
the angular forms are expressed in church's hall
photo by hundven-clements photography
the interiors feature minimally-expressed detailing and limited use of direct christian symbols
photo by hundven-clements photography
photos by hundven-clements photography
the vertical windows provide views to the valley below
photo by hundven-clements photography
the church's steeple rises up to announce the building from a distance
photo by hundven-clements photography
oct 12, 2017
oct 12, 2017
aug 31, 2017
aug 31, 2017
aug 22, 2017
aug 22, 2017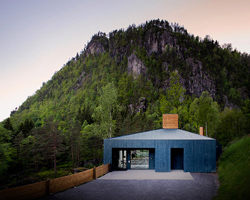 jul 18, 2017
jul 18, 2017
jun 29, 2017
jun 29, 2017
jun 18, 2017
jun 18, 2017
oct 24, 2017
oct 24, 2017
oct 01, 2017
oct 01, 2017
sep 18, 2017
sep 18, 2017
dec 06, 2016
dec 06, 2016
sep 15, 2016
sep 15, 2016
feb 02, 2016
feb 02, 2016