565 broome soho is a condominium tower in new york designed by italian architect renzo piano. the project, which was first announced in 2016, is now under construction and is expected to open its doors to new occupants (including tennis star novak djokovic) in 2018. located in soho, at the heart of manhattan, the 30-storey scheme seeks to draw from the neighborhood's architectural character with lofted apartments that offer the high-end finishes of the city's luxury residential developments.

all images courtesy of noë & associates with the boundary
with sales for 565 broome soho now underway, further images of the development have been revealed, detailing the scheme's luxury interiors and wide ranging amenities. renzo piano's design comprises two spires that between them contain a total of 115 residences. units range from studios to 4-bedroom homes and include duplexes and penthouses with floor-to-ceiling windows. the entire building is clad with a powder-coated aluminum façade with sound-proofed glazing.

the project is under construction in new york's soho neighborhood
french firm RDAI will fit out the tower's interiors, which boast white oak plank floors, 10-foot ceilings, and custom-designed kitchens. amenities include a 24-hour concierge and attended lobby, a private gated driveway and entrance with automated parking, and a landscaped outdoor terrace. internally, a 55-foot swimming pool is joined by a fitness center and a spa complete with sauna and steam rooms.

amenities include a private gated driveway
recently, bizzi & partners development, aronov development, and halpern real estate ventures — the companies behind the project — announced a partnership with think zero, consulting specialists in waste reduction and diversion planning and implementation. the collaboration is the first between the firm and a luxury condominium, putting the project on track to become one of manhattan's first residential zero waste buildings.

residences boast white oak plank floors and 10-foot ceilings
the US zero waste business council defines zero waste as, 'achieving over 90% diversion of waste from landfills, incinerators and the environment'. 565 broome soho's goal is to reach this target after one year of being open. the building intends to leave little to no bags at the curb, and to save money and reduce its environmental footprint by cutting down on material use.

french firm RDAI will fit out the tower's interiors
'setting zero waste goals and implementing a zero waste program in a large luxury building involves a lot of upfront work and the cooperation of all stakeholders in the building, but the benefits are huge,' says sarah currie-halpern, founder and partner of think zero. 'we look forward to helping 565 broome soho become one of the first zero waste residential buildings in manhattan and rolling out our model to the broader real estate community in the near future.'

a fitness center is joined by a spa complete with sauna and steam rooms

penthouses are found at the building's upper levels

residents also have access to a 55-foot swimming pool

the tower's private vehicular entrance

the 30-storey scheme seeks to draw from the neighborhood's architectural character

the development is expected to open its doors to new occupants in 2018
Save
Save
Save
Save
Save
Save
Save
Save
oct 30, 2017
oct 30, 2017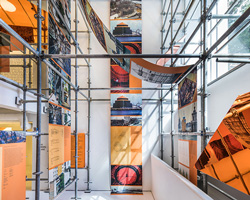 oct 27, 2017
oct 27, 2017
oct 22, 2017
oct 22, 2017
oct 21, 2017
oct 21, 2017
oct 19, 2017
oct 19, 2017
oct 17, 2017
oct 17, 2017
oct 30, 2017
oct 30, 2017
oct 30, 2017
oct 30, 2017
oct 30, 2017
oct 30, 2017
oct 11, 2017
oct 11, 2017
sep 28, 2017
sep 28, 2017
aug 14, 2017
aug 14, 2017