jul 20, 2016
reuter raeber architects develops a house of contrasts with riehen residence
reuter raeber architects develops a house of contrasts with riehen residence
designed by reuter raeber architects, this private residence in switzerland uses glass, concrete, wood, and metal to create contrasting interplays of depth, weight, and heft. located near basel, 'house in riehen' is a horizontal building embedded into the contours of its plot. while the ground floor has been constructed from concrete, the upper level has been built from wood — creating a dialogue between the two storeys.

the horizontal building is embedded into the contours of its plot
all images by eik frenzel
reuter raeber architects has designed the transition from exterior to interior to be seamless and fluid, with narrow retaining walls enclosing a courtyard. a small stairway delineates the spatial flow of the interiors — leading from the entrance to the living, dining, and kitchen areas — while reinforcing the character of the descending outdoor terrain. seemingly cast in one piece, the floor, fireplace, and two exterior load-bearing shear walls are made of concrete.

narrow retaining walls enclose a small courtyard and pool
above, a solid wood construction comprising four exterior sheer walls and two transverse walls forms the structure of the overlying storey, containing the property's sleeping accommodation. internally, the wood is left exposed, while glass and metal surfaces provide weather resistance on the building's exterior. 'the wood structure rests on two vertical concrete shear walls, cantilevering to the front and back,' explain the architects. 'it is stabilized by way of cross-bracing steel tension bars on the east and west-facing windows that hold the two wooden shear walls together. the ceiling on the ground floor is hung front to back by way of tension rods attached to the two transverse steel roof beams.'

the ground level has been constructed from concrete, while the upper storey has been built from wood

glass and metal surfaces provide weather resistance on the building's exterior

seemingly cast in one piece, the floor, fireplace, and two load-bearing walls are all made of concrete

a small stairway delineates the spatial flow of the interiors

the interiors reinforce the character of the descending outdoor terrain

 upstairs, wooden surfaces are left exposed

the project's concrete lower level under construction
project info:
name: house in riehen
location: basel, switzerland
architecture: patrick reuter, lukas raeber
engineering: WMM ingenieure – andreas bayer, gilbert santini
HVAC: beat joss & partner – beat joss
building physics: ehrsam & partner – seraphin burri
photography: eik frenzel
Save
Save
Save
Save
Save
Save
Save
Save
Save
Save
Save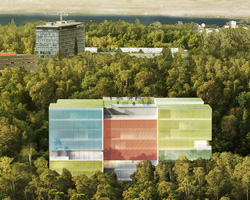 oct 31, 2017
oct 31, 2017
oct 31, 2017
oct 31, 2017
oct 23, 2017
oct 23, 2017
oct 03, 2017
oct 03, 2017
sep 21, 2017
sep 21, 2017
sep 19, 2017
sep 19, 2017