oslo-based firm rever & drage has completed a visitor center that occupies a clifftop location in the southern norwegian village of kvås. with a form that references the region's vernacular architecture, the building is sandwiched between a main road and a waterfall, and is surrounded by dense oak woodland. perched on the rugged terrain overlooking the lynga river, the structure sits low in the landscape and is topped with a sloping, eave-less roof.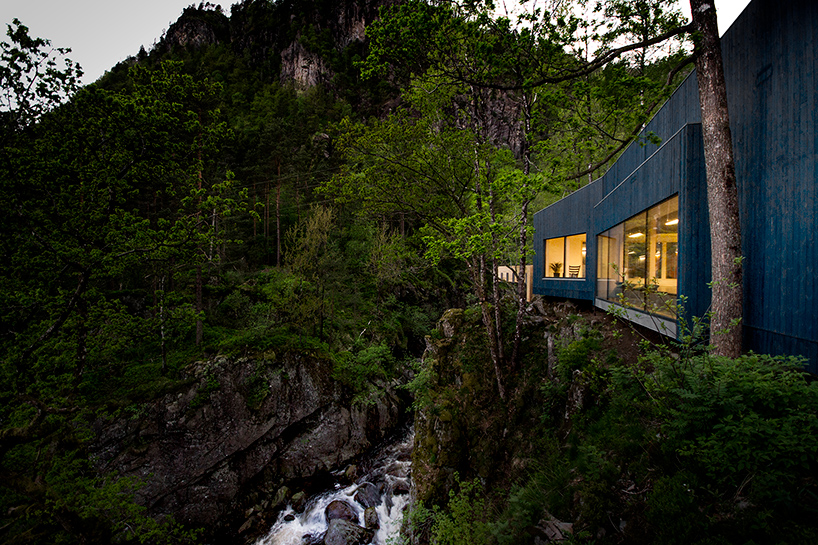 all images by tom auger
in 2014, an artificial underground pool was created at the site to allow the public to see the wild salmon that populate the river. this proved a popular addition, with rever & drage architects commissioned to design a building to accommodate the increased amount of guests. serving as an elevated lookout and information point, the kvåsfossen visitor center now helps block vehicular noise emanating from the road, while simultaneously indicating a point of interest to passing traffic.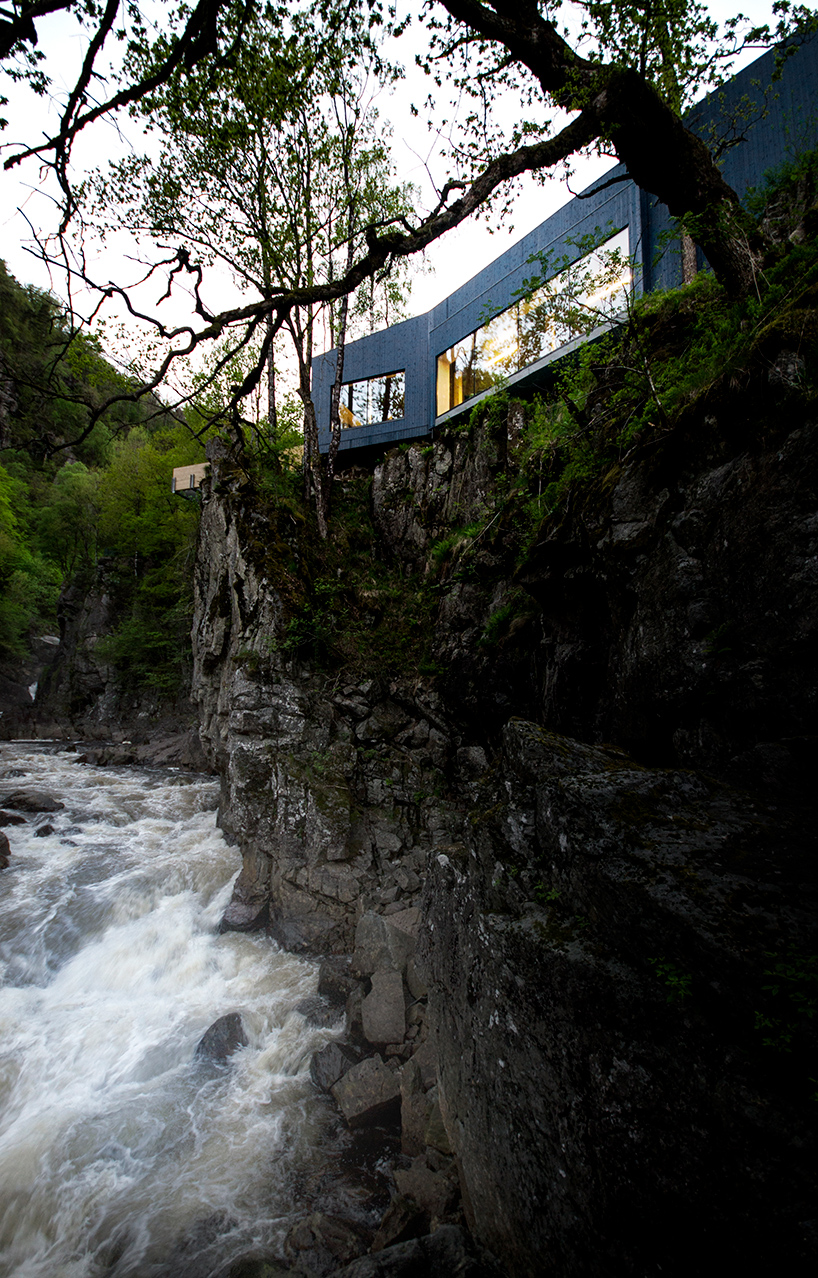 the visitor center occupies a dramatic clifftop location
despite its more contemporary coloration, the timber-clad building has been coated with a traditional tar-based stain — a historic technique that dates back centuries. upon entry, the building appears much larger that originally imagined, creating a tardis-like ambiguity between inside and out. at the center of the plan, a large window allows visitors to overlook the dramatic backdrop from a comfortably seated position. meanwhile, varied fenestration presents evolving views of the river as one moves along the cliff's edge.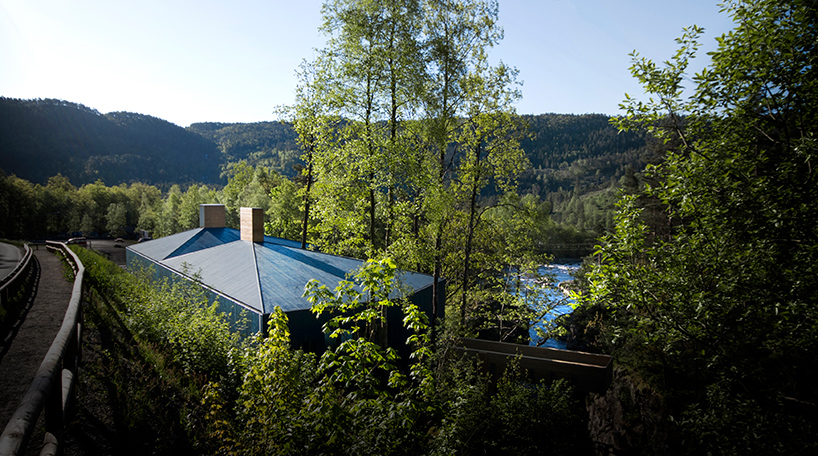 the building is sandwiched between a main road and a waterfall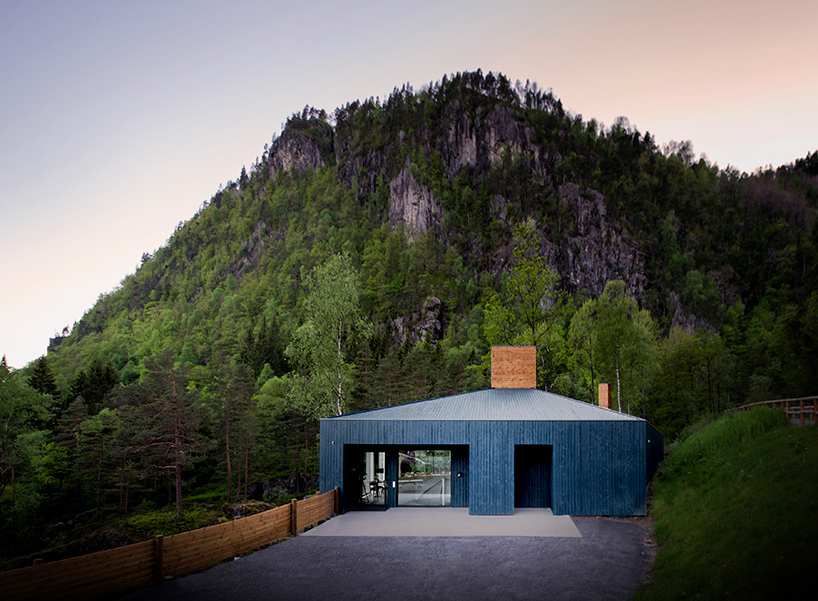 the timber-clad building has been coated with a traditional tar-based stain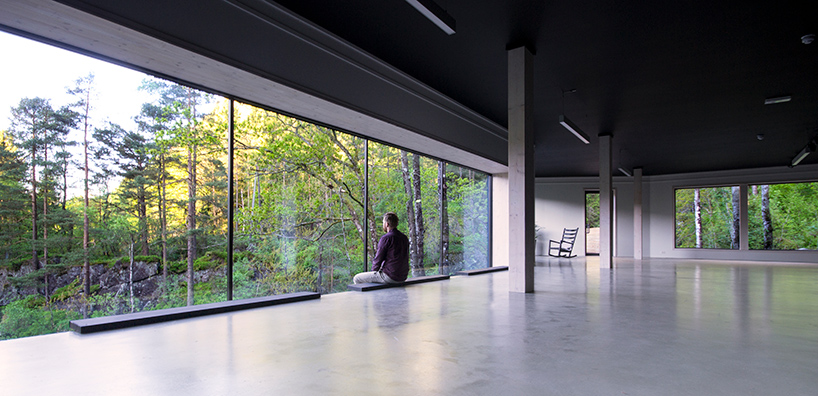 upon entry, the building appears much larger that originally imagined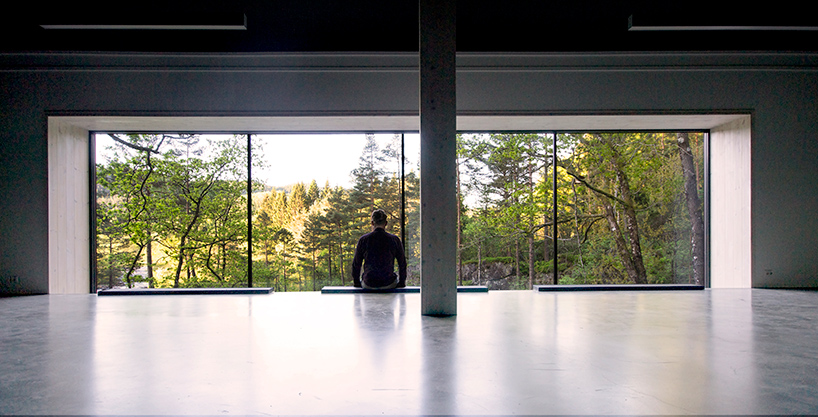 a large window allows visitors to overlook the picturesque backdrop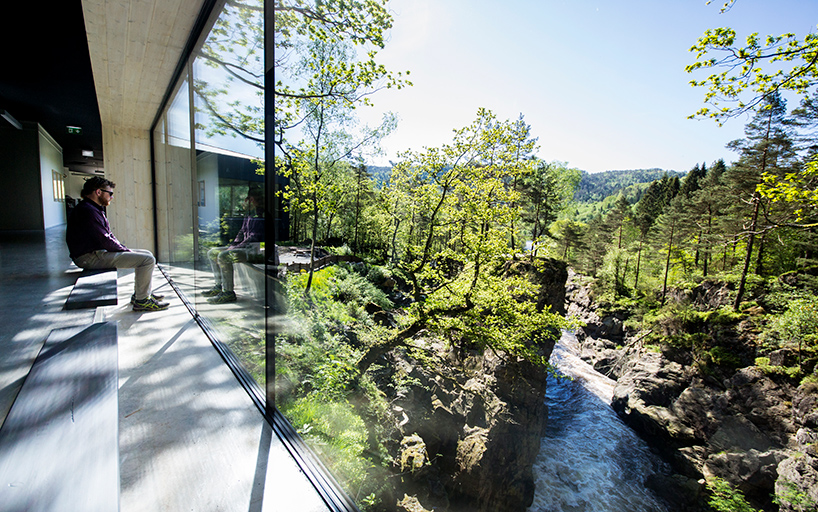 seating is provided at the center of the plan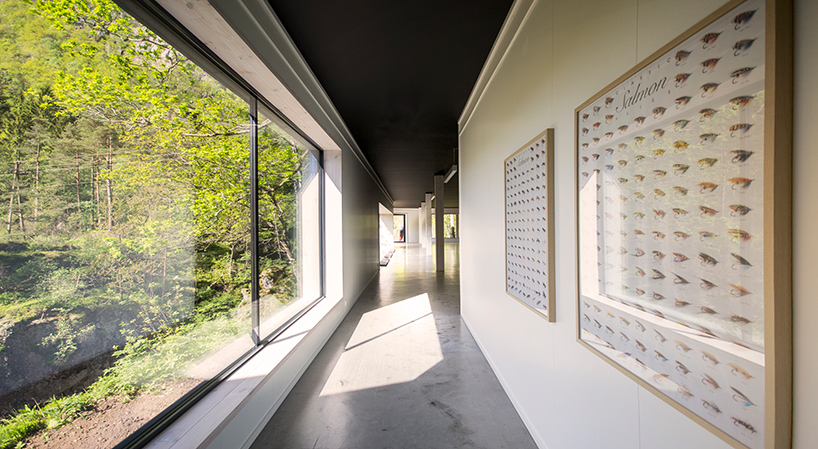 the structure is perched on the rugged terrain overlooking the lynga river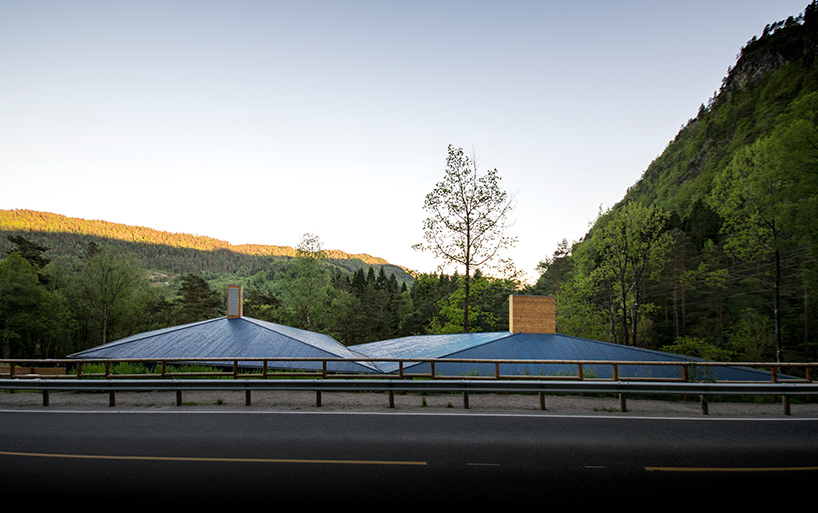 the building's roof indicates a point of interest to passing traffic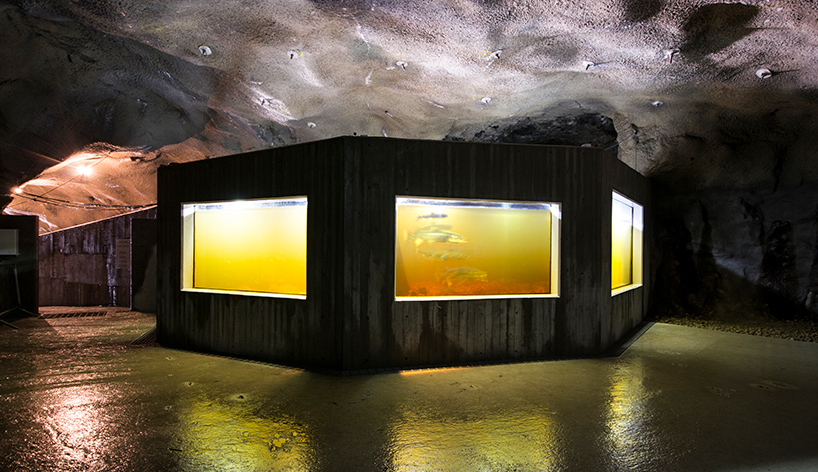 an artificial underground pool allows the public to see the wild salmon that populate the river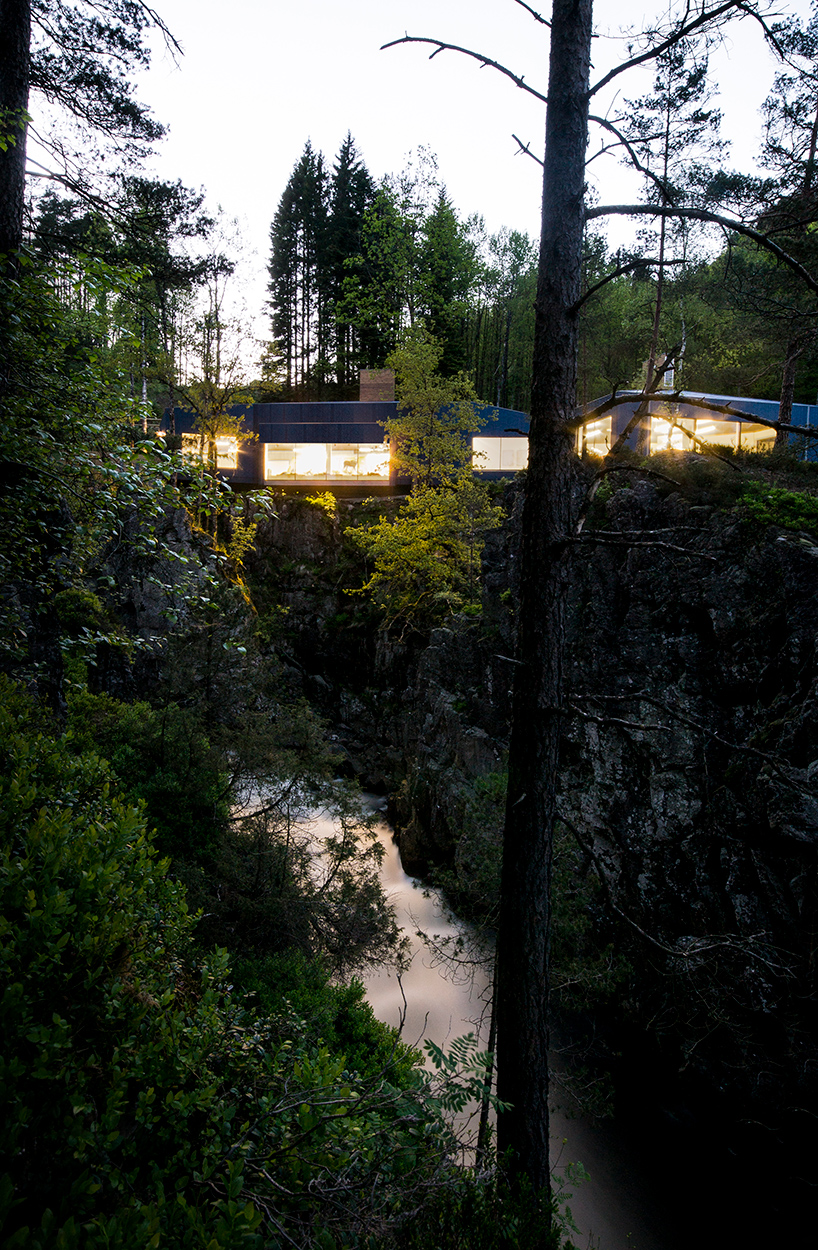 the visitor center is located in the norwegian village of kvås
project info:
name: kvåsfossen
architects: rever & drage architects
design team: tom auger, martin beverfjord, eirik lilledrange
client: kvåsfossen – sørnorsk laksesenter
complete: 2017
location: kvås, vest-agder, norway
area: 450 sqm (only visitor center)
photography: tom auger
Save
Save
Save
Save
Save
Save
Save
Save
Save
Save
Save
oct 12, 2017
oct 12, 2017
aug 31, 2017
aug 31, 2017
aug 22, 2017
aug 22, 2017
jun 29, 2017
jun 29, 2017
jun 18, 2017
jun 18, 2017
jun 07, 2017
jun 07, 2017
may 04, 2017
may 04, 2017
aug 27, 2016
aug 27, 2016