richard meier's new york office has completed three residential buildings in downtown newark, new jersey. the structures, which have been built primarily on previously vacant lots, form part of 'teachers village', a mixed-use development that encompasses housing, two charter schools — which were completed in 2013 — and small to mid-scale retail outlets. the vast scheme, which started ten years ago, intends to restore a sense of community to the downtown district, which had been overlooked for decades.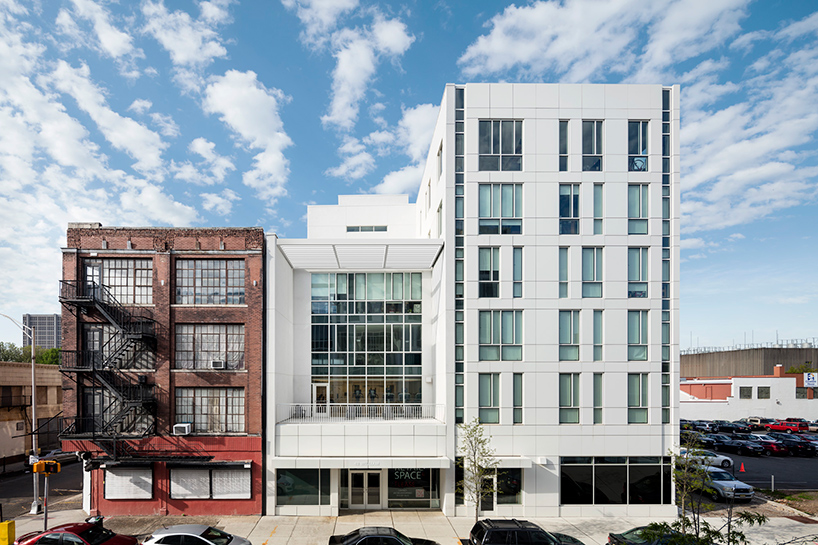 the north façade and entrance of residential building VII
image © scott frances (also main image)
in determining the site's overall masterplan, richard meier & partners worked closely with ron beit, CEO of development firm RBH group. in order to carry out a holistic overhaul of the region, RBH bought more than 70 parcels of land in the area, totaling 23 acres. strategically positioned in relation to newark penn station and other significant transport links, it is hoped that the new community will continue to attract a growing number of residents, students, and visitors.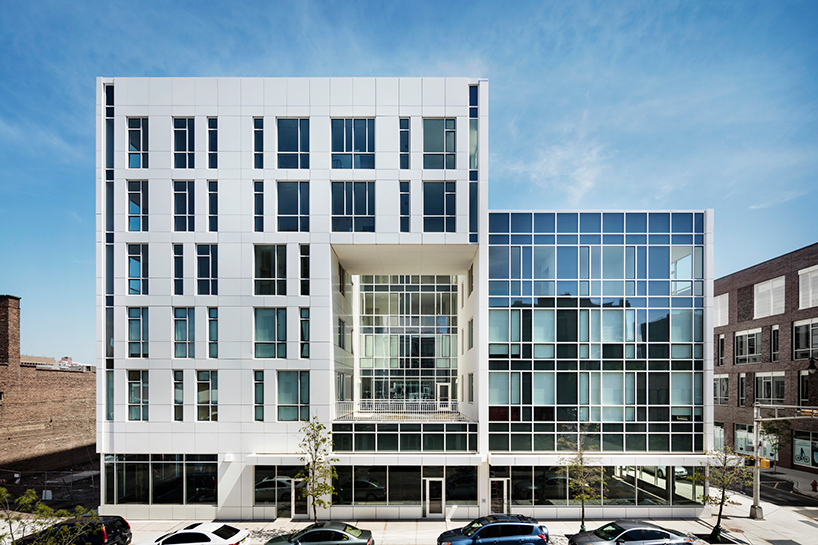 the south-facing façade of residential building VI
image © scott frances
'the project is important for me for a number of reasons: 1, I was born in newark; 2, my grandparents lived all of their lives in newark; and 3, newark doesn't have the best reputation, and it needs this kind of thing to realize that it is an important city,' richard meier said at an exclusive presentation of the project at his new york office. 'it is 15 minutes on the PATH train from manhattan, and anything that we can do to help the whole city — and I think this project does help the whole city — we're proud to do. it is the kind of project that could happen in a number of places and give a spark to that area, which is what we hope will happen. it's not just our site, but it reaches out and has an effect on the entire community.'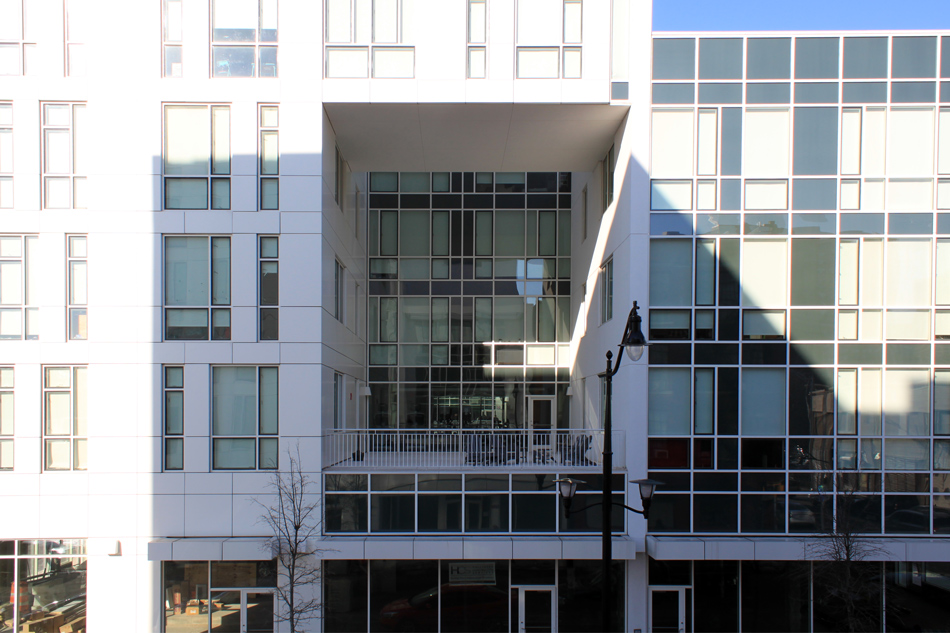 voids and terraces help ensure that residences benefit from natural daylight and ventilation
image © designboom
with the completion of three new workforce housing buildings, which prioritize accommodation for teachers, the development now offers 123 residential units, of which, only two are currently unoccupied. richard meier's team — led by associate partners vivian lee and dukho yeon, and project architects ananth sampathkumar
 and chris townsend — was also responsible for the buildings' interiors. both the apartments and the schools feature generously proportioned windows that remain open to the light and activity of the streets below.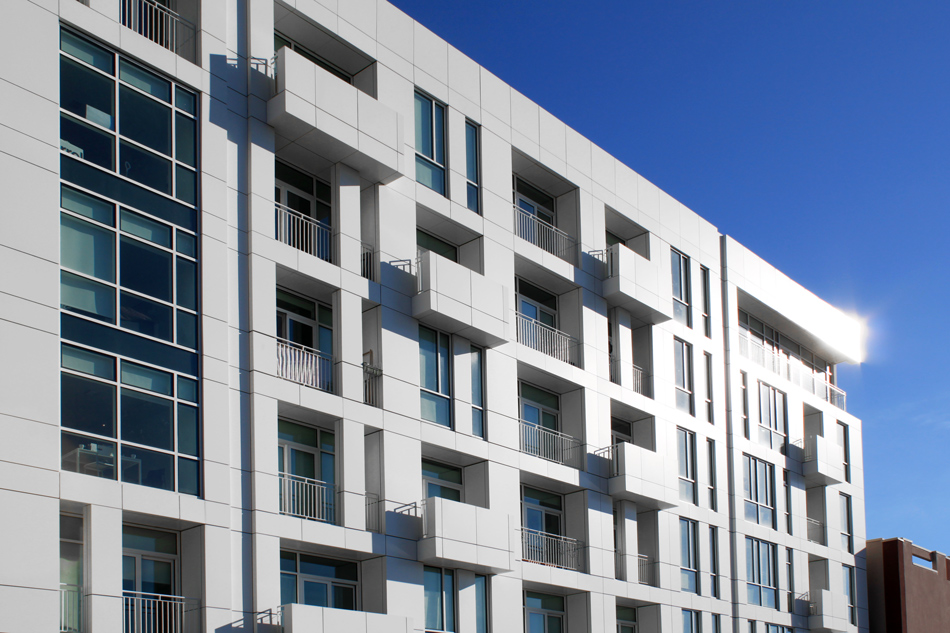 the development features many of the distinctive characteristics of richard meier's work
image © designboom
'what is nice at teachers village is that you could be a teacher in the bronx and get subsidized housing and live here — you don't have to live in newark. it brings people to the city,' meier told designboom. 'this is the kind of thing we are proud to be a part of, and we hope that it happens more often. you don't need one scale in a city — this is very low scale. in manhattan, the scale is changing rapidly as you look out the window. somehow we thought the empire state building was an icon, but it is being dwarfed by some of the things that are going on now unfortunately. every city needs to have a mix.'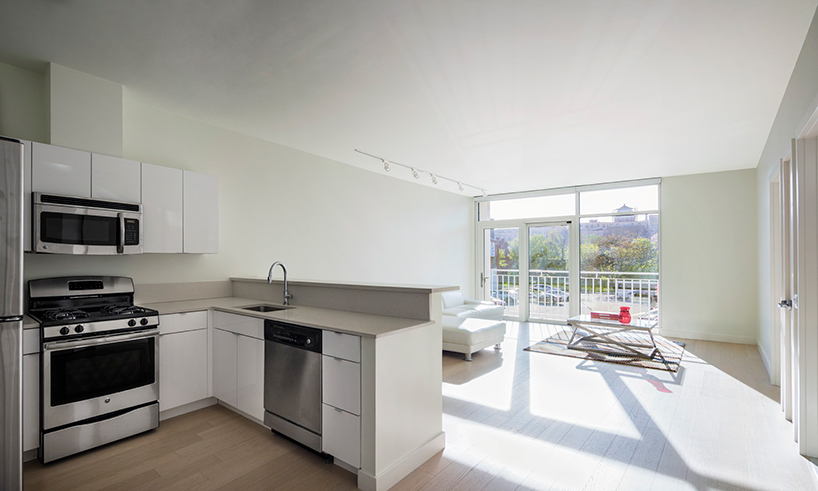 inside one of the light-filled apartments in residential building VII
image © scott frances
each of the new buildings has been designed at a scale comfortable with its context. the heights of the street-facing façades have been regulated in accordance with the newark living downtown plan, with all of the new building fronts facing halsey street not exceeding 60 feet in height. at the heart of the development, a new retail corridor offers a range of venues intended to stimulate activity 24 hours a day. teachers village is also one of the first developments in the US to receive the LEED neighborhood development designation by the US green building council, an award that indicates that the neighborhood 'integrates the principles of smart growth, urbanism and green building strategies'.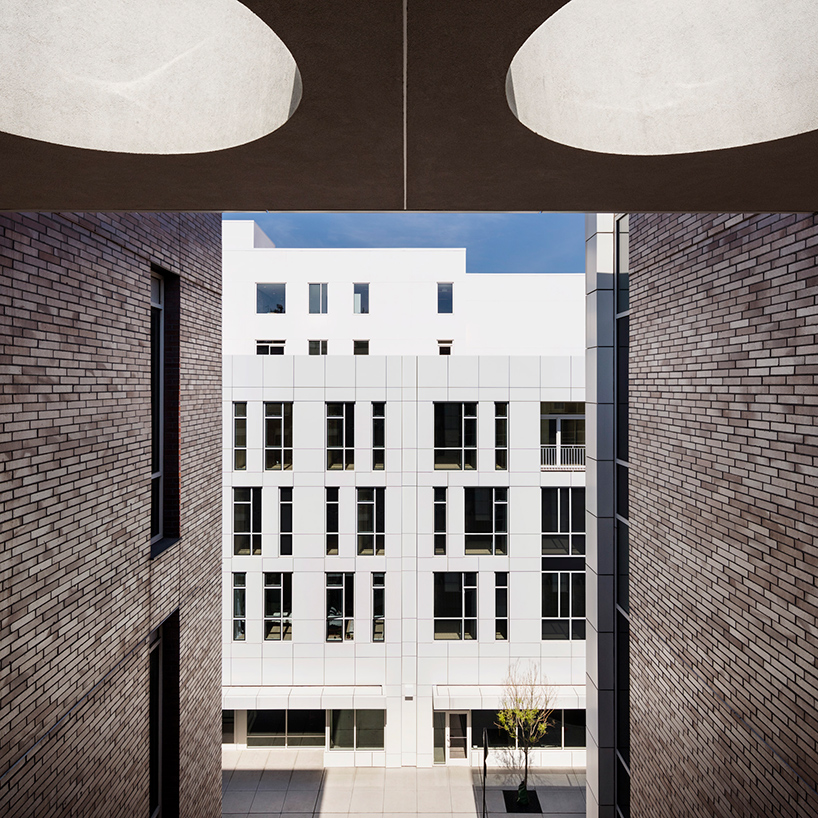 looking towards residential building VI from the bridge that connects the charter schools
image © scott frances
'teachers village is a unique addition to our office's design portfolio as these buildings have all together created a new community and neighborhood,' said vivian lee, associate partner-in-charge. 'we are proud to be part of the RBH team, in achieving an incredible development vision that will deliver both a social and economic impact to newark's downtown district. with already a changing environment in this area with the schools, housing and businesses for teachers village, we look forward to continuing our effort in further contributing to future phases of this development, transforming and enhancing a part of the urban fabric.'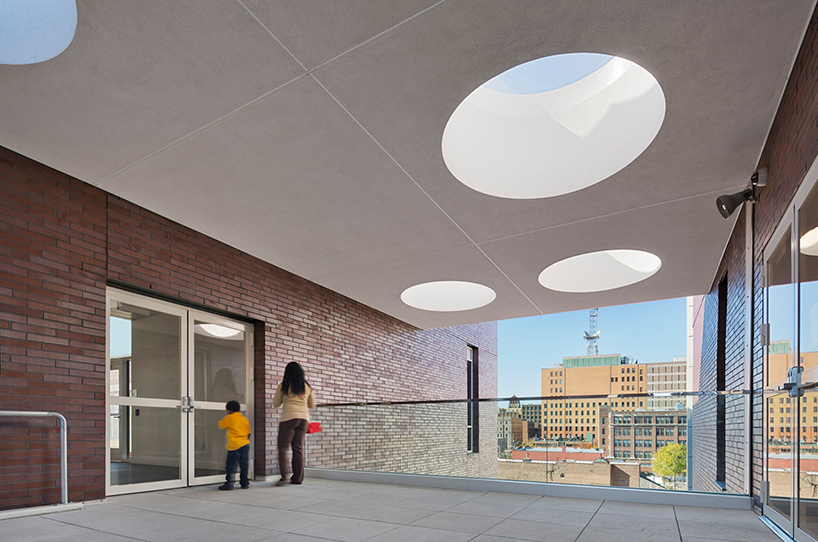 large skylights help illuminate the bridge link
image © paúl rivera
'we are especially proud to realize this project that we envisioned together with RBH group many years ago with modest means but ambitious goals; with architecture that is sensitive to context but purposeful in creating generous living spaces for teachers, and a vibrant new neighborhood in downtown newark,' added dukho yeon, associate partner-in-charge.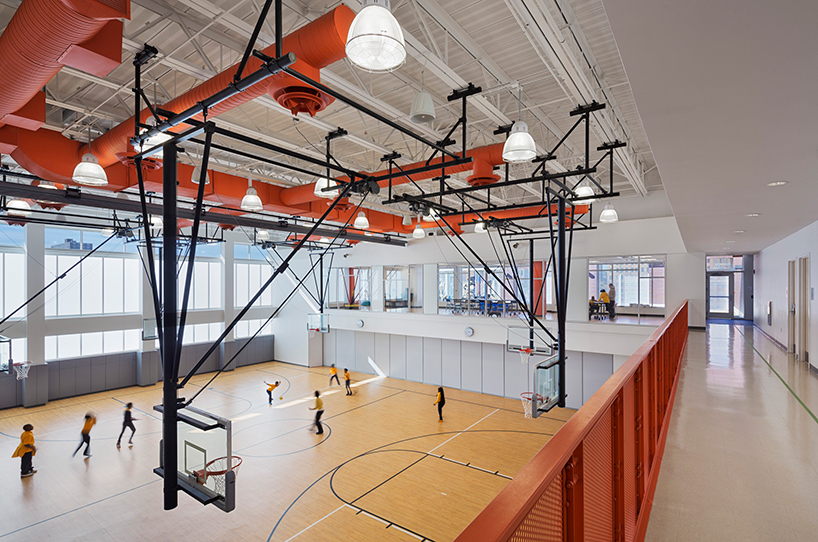 the gymnasium can be used by residents after school hours
image © paúl rivera
'we have worked closely with richard meier & partners architects over the past decade to design not only these three outstanding mixed-use buildings in teachers village, but also the two school buildings of teachers village as well as the catalytic SoMa masterplan that will transform newark's critical retail corridors in and around market street,' explains ron beit, president and CEO of RBH group.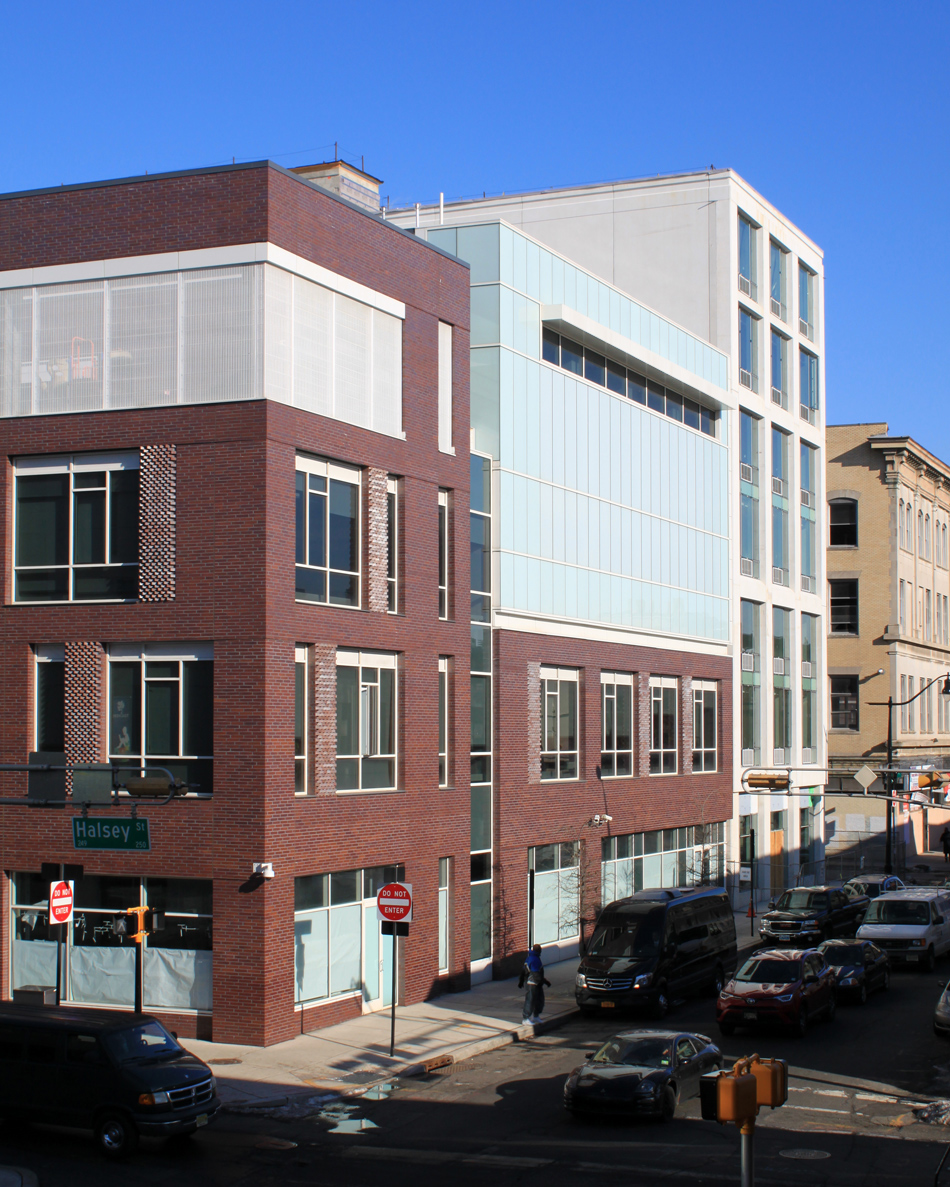 brick has been used to correspond with surroundings, and reduce the appearance of the development's mass
image © designboom
'the hard work of richard, vivian lee and dukho yeon on this project, and their careful attention to detail and the long-term sustainability of this project are a testimony to their professionalism and commitment to setting a high standard for design and livability in the heart of downtown newark,' beit continued. 'it was the brilliance of our partner nicolas berggruen who made the introduction to richard and insisted that we adhere to international quality design to reflect our global aspirations for the city of newark.'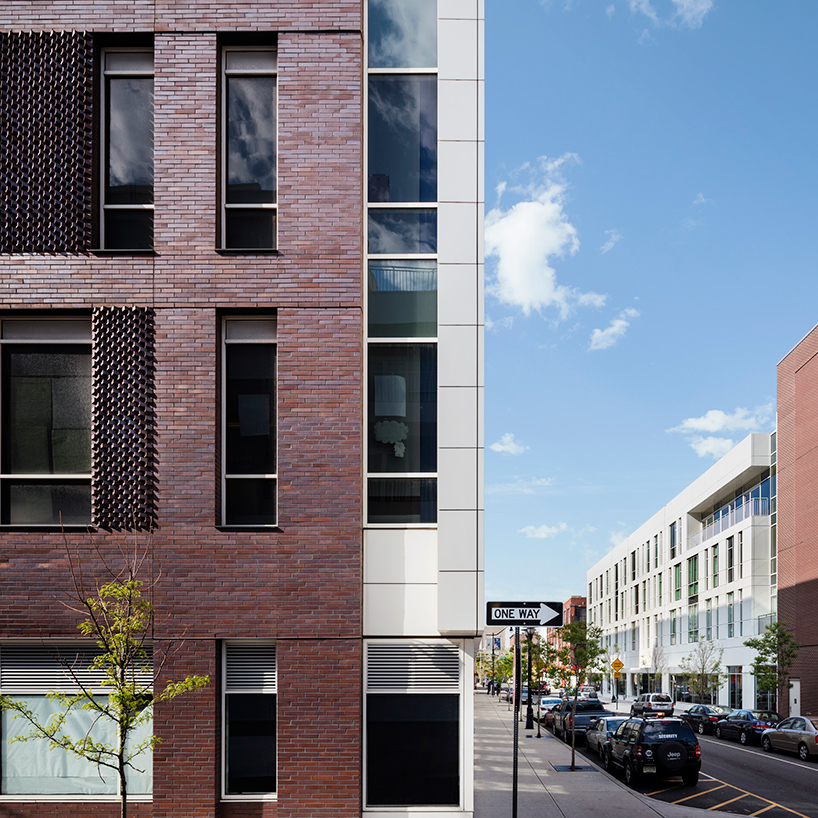 unorthodox bricks and bonding techniques define the halsey street façade
image © scott frances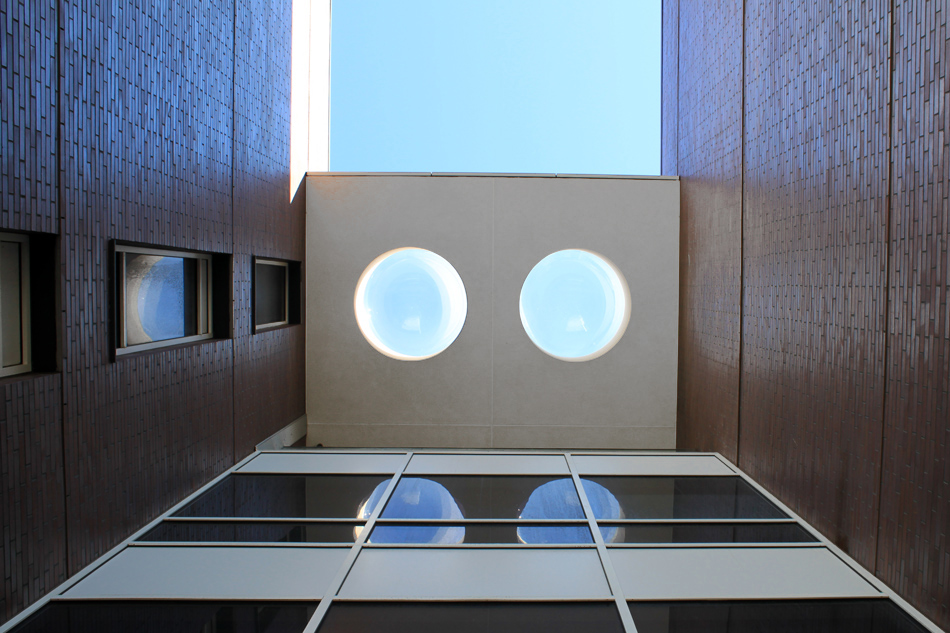 looking upwards from the entrance between the two schools
image © designboom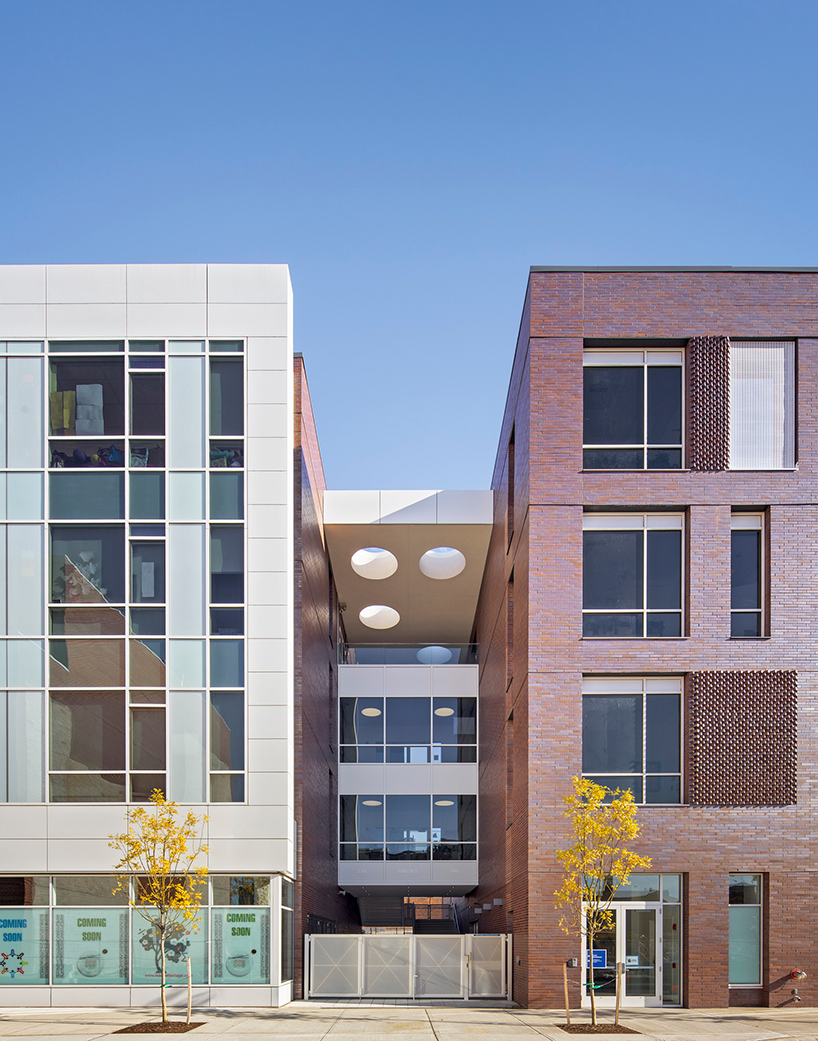 the charter schools' entrance and the connecting bridge viewed from the passing street
image © paúl rivera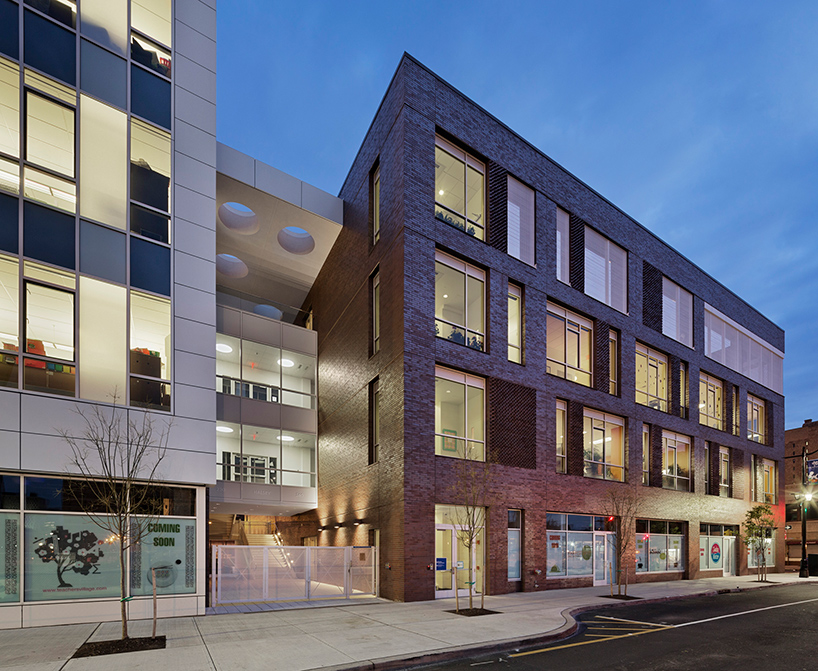 the development's ground level will include retail outlets for local companies
image © paúl rivera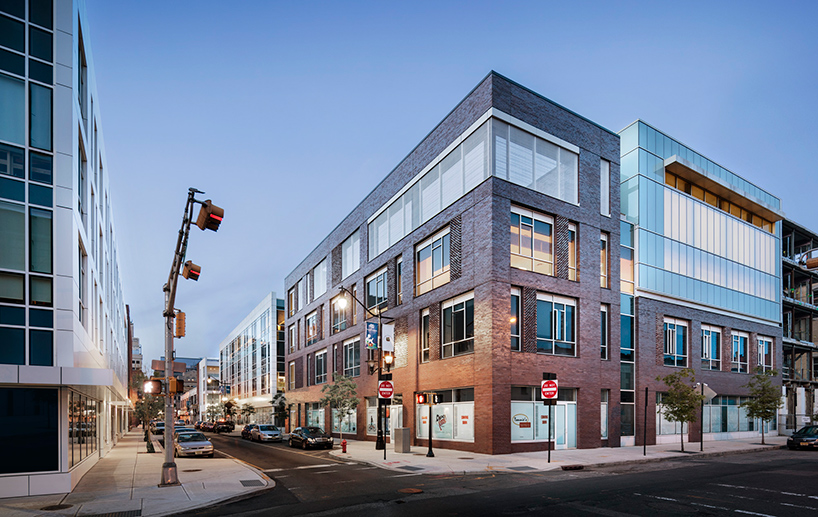 looking north along halsey street
image © scott frances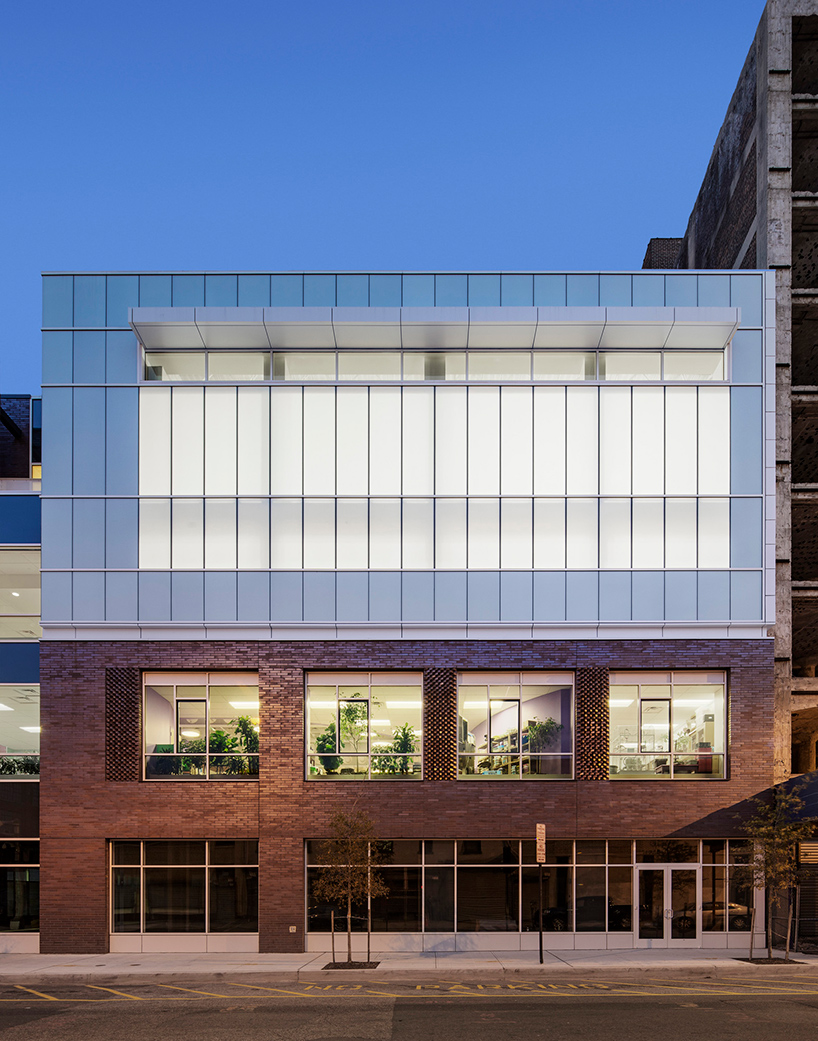 the exterior of the gymnasium takes on a soft glow by night
image © paúl rivera
project info:
managing partner: richard meier
associate partners: vivian lee, dukho yeon
project architect: ananth sampathkumar
, chris townsend
project team: techan abe
, jonathan bell
, remy bertin, joseph t. desense III
, gil even-tsur, simone ferracina, 
adam greene, 
zheng huang
, scott johnson, 
katie kasabalis
, brandt knapp
, aki koike, 
aung kyaw
, chris layda
, dongkyu lee
, ian lotto
, diana lui
, alexander maymind, 
marianna mello, 
hyung sok moon
, guillermo murcia, 
stefan scheiber-loeis, 
hee-joo shi
program: schools, residential and retail
floors: 5 to 6 levels above grade and basement level
floor area: teachers village charter schools | 230 halsey street: 104,000 sqf (9,661 sqm)
teachers village building 1 | 35 maiden lane: 30,770 sqf (2,858 sqm)
teachers village 6 | 243 halsey street: 95,030 sqf (8,829 sqm)

teachers village building 7 | 42 william street: 65,670 sqf (6,101 sqm)
Save
Save
Save
Save
Save
Save
Save
Save
Save
Save
Save
Save
Save
Save
Save
Save
Save
Save
Save
Save
Save
Save
Save
Save
Save
philip stevens
I designboom
feb 15, 2017
a diverse digital database that acts as a valuable guide in gaining insight and information about a product directly from the manufacturer, and serves as a rich reference point in developing a project or scheme.
designboom will always be there for you
milan, new york, beijing, tokyo

,
since 1999