dec 28, 2009
rintala eggertsson architects: library in thailand
library in thailand all photos by pasi aalto courtesy rintala eggertsson architects
sami rintala of rintala eggertsson architects lead a group of NTNU trondheim university (norway) architect students on a social project. they worked together to build a two storey library building for safe haven orphanage in ban tha song yan village, thailand near the burma border for 42 children ranging in different ages.
the task was to utilize local materials and building techniques to create a building that would solve the problems of education in the orphanage in the most practical way. at the same time, the design also worked with the surrounding environment, with research on natural ventilation systems and sunshades completed and incorporated into the building. the structure was built from natural lava stone from the site, concrete bricks, wood and bamboo. the lower level of the library houses the books and a computer area while the upper level is more for lounging, play and enjoying the books.
the project was organized by tyin tegnestue, trondheim, norway and NTNU teacher hans skotte.
the library built from concrete bricks, natural lava stone, wood and bamboo
back of the library
library in surrounding environment
long view of the interior
interior
steps also function as shelves
upper level interior
oct 01, 2017
oct 01, 2017
aug 27, 2017
aug 27, 2017
jul 19, 2017
jul 19, 2017
jul 11, 2017
jul 11, 2017
jun 18, 2017
jun 18, 2017
apr 26, 2017
apr 26, 2017
jun 14, 2016
jun 14, 2016
aug 25, 2014
aug 25, 2014
nov 30, 2012
nov 30, 2012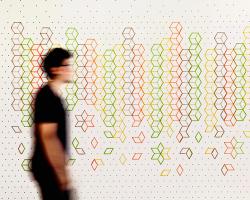 oct 16, 2014
oct 16, 2014
mar 24, 2012
mar 24, 2012
mar 19, 2012
mar 19, 2012