in australia, rogers stirk harbour + partners (RSHP) has completed the final high-rise at international towers sydney. its completion marks the first significant part of the practice's masterplan for barangaroo south — the city's largest urban renewal project since the 2000 olympics. the ongoing redevelopment unites sydney's central business district with the waterfront, creates a new financial services hub, and will eventually result in a carbon neutral downtown neighborhood.

all images © brett boardman photography, unless otherwise stated
RSHP's design is conceived as three sibling buildings that each contain distinct details with an individual character. carefully positioned on a radial geometry — in order to maximize sunlight and views — the towers form a distinctive and highly visible landmark over the western harbor. internally, 23,000 workers are housed in approximately 300,000 square meters of office space divided among the three towers. flexible 2,500 square meter floorplates enable occupants to configure their workplaces according to their needs.

image © rogers stirk harbour + partners
at ground level, unconventional lobbies are designed to be transparent and inviting, weaving into the existing network of streets and lanes. this is intended to give the towers human scale and impact at ground level. façades utilize a combination of horizontal and vertical shading. this protects the buildings from solar load and reduces the energy needed for cooling, while simultaneously providing color and scale to the individual towers.

shading protects the buildings from solar load, while providing color and scale
developed by lendlease, the project has received a 6 star rating from the green building council of australia. this means that, according to the GBCA, the towers demonstrate 'world leadership' in terms of their environmental design. other aspects that promote sustainability include: solar panels, rainwater capture and recycling, blackwater treatment, and a basement that houses three times more bicycles than cars.

the western podium elevation of tower two
'sydney is one of the most magnificent port cities in the world, but historically the city has never reached the waterfront,' said richard rogers. 'one of the main aims of this project was to extend the CBD down to the waterfront, creating a new district of work and leisure, with 50% open space. since the towers have been built, the area has been teeming with people, life and vitality, showing that this was absolutely the right response to the area. working on a project of this scale has been an incredible opportunity for the practice to undertake a high quality piece of placemaking.'

unconventional lobbies are designed to be transparent and inviting

the lobbies are woven into the existing network of streets and lanes

the open foyers give the project a human scale at ground level

23,000 workers are housed in 300,000 square meters of office space, divided among the three towers

a triple-height 'vertical village' in tower two

the towers form a distinctive and highly visible landmark over the western harbor
Save
Save
Save
Save
Save
Save
Save
Save
Save
Save
Save
Save
Save
oct 22, 2017
oct 22, 2017
oct 20, 2017
oct 20, 2017
oct 10, 2017
oct 10, 2017
oct 06, 2017
oct 06, 2017
oct 02, 2017
oct 02, 2017
sep 28, 2017
sep 28, 2017
oct 15, 2017
oct 15, 2017
sep 30, 2017
sep 30, 2017
aug 25, 2017
aug 25, 2017
jun 28, 2017
jun 28, 2017
jun 17, 2016
jun 17, 2016
feb 10, 2016
feb 10, 2016
oct 22, 2017
oct 22, 2017
oct 19, 2017
oct 19, 2017
oct 13, 2017
oct 13, 2017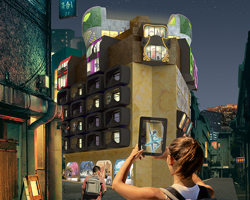 oct 10, 2017
oct 10, 2017
oct 06, 2017
oct 06, 2017
oct 06, 2017
oct 06, 2017