ROTOR curates 2013 oslo architecture triennale
model of an ideal back garden composting setup used in workshops by a group of 350 of volunteer experts that provide practical advice on recycling organic household waste. the network is organized by the environmental administration of the brussels region (IBGE).
model: laurence vandeputte
maître-composteurs, brussels (belgium), 2013
image © rotor
the focus of the 2013 oslo architecture triennale (from september 19th – december 1st, 2013) is 'green' with the exhibition 'behind the green door–architecture and the desire for sustainability' acting as the main feature of the festival's rich program of more than 70 events. curated by belgian collective rotor, 'behind the green door' presents more than 600 objects–all of which to some degree carry claims of sustainability–that have been gathered from over 200 international studios, companies and environmental offices.
the pieces on show consist of games, models, photographs, prototypes, videos etc., which express how architecture, city planning, scientific practice, business opportunity and political power are intertwined under the umbrella of 'sustainability'. they are not meant to represent a particular stance that rotor has on the subject, but to to offer an overview of how the selected projects and products refer to the term, and how it has influenced the practice of architecture over the past 30 years.
designboom is an official media partner of the oslo architecture triennale.
we spoke to rotor in advance of the triennale's september 19th opening to discuss how the curatorial process was conducted, and what we can expect from 'behind the green door'.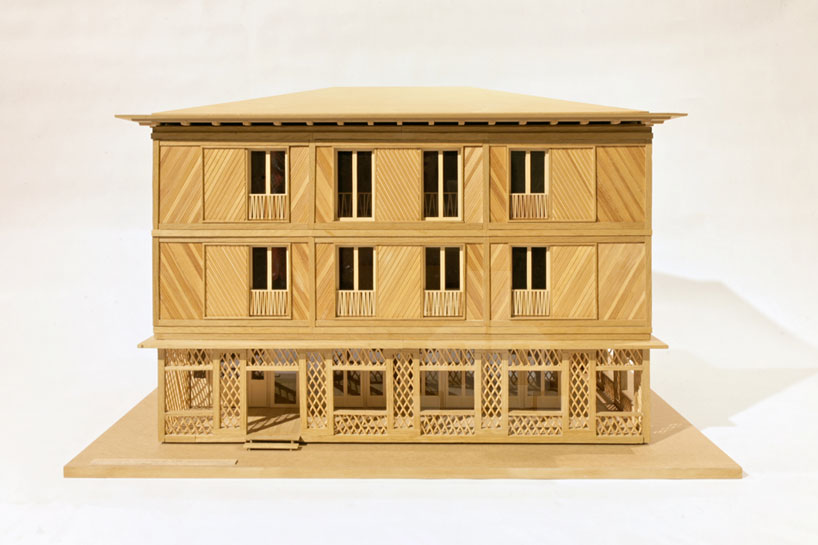 residential home büttenhardt by bernath + widmer, büttenhardt (switzerland), 2010
model (1:20) of a farm house where up to six youths that require special attention learn to take care of horses and other practical skills. the architects decided to use wood from the oak forest surrounding the site as building material.
image © rotor
this is the first occasion that you are curating an event of this size. what were some of the challenges you encountered along the way?

when we make exhibitions, we like to be in control of everything. we decide what is on display, we usually also do the scenography, the light, the copy writing and even the rigging. but here our mission is not only to make an exhibition, but also to inspire and develop a program of around 70 events and projects, involving dozens of partners. our strategy has been, also to differ from other international biennales and triennales, by trying to keep the whole program focused on a single issue. we had to convince all of our partners that keeping the program focused would make it richer. our feeling is that this has succeeded, but it's harder to pull off than setting up a loose theme and declaring 'anything goes'.

endesa pavilion by margen-lab with iaac and endesa, barcelona (spain), 2011
parametric modeling of a prototype's geometry in order to optimise photovoltaic electricity production, insulation, ventilation and lighting. model (1:40) of a case study four-storey pavilion.
image © rotor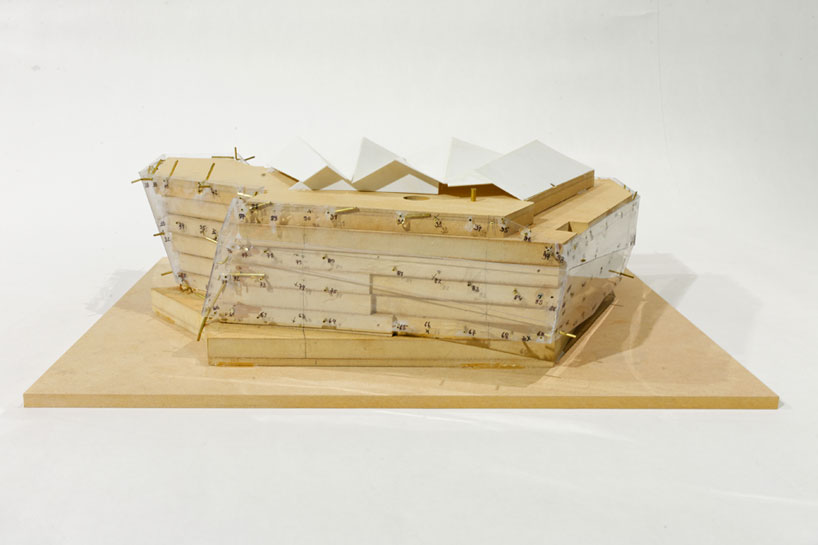 unilever headquarters by behnisch architekten, hamburg (germany), 2009
model (1:220) for wind tunnel testing of sea-front office building with double skin façade. the outer skin, in transparent plastic foil (etfe) mounted onto a secondary structure, regulates air flows and the building's temperature. it forms a protective barrier against strong winds, but also against noise and air pollution from the nearby port.
image © rotor
the theme of this year's triennale is sustainability, with 'behind the green door' exhibition, standing at the heart of the programme. what role does this issue play in your own design and architectural practice?

our starting point was that the subject of sustainability is inevitable for any architectural office today, ours included. the term is loosely used to describe a very broad spectrum of ideas, requirements and designs. we wanted to understand how it got to play such a crucial role. as so often rehearsed, 'sustainable development' was first defined by the brundtland commission in 1987, a UN body presided by the norwegian prime minister. but it is less understood that the commission's task was to formulate 'aspirational goals for the world community'. in other words, the agenda of the commission was to come up with a position that could be embraced by as many parties as possible, across ideological, economic and other divides. they said: 'meet the needs of the present without compromising the ability of future generation to meet their own needs'. who can disagree? so the commission succeeded brilliantly, and the result is that it is hard to object to anything sustainable today.

but as a consequence, for the term to be useful in more concrete situations it must necessarily be interpreted. for instance: to someone who considers individual mobility, a societal must, an electric roadster is a sustainable product. to others it might seem an incredible waste of resources. the idea exists that there is some mathematical form of sustainability. that it is just a matter of running some numbers into a computer. we disagree, and we want to show the struggle that is taking place to fabricate a concrete meaning of the notion.

tietgen dormitory by lundgaard & tranberg arkitekter, copenhagen, 2006
study model (1:50) of a segment of a donut-shaped student accommodation, considered exemplary for achieving high density by intertwining collective and individual spaces.
image © rotor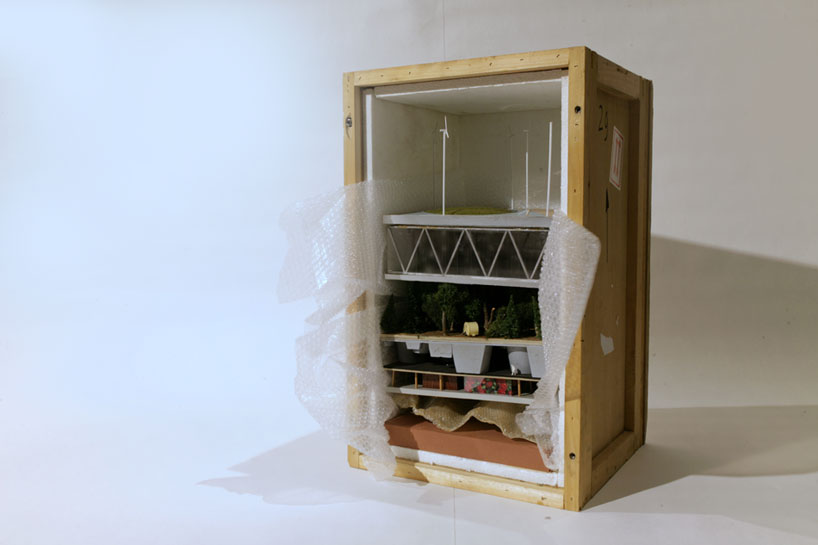 dutch pavilion for expo 2000 by mvrdv, hannover (germany), 2000
model of a 36 metre tall building that aspires to optimise space by stacking six landscapes. the top level consists of a small lake surrounded by windmills that generate power for the building.
image © rotor
obvious ideas come to mind when we think of sustainability, during the curatorial process–surveying hundreds of projects which touched on some aspect of being 'green'–what were some of the groundbreaking and unconventional approaches to addressing the topic that were revealed?

a phenomenal effort is taking place in laboratories around the world in the name of sustainability. it is amazing what is happening in the domain of material technology for instance. we sometimes allowed ourselves to zoom in on one specific mini-subject, and everything happening to 'green' concrete was one of those little obsessions. during the unpacking we were happy to discover that the firm barkow liebinger had also included a sample of ultra-light concrete that they used for their project 'smart material house' in the box with the model we planned to exhibit. the material is very impressive.
but what we're most interested in is how this translates in society. when we started talking with the office atelier d'architecture alain richard, they recalled a situation that they had had with a commissioner. they had suggested to use a batch of steel plates that had been dismantled from the interior of a building for the exterior cladding of a building they were renovating. the commissioner didn't disagree that it was indeed the most 'eco-friendly' thing to do, as the materials were already on site, but was worried about the aesthetics of the proposal.
here we are, in a world that is trying to come to terms with the notion of sustainability, and when you least expect it that's when a discussion about aesthetics pops up and actually turns out to be crucial. so we had a few of those boards dismantled from the building to be put on display in oslo. for us it is a strong reminder that architects and designers also have a cultural role to play in the sustainability adventure.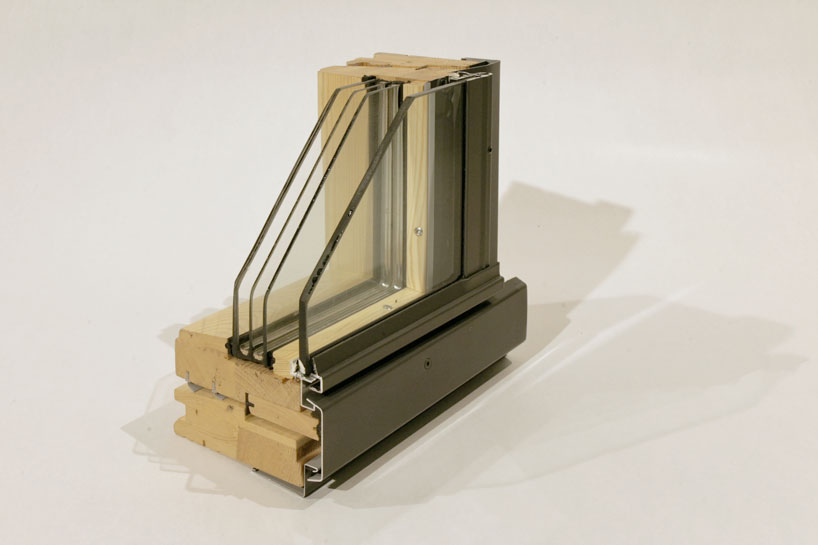 velux, denmark, 2010
section of a skylight with triple glazing and an additional front glass designed for use in energy efficient and passive house constructions to ensure high levels of thermal insulation. the product was discontinued when it turned out the windows were so insulating that in the winter they were covered with layers of frost.
image © rotor

recycling truck with flashing light by playmobil, germany, 2012
'kids can keep the streets of their playmobil city clean and tidy with this realistic recycling truck. complete with two figures and three wheelie bins to collect all the recycling. complete with a flashing light to help keep the traffic moving, a bin lifting mechanism and a removable cabin roof.' – quote from product description
image © rotor
with such a diverse selection of projects on display, how did you go about selecting and organizing them within the show?

a team of 6 people during one year, applying a cocktail of intuition and insight… the materials gathered are first of all a collection, compared to a set of archeological findings from a specific site. it is also a living collection: while we added items, we were also constantly rejecting others, as a collector would do. our focus has been on identifying eloquent objects first, materials that vividly embody a conundrum that is intrinsic to the quest for sustainability. part of these materials will be presented on a 40-metres long table that is also a timeline, one next to the other. others are singled out on one of the thematic tables. all of the materials are presented in the same big hall, and we have asked a number of 'experts' from different fields to select a few favorite items and connect them in a speculative guided tour. every single one of those tours can be seen as a different exhibition. we wanted to invite others to try and make sense out of what is happening under the banner of sustainability.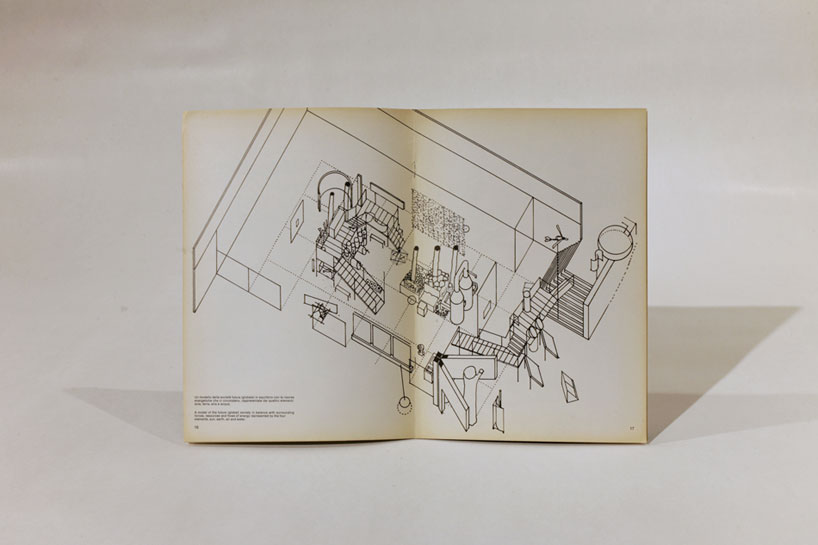 installation for the nordic pavilion by ararat working group, venice & stockholm, 1976.
axonometric drawing of 'a question of survival', an installation for the sverre fehn-designed nordic pavilion at the 1976 venice (art) biennale
'the main question posed by this exhibition is the uneven distribution characterizing the world as a whole and the fact that everything flows in the wrong direction. it deals with the future, the possibilities we have of building a society that functions in balance with nature and gets energy from the inexhaustible sources offered by the ecological systems – the sun, wind, water and growth.'
image © rotor
the exhibition presents how sustainability has impacted the practice of architecture over the past 30 years. how do you see it transforming and influencing our built environment in the next 30 years?

sustainability is an utopian idea, one of the last to have survived. and as we all know, when you try to force utopias, they quickly become dystopian. in the exhibition we quote marc jarzombeck asked 'what happens when you raise energy efficiency to the level of a cultural paradigm at the exclusion of other factors?'. we're bound to find out.
unpacking the objects and preparing the exhibition: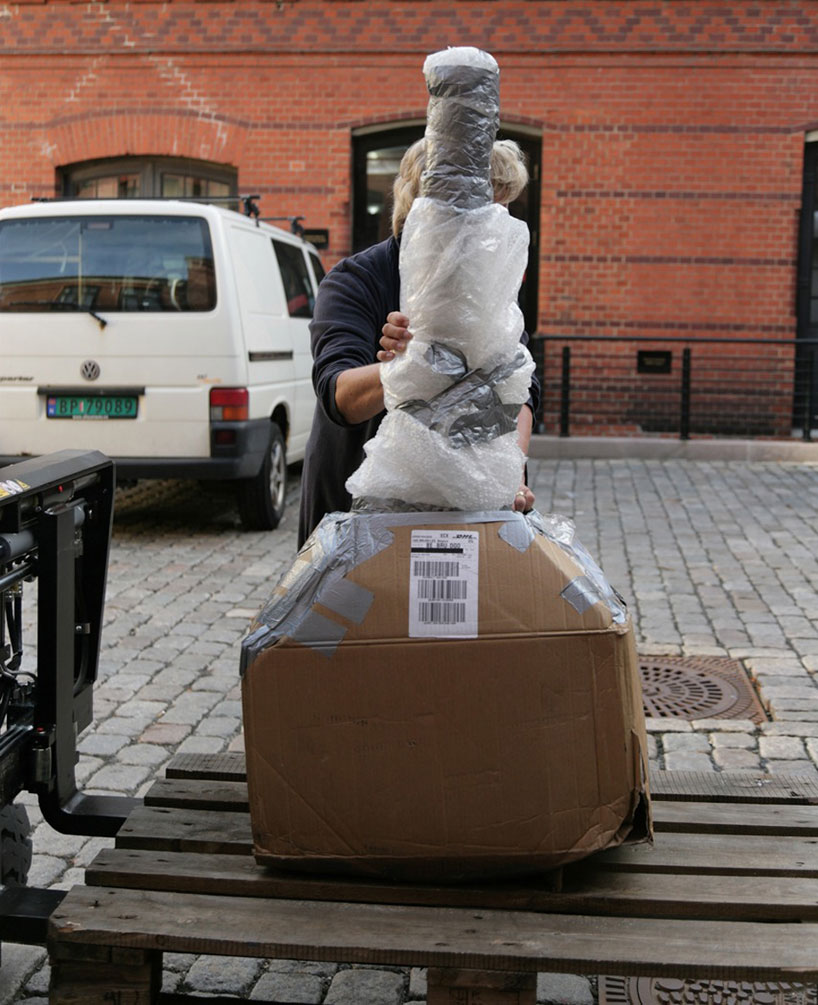 'to stop cars you need trucks.'
drive shafts from dismantled trucks converted into street bollards. these "feijenoordjes" were entered for a competition to provide feijenoord (south rotterdam) with a distinctive bollard.
rotterdam (netherlands), 2007
image courtesy of rotor / bernardo robles hidalgo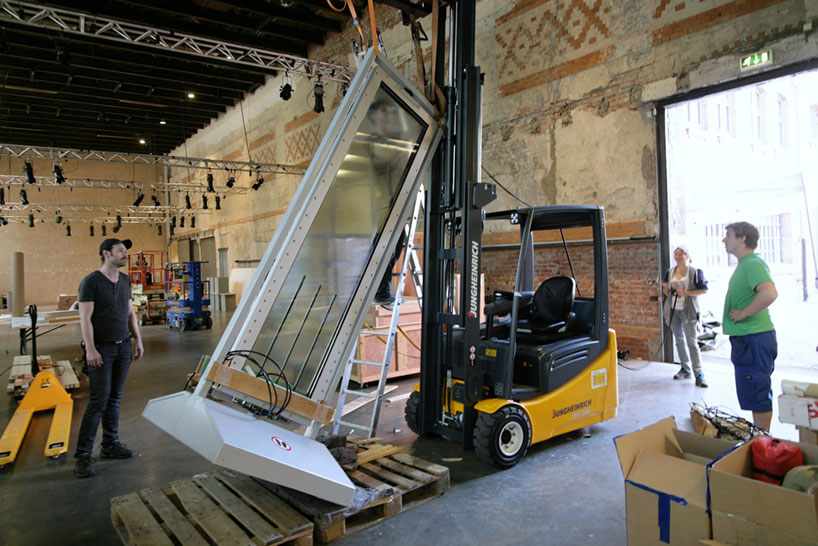 mock-up of one of the 129 photobioreactors, integrated in the facades of a four storey residential building. photosynthesising algae in the bioreactors are fed liquid nutrients and co2. the algae produce about 15 grams of biomass per m2 per day that are periodically collected and stockpiled in tanks in the building. to produce energy the biomass undergoes fermentation in an off-site facility to produce methane gas that can be burnt in a power plant to generate electricity. in this specimen the algae medium is replaced with green colored water.
image courtesy of rotor / bernardo robles hidalgo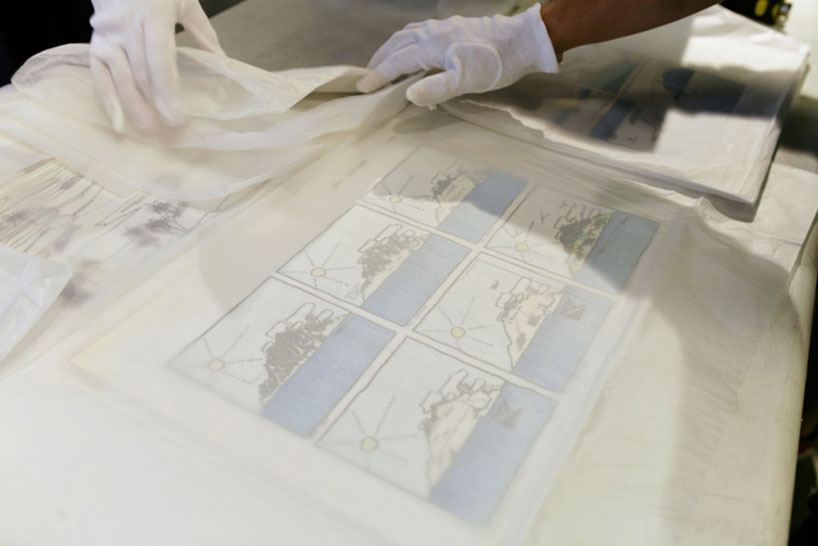 gomera masterplan by birkin haward, foster + partners, gomera (canary islands), 1975
hand drawings from a regional planning study for an island off the west coast of africa. a focus on environmental issues resulted in a proposal that sought to anticipate changes brought upon by an increase in tourists visiting the island. the architect explored the possibility of introducing other modes of transport that required less obtrusive infrastructure. simply built, self-sufficient houses relying on wind power and solar energy were planned. anaerobic generators would digest human and household waste to make methane gas for cooking.
image courtesy of rotor / bernardo robles hidalgo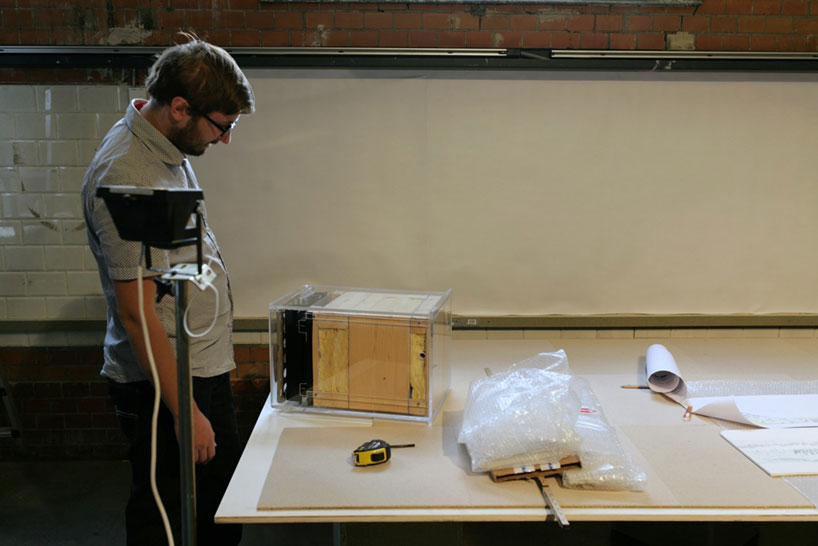 tallhall, norwegian meteorological institute by pir ii oslo as and futurebuilt, oslo (norway), 2011
mock up cross section of a wall. layers of wood, steel and glass wool insulation are clad with perforated sheets of recycled aluminium. this project was promoted as an exemplary sustainable design by the state-funded program futurebuilt.
image courtesy of rotor / bernardo robles hidalgo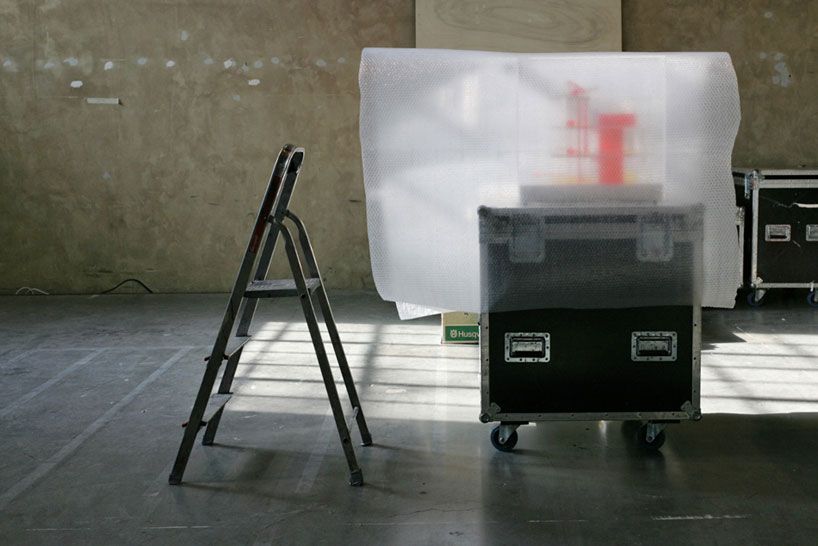 the competition design for manufacture challenged architects to develop high quality home designs with innovative prefabrication to keep build prices down (< £60,000 per unit). model of the winning design that uses prefabricated components to build various house types on a 3 acre residential neighbourhood. the dwellings meet level 3 in the code for sustainable homes thanks to their good thermal insulation and air tightness.
project: oxley woods by rogers stirk harbour + partners, milton keynes (uk), 2009. see 2009-oxw in the project index.
image courtesy of rotor / bernardo robles hidalgo

oslo architecture triennale 2013
september 19th – december 1st, 2013
oslo architecture triennale (oat) is the nordic region's biggest architecture festival, held every third year in oslo. this year's triennale marks the 5th edition, and is titled behind the green door – architecture and the desire for sustainability.
a diverse digital database that acts as a valuable guide in gaining insight and information about a product directly from the manufacturer, and serves as a rich reference point in developing a project or scheme.
designboom will always be there for you
milan, new york, beijing, tokyo

,
since 1999