jun 29, 2015
S-AR repurposes discarded wooden pallets for desert observatory in mexico
S-AR repurposes discarded wooden pallets for desert observatory in mexico
photography by ana cecilia garza villarreal
all images courtesy of S-AR stacion-ARquitectura
in the mexican state of nuevo león, local firm Stacion-ARquitectura (S-AR) has completed a stealthy desert observatory conceived as an exercise of order, rather than precision. the project moves way from the common and contemporary search for a 'perfect' aesthetic, and considers a more pragmatic and rugged approach that incorporates themes relating to the cyclical nature of the built environment.

the stealthy desert observatory is located in the mexican state of nuevo león
the entire pavilion has been constructed using a series of discarded wooden pallets, rescued and repurposed to build the 18 square meter observatory. the structure not only serves as a rest-stop for weary hikers trekking across the surrounding desert, but also provides a place to obtain an appreciation of the impressive rural environment.

the entire pavilion has been constructed using a series of discarded wooden pallets

the project moves way from the common and contemporary search for a 'perfect' aesthetic

profile view of the timber structure

the enclosed design serves as a rest-stop for the region's weary hikers

the pragmatic approach incorporates themes relating to the cyclical nature of the built environment

the building provides a place to obtain an appreciation of the impressive rural environment

the structure seeks to remain obscured from view
project info:
project: observatorio desértico (desert observatory)
architects: S-AR
location: nuevo león, méxico
project team: cesar guerrero, ana cecilia garza, carlos flores, maria sevilla
contributors: dominique silva
program: ephemeral pavilion for outdoor activities
construction: rubén y jaime hernández hernández
construction area: 18 sqm
completed: 2015
photography: ana cecilia garza villarreal
oct 04, 2017
oct 04, 2017
sep 22, 2017
sep 22, 2017
sep 18, 2017
sep 18, 2017
sep 04, 2017
sep 04, 2017
aug 29, 2017
aug 29, 2017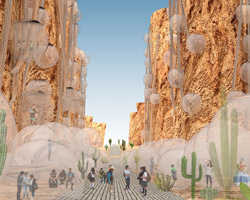 aug 24, 2017
aug 24, 2017
sep 17, 2017
sep 17, 2017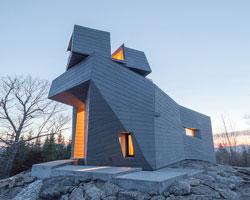 jul 30, 2017
jul 30, 2017
jul 28, 2017
jul 28, 2017
may 28, 2015
may 28, 2015
jan 28, 2015
jan 28, 2015
aug 31, 2014
aug 31, 2014
jan 05, 2015
jan 05, 2015
apr 03, 2013
apr 03, 2013