jul 27, 2009
sadar vuga architects: sports park stozice, ljubljana, slovenia
sports park stozice in ljubljana, slovenia by sadar vuga architects image courtesy sadar vuga architects
sadar vuga architects have designed sports park stozice in ljubljana, slovenia, which integrates a football stadium and a multi-purpose sports hall with a big shopping centre, covered by the artificial landscape of the recreational park. the sports hall and the football stadium, together with the big monolithic, prism-shaped residential towers of the bs3 neighbourhood, the world trade centre and smelt buildings on the west side, and the forest island on the east side, create a cluster of recognisable iconic structures of the north-eastern entrance into the city. the two storeys of the shopping centre and the interior car park fill the 12-metre deep disused gravel pit. the park that covers the roof of the shopping centre continues the natural landscape across the northern section of the outer ring road with the green urban space all the way to the city centre. the entire newly-built premises are integrated into the site, emphasising the horizontal, planar character of the open space. the stadium and sports hall buildings frame the view of the alps towards the north, and the castle hill and city centre towers towards the south.
sports park stozice in ljubljana, slovenia image courtesy sadar vuga architects
the plateau of the park is pierced by vertical connections of accesses from the lower car parks, ventilation shafts, and light wells belonging to the shopping centre. the big central atrium with its pavilions represent the main access point to the shopping centre's two floors. the position and size of these vertical connections, together with the microtopography, greenery and paving, determine the various micro-ambients and give the park its special character of a hybrid open urban space, where the natural intervenes with the artificial, the digital with the analogue, the noisy with the quiet, and the full with the empty.
sports park stozice – sports hall image courtesy sadar vuga architects
the sports hall for 12,000 spectators is located in the north-western part of the park. the four levels of concourses and the lower, vip, and upper stands are covered by a shell-shaped dome. the park's plateau, the edge of the shell scallops and opens towards the interior. the ridges continue all the way to the top, where the facade meets the dome. this outlines the shape of the hall, a shell that opens towards the perimeter with large crescent openings overlooking the park. along the entire perimeter, there is a canopy encircling the hall, acting as a derivative to the scalloped shell. like the stadium, the entire shell of the hall is also finished in exterior cladding that changes colour depending on the exterior conditions and viewing distance.
sports park stozice – stadium image courtesy sadar vuga architects
sports park stozice – stadium image courtesy sadar vuga architects
sports park stozice – construction image courtesy sadar vuga architects
nov 16, 2009
nov 16, 2009
jul 02, 2009
jul 02, 2009
mar 16, 2016
mar 16, 2016
jan 14, 2013
jan 14, 2013
jan 05, 2011
jan 05, 2011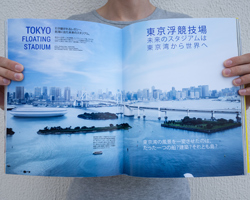 jun 22, 2017
jun 22, 2017
may 12, 2017
may 12, 2017
may 08, 2017
may 08, 2017