discover the best of salone del mobile 2023
Salone del Mobile is the largest and most prestigious furniture fair in the world, attracting designers, architects, and enthusiasts from all corners of the globe to witness the latest trends and innovations in furniture design. This year's fair did not disappoint, as it featured an array of stunning pieces — from chairs, tables, lighting, and everything in between — that pushed the boundaries of creativity and functionality. From bold colors and geometric shapes to natural materials and sustainable practices, the designs showcased at Salone del Mobile 2023 were a testament to the ingenuity and passion of the industry's top talents.
With a new exhibition layout expertly organized by design studio Lombardini22, interdisciplinary cultural content curated by Italian architect Beppe Finessi, and Formafantasma's incredible intervention, Aurore, which features a large plaza and arena for immersive and reflective experiences, this 61st edition of Salone del Mobile brought 15% more visitors than in 2022.
Now that Milan Design Week 2023 has come to a close, designboom offers a closer look at some of 'greatest hits' which debuted at this year's Salone del Mobile, highlighting the standout collections that are sure to inspire architects, interior designers, and design enthusiasts alike.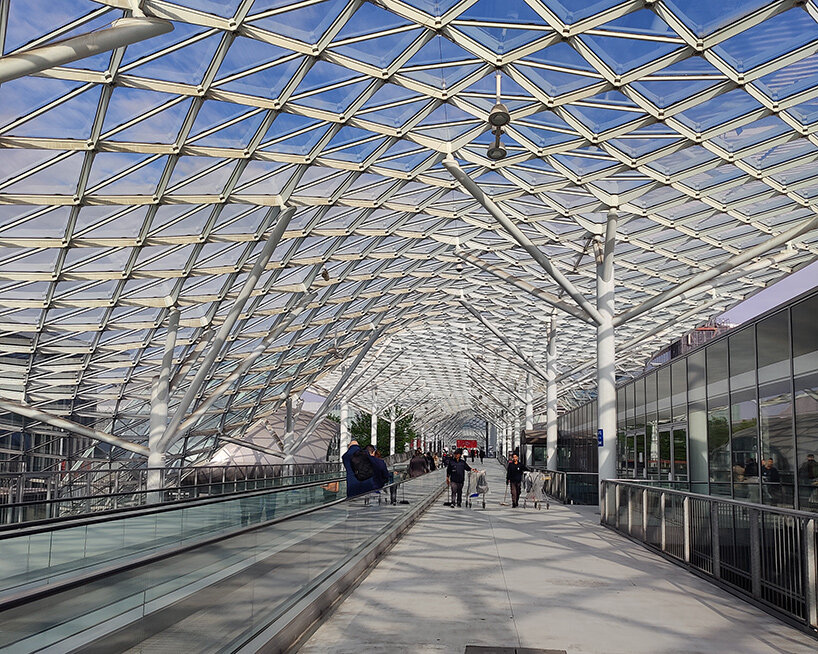 image © designboom
Tacchini
Furniture brand Tacchini launched its new product 2023 at Salone del Mobile. The new product line includes chairs and tables that seamlessly blend with existing living and dining room decor, incorporating historical re-editions and contemporary designs. Architect Tobia Scarpa's Sempronia and Dialogo chairs and the unreleased T-Table, along with Lorenzo Bini's family of tables and consoles, embody the brand's organic aesthetic and focus on materiality.
What's more, new collaborations with designers Umberto Bellardi Ricci, EWE Studio, Salem van der Swaagh, and Brian Thoreen, and extension of the Sesann family by Gianfranco Frattini, Jonas Wagell, and Gordon Guillaumier, as well as new designs by Studiopepe have been showcased. Finally, Le Mura, which launched last year, continues to be a vital part of Tacchini's offerings, now presented in a new color palette designed by Formafantasma.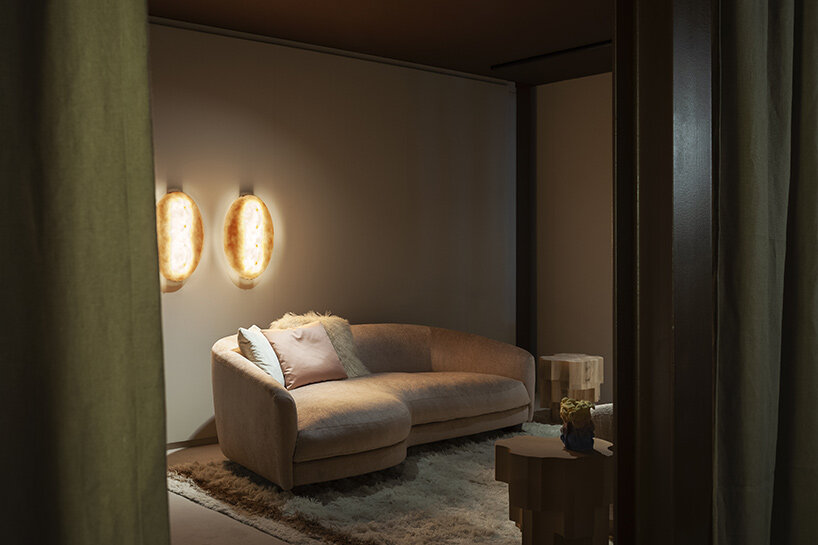 Tacchini, Salone del Mobile exhibition view | image © Andrea Ferrari, courtesy Tacchini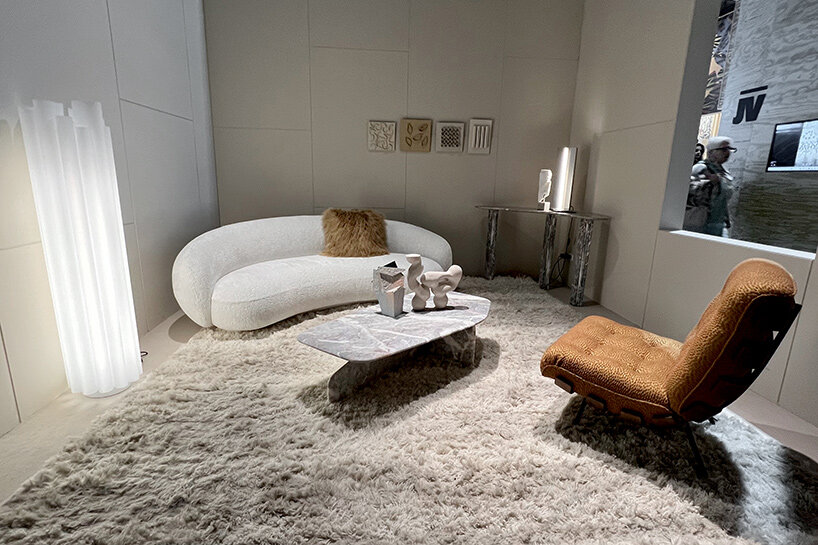 Tacchini, Salone del Mobile exhibition view | image © designboom
knoll
Knoll introduced a new design direction at Salone del Mobile, under the leadership of Jonathan Olivares, Senior Vice President of Design. The introduction of the all-new Salone del Mobile pavilion marked the beginning of this direction. The pavilion was designed by Belgian architecture studio OFFICE and is constructed using recycled and recyclable materials. It references domestic scale and offers rooms, gathering spaces, and gardens to visitors.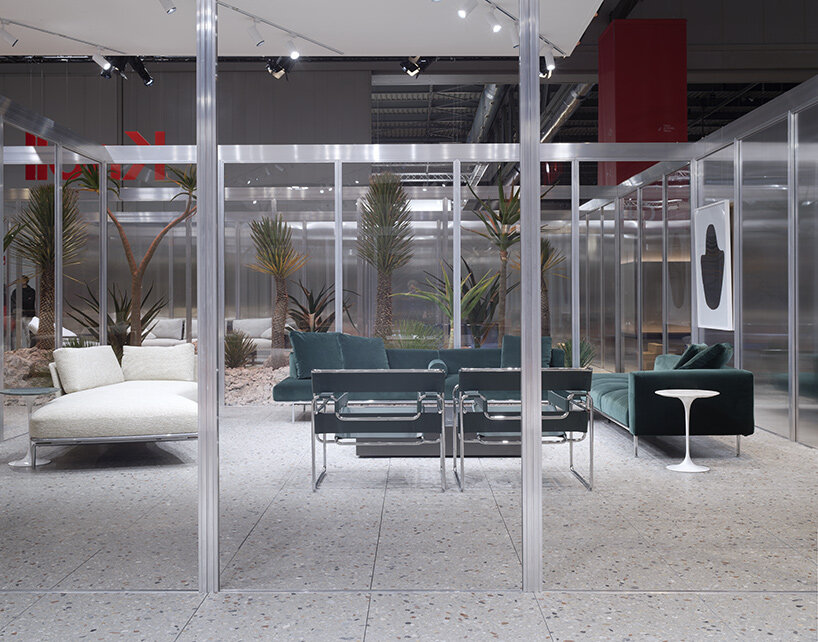 image courtesy Knoll
OFFICE designs the Knoll pavilion at Salone del Mobile comprises interconnected rooms that blend indoor and outdoor spaces and provide visitors with intimate and open areas to experience a sustainable and technological vision for our time. The pavilion is built using aluminum posts and beams, aluminum and glass panels, and a recycled concrete terrazzo floor. It is realized with a color-neutral home that is largely made from recycled materials and can be fully recycled after use.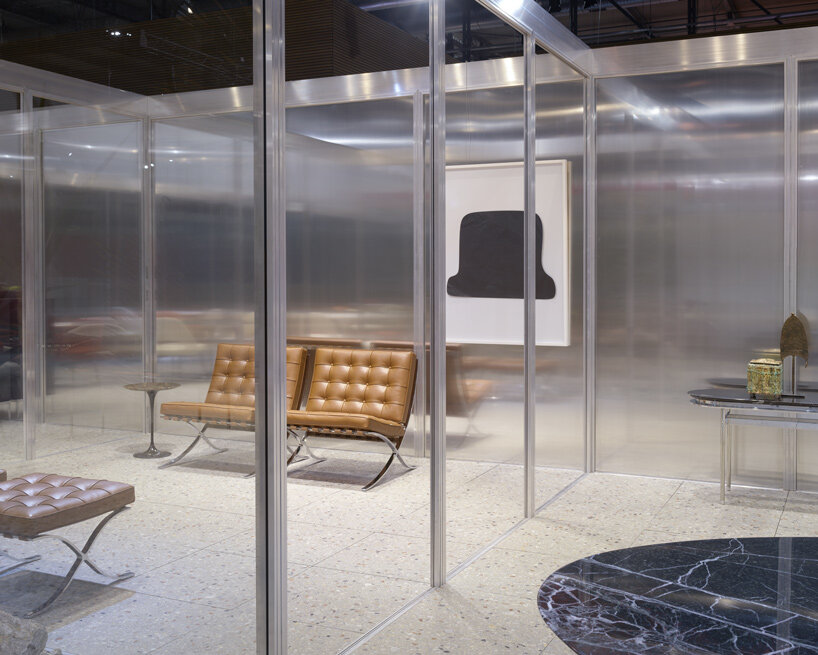 image courtesy Knoll
gandia blasco
Gandia Blasco showcased their latest collections, GANDIABLASCO, GAN and DIABLA at a stand exclusively designed by Kengo Kuma. The Valencian family-owned company specializes in designing and manufacturing furniture and outdoor spaces, as well as creating handmade rugs through its three brands. The company's presence at Salone del Mobile highlights their commitment to the field.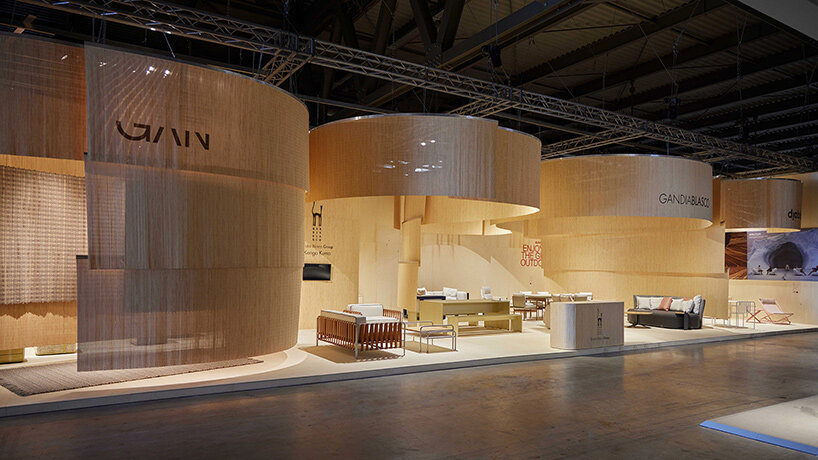 image courtesy Gandia Blasco
The different product categories of the Gandia Blasco Group were warmly wrapped in carefully crafted lattices and Valencian wooden blinds that created a serene atmosphere, reminiscent of the traditional 'sudare' screens. These design elements reflect the philosophy of a renowned Japanese architect who emphasizes the modernization of his cultural heritage while utilizing local materials and promoting a sense of balance with nature.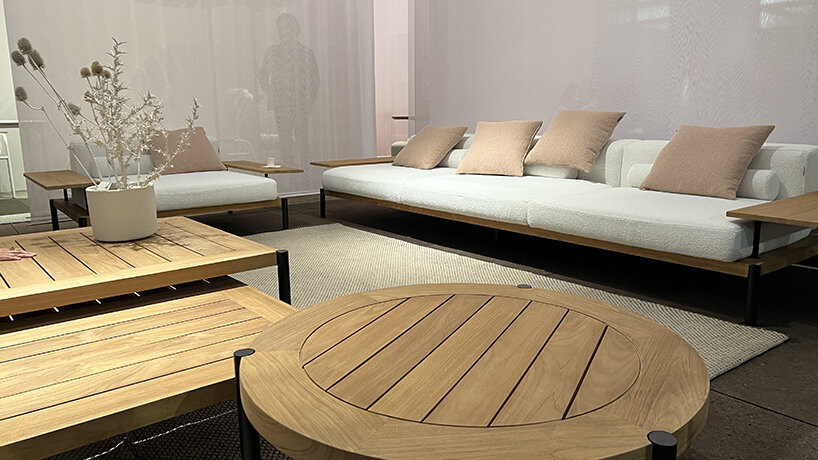 image © designboom
gebrüder thonet vienna
Founded in the nineteenth century, Viennese design company Gebrüder Thonet Vienna has long explored with steam-bent wood elements to create furniture pieces that translate their timber materiality into elegant and lightweight forms. Pieces in this latest collection feature organically looping elements — especially India Mahdavi's Loop dining chair and Michael Anastassiades' N.200 lounge chair — and surfaces which warmly wrap the user in a warm 'hug' — especially the Hagu armchair by Ed Ng — all fabricated with natural materials and warm tones.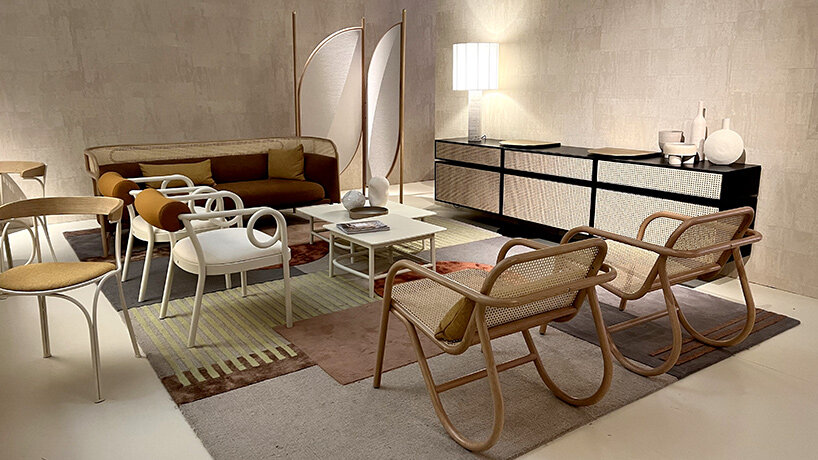 N.200 lounge chair (front), Loop dining chair (center), Salone del Mobile exhibition view | image © designboom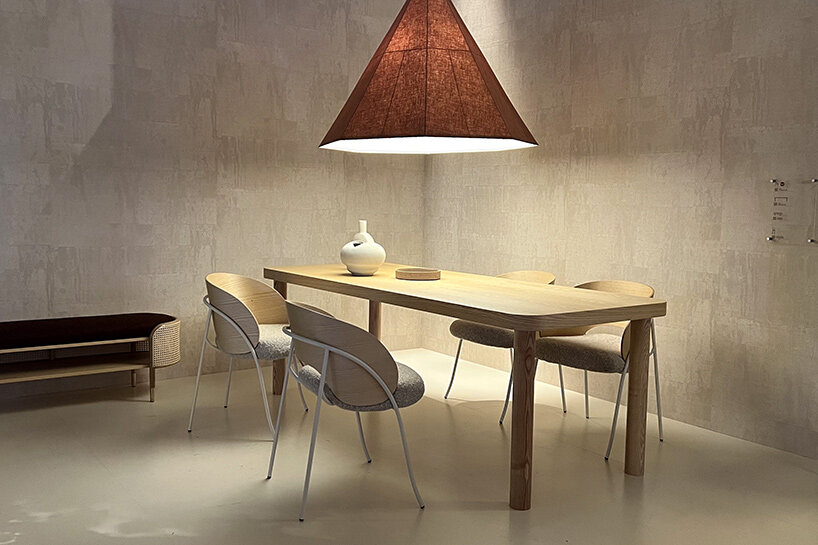 Hagu Chair, Säule table, Salone del Mobile exhibition view | image © designboom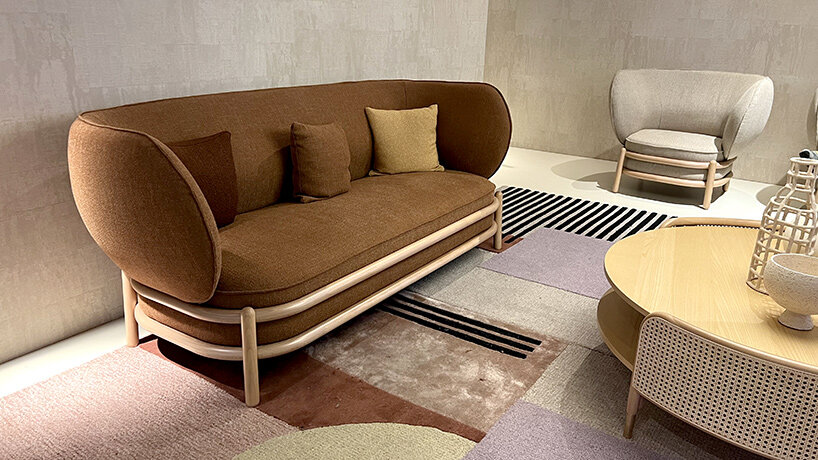 Luftballoon sofa, Salone del Mobile exhibition view | image © designboom
driade
Driade is a well-known furniture design company that has been producing high-quality, contemporary furniture since its founding in 1968. At the Eurocluce 2023 exhibition, Driade's booth is an impressive and eye-catching display, with its playful and contemporary pieces. The space showcases Driade's latest collections including Fabio Novembre's 'Venus Libreria' bookshelf and Sfera Ebbasta's fur-covered 'Cocky Poltrona' loungechair and table set.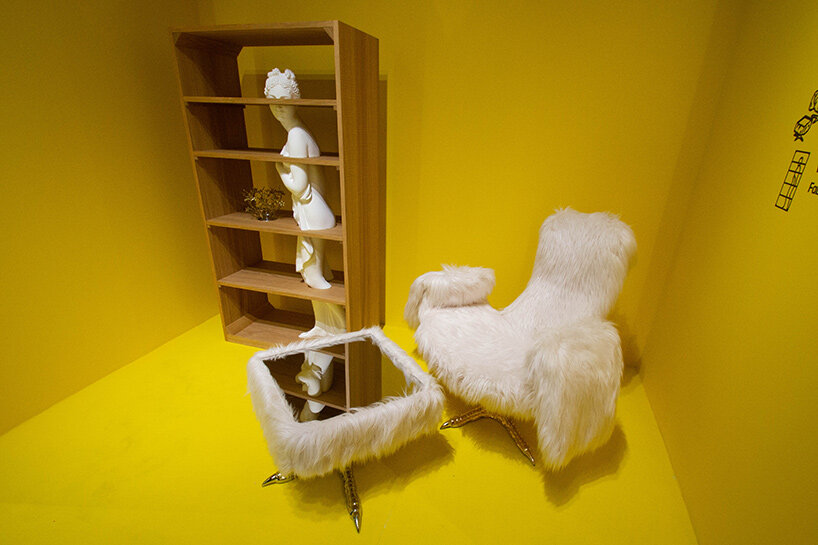 Venus Libreria by Fabio Novembre (left), Cocky Poltrona by Sfera Ebbasta (center + right) | image © designboom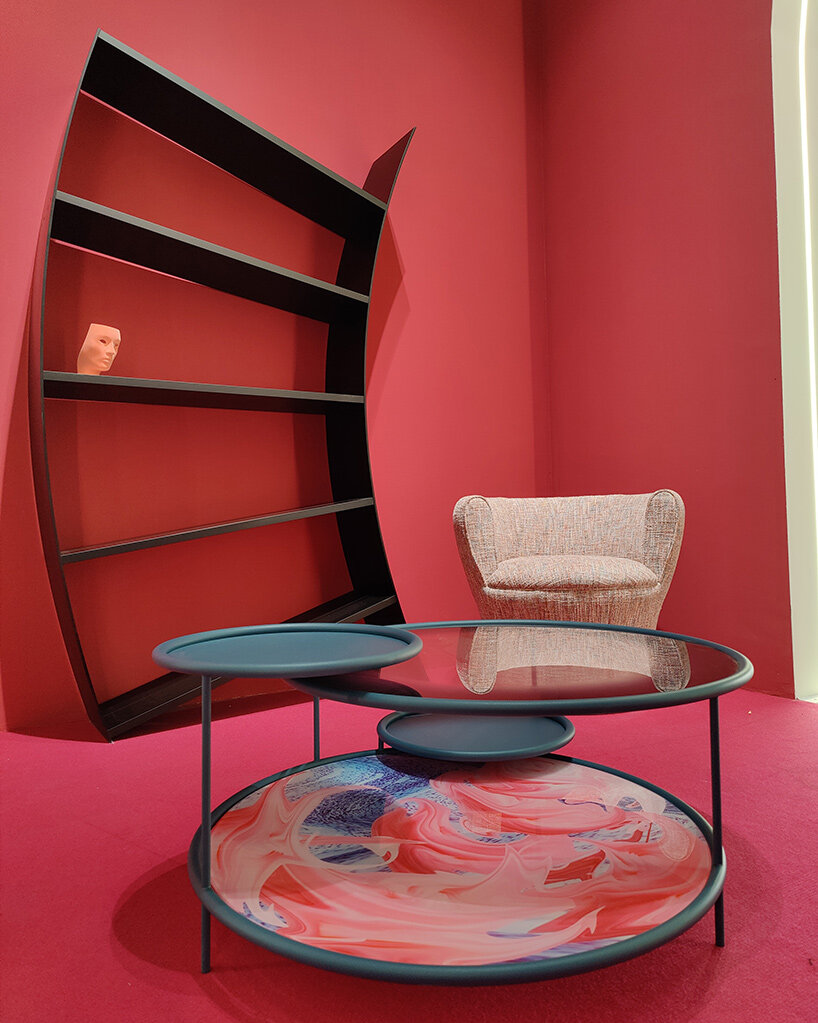 Virgo bookshelf by Xavier Lust, Sangaku table by Elena Salmistraro, Lisa armshair by Laudani & Romanelli
image © designboom
JOV
The Belgian rug company JOV has launched a new collection of rugs called M-SHWY, which has been designed by Studio Mary Lennox, a Berlin-based team that specializes in floral design. The collection draws inspiration from the collaborative nature of mushrooms and their communication network, known as the Mycorrhizal Network or the Wood Wide Web. This complex system of communication allows different species to collaborate with each other in an ecosystem.
Designing MSHWY01, the team focused on the organic textures and unique characteristics of the oyster mushroom, and is made from Soft New Zealand wool with Tencel Lyocell. JOV has used a color gradient from the inside out to the edges of the rug, combined with 3D height effects on the edges, which showcase JOV's manual skills in hand-tufting and make the rug unique and impressive to see.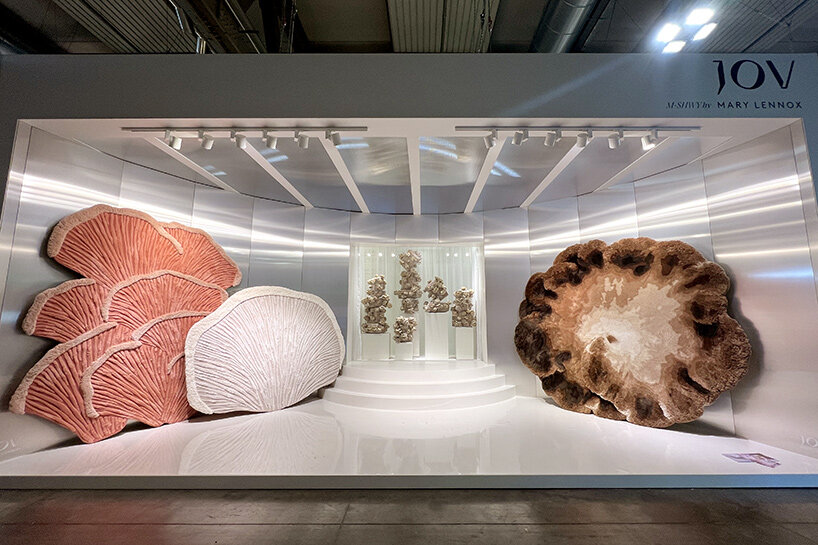 (left to right) MSHWY03, MSHWY02, MSHWY01 | image © designboom
Studio Mary Lennox aimed to create a flatter rug for the MSHWY02 design, drawing inspiration from the inner texture of the oyster mushroom. A subtle 3D effect is rendered in white lines to recreate the organic texture, and is completed with a thick, fluffy border. The Surmer quality, made of Merino wool and mercerized Egyptian cotton, was used, which is whiter and fresher than New Zealand wool, and beautifully captures the color of the oyster mushroom.
MSHWY03 offers a more zoomed-out interpretation of MSHWY02, rendering a group of pink oyster mushrooms clustered together. The pink oyster mushrooms are a rarer and more delicate variety, featuring a distinct soft tone of natural pink that the designer aimed to convey in this third design of the collection. The rug has been crafted using the same techniques as MSHWY02, and JOV has utilized the Surmer quality of Merino wool combined with mercerized Egyptian cotton.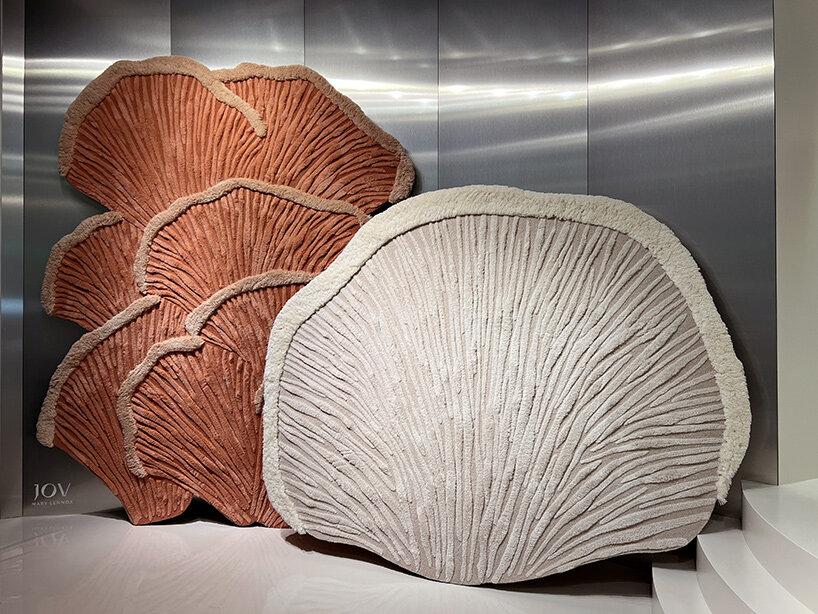 MSHWY03 (left), MSHWY02 (right) | image © designboom
Gessi
GESSI's new collections previewed at Salone del Mobile create an intimate space by transferring the ambiance of a haute couture atelier waiting room. The company values the reception of visitors and has dedicated over half of the space to it, perfecting its environment for a sophisticated and elegant experience. The space offers a combination of fine fabrics and materials with contrasting opacity and high reflection of metal curtains, akin to a large boutique. The exhibition tells GESSI's story, its origins, and vision for the future as a Private Wellness Company.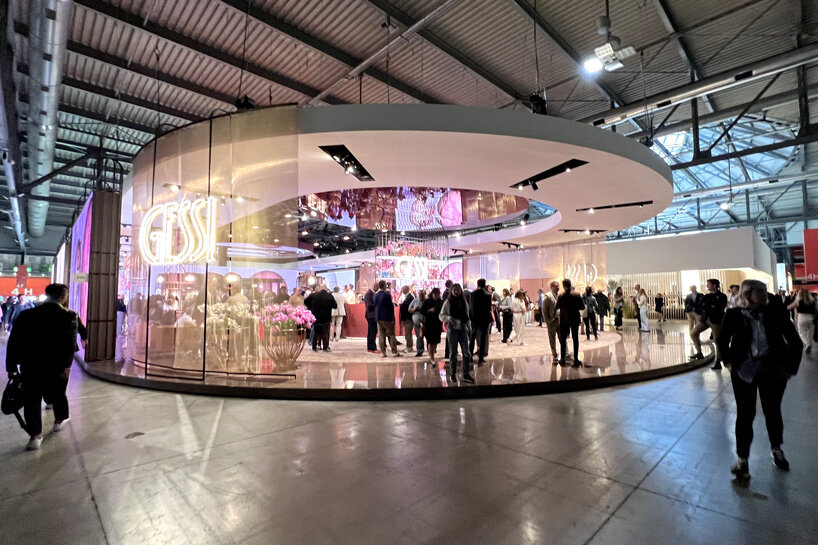 GESSI, Salone del Mobile exhibition view | image © designboom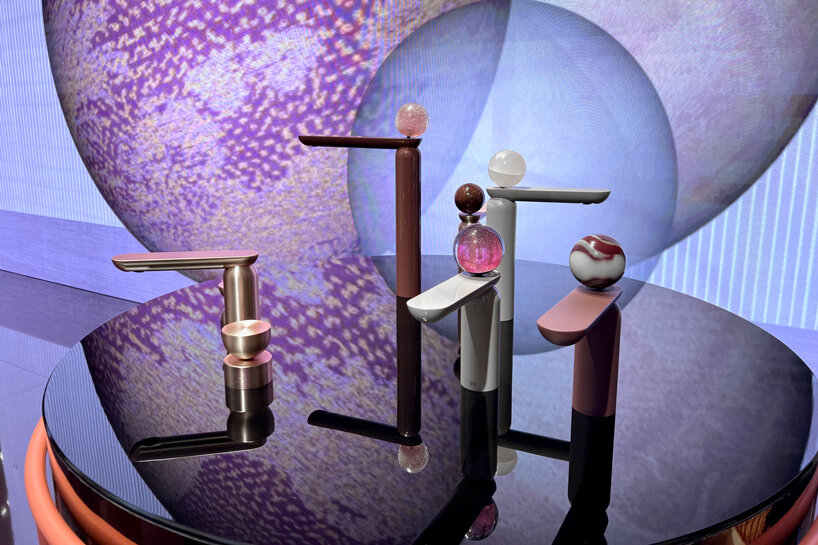 Salone del Mobile exhibition view | image © designboom
wittmann
Austrian furniture manufacturer Wittmann has unveiled its latest exhibition concept for this year's Salone, designed by the talented Art Director Luca Nichetto. Titled 'The Village,' the exhibition showcases Wittmann's new products beneath a roofed area that has been transformed into a living space for the fair. Visitors were invited to explore the new designs that result from collaborations with renowned international designers including Nendo, Neri&Hu, and Luca Nichetto. The space brings together unique design and expert craftsmanship to create the highest quality products.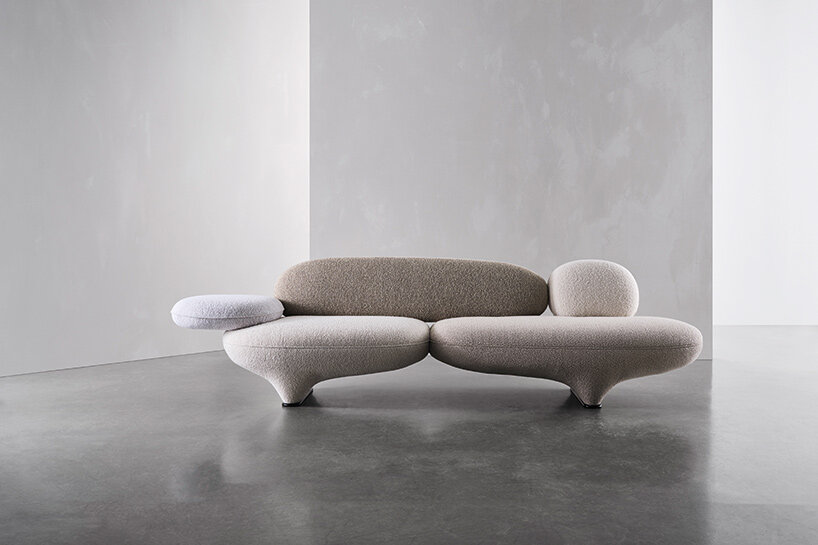 FIGURE, Luca Nichetto | image courtesy Wittmann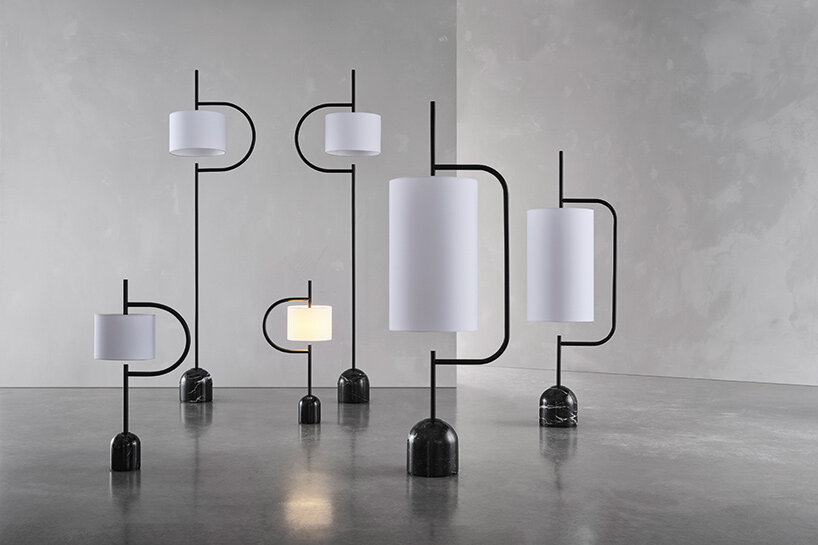 DETOUR, Nendo | image courtesy Wittmann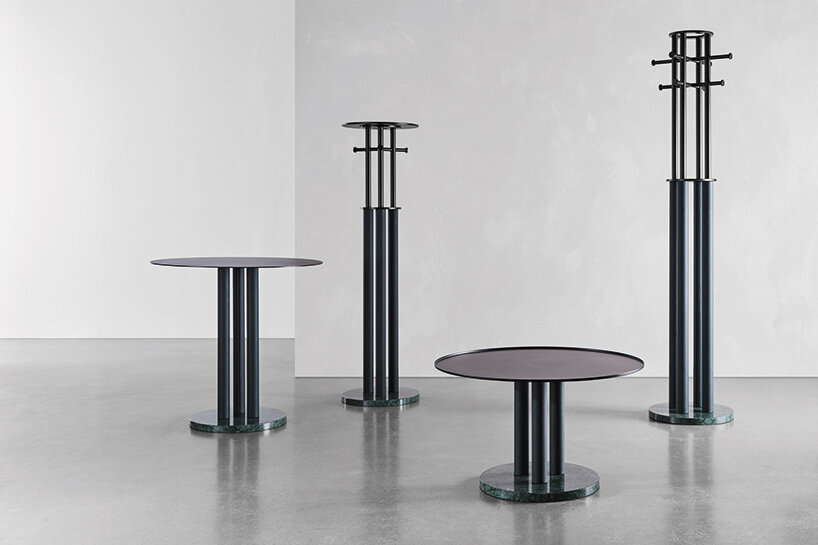 BATON, Neri&Hu | image courtesy Wittmann
gruppo saviola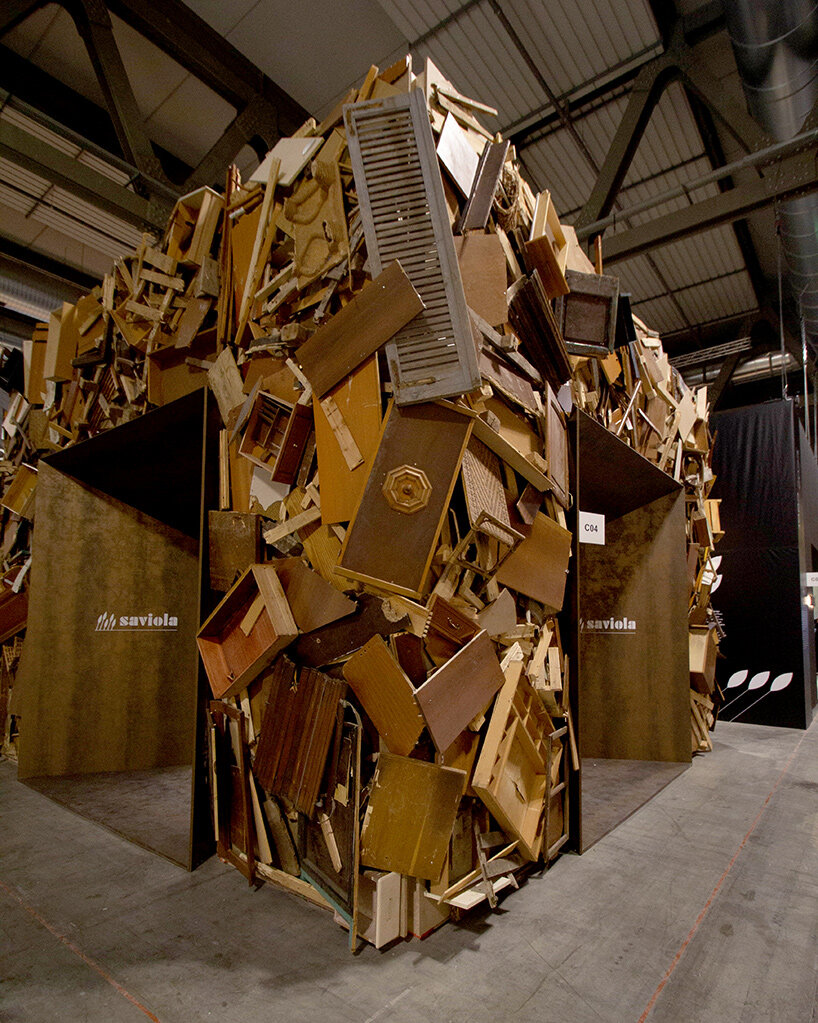 'Wood You Believe,' pavilion by Carlo Ratti Associati for Gruppo Saviola | image © designboom
cimento
CIMENTO is a unique material, entirely made in Venice, Italy, which uses over 90% natural mineral aggregates mixed with a cement binder, able to surprise with its extreme lightness.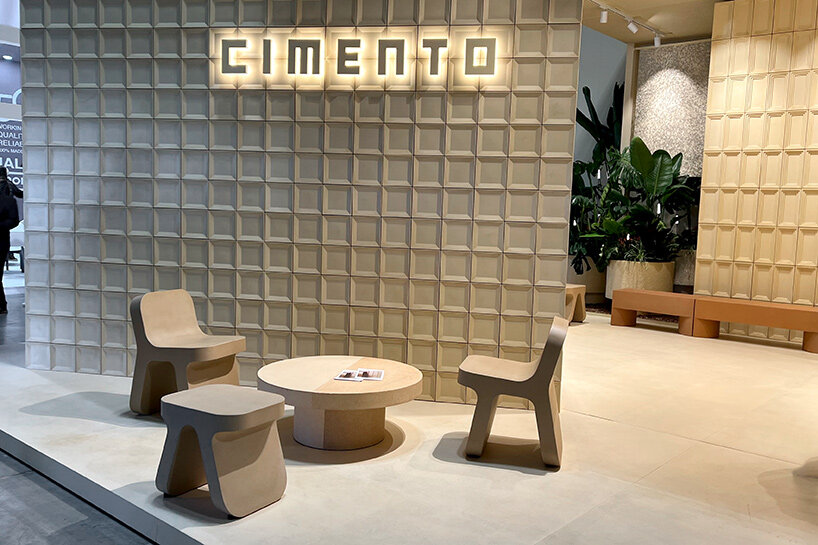 Torcello chair, Torcello stool, Salone del Mobile exhibition view | image © designboom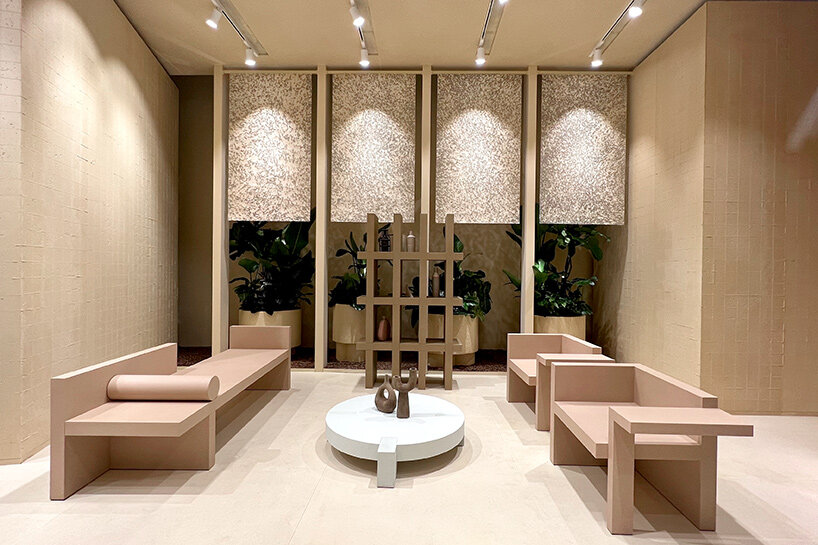 Ducale bench, Ducale lounge chair, Salone del Mobile exhibition view | image © designboom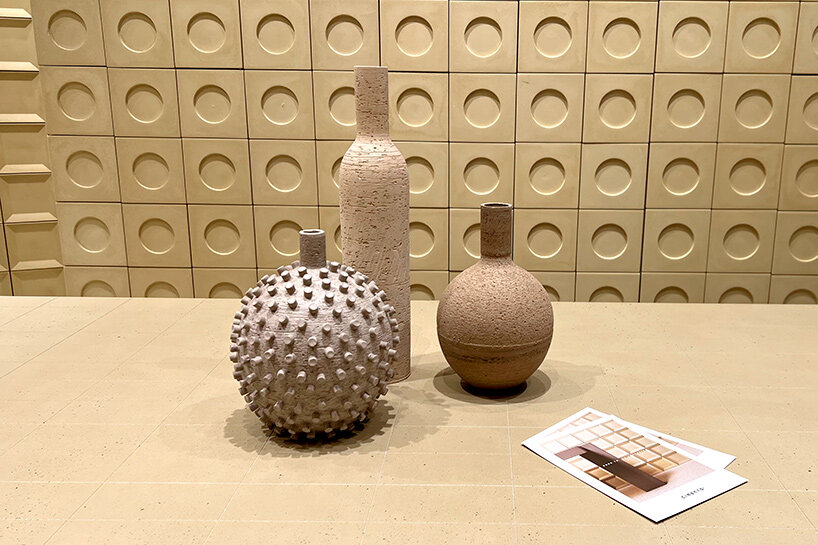 Salone del Mobile exhibition view | image © designboom
a lot of brasil
A new collection has been presented at Salone del Mobile 2023 by a Brazilian brand whose identity revolves around 'industrial experimentation.' This collection, entitled ANCESTRALIDADE, has been created by Brazilian designer Pedro Franco and seeks to provide a counterpoint to the 'instagrammable' trend by focusing on an aesthetic based on the concept that 'Design is Communication.'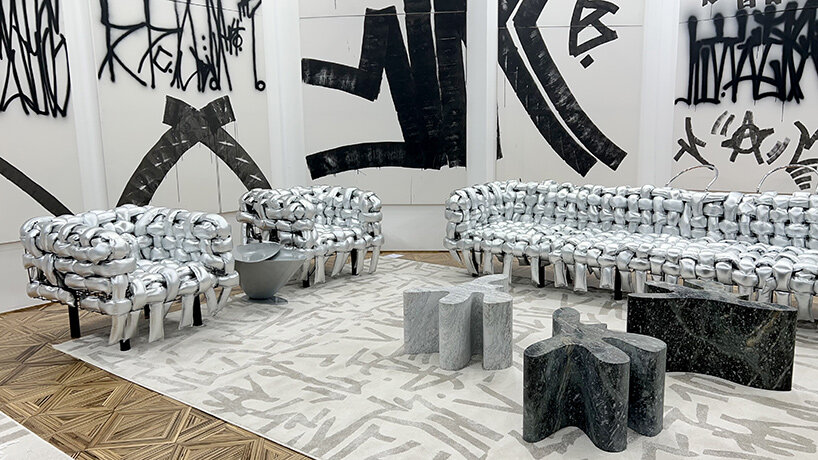 Salone del Mobile exhibition view | image © designboom
The collection's research draws mainly from Carl Jung's archetypes, which explore the collective unconscious and how it can be materialized through images that carry intrinsic expressions of humanity. The focus of the research was ancestry, particularly the original Brazilian peoples, or Indians, who recorded their drawings on the walls of caves in Serra da Capivara (Piauí, Brazil) over twelve thousand years ago.
This form of expression allowed them not only to record their own existence but also to communicate with their peers and tribe. This is similar to the Brazilian Pixo phenomenon of today, where marginalized populations assert their existence through their 'authorial' writing, leaving their personal mark eternally on the city walls.

Salone del Mobile exhibition view | image © designboom
TON
TON invites visitors to Salone to explore its latest products designed by the studios Claesson Koivisto Rune and kaschkasch. The furniture brand presents a continuation of its S.Project concept, a space within the exhibition devoted to the essence of design products and decorative or technical solutions in interior design.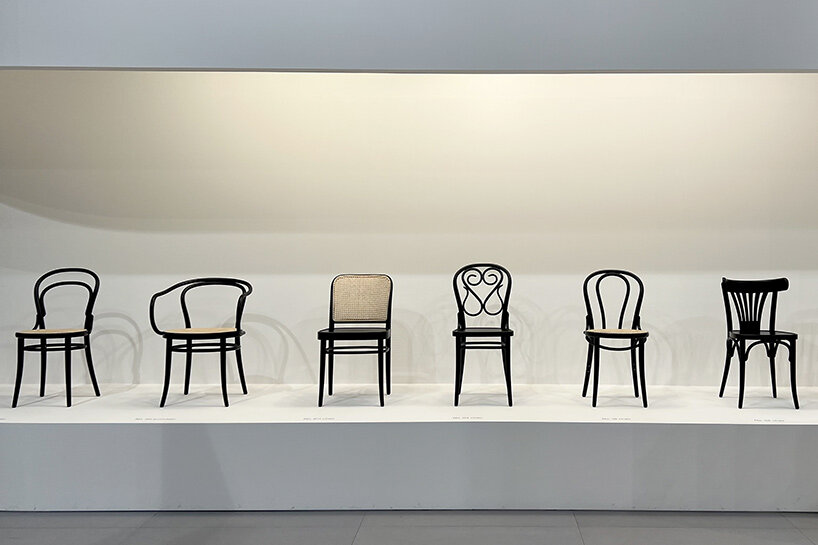 Salone del Mobile exhibition view | image © designboom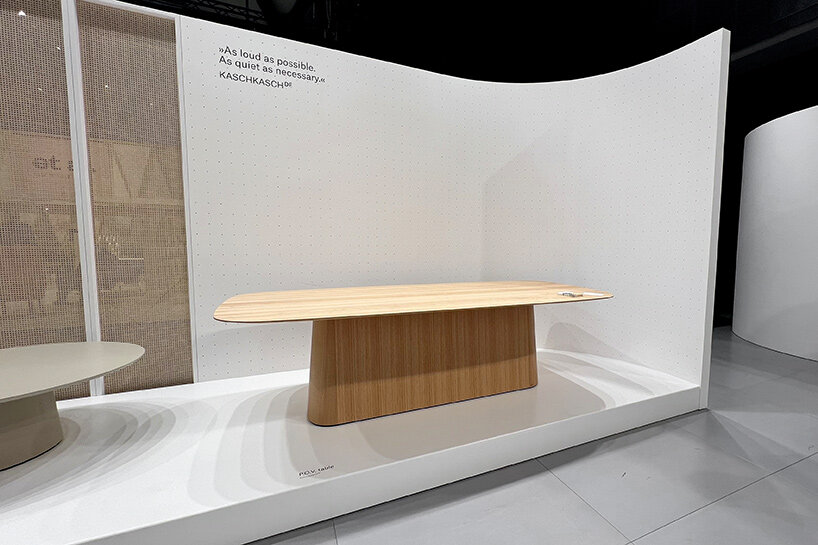 Salone del Mobile exhibition view | image © designboom
nanimarquina
Ronan Bouroullec and nanimarquina have maintained consistency in their joint rug designs by incorporating unchanging elements such as lines, strokes, and geometry. Their latest collaboration, Doblecara, aims to merge the ancient kilim technique with Bouroullec's modern designs. Doblecara is a reversible rug that can be enjoyed on both sides – the 'B' side is more delicate and subtle, while the 'A' side showcases the straight-lined design in its maximum expression. The collection is crafted from hand-spun Afghan wool and comes in four different sizes and three color combinations, including black-ivory, ivory-black, ivory-red, and ivory-ivory.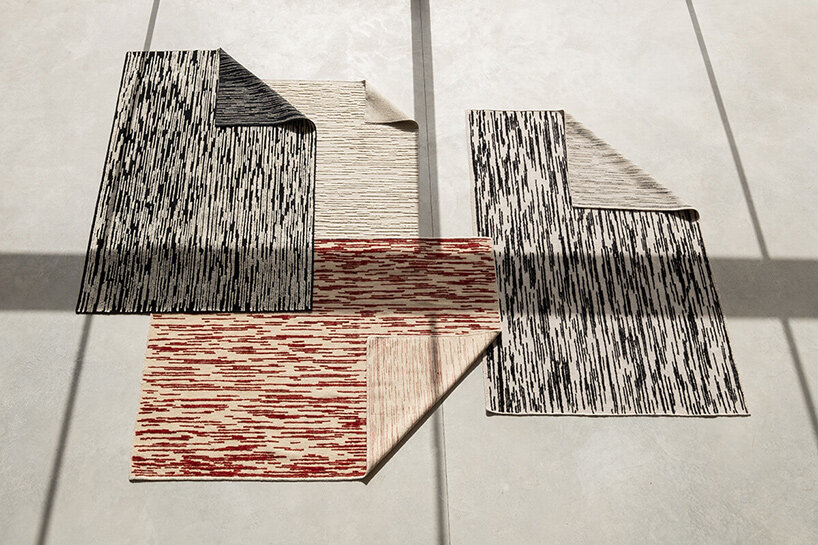 Doublecara by Ronan Bouroullec
Matthew Hilton's Oblique collection embodies the beauty of minimalism, featuring simplistic patterns and earthy hues that bring us closer to nature. Drawing inspiration from the traditional art of layering rugs, this contemporary collection achieves a striking effect through the placement of oblique shapes in various positions within monochromatic volumes. These elegant and understated rugs can seamlessly complement a range of design styles.
Crafted from 100% Afghan wool, Oblique is a handwoven creation that utilizes a combination of hand-knotting and sumak techniques to create varying pile heights. The collection is available in four subtle and natural colorways, including pink, beige, gray, and ochre.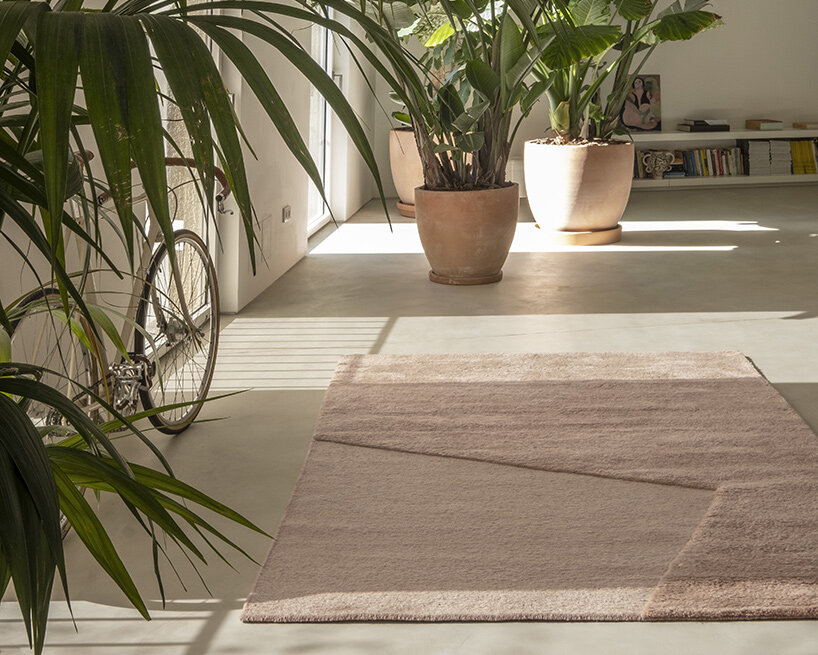 Oblique by Matthew Hilton
nanimarquina has collaborated with Turkish designer Begüm Cânâ Özgür to create a new collection called Haze, which draws inspiration from the natural world and the harmonious interplay of colors found within it. The collection features a simple yet effective graphic design that achieves a delicate balance between the number of warps and thickness of weft, allowing the colors to take center stage and interact with each other in visually striking ways. The Haze collection was developed directly on the loom, as the designer experimented with color mixing and fading to achieve optimal chromatic interactions. The collection is woven from a blend of 50% New Zealand wool and 50% Italian wool, a high-quality, durable material that is both warm and noble.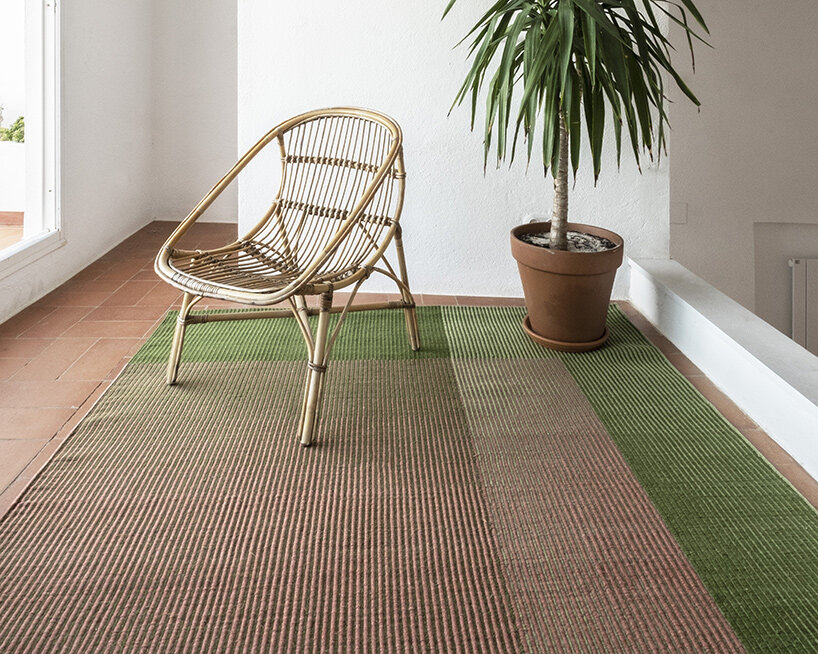 Haze by Begüm Cânâ Özgür
de sede
De Sede traces its roots back to a saddler's workshop situated in Klingnau, Switzerland. The skilled craftsmen were dedicated to producing high-quality seating furniture by utilizing premium leather. With their extensive expertise and unwavering commitment, they crafted exceptional hand-made leather furniture. Now, De Sede is recognized as a prominent producer of luxury leather furniture. What started as a small workshop has evolved into a globally distributed company with a presence in over sixty-nine countries, including emerging markets like China and Brazil, as well as established markets such as the United States, Russia, and the GCC countries.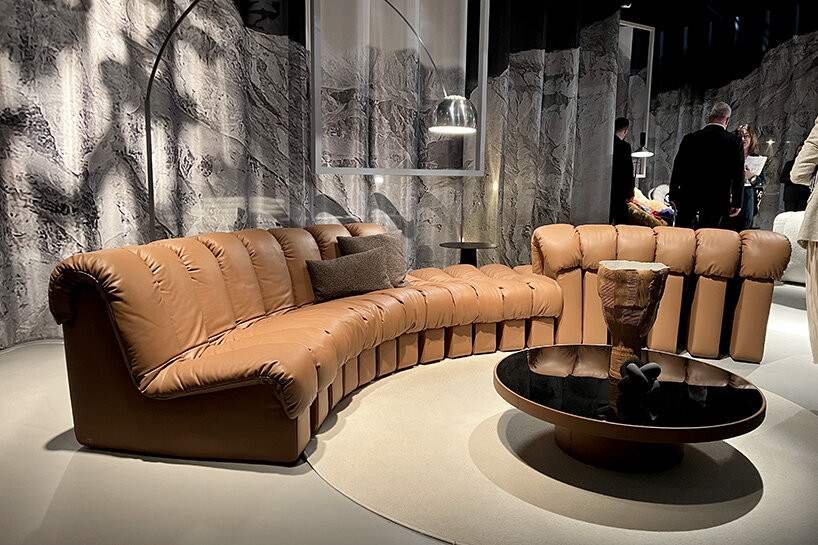 de Sede, Salone del Mobile exhibition view | image © designboom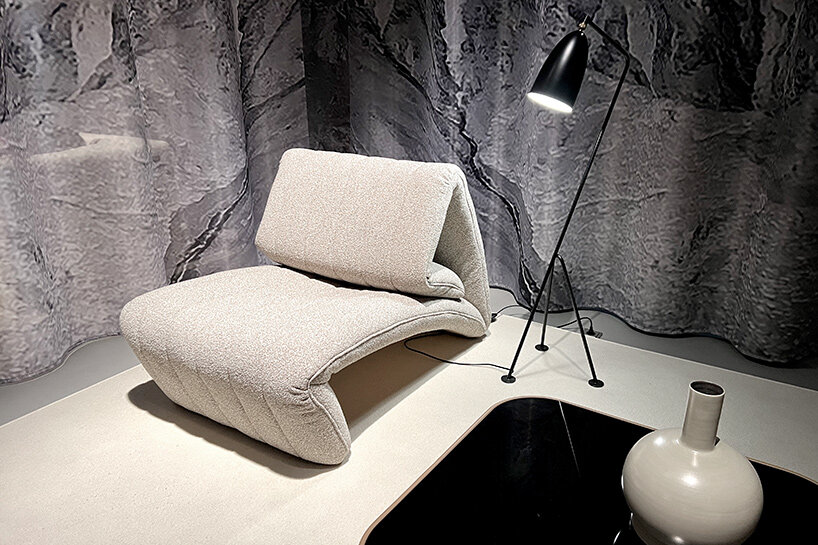 Salone del Mobile exhibition view | image © designboom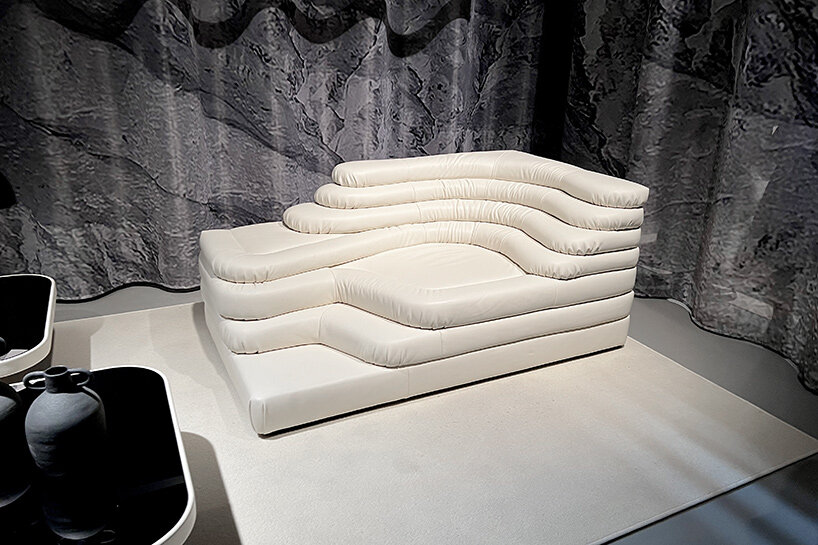 Salone del Mobile exhibition view | image © designboom
Pedrali
Italian furniture brand Pedrali specializes in producing contemporary furniture for both dwellings and companies. Their collection is the outcome of meticulous research, aimed at creating functional and versatile industrial design products using materials like metal, plastic, wood, and upholstery. The company manufactures seating, tables, accessories, and lighting entirely in Italy, by blending traditional and innovative design processes, engineering excellence, and creative brilliance.
The company follows a '100% Made in Italy' philosophy and has internal production facilities in Mornico al Serio, where the automated warehouse, designed by architect Cino Zucchi, is located, and a wood division in Manzano.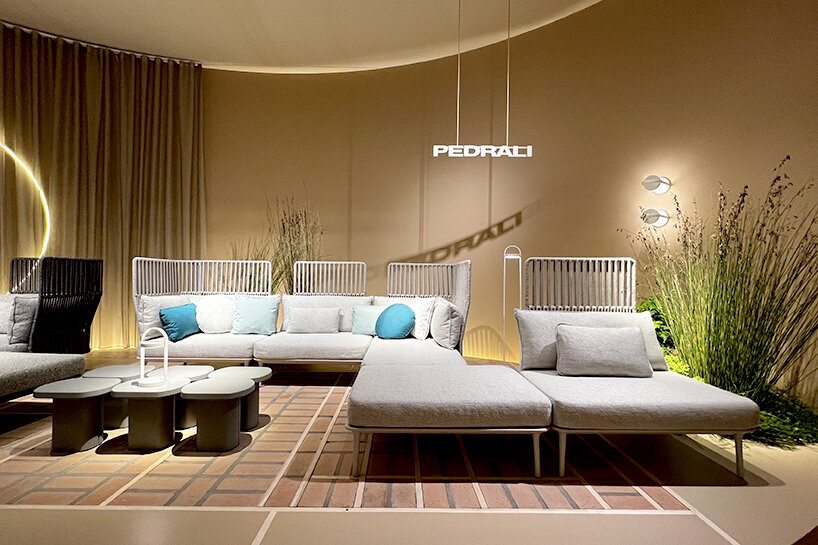 Salone del Mobile exhibition view | image © designboom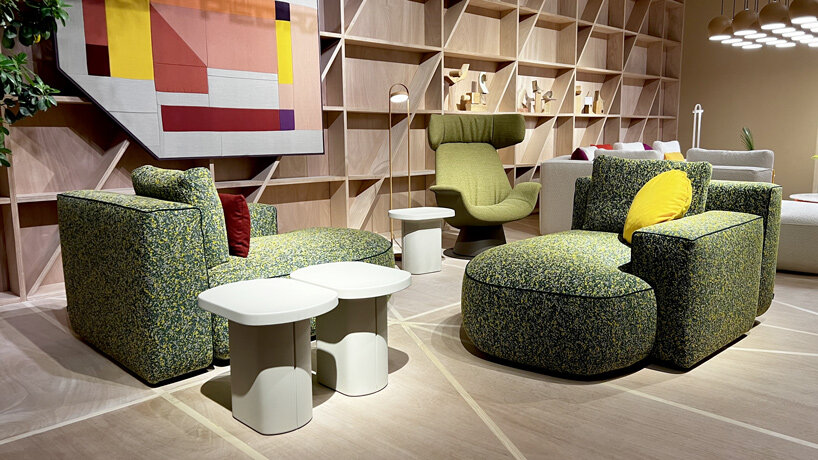 Salone del Mobile exhibition view | image © designboom
a diverse digital database that acts as a valuable guide in gaining insight and information about a product directly from the manufacturer, and serves as a rich reference point in developing a project or scheme.
designboom will always be there for you
milan, new york, beijing, tokyo

,
since 1999