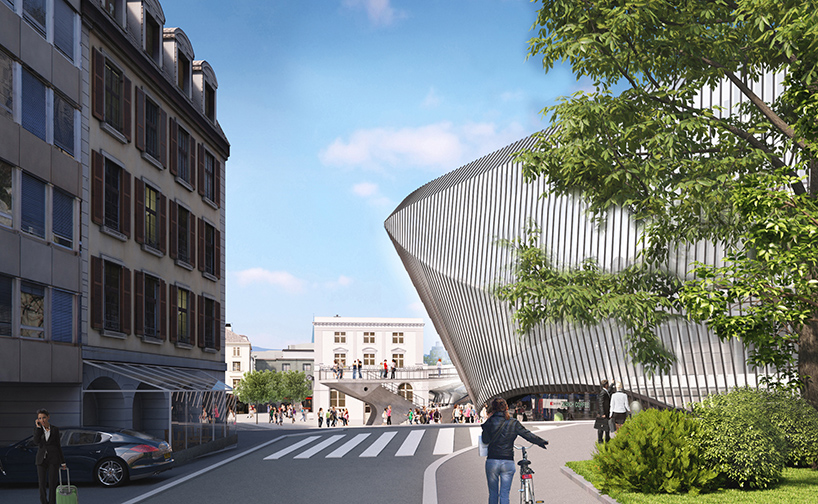 sep 23, 2016
santiago calatrava set to integrate new zurich office building with his stadelhofen station
santiago calatrava has unveiled plans for an office building in zurich, switzerland that will include approximately 1,000 underground parking spaces for bicycles — beginning what the design team refers to as 'a new chapter of transit-oriented design' for the city. the five-story structure will integrate with stadelhofen station, the landmark public transportation hub also designed by the spanish-swiss architect. the scheme is intended to increase connectivity throughout the entire metro area.

the structure has been designed to integrate with calatrava-designed stadelhofen station
image © calatrava valls SA
swiss insurer AXA commissioned santiago calatrava to design the haus zum falken office building because of his commitment to 'innovative, functional design'. located in the city center, the choice of architect will also ensure consistency with the adjacent station's architecture. catering to the 80,000 commuters who pass through stadelhofen each day, the project seeks to remove many of the bicycles from the nearby plaza with a new storage facility.

the scheme is intended to increase connectivity throughout the metro area
image © calatrava valls SA
'this 21st century office building in the heart of zurich interplays with the area's streetscape and adds to its vibrancy by encouraging bicycle use and improving pedestrians' connection to the stadelhofen station,' calatrava explains. the redesigned station opened in 1990, and was the first rapid-transit system to be built in switzerland. in june 2014, zurich's city council changed development regulations in the district to allow for the construction of calatrava's scheme.

the  haus zum falken office building will include approximately 1,000 underground parking spaces for bicycles
image © calatrava valls SA

model showing the location of the five-story building
image © calatrava valls SA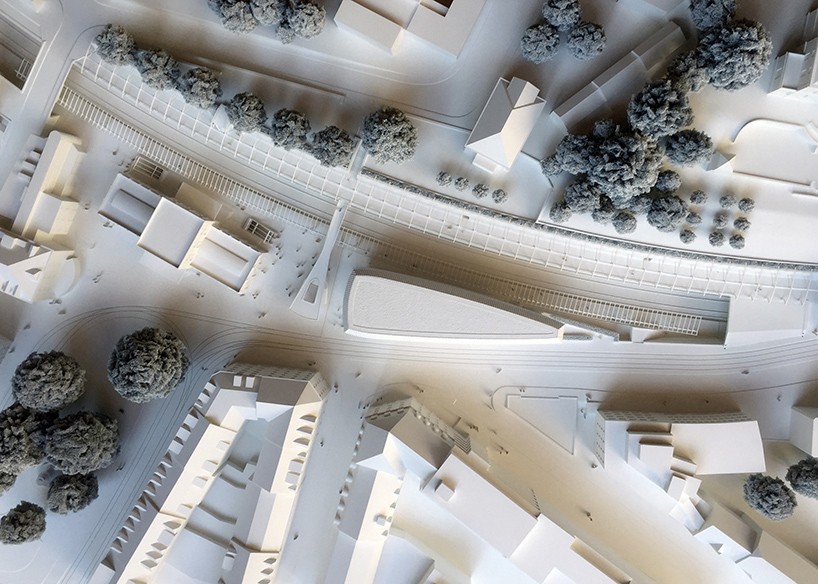 the space seeks to remove many of the bicycles from the adjacent plaza
image © calatrava valls SA
Save
Save
Save
Save
Save
Save
Save
Save
Save
Save
Save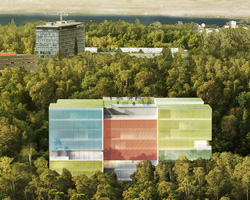 oct 31, 2017
oct 31, 2017
oct 31, 2017
oct 31, 2017
oct 23, 2017
oct 23, 2017
oct 03, 2017
oct 03, 2017
sep 21, 2017
sep 21, 2017
sep 19, 2017
sep 19, 2017
oct 04, 2017
oct 04, 2017
jun 04, 2017
jun 04, 2017
feb 02, 2017
feb 02, 2017