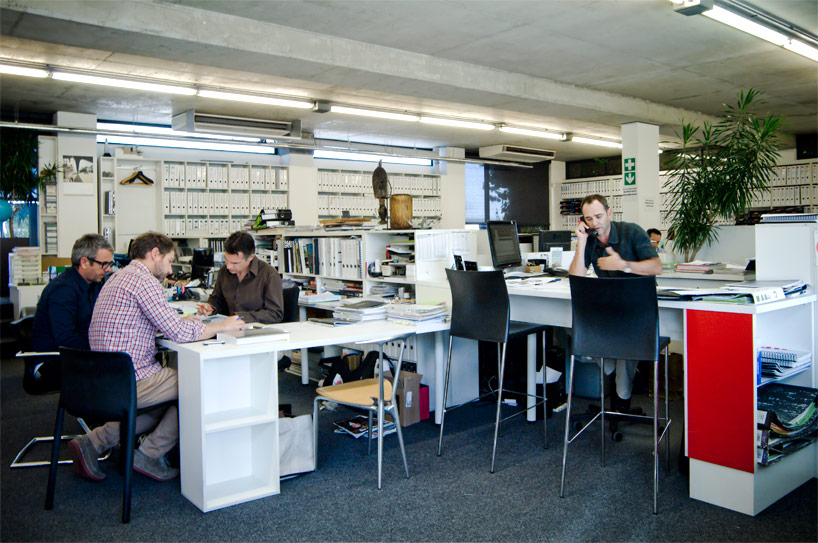 may 26, 2013
SAOTA studio visit
SAOTA studio in cape town, south africaimage © designboom
designboom has recently stopped by cape town, south africa, to visit the studio of award-winning firm SAOTA – stefan antoni olmesdahl truen architects, founded in 1987 by partner stefan antoni. the directing partners, stefan antoni, philip olmesdahl and greg truen lead a practice of 90 interdisciplinary individuals who are responsible for the characteristic high-end residences, as well as commercial and retail centers, hotels, and civic projects. the three level studio resides above OKHA, their furniture and art design branch, with large windows and several terraces offering views out over the city and unique landscape features such as the famous table mountain. a set of internal stairs connects the different levels acting as a light well that further illuminates the lower spaces naturally.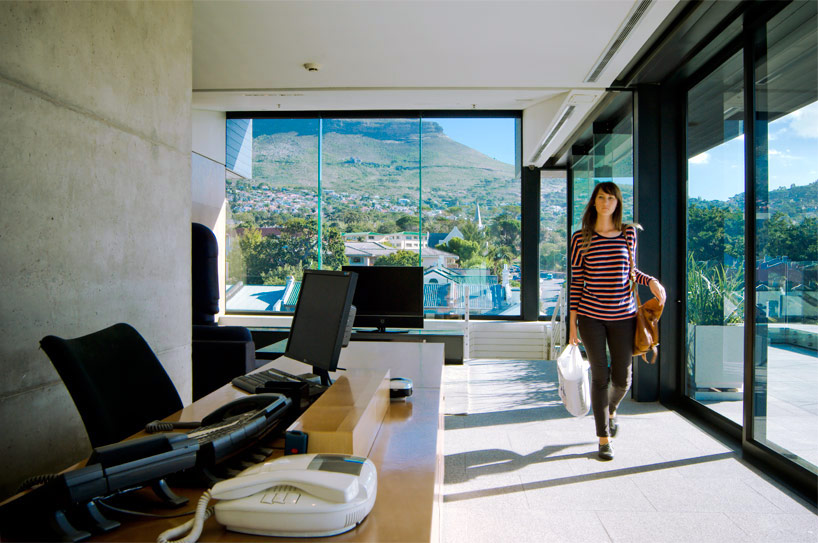 receptionimage © designboom
entrance loungeimage © designboom
image © designboom
view to the patioimage © designboom
exterior view of the steppesimage © designboom
view to the exterior / small artworks depicting their projects hang on the wallimage © designboom
pin-up and meeting areaimage © designboom
their work combines dynamic structures with luxury interiors creating unique spaces that always engage in a dialogue with immediate and distant exterior. a rich material palette can be found both inside and out, defining strong geometries with palpable textures and colors, adding to the experience of inhabiting or simply observing the buildings. the projects are always designed to expose their typically astounding sites and provide new angles and experiences, as well as creating a variety of ambiances within different zones of the projects.
'head 1815' in cape town, south africaimage courtesy of SAOTAsee designboom's coverage of the project here
'st leon 10 residence' interior design, cape town, south africaimage courtesy of SAOTAsee designboom's coverage of the project here
SAOTA works closely with their sister branches OKHA and AA interiors that give each project the same level of interior design detail as it has on its exterior. OKHA specializes in individual furnishings and artworks that give a space character while AA interiors is responsible for the larger scale of materiality and lighting – both of which are key factors in realizing a project. it is the well rounded nature of the studio that allows them to create the many residences they do with the same attention to all building aspects.
'plett 6541 + 2 ' in plettenberg bay, south africaimage courtesy of SAOTAsee designboom's coverage of the project here
'houghton MZ residence' in johannesburg, south africa image © adam letch and elsa youngsee designboom's coverage of the project here
'la lucia' in durban, south africa image courtesy of SAOTAsee designboom's coverage of the project here
conference table with (from left) stefan antoni / founding partner, director;  mark reilly/AA interiors;  philip olmesdahl/director; greg truen/director;  adam court/OKHA associateimage © designboom
(from left) stefan antoni / founding partner, director; mark reilly / AA interiors; philip olmesdahl/ directorimage © designboom
work spacesimage © designboom
model building areaimage © designboom
staircase and the spaces around it are illuminated by natural light from the adjacent windowsimage © designboom
interior stairsimage © designboom
exteriorimage © designboom
SAOTA
(13 articles)
may 19, 2015
may 19, 2015
dec 02, 2014
dec 02, 2014
nov 03, 2014
nov 03, 2014
aug 07, 2017
aug 07, 2017
jul 05, 2017
jul 05, 2017
jun 05, 2017
jun 05, 2017