redefining saudi arabia's urban landscape
As Saudi Arabia positions itself as a hub of global design and architectural developments, a wave of ambitious megaprojects has already begun reshaping the kingdom's urban landscape. From futuristic zero-gravity cities powered by AI, to monumental cultural centers, luxury retreats amid ancient archeological heritage sites, and expansive transportation systems — Saudi Arabia has been harnessing cutting-edge design and visionary architecture to usher in a new era of progress and innovation.
Under the leadership of Crown Prince Mohammed bin Salman, key architects and developers have been tapped for this initiative, including Foster + Partners who has plans to construct a state-of-the-art coral-inspired marine life institute, and Jean Nouvel with plans to sculpt a subterranean resort into the sandstone rock dwellings of AlUla.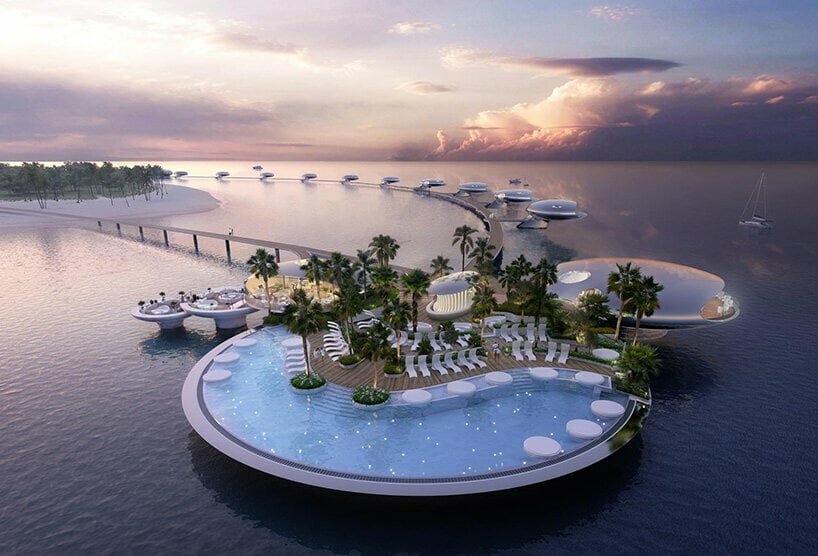 image courtesy of Killa Design / The Red Sea Development Company
the line: the world's first zero-gravity vertical metropolis
As part of the ambitious NEOM development, THE LINE is a revolutionary vertical city concept that will house a car-free, linear urban development of hyper-connected AI-enabled communities powered by 100% clean energy. Stretching across 170 kilometers and only 200 meters wide, the city is being developed in the kingdom's north-west Tabuk province with a distinct mirrored facade.
Designed to preserve natural landscapes, this project aims to create communities centered around human well-being, with a focus on reducing infrastructure by prioritizing walkability, sustainability, and technology integration. THE LINE will be completely free of cars and streets, with residents given access to nature and all of their daily needs within a walking distance of five minutes. While one-fifth of NEOM's infrastructure is already underway, plans aim for THE LINE to be completed by as early as 2030.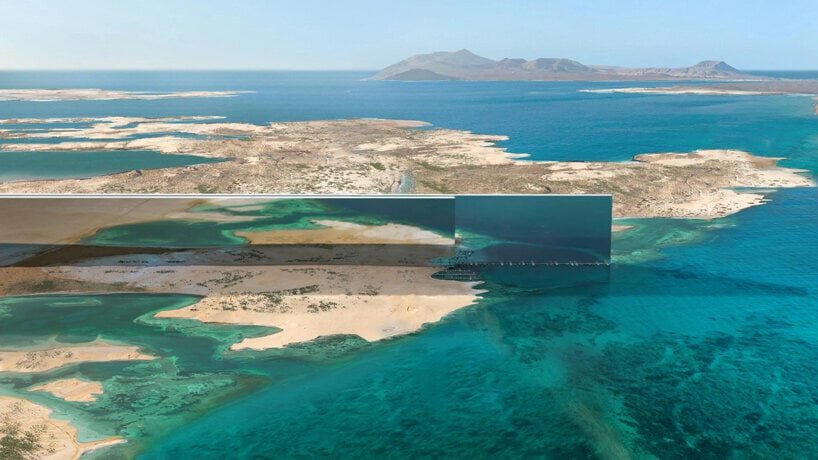 image courtesy of NEOM
trojena: a snow-capped tourist landmark
One of the four cities of the NEOM megaproject, Trojena is a snow-capped tourist landmark in the mountains of Saudi Arabia's Tabuk province. It will include activities such as year-round skiing, health and wellness retreats, retail and restaurants, as well as chalets, villas, and ultra-luxury hotels. Divided into six themed development districts, Trojena will offer year-round tailored experiences built around technology, innovation, and principles of ecotourism in line with Saudi Arabia's vision to preserve its natural environment.
A prolific line-up of international practices have been tapped to shape the development, including Zaha Hadid Architects, UNStudio, Aedas, LAVA, and Bureau Proberts. Architectural highlights will include the Trojena Ski Resort, a futuristic folded vertical village by LAVA dubbed 'The Vault', the underwater hotel 'The Bow', and slope residences designed to integrate with the rugged landscape alongside a man-made freshwater lake by Bureau Proberts.
Trojena's strategic location, covering an area of nearly 60 square kilometers and located 50 kilometers from the Gulf of Aqaba, boasts elevations ranging from 1,500 to 1,600 meters and winter temperatures below zero. Scheduled for completion in 2026, the megacity is pegged to host the 2029 Asian Winter Games. By 2030, it is expected to host 700,000 annual visitors and house as many as 7,000 residents.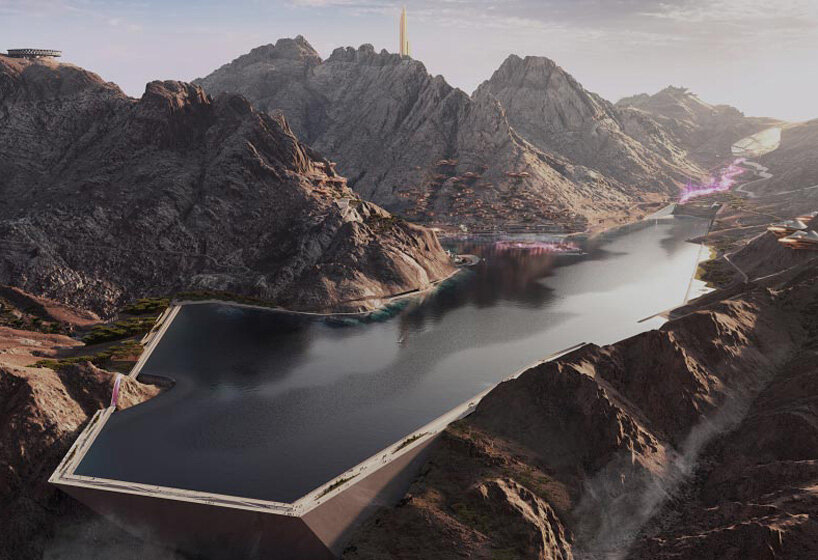 image courtesy of NEOM
the red sea project: redefining luxury ecotourism
Located along the pristine coastline of the Red Sea on the west coast of Saudi Arabia, The Red Sea Project is a luxury tourism development spanning over 28,000 square kilometers. Encompassing an archipelago of more than 90 islands, miles of sweeping desert, and dramatic volcanic landscapes, the project aims to establish a sustainable destination for nature enthusiasts and adventure seekers.
The masterplan is being developed by Red Sea Global, who has tasked acclaimed architectural firms, including Foster + Partners, Kengo Kuma and Associates, and Killa Design, to craft resorts, pristine beaches, and an array of marine activities across the site's 22 islands. The development centers around preserving and spotlighting the region's rich cultural heritage alongside its natural beauty. The initial phase of the project is set to be completed by the end of this year, with the masterplan scheduled for completion by 2030.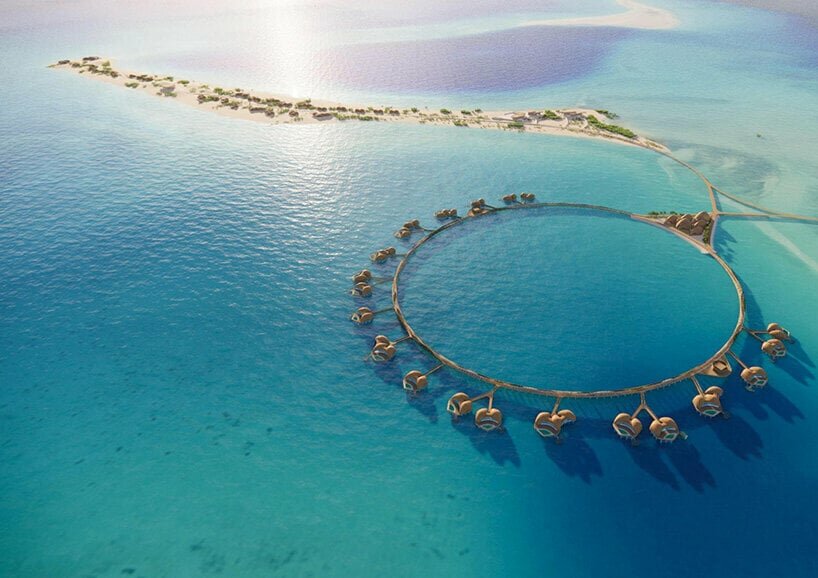 image courtesy of The Red Sea Development Company
oxagon: a floating logistics hub
Upon completion in 2030, NEOM's Oxagon will become the world's largest floating structure with a 48 kilometers squared core development area. Located in the Red Sea just south of the Suez Canal, the port-city's masterplan has been devised by Danish studio BIG as an octagonal shape partly developed on land and predominantly in the sea.
Accelerating the kingdom's Vision 2030 ambitions, the city will become a hub for innovation, trade, and advanced and clean technologies. As a logistics center for both NEOM and the rest of the world, it will revolutionize global manufacturing with its state-of-the-art factories, development and manufacturing facilities, and logistics-related sites — all powered by one hundred percent clean energy. It will be home to the world's first truly integrated physical and digital port and supply chain ecosystem, facilitating unparalleled connectivity to global markets, while introducing predominantly waterfront housing for 90,000 residents.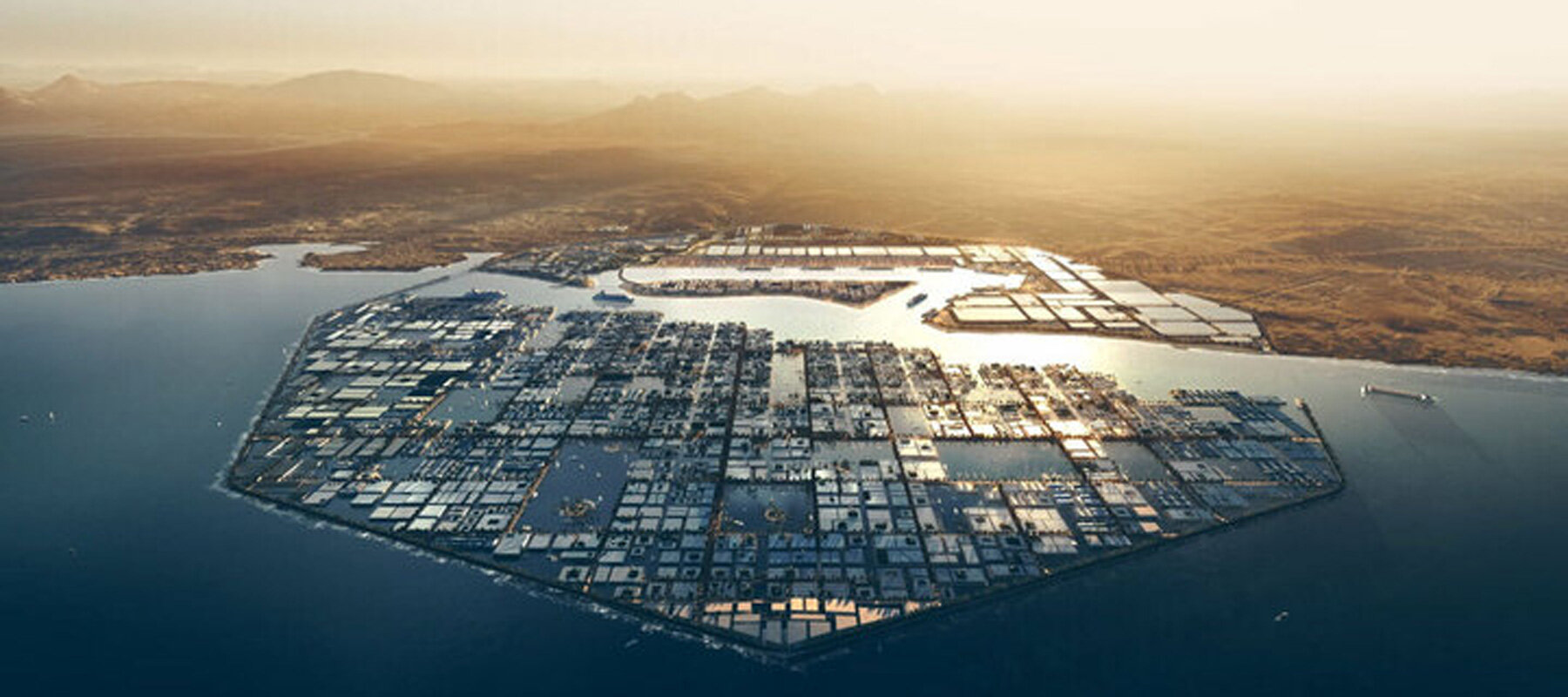 sindalah: neom's first development
Sindalah, a seahorse-shaped island off the coast of NEOM in the Tabuk province, will be a tech-driven, luxury tourism destination covering an area of 840,000 square meters. With an 86-berth marina and 75 additional offshore buoys, Sindalah is expected to present a yachting hub for boat owners and yachting enthusiasts, as well as a luxury resort conceived by Luca Dini Design and Architecture spanning this width. Across the island, guests will have access to luxury retail, resorts, a beach and yacht club, and a spa and wellness center, sporting facilities, and cultural events venues. Each of the key services and amenities will be located just a five-minute walk from one another, without the need for roads or cars.
Following NEOM's sustainability initiatives and dedication to preserve Saudi Arabia's natural beauty, the destination will be powered by advanced technology. With development almost complete, Sindalah is set to open in 2024, and 'aims to attract over 2,400 daily visitors by 2028.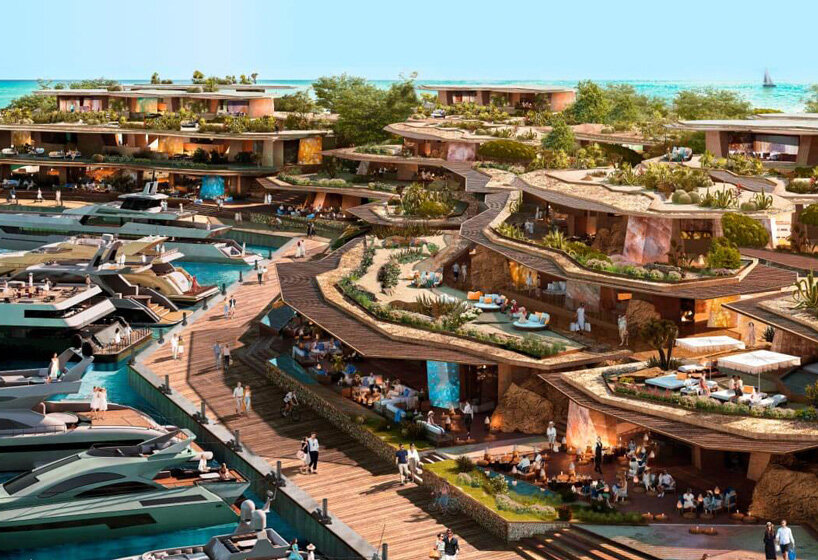 image courtesy of NEOM
diriyah gate: saudi arabia's new cultural capital
The mixed-use urban development aims to revive the historic city of Diriyah, a UNESCO World Heritage site, as Saudi Arabia's new cultural capital through the preservation of its heritage as well as the integration of vibrant contemporary elements. Led by the Diriyah Gate Development Authority, the project is part of the Public Investment Fund's Vision 2030 initiative which aims to bring in 27 million visitors by 2030.
Located just 20 minutes away from Riyadh's city center, the masterplan will introduce many new museums, hotels, retail spaces, entertainment facilities as well as residential living that showcase over 300 years of Saudi Arabian history. Combining traditional Najdi architectural typology with modern urbanism, the developments will promote the landmark's authentic heritage while generating tourism. The At-Turaif District UNESCO World Heritage Site — a mud-brick city which was the first capital of the Saudi Dynasty — sits at the heart of the development.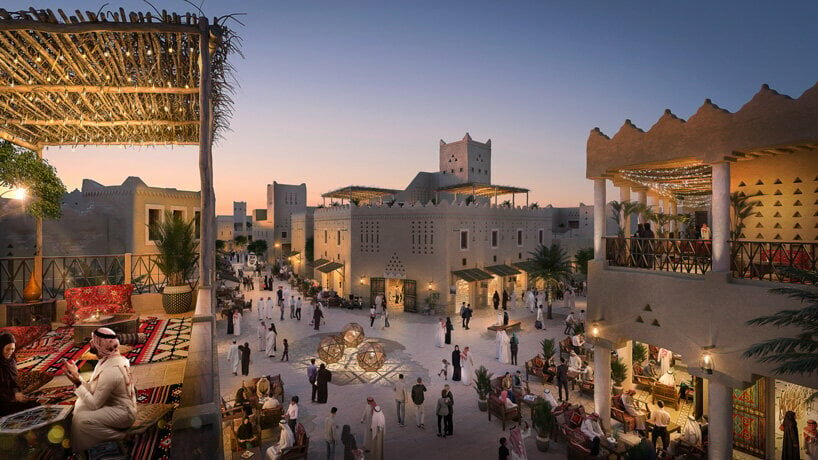 image courtesy of Vision 2030
alula: breathing new life into the ancient heritage site
AlUla, the two hundred centuries-old UNESCO World Heritage site, is undergoing developments that will transform its expanses of desert, sandstone mountains, and ancient cultural sites into a vibrant cultural oasis. Through the 'Journey through Time' masterplan pioneered by Saudi Arabia's Crown Prince Mohammed bin Salman, the scheme has already seen the restoration of ancient archaeological sites revived as contemporary cultural spaces, and the development of several luxury hotels and galleries. French architect Jean Nouvel has also revealed plans to sculpt a subterranean resort and hotel amid the rock dwellings of AlUla.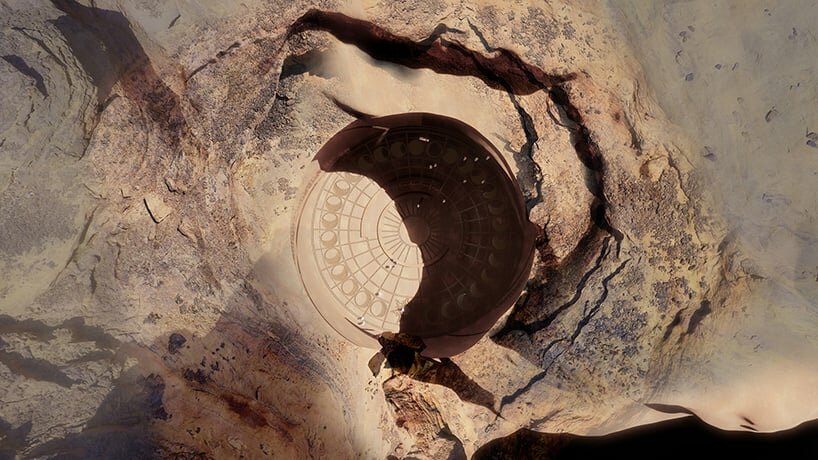 image courtesy of the Royal Commission for AlUla
AMAALA: a wellness destination inspired by the red sea
The holistic development project will pose a wellness destination inspired by arts, self-transformation, and the purity of the Red Sea within the Crown Prince's Natural Reserve. While preserving the region's untouched natural resources, it will comprise luxury resorts from internationally renowned hotel brands, art galleries, performance venues, an arts academy, and over 800 residential facilities. Among the leading architects shaping this creative vision are Foster + Partners, developing a mirage-inspired airport as well as a coral-inspired marine life institute, and John Heah, fusing Islamic architecture with luxury contemporary design for a resort for spa-clinic brand Clinique La Prairie. Led by Red Sea Global and forming part of the Saudi Vision 2030 program, AMAALA is set for completion in 2027.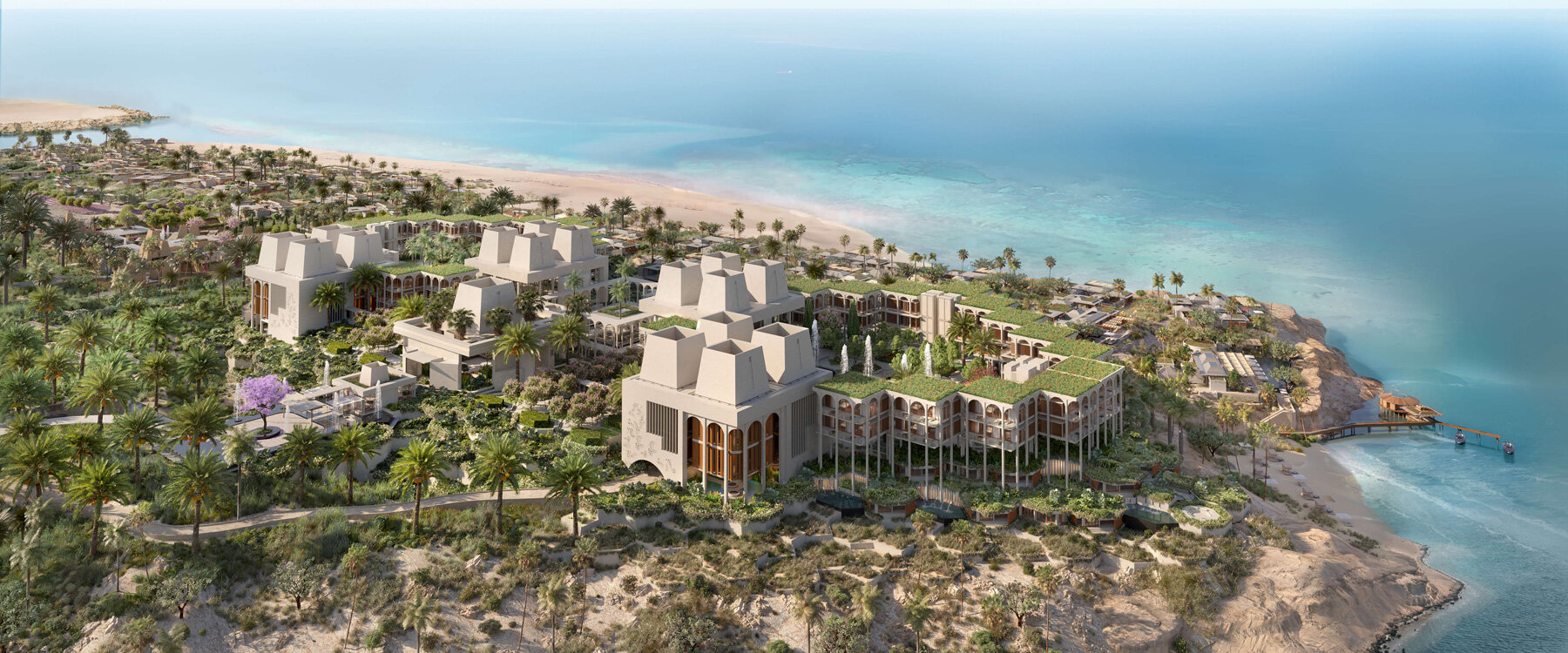 image courtesy of Red Sea Global
qiddiya: the world's largest entertainment city
Part of the Saudi Vision 2030 initiative, this recreational megaproject will become the largest entertainment city globally, spanning over 376 square kilometers. Located just 45 kilometers southwest of Riyadh, Qiddiya will draw from Saudi's rich heritage to feature a range of leading tourist attractions, including amusement parks, sports arenas, and cultural venues. Middle Eastern firm Dewan Architects + Engineers has been appointed as the lead design consultant for the destination, including the conception of its flagship project — the Qiddiya Water Theme Park. While construction broke ground in 2019, the venue is expected to open to tourists in 2023.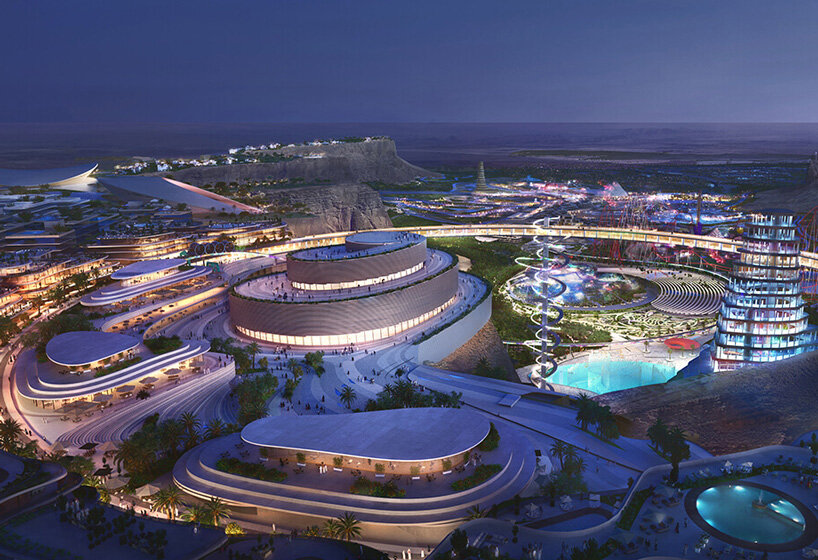 image courtesy of Qiddiya
a network of transportation systems
As Saudi Arabia positions itself as a leading tourism, infrastructure, and residential hub, various transportation networks are in the works to foster connectivity amid the kingdom's rapid growth. In line with the National Transportation Strategy initiative, the upcoming Red Sea International Airport will help to center the city as a leading global hub of creativity and innovation. Aligned with Red Sea Global's sustainability goals, Foster + Partners has conceived an eco-friendly design that draws on the natural beauty of the region's desert landscape to rethink the typology of a traditional terminal. Across its area of 57 kilometers square, it will include facilities for seaplanes and helicopters, as well as residential, recreational, and retail outlets. The design also utilizes shaded areas and natural ventilation, running entirely on renewable energy.
The Riyadh Metro, part of the King Abdulaziz Project for Riyadh Public Transport, is a transformative project featuring six metro lines covering 176 kilometers and 85 stations. As the world's largest transport network project and the centerpiece of the city's public transport system, it will cost $22.5 billion to build and will be fully operational by 2024.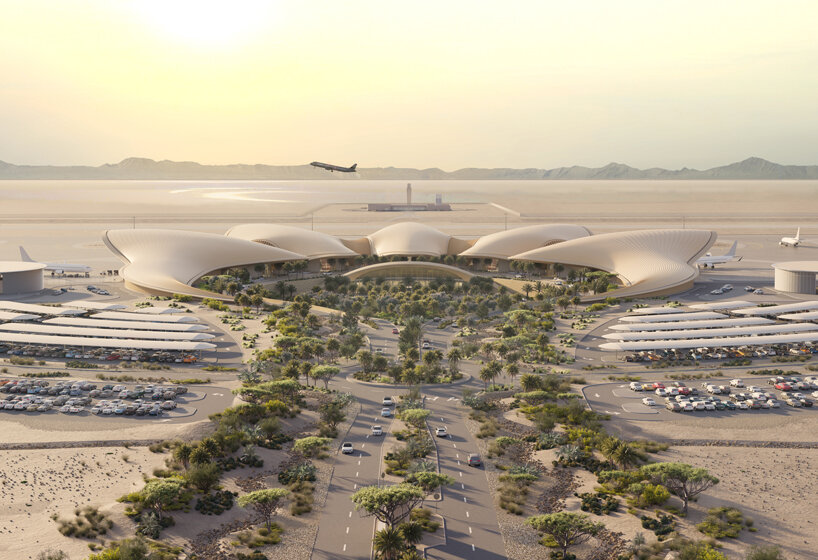 image courtesy of Red Sea Global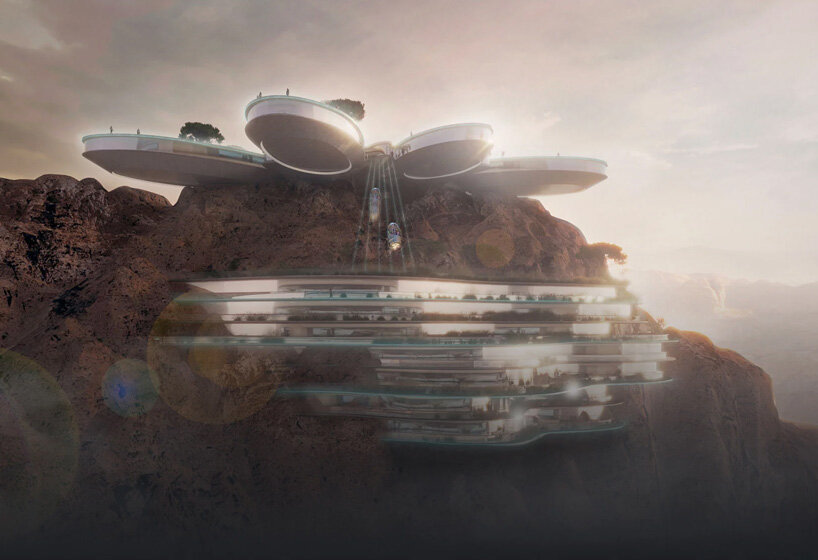 image courtesy of NEOM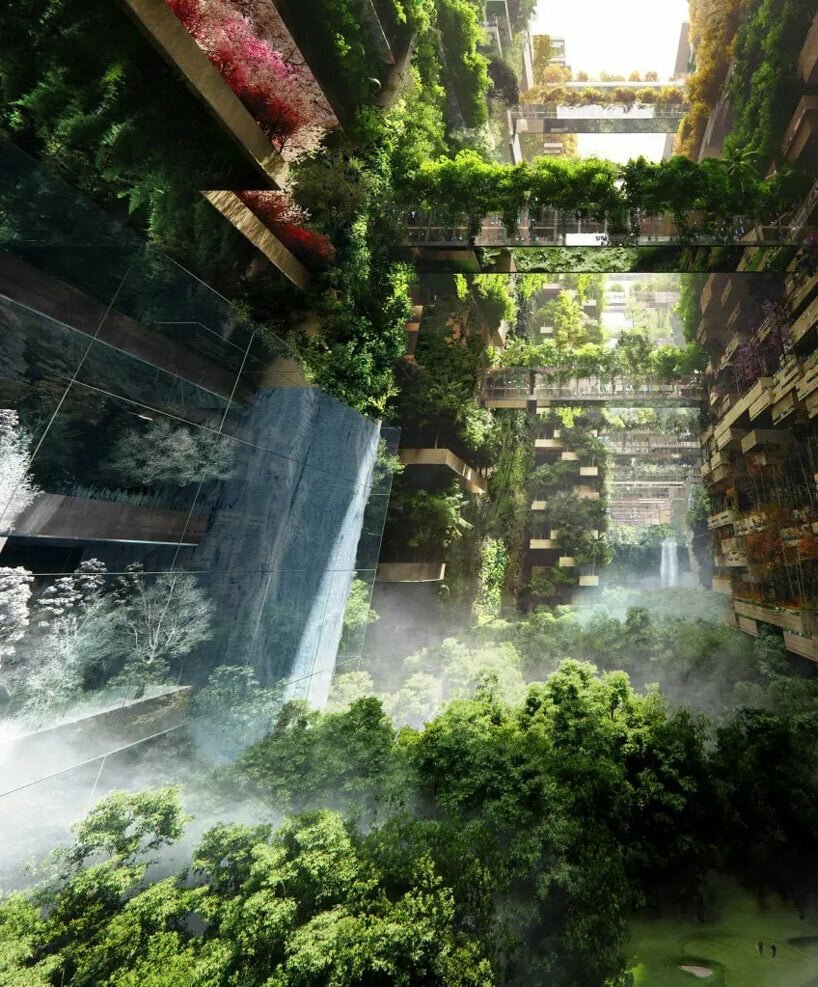 image courtesy of NEOM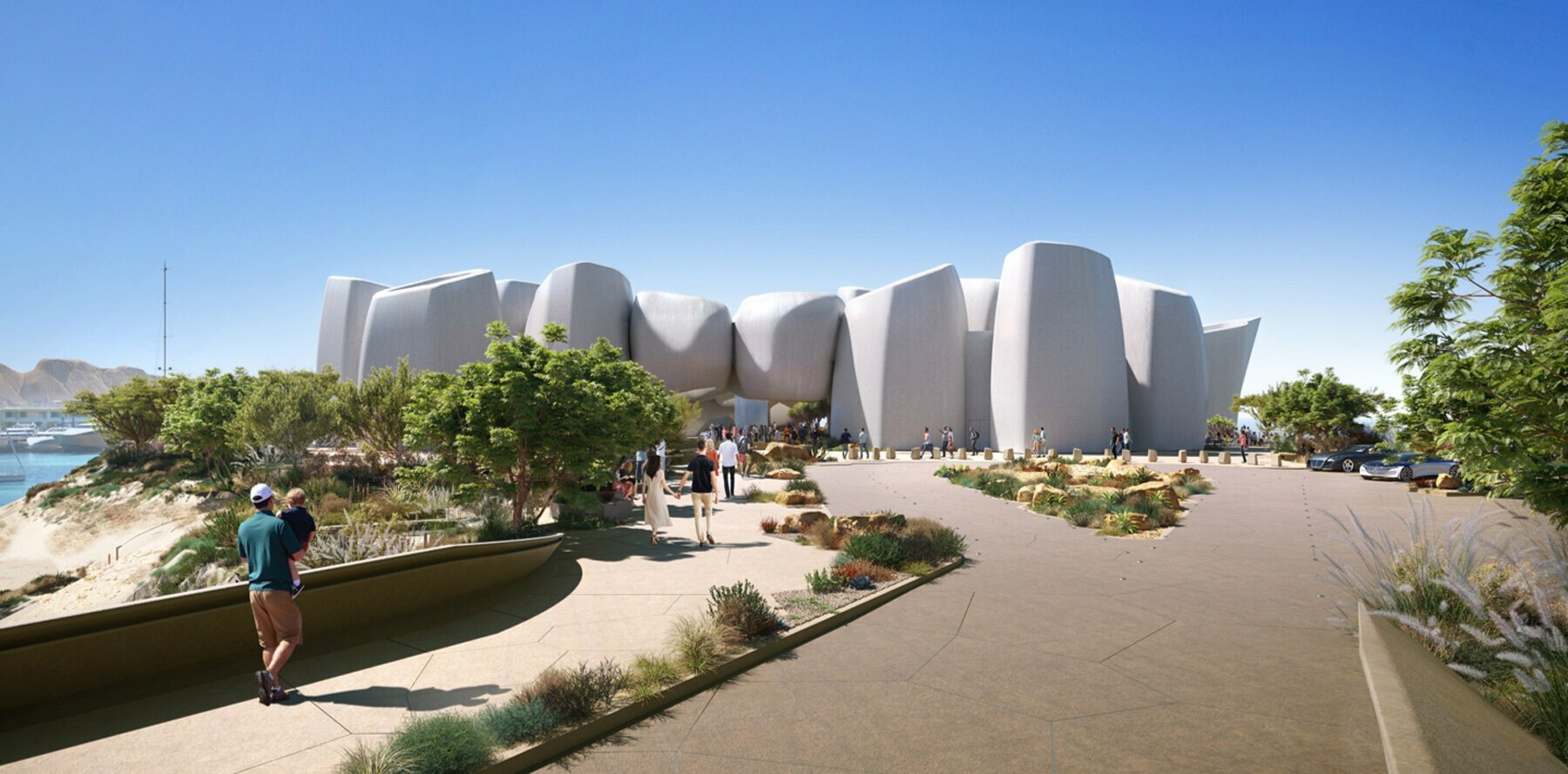 KEEP UP WITH OUR DAILY AND WEEKLY NEWSLETTERS
a diverse digital database that acts as a valuable guide in gaining insight and information about a product directly from the manufacturer, and serves as a rich reference point in developing a project or scheme.
designboom will always be there for you
milan, new york, beijing, tokyo

,
since 1999