feb 14, 2013
saunders architecture: fogo island inn
'fogo island inn' by saunders architecture, fogo island, canadaimage courtesy of fogo island inn
fogo island is an easily overlooked spec of ice located in the subarctic region off the coast of newfoundland, landlocked by a frozen sea of ice in the winter while flowering with berries in the summer, a landscape that has remained relatively unchanged for thousands of years; it is 'far away from far away.' its inhabitants are deeply entrenched in the seaward culture of the rock, including retired fibre-opticsbusinesswoman zita cobb who, shortly after returning home, created the shorefast foundation to organize and fund projects that will revitalize the small 'outport', making it a hub for artists and eco-tourists around the world. so far her endeavors have led to the creation of several artists' studios located in various spots, including the tower studio, bridge studio, squish studio, and long studio all designed byarchitect todd saunders of saunders architecture. none of these, however, can compare to the scale of her current project being carried out by the same architect. the 29-room 'fogo island inn' situated on a promontory off the northern side of the small land mass will contain over 40,000 square feet of program spread out over five stories, and although it is said to cost a cool $500 per night,it is already revered as one of the must-see places of a lifetime, beginning in november when it is scheduled to open to the public.
video preview of todd saunders' work on fogo island
video ©
site media inc
wood is the primary construction material used, reflecting the vernacular traditions it also leaves a certain respect to the landscape that in many ways holds a much larger significance than any structure built on it could ever have. the massing consists of two oblong rectangular volumes, stacked at a slightly different angle to form an X. this greatly reduces the direct impact on the site while still providing the necessary area without creating a massive construct that sits completely out of scale with the context. the ground floor is reserved for a restaurant led by one of canada's highest ranked chefs, the main lobby, library, movie theater and independent art gallery, followed by four levels of individual rooms, and a spa and sauna facility on the rooftop enjoying views over the sea and island. 
image courtesy of fogo island inn
image courtesy of fogo island inn
image courtesy of fogo island inn
under a clear night sky
in front of the northern lights
image courtesy of saunders architecture
image courtesy of fogo island inn
the white wooden envelope is painted with the various colors of the sky, ocean, and snowimage courtesy of fogo island inn
image courtesy of fogo island inn
scaffolding over the white-painted wooden planksimage courtesy of fogo island inn
array of solar panels on the southern elevationimage courtesy of fogo island inn
tall columns that support the overhanging volumeimage courtesy of fogo island inn
wood claddingimage courtesy of fogo island inn
modelimage courtesy of saunders architecture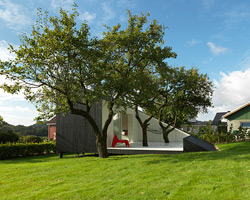 may 06, 2015
may 06, 2015
apr 27, 2015
apr 27, 2015
oct 27, 2013
oct 27, 2013