may 02, 2012
saunders architecture: tower studio
'tower studio' by saunders architecture, fogo island, newfoundland, canada image © bent rené synnevåg all images courtesy of saunders architecture
the last recently completed structure within the ongoing series of six, the 'tower studio' designed by norwegian practice saunders architecture overlooks shoal bay on fogo island in newfoundland, canada. a black silhouette amidst the rocky landscape, the angular and twisting exterior form reveals a singular fenestration which doubles as both awindow and skylight. the 3-storey building is accessible by hiking the rocky coastline from nearby towns or by walking along a 12 inch wide boardwalk formed from weathered planks leading from a busy road through an encompassing bog to the main entrance. during construction, the narrow path was used to transport materials in wheel barrows, protecting the delicate ecosystem of lichens.
at the entry door, a triangulated facet of the facade extends overhead to form a sheltering canopy. a ground level fireplace, kitchenette and compost toilet service the transient residents. a stairway leads to the first level studio which is enclosed with a slanted wall, allowing artists to lean against the surface and gaze through the opposing triangular window which floods the studio with a soft, northern daylight.
boardwalk leads through a bog from a busy road image © bent rené synnevåg
see designboom's previous coverage of the completed buildings within the shorefast foundation and fogo island arts corporation initiative, including the bridge studio, long studio and squish studio.
boardwalk hovers above the bog image © bent rené synnevåg
twisting exterior reveals a triangular window skylight image © bent rené synnevåg
black exterior forms an angled silhouette against the natural scenery image © bent rené synnevåg
(left) view from the bog (right) entrance images © bent rené synnevåg
image © bent rené synnevåg
entry level image © bent rené synnevåg
the second floor is accessed with a ladder from the first floor image © bent rené synnevåg
inclined interior walls image © bent rené synnevåg
triangular window / skylight image © bent rené synnevåg
image © bent rené synnevåg
image © bent rené synnevåg
image © bent rené synnevåg
image © bent rené synnevåg
image © bent rené synnevåg
image © bent rené synnevåg
image © bent rené synnevåg
image © bent rené synnevåg
site plan
floor plan / level 0 1. entry 2. kitchen counter 3. WC
floor plan / level 1 4. studio
floor plan / level 2 5. gallery 6. void
section
elevation
elevation
elevation
section detail
hatchway detail
project info:
client: shorefast foundation and the fogo island arts corporation architect: saunders architecture – bergen, norway team architects: attila béres, ryan jørgensen, ken beheim-schwarzbach, nick herder, rubén sáez lópez, soizic bernard, colin hertberger, christina mayer, olivier bourgeois, pål storsveen, zdenek dohnalek associate architect: sheppard case architects inc. (long studio) structural engineer: dba associates (long studio) services engineer: core engineering (long studio) builder: shorefast foundation construction supervisor: dave torraville builders: arthur payne, rodney osmond, edward waterman, germain adams, john penton, jack lynch, roy jacobs, clarke reddick construction photos: nick herder size: 50 m2 location: fogo island, newfoundland, canada status: finished 2011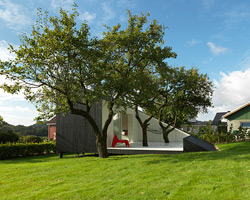 may 06, 2015
may 06, 2015
apr 27, 2015
apr 27, 2015
oct 27, 2013
oct 27, 2013
feb 14, 2013
feb 14, 2013
may 17, 2012
may 17, 2012
may 01, 2012
may 01, 2012