schmidt hammer lassen has completed denmark's first theatre to be built outside of copenhagen in more than a century. with a successful sold-out season for its opening debut, hjørring's 'vendsyssel theatre' has been designed as a dynamic and multifunctional hub with a music hall, black box rehearsal room, and 430-seat arena with an 'in the round' theatre. the building also accommodates several spacious offices, a lobby, a café, and a backstage area with a workshop and dressing room.

all images © adam mørk
from the beginning of the project, schmidt hammer lassen sought to position culture at the center of the design to create a democratic and memorable experience that speaks to a wide range of audiences. 'it is our ambition that the building will manifest itself as a new living organism in the cityscape,' says SHL founding partner john foldbjerg lassen. 'it is a building which stands by its cultural significance and which dares to be different without taking focus away from the town's existing qualities.'

the architecture appears as a dynamic composition of cubic volumes
in order to convey a striking architecture, as well as a deep cultural value, the project rests on five main pillars: inclusivity, transparency, functionality, materiality, and flexibility. hence, the theatre is designed with pragmatic features that equally invite active use and quiet breaks in a variety of spaces — from outside the plaza to the inner foyer and grand staircase. in other words, visitors are free to choose between being spectators or participants.

a corten steel façade offers a warm quality that reflects its surroundings
the theatre is sculpted as a composition of cubic volumes, with rust-colored corten steel façades that evoke its surroundings during daytime. on the other hand, LED-backed frosted glass surfaces illuminate during the evening, displaying a myriad of colors. the overall effect offers an aesthetic link between the town, the front plaza, and the complex. internally, an open plan approach allows for visual and physical connections to take place — where private and public boundaries are strategically blurred. 

the building is conceived with pragmatic, striking features 
'we've designed emphasis on the interaction between artists and spectators,' continues john foldbjerg lassen. 'inside, all the major halls can be opened to the foyer, the use of glass and windows in different rooms creates visual connections and the performers can get a glimpse of the public from their lounge on the top level.'

the building is the first danish theatre to be built outside the capital in over a century

the music hall is clad in light colored wood

spectators watching a musical performance during the opening

the lobby area with its café offers room for quiet breaks and interactions

the project offers flexible and multifunctional spaces that suit a wide range of users

the backstage area includes a workshop and rehearsal room 

the black box rehearsal hall

frosted glass façades illuminate the night sky
project info:
architect: schmidt hammer lassen architects
client: hjørring municipality realdania
local architect: arkitektfirmaet finn østergaard A/S
landscape architect: LIW Planning aps
engineers: brix & Kamp A/S, ALECTIA A/S
other consultants: gade & mortensen akustik A/S; AIX arkitekter AB; filippa berglund, scenography, architect maa
area: 4,200 sqm
competition: 2013, 1st prize
construction cost: € 24 million (ex. VAT)
Save
Save
Save
Save
Save
Save
Save
oct 03, 2017
oct 03, 2017
sep 28, 2017
sep 28, 2017
sep 26, 2017
sep 26, 2017
sep 09, 2017
sep 09, 2017
sep 01, 2017
sep 01, 2017
aug 28, 2017
aug 28, 2017
aug 25, 2017
aug 25, 2017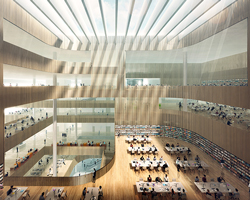 dec 16, 2016
dec 16, 2016
nov 16, 2016
nov 16, 2016
oct 02, 2016
oct 02, 2016
sep 20, 2016
sep 20, 2016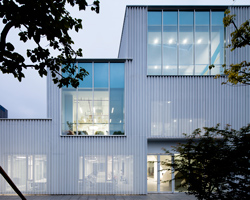 sep 05, 2016
sep 05, 2016
oct 12, 2017
oct 12, 2017
oct 06, 2017
oct 06, 2017
sep 03, 2017
sep 03, 2017
aug 12, 2017
aug 12, 2017
jul 23, 2017
jul 23, 2017
may 17, 2017
may 17, 2017