SCI-Arc offers architecture students a non-hierarchical learning environment
(above) the SCI-Arc robot house
SCI-Arc (southern california institute of architecture) is a world-renowned center of innovation, and one of america's few independent architecture schools offering undergraduate and graduate programs. distinguished by its vibrant studio atmosphere, SCI-Arc provides students with a unique environment to study architecture and design, in the artist district in the heart of los angeles. the overall approach to teaching sees the school's 500 students and 80 faculty members — most of whom are practicing architects — working together in a non-hierarchical manner to re-think assumptions, create, explore and test the limits of architecture. under the directorship of visionary architect, hernan diaz alonso, SCI-Arc is entering its most exciting era to date. faculty at SCI-Arc for over 15 years, diaz alonso led the graduate programs as chair since 2010. this fall, the new director appointed elena manferdini, longtime SCI-Arc faculty, as chair of the graduate programs. the two sat down to discuss SCI-Arc's distinctive approach to architectural education, the specifics of its master of architecture degree programs, and the school's position within its native city, los angeles.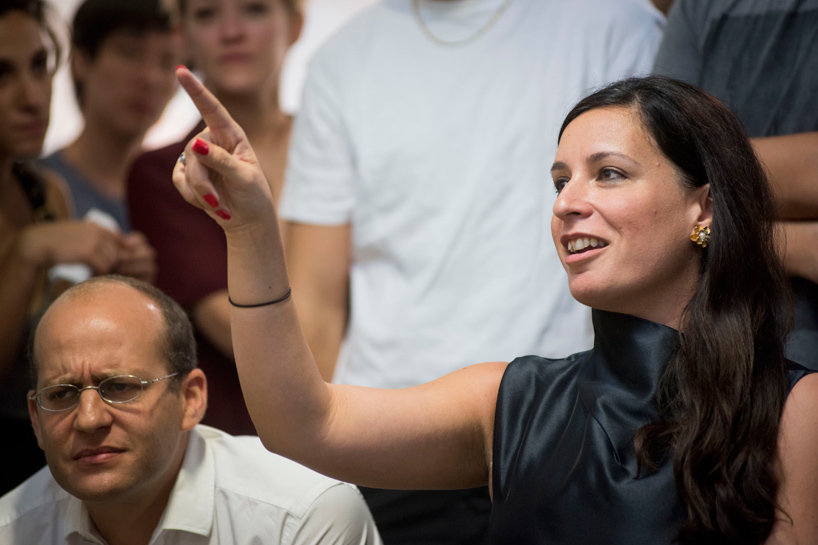 elena manferdini, SCI-Arc new chair of graduate programs
what makes SCI-Arc unique?
hernan diaz alonso: I think a combination of distinct characteristics makes SCI-Arc unique.
foremost, we are a school dedicated to architecture, and our focus is only in architecture. we are not part of a larger university which allows us to be very nimble and to move with a fast pace in changing times, cultures, technologies and societies. it allows us to adapt and move very fast.
also, the school's history is unique. approaching the 45th anniversary of its founding, SCI-Arc was created as an alternative to architectural education, one that dynamically integrates the notion of production design, making, interaction within discipline, and practice. even though the school has changed since then, that spirit remains.
the third characteristic of great importance for the ethos of the school is its location in los angeles. the city is an integral part of the school's culture. any comprehensive architectural education today requires the institution to be part of a dynamic city.
lastly, the faculties at SCI-Arc are all practitioners. they are practitioners of architecture who actualize their own ideas. how they interact with students and how they participate in architectural discourse is a personal investment. it is not an academic exercise. it's a deep disciplinary exercise.
elena manferdini: los angeles is an important hub for architecture and has been for the past century. often people forget that los angeles only recently expanded to what we know it to be today; the city is still growing at fast speed and it is a dynamic background for architectural schools to exist and for an architectural discussion to be alive. one can see a considerable amount of construction being carried out in los angeles. here architects build their first houses and grow from private residential projects to commercial ones as they build up their own practices. traditionally los angeles has always been a place of experimentation because of its weather; this relentless sunshine has allowed for experimentation to be carried into the practice of making, and unexpectedly shaped many of the careers of the architects that we look at now as being influential in the world.
another big factor when considering the location of the school in los angeles is the presence of hollywood and its movie industry. the culture of image and storytelling syncs with our school in terms of digital tools, movies, and animation. in addition to the entertainment industry, SCI-Arc is also close to the aerospace industry in southern california, and the silicon valley tech industry in northern california. these are all crucial ingredients that shape our way of approaching contemporary culture.
finally, SCI-Arc has been located in the la arts district for the past 15 years. this presence has been solidified by the growth of many art galleries around the area. this exchange between art and architecture has been and will continue to be very important for the growth of the institution. I would imagine that, technology, art work, and the true industry of architecture are the three formal ingredients that make los angeles a prime location to be as an architect.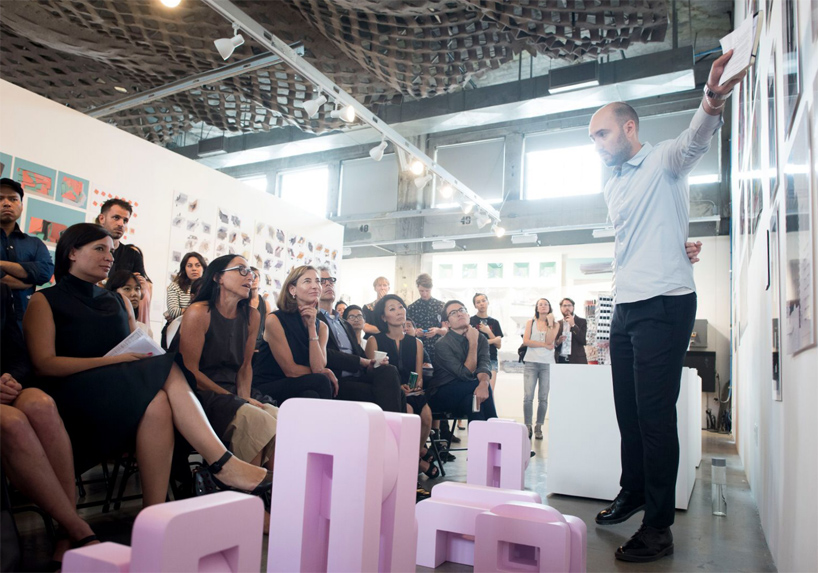 student critique taking place at SCI-Arc
what graduate degrees does SCI-Arc offer?
elena manferdini: M.Arch 1 and M.Arch 2 are the two SCI-Arc graduate, professionally accredited programs, that offer the degree required to pursue licensure in the US.
M.Arch 1 is and always will be the bench mark of any architectural school, because it defines how effective an institution is in the education of students with no little or no background in architecture. the program length is three and a half years of education, and central to the program's philosophy is a firm commitment to the discipline of architecture.
on the other hand, M.Arch 2 students come to SCI-Arc with an undergraduate education in architecture, and they study here for two and a half years to implement their previous education and focus on contemporary digital technologies and critical thinking.
the two programs are different at the core level, because the first one, M.Arch 1, shapes students as architects, while the second one, M.Arch 2, focuses in advancing contemporary cutting edge architectural education.
one aspect that both programs have in common is that SCI-Arc is a school that considers architecture as an art form capable to engage with contemporary culture and public imagination. this kind of school attracts specific individuals who believe that architecture has the ability to enrich our emotional and intellectual world.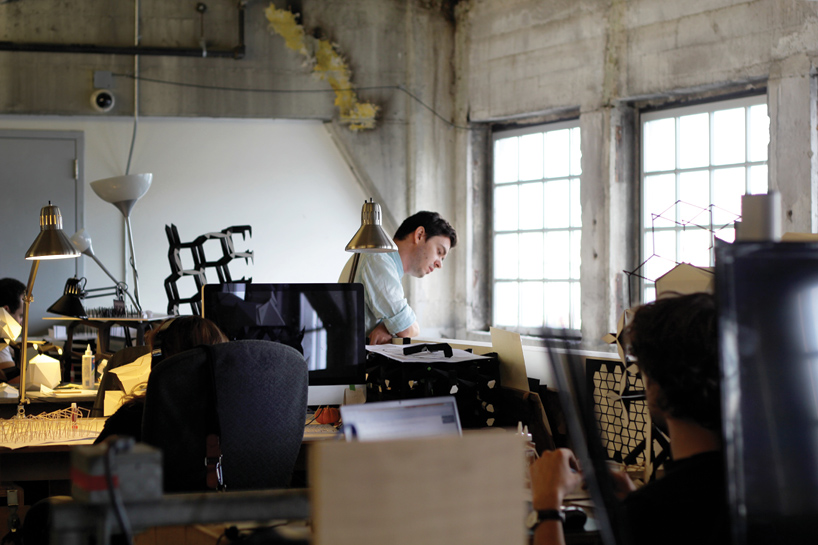 SCI-Arc is distinguished by its vibrant studio atmosphere
is there a SCI-Arc style?
hernan: architects don't like the word 'style'. when people ask, 'what is the SCI-Arc style?' we all try to avoid the point.
but the school has an overarching identity, and in time has developed various formal tendencies and differentiated points of view. our attention to formalism goes back to the time the school was founded by people like ray kappe and thom mayne. not many schools can claim to have two pritzker prize winners on their board, like frank gehry and thom mayne.
additionally, our previous directors, like eric owen moss, neil denari, and michael rotondi, are all innovative, cutting-edge, and speculative practitioners. SCI-Arc originated from that background, which continues today. our program chairs elena manferdini and tom wiscombe, and faculty members florencia pita, marcelyn gow, andrew zago, liam young, david ruy, and marcelo spina, all honor that tradition of disciplinary and formal speculation.
but there is not one single style. SCI-Arc is an attitude towards architecture. an attitude that always asks, 'what is next for architecture? what is the edge of architecture? what is the frontier? how can we explore that?' being a standalone school of architecture allows us to be aggressive in pursuing speculation, experimentation, and new modes of design.
elena: often there is confusion between an interest in form and the idea of style. our school is definitely committed to educating new generations of students to develop a personal formal language. I consider form as one of the most important tasks that architects have to deal with in their early career, which is why it's the most important one that we take on as a school, but that doesn't mean that form has only one way of manifesting itself. the school has been able to produce various personal formal languages and nuances that make the work of the students always fresh and innovative.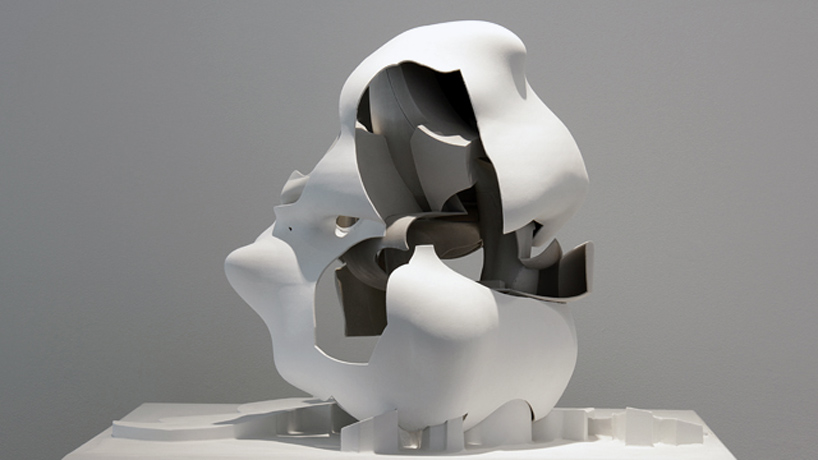 graduate thesis project by stefano passeri
what opportunities do students have in and around SCI-Arc?
hernan: we are proud SCI-Arc was a pioneer in the arts district. today, the arts district, is probably the most interesting place to be. we are part of the most palpable urban culture in los angeles, and our building is unusual. it's a quarter-mile-long building which functions as a factory or as a laboratory in which everybody can see what everyone else is developing.
the SCI-Arc facility is equipped with state-of-the-art physical and digital fabrication, our robot house, and computer labs. i like to think that we are one of the most advanced schools of architecture in the world in terms of technology and facilities. we keep updating our facility and our four million dollar digital fabrication lab, which we inaugurated in february, is an example of our commitment to contemporary design production.
we are always looking for new ways to expand and new technologies to add. SCI-Arc is always in a permanent state of transformation.
elena: learning at SCI-Arc extends far beyond our classrooms, labs, and library. we also learn a great deal from each other. we encourage our students — and all members of our academic community — to be full participants in the free and open exchange of ideas and viewpoints that characterizes our school. there are countless ways for students to get involved and make connections with each other.
when students come to SCI-Arc, they have access to the studios 24 hours a day, seven days a week, which creates a very special studio culture. we have a set of weekly lectures that are open to the public, which means that not only are they open to the students, but also to everybody in los angeles that has an interest in architecture and art. the student union selects some of the people that come to speak, so students are also part of the lecture series.
SCI-Arc also has two exhibition spaces: a library exhibition space and a larger temporary gallery that is given to artists and architects to challenge themselves to produce new work. new work is a key word because students get to participate in those installations, and therefore get to know people outside of the school, which i think is a very important part of learning.
hernan: lastly, SCI-Arc has a series of outreach programs that expand beyond the campus. we are opening a whole series of international offices or 'embassies' in different parts of the world. we also offer abroad and exchange programs allowing our students to be part of a global design community.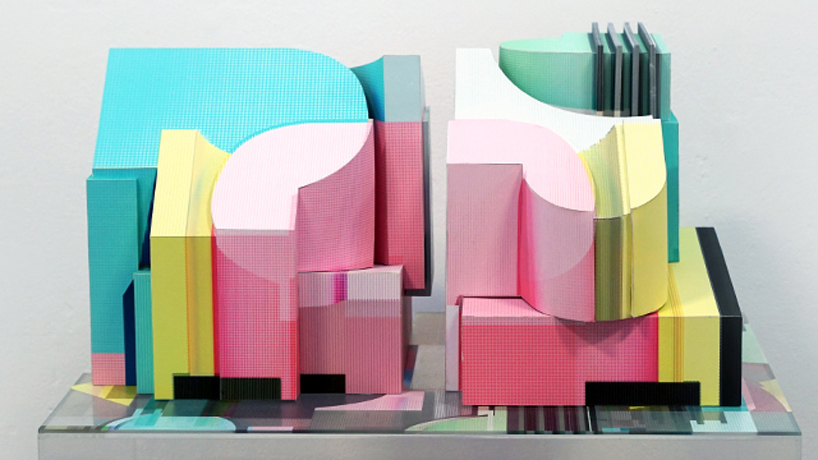 graduate thesis project by asli tusavul
for more interviews with hernan diaz alonso and elena manferdini visit the SCI-Arc channel; and to learn more about SCI-Arc's programs flip through the SCI-Arc online viewbook.
master of architecture application deadline is december 15, 2015.
a diverse digital database that acts as a valuable guide in gaining insight and information about a product directly from the manufacturer, and serves as a rich reference point in developing a project or scheme.
designboom will always be there for you
milan, new york, beijing, tokyo

,
since 1999