jun 28, 2011
seARCH: synagogue LJG
'synagogue LJG' by seARCH, amsterdam, the netherlands image © iwan baan
dutch practice seARCH has created 'synagogue LJG', a synagogue for the progressive jewish congregation in amsterdam. riddled with symbolism of the jewish faith, the neutral rectilinear volume generates a simplistic outwards aesthetic which conceals the building's complex narrative and inverted sense of spatiality. drawing from both traditional and modern concepts, the building seeks to create an environment that abstractly emulates the ideals and beliefs at the center of judaism with photography captured by iwan baan.
matzo-like tiles create an abstract pattern using the star of david motif image © iwan baan
small tiles on the exterior surface emboss the building with a pattern of the star of david, its subtle matzo-like effect made visible by light and shadow. heavy and solid on the landscape, the structure is defined by two opposing menorah-shaped openings that link east and west, marking the direction towards jerusalem. drawing natural light inwards, the large, symbolically-charged forms impact the arrangement of space within the ceremonial hall, whose central axis and seating runs between the vast windows. four balconies extend from the negative surfaces between each of the seven branches, further defining and highlighting the importance of the object.
window detail image © iwan baan
a mixed program of worship, community, classroom and office spaces consume the four-storey structure, which utilizes both new
materials and ones salvaged from the synagogue that previously housed the liberal congregation.
ceremonial space image © iwan baan
all seating runs parallel to a central east-west axis image © iwan baan
four cantilevered benches run the length between each window image © iwan baan
entrance to balcony seating image © iwan baan
bricks salvaged from the previous synagogue surround a pair of gold-leaf doors image © iwan baan
community center image © iwan baan
stairway leading to community center image © iwan baan
floor plan/ level 0 image courtesy of seARCH
floor plan/ level 1 image courtesy of seARCH
floor plan/ level 2 image courtesy of seARCH
section image courtesy of seARCH
section image courtesy of seARCH
elevation image courtesy of seARCH
elevation image courtesy of seARCH
concept sketch of east-west axis image courtesy of seARCH
concept sketch of window image courtesy of seARCH
concept sketch image courtesy of seARCH
Save
oct 03, 2017
oct 03, 2017
sep 14, 2017
sep 14, 2017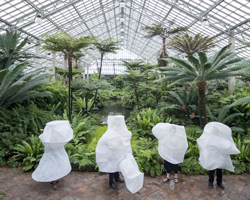 sep 12, 2017
sep 12, 2017
jun 28, 2017
jun 28, 2017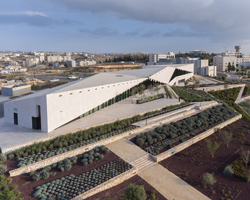 may 02, 2017
may 02, 2017
apr 24, 2017
apr 24, 2017
seARCH
(6 articles)
feb 04, 2016
feb 04, 2016
jul 11, 2014
jul 11, 2014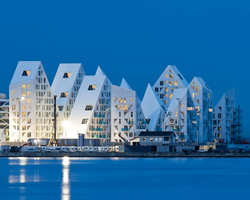 dec 19, 2012
dec 19, 2012
dec 10, 2012
dec 10, 2012
jul 31, 2011
jul 31, 2011
oct 13, 2010
oct 13, 2010