in 2013, UK architecture firm WilkinsonEyre was chosen to refurbish london's battersea power station, a historic structure that opened in 1933 and continued to generate energy into the 1980s. the renovation plans involve retaining the building's overall sense of scale as well as its chimneys and turbine halls. the mixed-use development will form the centerpiece of a revitalized neighborhood, which will also include contributions from foster + partners, frank gehry, and bjarke ingels group. the project won the 'commercial mixed-use – future projects' award at the 2017 world architecture festival, where the jury declared that 'london is about to gain a majestic new destination'.
at the world architecture festival in berlin, we spoke with sebastien ricard, director at WilkinsonEyre, who explained more about the major development, and discussed how the firm approaches the different projects it is working on around the world.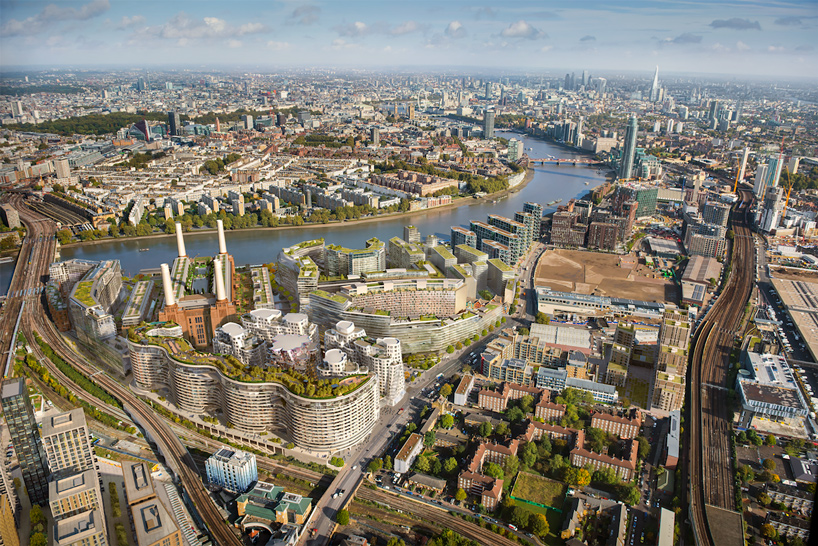 the UK-based firm was appointed in 2013 for the refurbishment of the battersea power station
all images courtesy of WilkinsonEyre
designboom (DB): can you start by explaining your involvement this year with the world architecture festival?
sebastien ricard (SR): we've had our projects in the past at the world architecture festival, and this year the project we're presenting is the battersea power station redevelopment, which is a very UK-based project. at the same time, it's very, very international. the finance comes from malaysian funding, so it's already a very international enterprise.
the theme and the topic of the project is very well-related to what the world architecture festival is about. it's about the re-use of an industrial building and converting it into something different, but at the same time, giving it back its life. I think historically, there were a few industrial buildings, which were lucky enough to be converted into museums. but what is interesting is to push that potential to convert an industrial building into something which is financially valuable because you can't turn an industrial building to a museum in every city.
it's a very interesting challenge because these industrial buildings are the kind of 'cathedrals' of the 20th century. there's a lot of nervousness, because they're so expensive to restore and convert, that a lot of them will disappear. I think it's a very interesting topic, and it goes very well with some of the topics at the world architecture festival.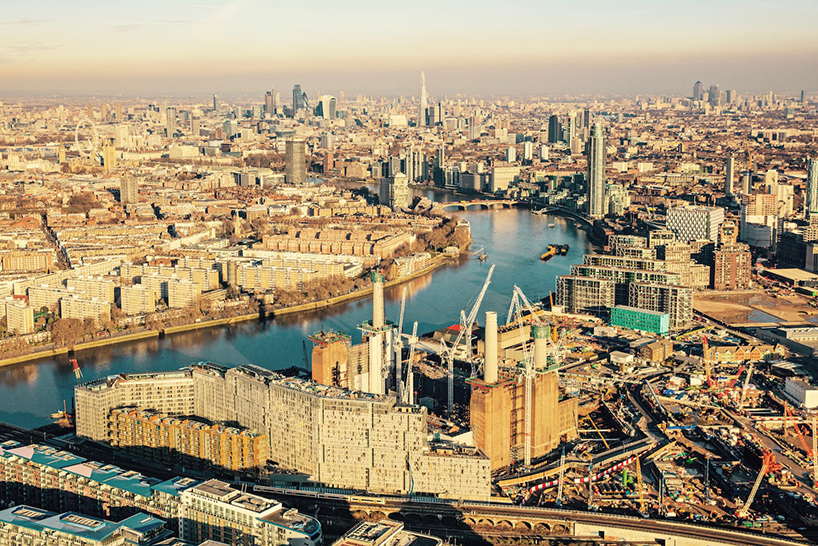 the proposed designs are consistent with and sympathetic to the original building
DB: so the project is a mixed-use building?
SR: 'mixed-use' as a term is very much the trend of the moment. everybody likes to call their scheme a mixed-use project, especially the developers. however, I think that here it is fundamentally a mixed-use building. you have in one building, under one roof: 45,000 square meters of offices, which is the size of the gherkin; nearly 40,000 square meters (420,000 sq ft) of retail; and 254 residential units. we've got a concert hall, an event space for 2,000 people, a multi-plex cinema, and exhibition space. there's also an office hub which will potentially be for start-up companies. the footprint of the building will be open to the public, and we're putting an enormous park on the river. so it's a real mixed-use project.
DB: how did you approach working between this mix of old and new architecture?
SR: that was obviously the biggest point we thought about when we did the competition. it was all about, how do we approach the building? we wanted to retain an idea of scale because this is something very unique about the building. when you enter, there's this vastness that is very unusual and we wanted to make sure we retained that.
we also wanted to be very honest about the industrial heritage. so in every new intervention we've done, we've tried to step it away from the existing façade to reveal the full height of the elevation and views to the chimney. by doing this you always have a connection to the scale of the building.
the industrial heritage is all about two key elements. one: we didn't want to over-restore it. so we kept some of the walls in decay, so that they look and feel like they have been there for the past 30 or 40 years. the other thing is to use very simple, honest materials — exposed steel, concrete, and glass — and not trying to mimic the existing material. we wanted the new intervention to be read as a new intervention, but at the same time, we wanted the vocabulary and design elements to remain very honest.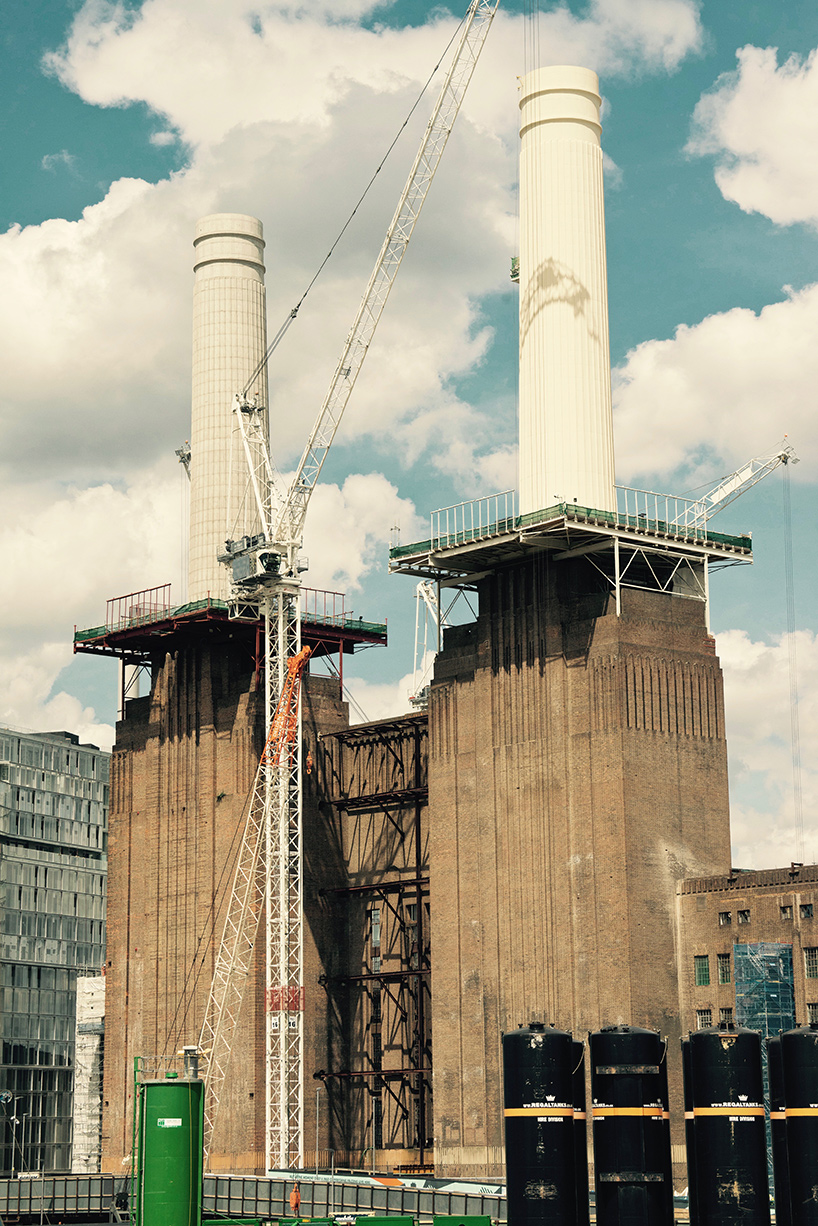 the renovated building will host a range of facilities and functions
DB: what kind of challenges did the project present?
SR: this is a project of many many challenges! it is such a vast project, and such a complex project. it was in a very bad state, so that made it very complicated to restore. as with every historic building that you come across, you discover things that are on site. we spent our time realizing that a lot of the existing foundations were not where we thought they were, and that there was more contamination than we thought there was. the condition of the building in many places was worse than we thought. so that's a lot of challenges, which are very difficult to deal with.

we also have to be very reactive and have to adjust straight away to some of the elements in our project. it's also a very risky and delicate thing for a client, because those things cost money. every discovery and challenge costs money. the logistics are incredibly complex. the building is on a very tough site in london and we have 12 cranes on site at the moment. most sites will have one, we've got 12. at the peak of the project, we'll probably have 15. we probably have more than a truck coming in and out every minute.
all of those components make it very, very fascinating. this is not necessarily something that you have on every project, but at the same time, they are part of our decision making process as designer. it's part of the context. the context here is also the logistic challenge, which is fascinating.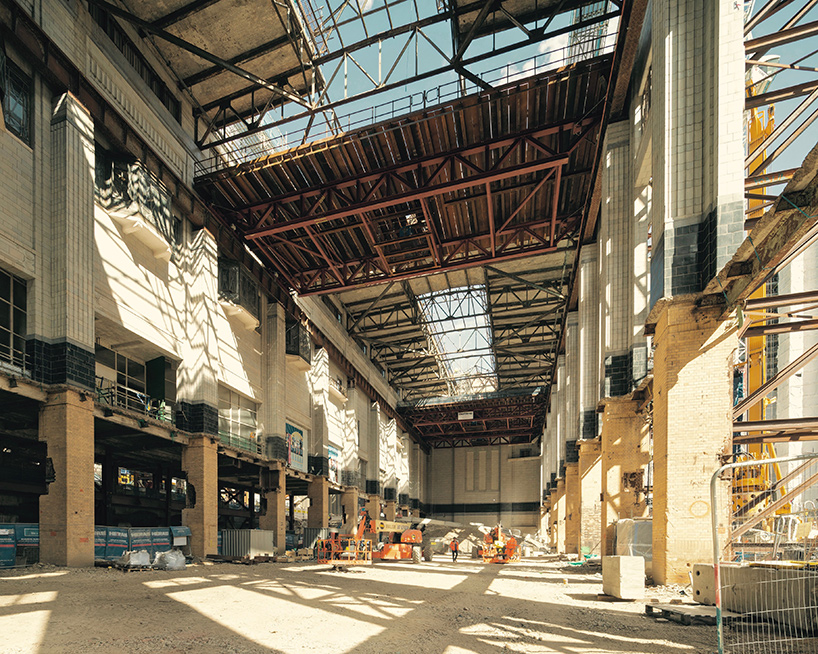 the chimneys and turbine halls remain the dominant features of the building
DB: as an international firm, how do you approach different projects depending on their location?
SR: that's a very interesting topic. first of all, as you might have gathered, I'm a foreigner, I'm french already within a british field. we probably have more than 50% of our staff who are foreigners, coming from all around the world. we do have the luck of having a really big variety of cultures and backgrounds. so often we have people from the locality of where we do the project who have some insight on the kind of culture, the climate, and the social environment that we build in or compete in.
by default, you can't do good architecture if you don't respect the specific culture and try to respond to it, so sometimes we are better than others. what's important is that we always try to bring something that is a bit of our own into a local context. the interesting element is trying to respond to the context and also trying to bring some fresh ideas. what you don't want is the kind of 'international architecture' approach, and what you don't want is necessarily the local, traditional approach.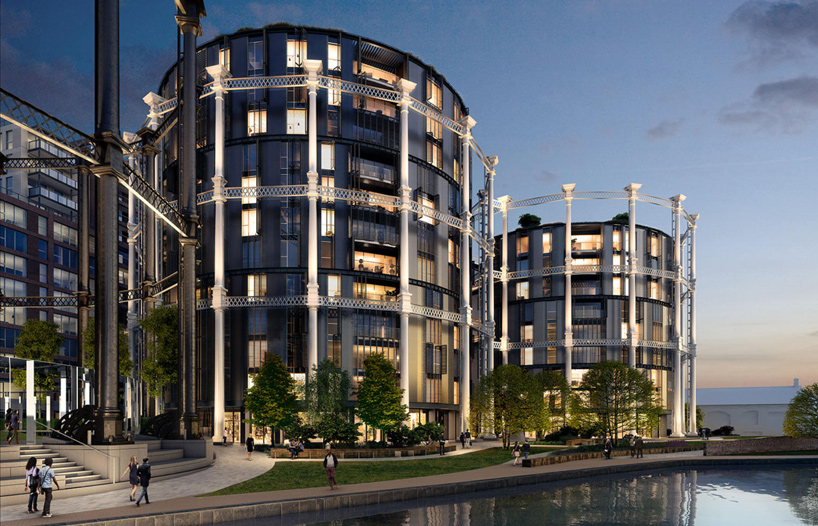 the firm is currently transforming a gas-storage plant in london into residences
DB: do you also look to involve the local community in these cases?
SR: yes, you have to. actually what is great, which maybe a few years back wasn't the case, is that now you don't have a choice — especially on big, public civic-use projects. there's an awful lot of local community discussion. it's part of the human aspect of architecture. you do not design for you, or for your own ego as an architect, you design for the people, or the user. I mean, we're only as good as our client and the user, so if you're working with amazing clients and users, we have to push ourselves as architects.
DB: what originally made you want to be an architect?
SR: I can't even remember when I really started. I think I probably made my decision around the age of 12. it's probably the fact that as a kid, I've always loved drawing. what I thought was very interesting is that you have the drawing aspect, and I'm very much a fan of building things, and the adventure of sitting down with contractors, sitting down with engineers, and as a team effort trying to see how you can evolve an idea into something that can be built. it was the natural profession for me where I could express the art and idea aspects and put them into a built form.

in 2013, WilkinsonEyre won an international design competition for the crown hotel resort in sydney
DB: how do you assess the current state of architecture?
SR: that's a very vast question, very difficult to answer. I think it's definitely a very exciting moment. the world architecture festival is a very good example, actually. I'm very pleased with what I see here and the caliber and variety of the entries and winners. projects are coming from all around the world, with very different backgrounds, very different types of architecture, very different problems. that's so refreshing to see. very often, big architectural events are more about the big, fantastic projects. like a massive museum around the globe or stadium. I think what is interesting, and what I've seen so far, is that there's a real understanding of the culture and all those elements. I think that's very interesting and promising to see.
I think on the other hand, after there war there was industrialization, so you could do a lot of pre-fabricated components and a lot of repetition. we had to build very quickly, and we've learned a lot from that. now, with the evolution of technology, we're at the stage where we can turn it around. we have the technology to do better components, which are pre-fabricated, but also can be custom-made. so now you can build things with very complex geometry, which were incredibly expensive and unrealistic to build a few years back. and now, with computer-generated machinery, we can make them affordable. so that's a very exciting stage for me.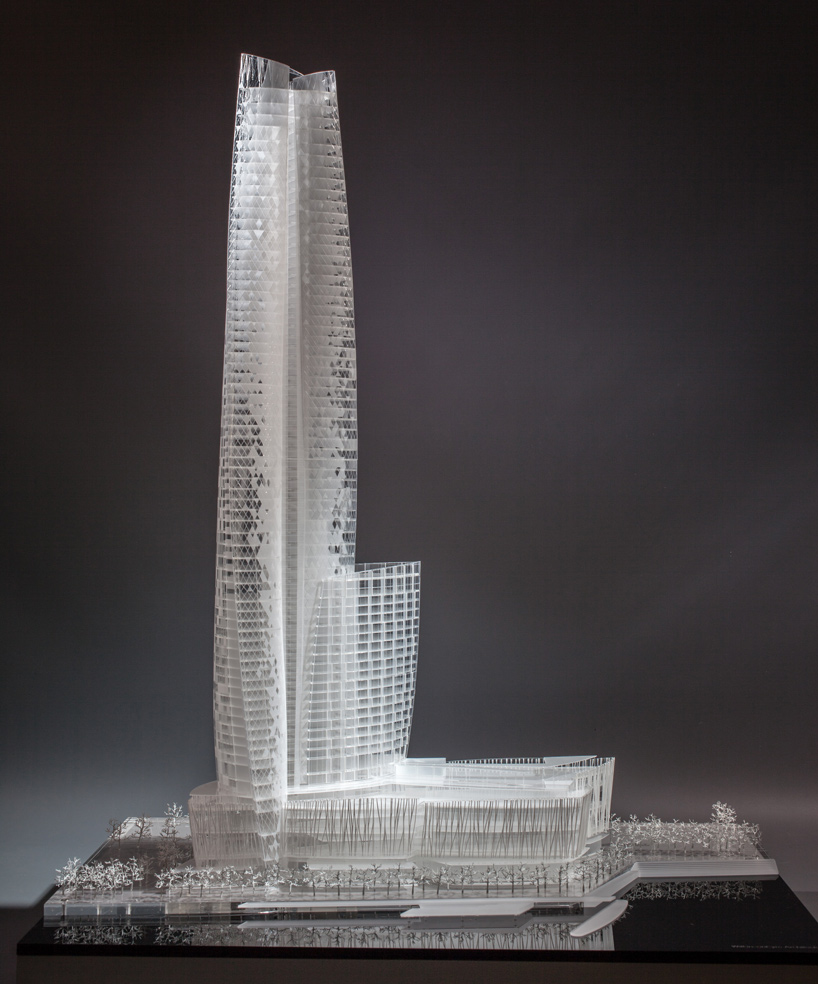 scale model of the 'crown', a hotel and resort complex in australia
DB: do you draw more or use the computer?
SR: there's a mix. I draw by hand and use my iPad very often, to draw by hand. I think all the different media are very central, actually. in the office, I keep pushing people to keep using freehand drawing. that's essential because I think what you draw is directly related to your body, and freehand sketching is still going to be more personal then putting something into the computer. the spontaneous element of drawing is fundamental.
the reality is that there are amazing tools these days, not only 3D modelling, but also BIM, which allow us to do many different things. it's a combination of all these elements. we take a lot from other sectors. the car industry, and a lot of other sectors help us in the building industry because you can test different components. when something is tested in the car industry, it becomes more and more affordable. so, for instance, carbon fiber, which has been used in the car industry for 25 years, and now we've started to use it in the building industry as it helps us make molded shapes. we look forward to using more components like this.
DB: what other projects is WilkinsonEyre currently working on?
SR: we've got quite a lot of projects on. we've got a tower in sydney called 'the crown', which is a very complex shape — a very kind of dynamic shaped building. we've got some very exciting industrial projects and we're doing a big metro station in paris. we've got always exciting bridges all around the world. we've got museum projects and we also have a lot of education projects. it's a very interesting sector, because a lot of the clients in the education sector are very on board, sustainability-wise. they really have a strong sustainability agenda, which helps us to push and we can apply some thoughts. we're also very close to completing the gasholder project, which is the re-use of a gas-storage plant in king's cross, london.


world architecture festival (WAF) is the largest, annual, international, live architectural event. it includes the biggest architectural awards programme in the world, dedicated to celebrating excellence via live presentations to an audience of high-profile delegates and international juries. WAF is a three-day event for architects and interior design professionals to celebrate, learn, exchange, and be inspired. the 2017 world architecture festival comprises 5 key elements: the WAF awards; a thematic conference programme; an exhibition of award entries; sponsor and exhibitor stands; a series of networking/social events, as well as WAF fringe activities. INSIDE world festival of interiors runs alongside WAF, with its own awards and conference programme.
isabel narea
I designboom
nov 28, 2017
a diverse digital database that acts as a valuable guide in gaining insight and information about a product directly from the manufacturer, and serves as a rich reference point in developing a project or scheme.
designboom will always be there for you
milan, new york, beijing, tokyo

,
since 1999