sep 13, 2013
secret operation 610 revealed by RAAAF + studio frank havermans
in collaboration with studio frank havermans, dutch design studio RAAAF has revealed 'secret operation 610' for vrede van utrecht 2013 (the peace of utrecht festival). emerging from the shelter of a former F15 hanger at cold war airbase soesterberg, the mobile design creeps along the apparently unending airstrip. the lethargic pace of the caterpillar wheels gives viewers a long period of contemplation of the elevated vessel and its historical context at the military airbase.

secret operation 610 emerges from the hanger
all images by © michiel de cleene
designed by RAAAF in collaboration with studio frank havermans, the form resembles aircraft but is flightless. what appear to be wings turn into two long arms that descend to the ground and end in traditional military treads to supported the structure. a third supports extends over the back end of the capsule. the general aesthetic of the sculptural object resembles something from a science fiction movie. however, it is a functional work that serves as a research station. one of the groups occupying the space is cleanera: technical university (TU) delft aerospace engineering students who are developing the 'no noise, no carbon, just fly' technologies for the future of flight. 

the research station moves slowly down the endless runway

a slow pace allows viewers to contemplate the historical context of the site

the design manifests the aesthetic of science fiction films

the main capsule comfortably seats 12

secret operation 610 in the historical context of a cold war military base

nature frames the monstrous design
Save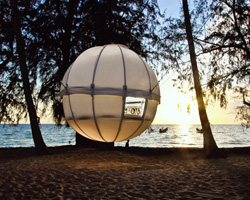 jul 18, 2017
jul 18, 2017
jul 18, 2017
jul 18, 2017
jul 10, 2017
jul 10, 2017
mar 24, 2017
mar 24, 2017
mar 18, 2017
mar 18, 2017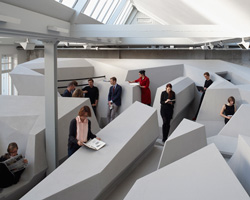 dec 02, 2014
dec 02, 2014
sep 19, 2016
sep 19, 2016
may 13, 2012
may 13, 2012
apr 06, 2012
apr 06, 2012