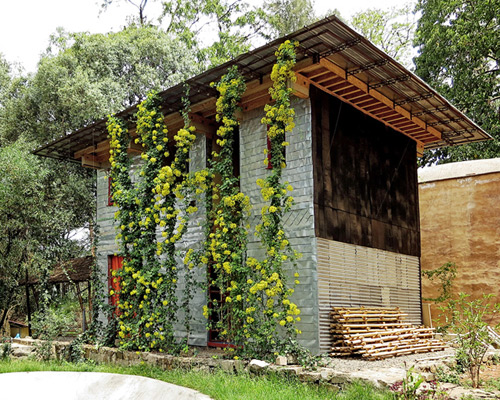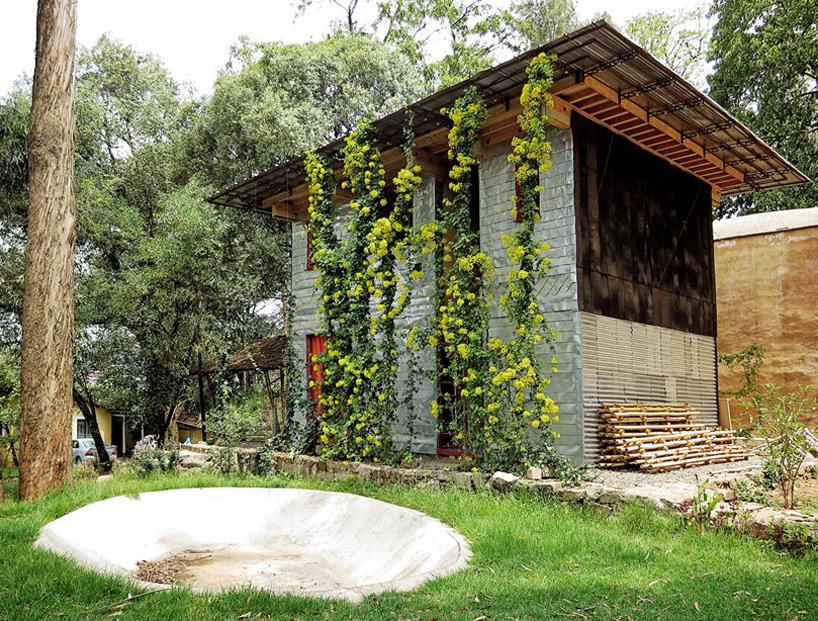 jun 30, 2015
experimental housing prototypes for urbanizing sub-saharan africa
experimental housing prototypes for urbanizing sub-saharan africa
all images courtesy of leulseged tibebu, yohannes g/mariam, olaf kammler
above: sustainable emerging city unit
as africa's urban population expands, socially robust, open, flexible living environments must be created. developing countries are in need of developing their own modes of urbanization, rather then relying on the outdated or topographically inappropriate models derived from various first world countries. the exploration of innovative building techniques and low maintenance housing, takes center stage in the 'welcome africa' project: an academic collaboration between the ethiopian institute of architecture building construction and city development (EiABC), bauhaus university weimar, and ETH zurich. three structural prototypes were planned, constructed and tested as potential housing options for modern africa, each focusing on a different core strategy.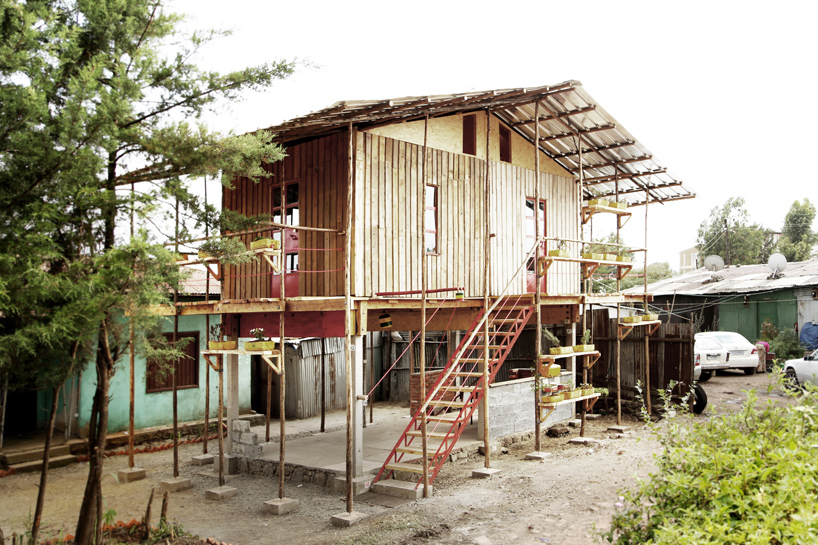 sustainable incremental construction unit (SICU)
the 'sustainable emerging city unit' (SECU) focuses on the introduction of atypical building materials, and their corresponding working methods. compressed straw paneling composes the entirety of the form. wall, slabs, and the roof are made of either single or double layered panels (6cm or 12cm thickness), joined by threaded rods and casein-based glue. with this method, a secondary structural system isn't need, and remains earthquake resistant for up-to two stories. the pre-fabricated elements are compressed under heat, and are characteristically similar to hard wood.
the floor plan provides a balance between open and enclosed spaces, providing the inhabitants with maximum freedom within the 35m2 of each floor. a significant roof overhang combined with a green plant screen protects the home from rain, and each unit features an integrated, water-resistant sanitation unit. the design uses standardized modules to achieve various permutations and guarantees easily implemented changes. presented as an alternative to standard mass-housing, the 'SECU' represents a valid possibility to rapidly-growing urban areas. a prototype model was erected in addis ababa, ethiopia in 2012; an experimental, five unit compound is currently under construction in kigali, rwanda.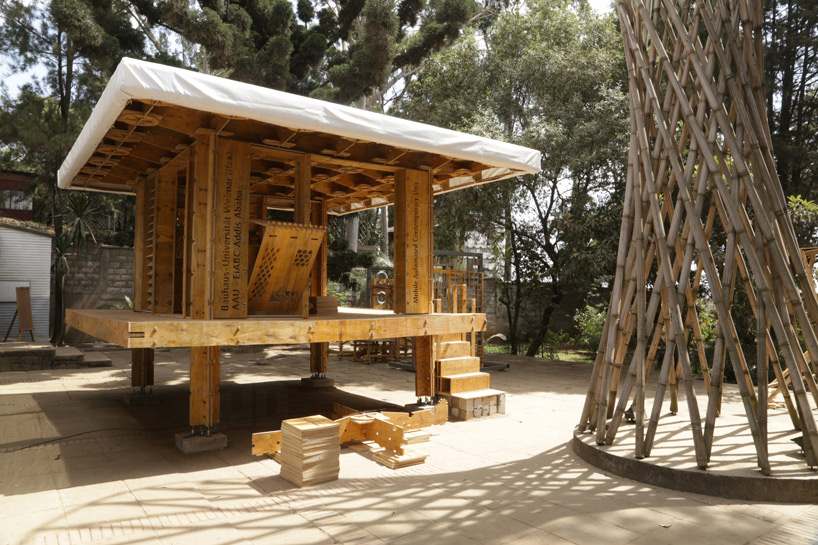 mobile automated construction unit (MACU)
following the pre-fabricated techniques of 'SECU', is the 'sustainable incremental construction unit' (SICU). however, rather than utilizing unfamiliar materials and techniques, 'SICU' instead uses locally available/produced elements to achieve extremely short construction times. a concrete foundation and columns starts every build, which is then provided to homeowners as a semi-finished starting point. lightweight timber frames, and readymade wall panels with integrated windows and doors can then be used to piece the structure together.

SICU construction in addis ababa, ethiopia  
'SICU' addresses the needs of participatory design through process-oriented building. in the prototype situation — with accompanying business model — it was proven possible that a basic home could be self-erected in less than two weeks with only help from local small businesses and community members. around 90% of components were specifically designed for development by micro-to-medium sized enterprises. given the current precedent based around imported goods, expensive customized processes, and inflexible cast-in-situ systems, this shift presents a much faster, cost-efficient system.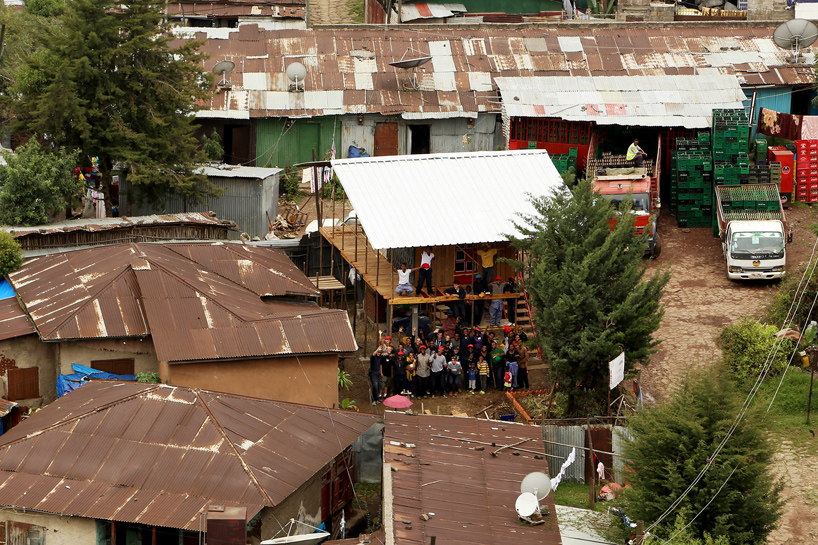 SICU in situ, addis ababa
like 'SECU', 'SICU' is fully modular. it's also smaller then its companion, allowing the possibility of use on very small, dense urban plots. when more space is available, units can be built in combination to make larger, flexible — and cheaper — aggregate structures. to ensure that non-professionals could undertake construction and assembly, all facets of processing and manufacturing were carefully scrutinized. A detailed building information model (BIM) and process guide guarantees a consistent quality of production and costs, as well as accurate time frames. all plans, details, and manuals of 'SICU' were made available open source here.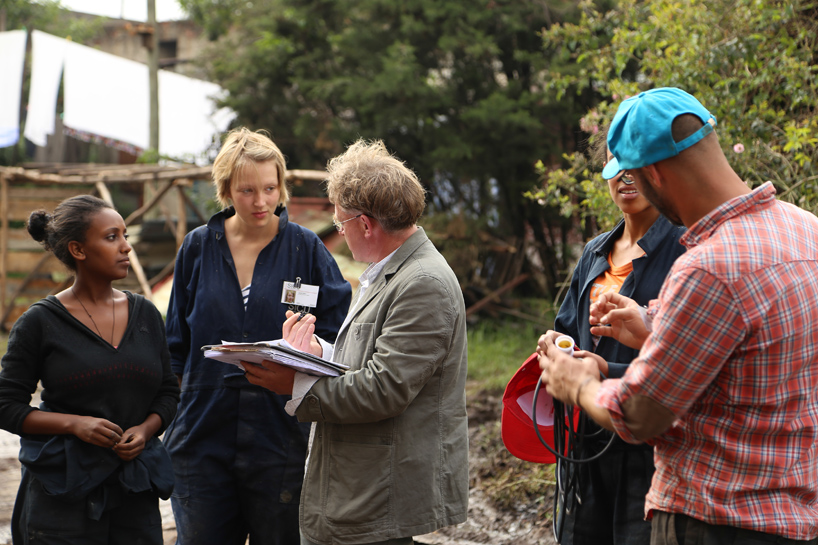 prof. dirk donath with students at building site 
'MACU', the 'mobile automated construction unit' is the technological showpiece of the project, which uses CNC-driven production techniques for flexible, individualized, and rapidly-implemented construction. the forward-looking concept seeks to enhance existing african known-how, and stimulate thinking in previously unthought of directions. the prototype is a multi-purpose, highly functional unit using higher-end prefabrication elements designed and customized with CNCs.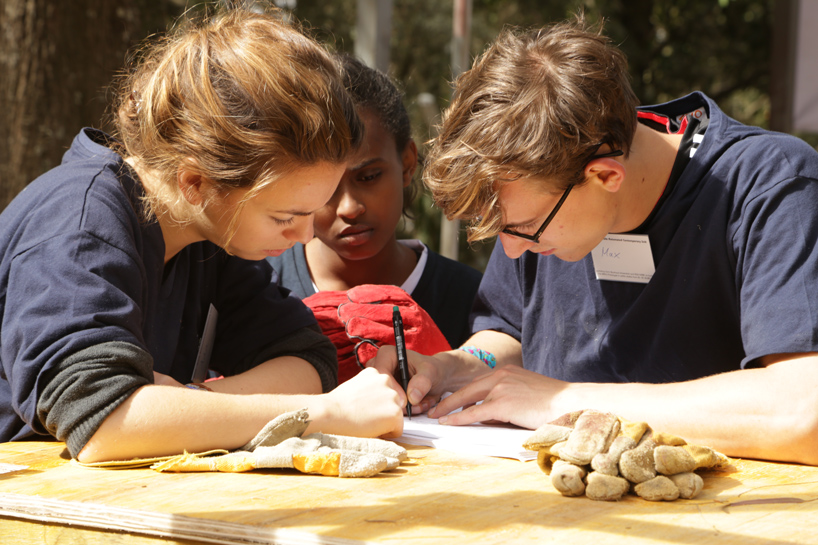 students at MACU construction site 
unlike the others, 'MACU' is more suitable for autonomous duties such as required by: schools, kindergartens, offices, temporary housing, remote shelters, information kiosks, bus stops, security outposts, and shaded canopies for public spaces. assembly and disassembly is straightforward and easily comprehendible thanks in large to a parametric computer model that sends data to the CNC, which in turn produces each individual part. in this instance, pre-processed 18mm thick eucalyptus board was chosen, but various other materials are equally as plausible.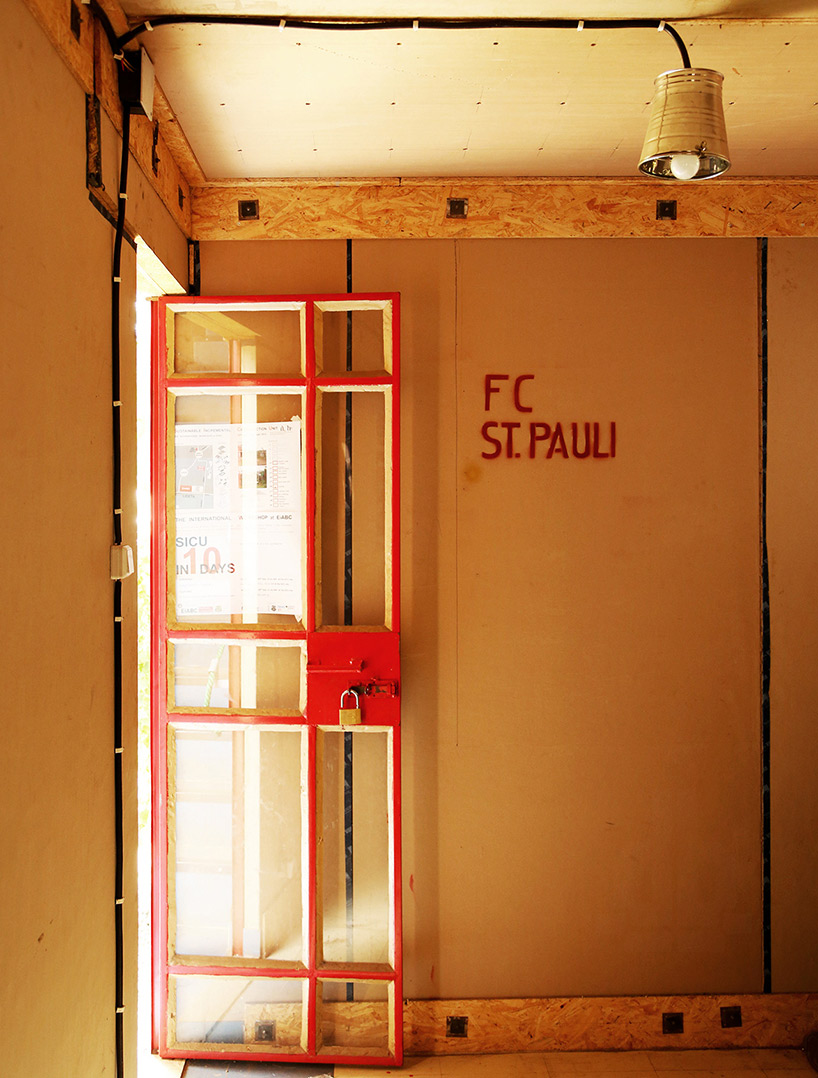 SECU interior — compressed straw board panels 
once cut, the sheets are assembled using fixed connections — wedges, clamps, brackets, extenders — also made with the CNC. the unit demonstrates the conceivable impact of modern computational methods when used in tandem with urban-planning strategies and low-cost customized fabrication. 'MACU's' underlying strategy is in no way meant to pose as a direct alternative to existing programs, but simply to augment prospects.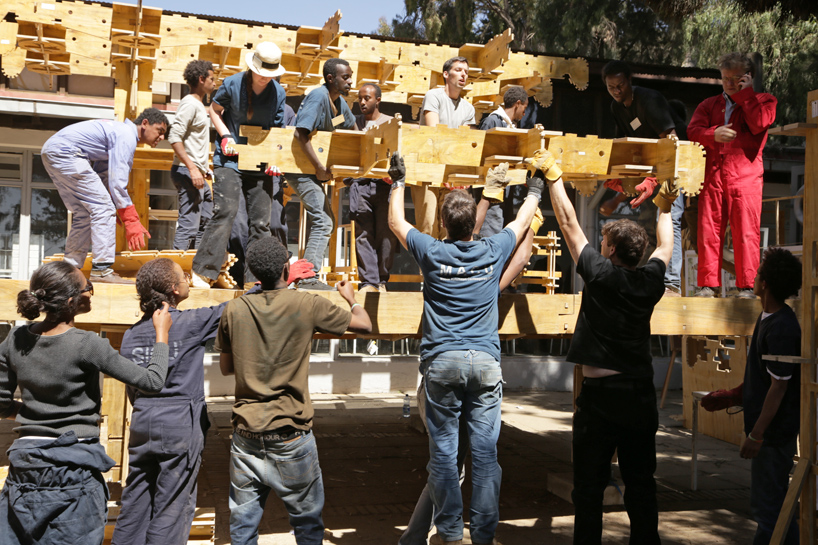 erection of MACU at the campus of EiABC
sub-saharan africa's urban population is estimated to grow by almost 70% as soon as 2025. such a boom naturally causes an equal effect in the construction sector. currently, planning and building techniques, soft and hard infrastructures, and economic cycles are not nearly sufficient to create a strong, sustainable foundation. by reinventing indigenous approaches to development and material expenditure, such as laid out in 'SECU', 'SICU', and 'MACU', an environmentally and socially responsible future for africa is much closer than it seems.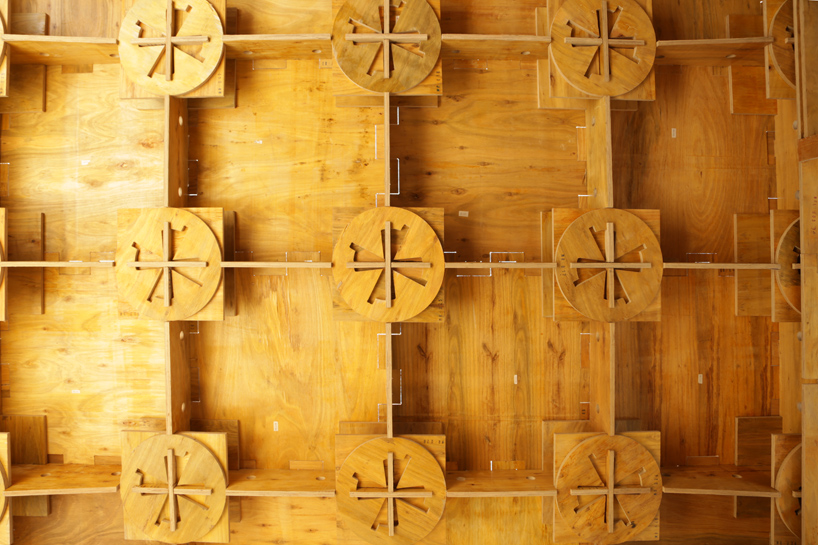 MACU, slab detail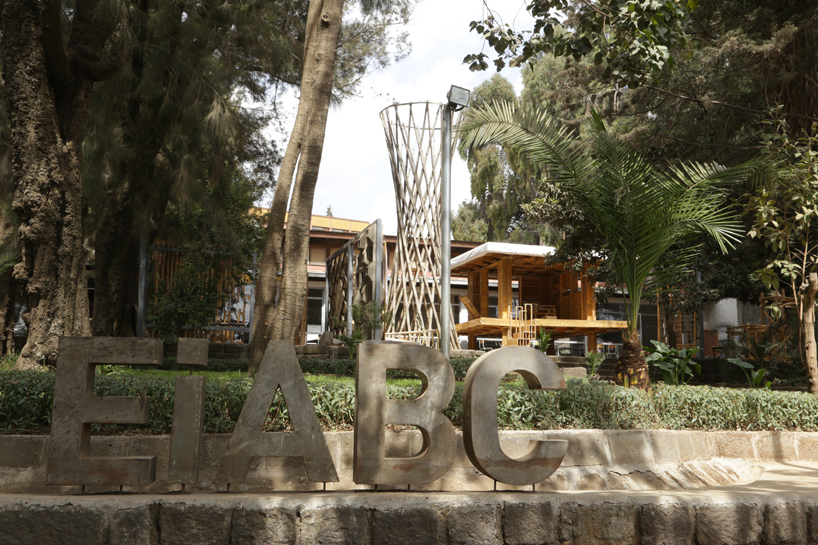 MACU at EiABC campus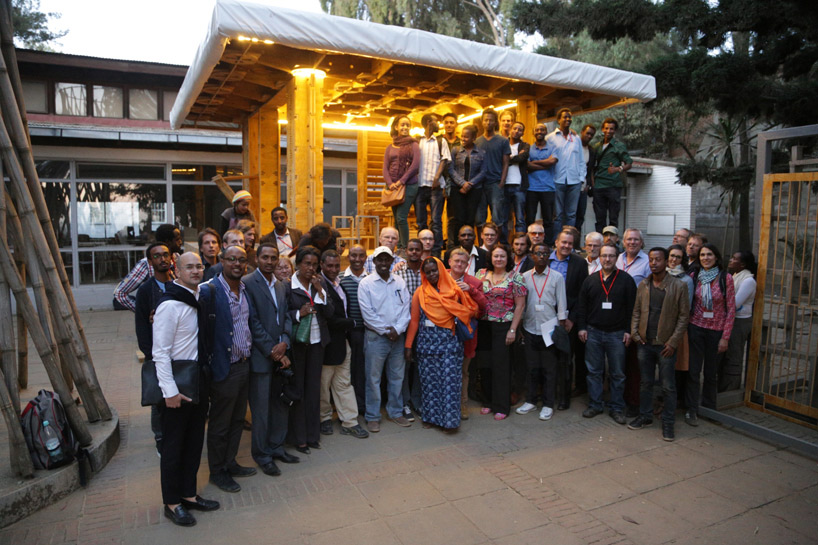 MACU opening ceremony
project info:
SECU
architects and implementation: bauhaus university weimar, institute of experimental architecture (ifex), EiABC, addis ababa university
project head: prof. dr. ing. dirk donath
location: addis ababa, ethiopia
year: 2012
construction time: three months
area: 96.00m²
materials: high-compression straw paneling, rubber, sheet metal, compressed wood
budget: $8,500USD (includes sanitation)
additional credits: strawtec plc germany, SIKA waterproofing materials plc, AEE dawit kebede
SICU
architects and implementation: bauhaus university weimar, institute of experimental architecture (ifex), EiABC, addis ababa university
project head: prof. dr. ing. dirk donath
location: addis ababa, ethiopia
year: 2013/2014 (2 units)
construction time: two weeks
area: 86.00m²
extension space: 30.00m²
materials: pre-fab concrete foundation and columns, eucalyptus rips with plywood sheets, eucalyptus frame, pre-fab high compression straw paneling, light timber frames and claddings, rubber, metal sheets, compressed wood
budget: $7,000USD (first floor finished, ground floor incremental)
additional credits: strawtec plc Germany, SIKA waterproofing materials plc, AEE Dawit Kebede
MACU
architects and implementation: bauhaus university weimar, institute of experimental architecture (ifex), EiABC, addis ababa university
project head: prof. dr. ing. dirk donath
location: addis ababa, ethiopia
year: 2014
construction time: 1 day
area: 36.00m²
budget: $10,000USD
number of individual parts: 834 parts without wedges & connectors
materials: eucalyptus plywood / 18 mm / 1.20m x 2.40 m
additional credits: heng sen lumber manufacturer plc, CNC workshop by thomas haile,
 AEE dawit kebede
designboom has received this project from our 'DIY submissions' feature, where we welcome our readers to submit their own work for publication. see more project submissions from our readers here.
edited by: nick brink | designboom 
a diverse digital database that acts as a valuable guide in gaining insight and information about a product directly from the manufacturer, and serves as a rich reference point in developing a project or scheme.