jan 21, 2012
sharon neuman architects: house R
'house R' by sharon neuman architects, kfar yedidia, israel image © amit gosher all images courtesy of sharon neuman architects
israeli firm sharon neuman architects have completed 'house R' located in kfar yedidia, israel. surrounded by agricultural fields, the juxtaposed volumes maintain a strong connection with the landscape. the split level residence has open concept planning in the living areas, with views into the lot. a floating wall creates partial visual separation while providing a spot for the television. 
juxtaposed façade image © amit gosher
the use of geometric volumes and voids are used to define the areas within the dwelling as well as add visual interest from 
an exterior perspective. this feature results in living spaces of varying heights and is used to separate one room to the next in an otherwise uninterrupted flowing of spaces. the cantilevered mass allows the garden to continue underneath, 
creating a pathway that is neither inside or outside. an integrated pergola gives shade for the outdoor kitchen which can be used all year around due to the local weather.
front entrance image © amit gosher
partial wall separating circulation space and living room image © amit gosher
spaces are defined by varying heights image © amit gosher
view from living area into dining room image © amit gosher
dining room and kitchen image © amit gosher
view from upper level image © amit gosher
illuminated at night image © amit gosher
floor plan / level 0
floor plan / level 1
section
cross sections 
diagram of façade concept 
diagram of plan concept 
project info:
location: kfar yedidia, israel lot: 550 m2 built area: 205 m2 year of completion: 2011 
sep 06, 2017
sep 06, 2017
aug 27, 2017
aug 27, 2017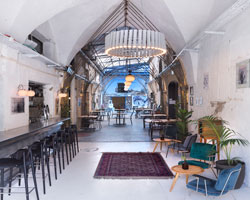 aug 04, 2017
aug 04, 2017
mar 22, 2016
mar 22, 2016
oct 13, 2012
oct 13, 2012
nov 15, 2011
nov 15, 2011