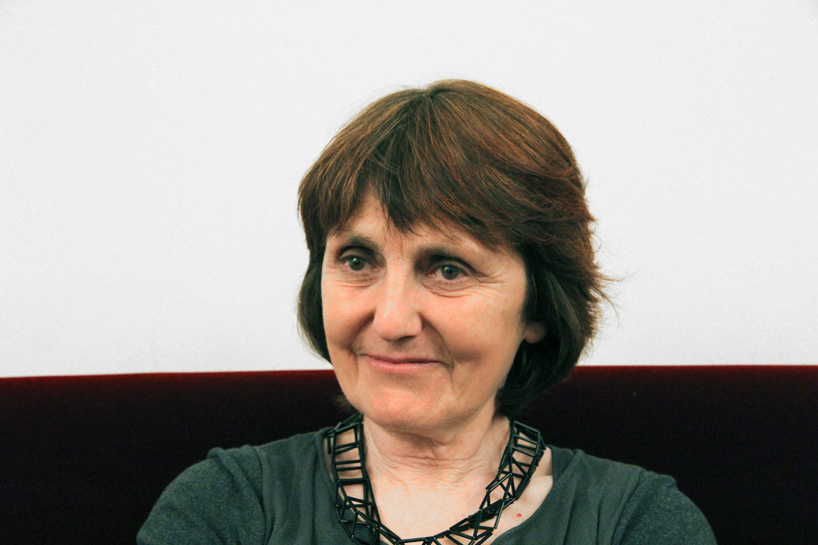 designboom met shelley mcnamara of grafton architects at the historic villa panza on february 27th, 2013 in varese, italy. read our interview below.
designboom (DB): what is the best moment of the day?
shelley mcnamara (SM): it's not the same every day. usually the best moments as an architect are when you discover something, or when you overhear a funny conversation on the street that makes you laugh.
DB: what kind of music do you listen to at the moment?
SM: I love keith jarrett because of his skill, but also because of his philosophy about performance — that each time he performs as if he plays for the first time. I love that idea, he improvises while he's playing and he composes almost while doing so. I think that kind of skill is incredible, it's almost like when a bird learns how to fly. there's something about the way he plays and thinks about his music that I find really inspirational.
DB: do you listen to the radio?
SM: yes, I've recently been given an iPad as a present and I've become addicted to it. I key in the composers or the musicians that I want to listen to and I find them. as well as listening to their music, I love reading their interviews. I heard one flute interview with tom wiggs very recently where he talked about how after he'd stopped work for a year, he wanted to start again so he got into a trash can with a recorder and he rolled around the yard for half an hour recording the sounds. then he got out and discovered what it sounded like and started to play. I just thought that was a really very creative way of working.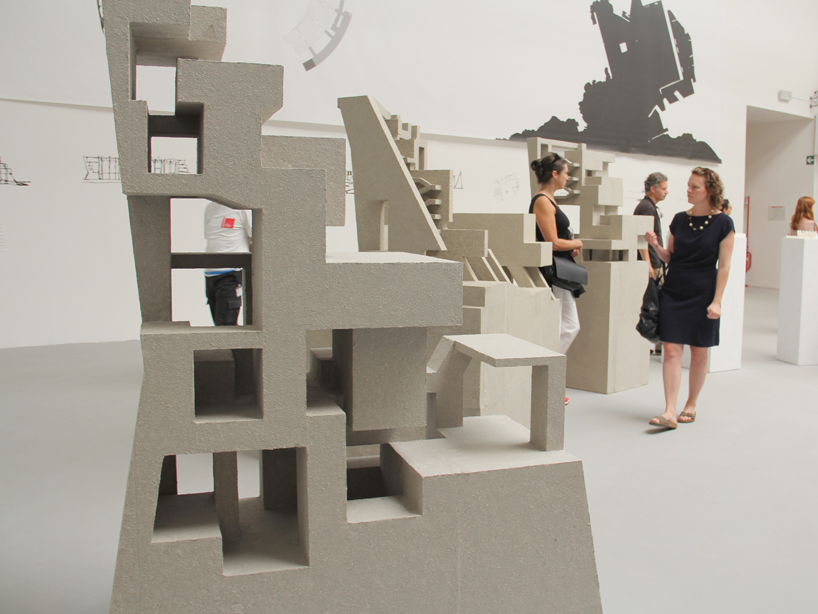 exhibit at the 2012 architecture biennale in venice; winners of the silver lion award
image © designboom / see more of the project on designboom here
DB: what books do you have on your bedside table?
SM: actually what's on my bedside table now is a book by george simenon called 'pedigree'. seemingly he was writing an autobiography and fellow writer andre gide read it and told him 'you should make it into a novel.' it's based on his life, but it's also fiction, so it's semibiographical. I also have a book of poems by derek mahon, called 'birds'. it's a translation he made from french into english of saint-john perse's 'oiseaux' and it's called this because it's based on george braque's series of bird lithographs. it's a beautiful poem.
DB: do you read architecture magazines?
SM: yes, in our office we get '2G' which is a spanish publication which we find really good. 'el croquis', also spanish, 'casa bella', 'domus'… our office is quite small so it fills up very quickly so sometimes we have to uphold the subscriptions and just get them one by one. there's also like a newspaper that comes out weekly from london called 'building design', don't know if you know that one. these are the main magazines we reference, as well as 'detail' magazine from germany which focuses on construction. beyond the realm of architecture I suppose we read books. it's normal stuff, you're at the hairdresser's you read a magazine. I read a fantastic interview with frank gehry when I was at the hairdresser's and I really enjoyed it because he was giving out about the boring swiss and english architects who make dull grey boxes and take no risks. I thought that was funny.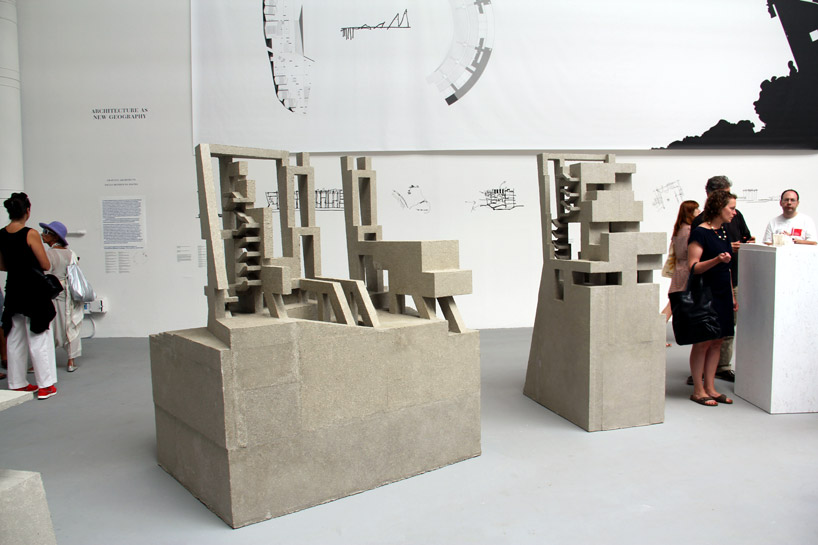 venice biennale 2012
image © designboom
DB: do you have any preference in clothing?
SM: I like loose clothes with fabrics that flow, hang well and feel comfortable, as well as having a simple but clear, preferably geometric, structure.
DB: what kind of clothes do you avoid wearing?
SM: tight clothes.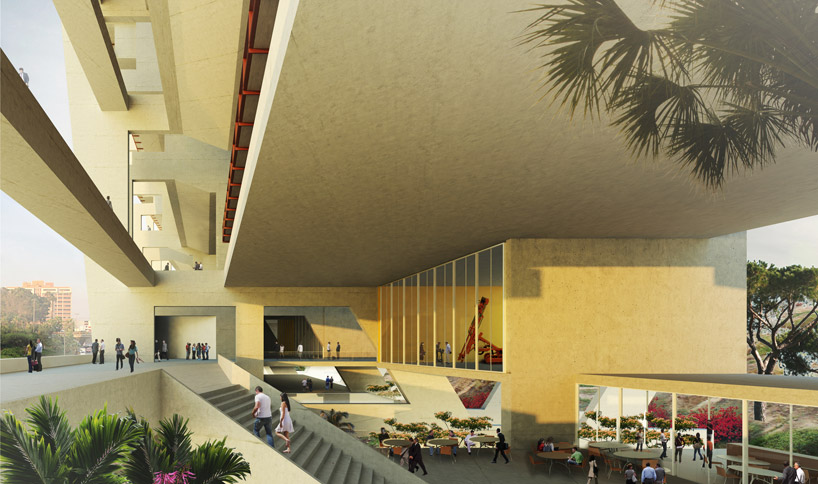 UTEC competition proposal
image © grafton architects
DB: do you have any pets?
SM: my husband. (laughs)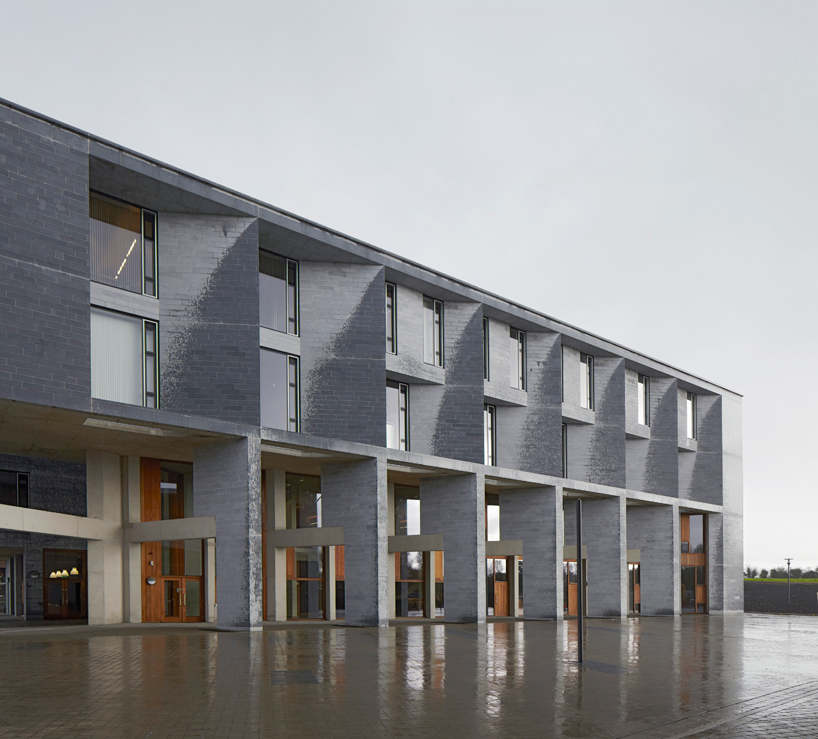 university of limerick / see more of the project on designboom here
image © dennis gilbert
DB: did you always want to become an architect?
SM: I didn't always want to be an architect. my father was a builder and I grew up in an environment of construction, with the joinery and all kinds of things around the house. I think when you're young you don't really know what you want to do, so I just tried it. once you enter the world of architecture you get hooked–that's the problem–and then you cant go back.
DB: where do you work on your designs and projects?
SM: in a good collective, positive, environment where people can be free to exchange ideas–from the youngest to the oldest — from the most inexperienced to the most cautious. I love the fact that you can go into a corner alone and think and work, but that you can come out of that corner to a studio where there is criticism and there is discussion and there is a collaboration – that combination I love.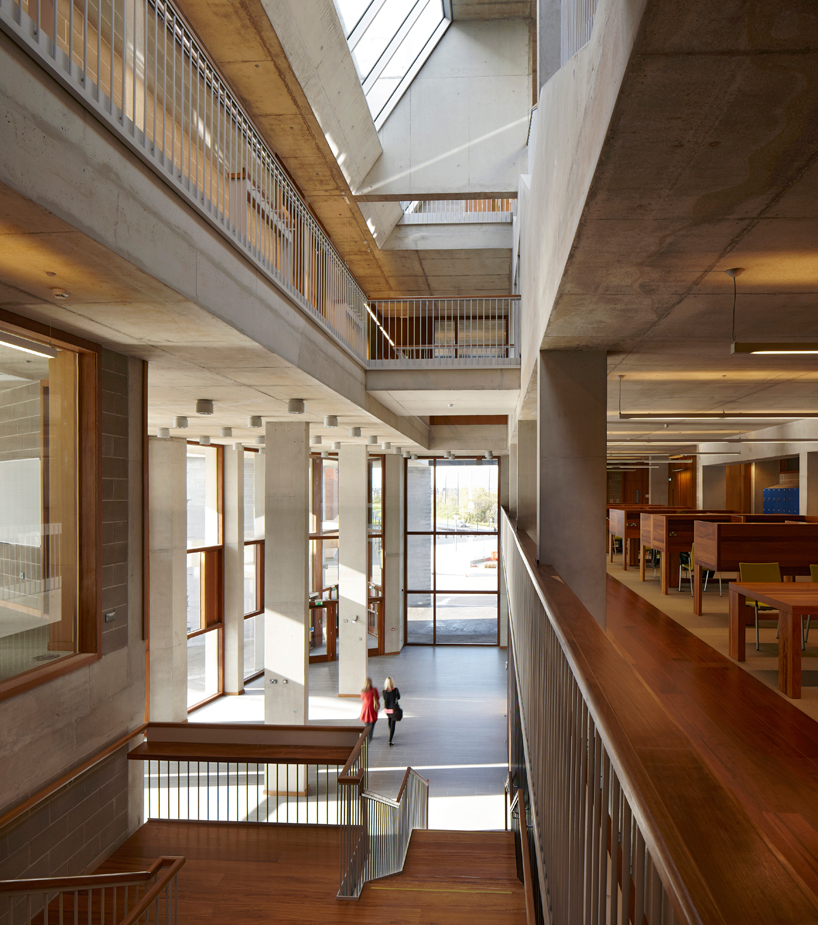 university of limerick
image © dennis gilbert
DB: do you discuss work with other designers and architects?
SM: absolutely, I think it's part of the enrichment of being an architect. the reason why we teach is that you are constantly learning from students as well as them learning from you, so there's a continuous series of obstacles, and I think the way you go is through challenging your position or having it challenged. it's not always comfortable or pleasurable, but I think it's important because I don't believe architecture is the product of a single genius. I think it's much bigger than that.
DB: describe your style, like a good friend of yours would describe it.
SM: I have no idea how somebody else would describe it and part of the problem of being an architect is not a lot of people are honest with you, just your close collaborators. I've asked some friends to promise me that if we really do something bad they will tell me, because very often architects don't say that. it's hard without insulting somebody to say 'that building is terrible'. I hope they see what we're trying to do, but more rather than less, or I hope they feel what we're trying to do.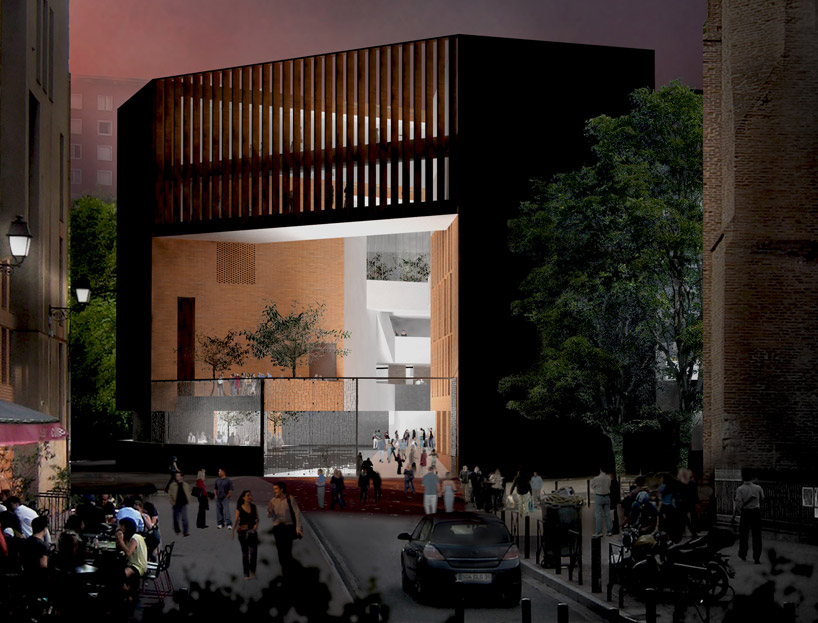 university of toulouse
image © grafton architects
DB: can you describe an evolution in your work, from your first project to your most recent…
SM: well I think I've gotten better, thankfully. personally I was a very slow developer, and I wasn't a prima donna. I've found that I grow gradually over a long time–that's just my experience. I think it has transitioned in the sense that we were raised in a modernist tradition which was maybe not as eclectic as the current climate in architecture which I think is very interesting in that, it has asked us to connect with the ancient past, as well as with modernism. I love that richness–that we're not afraid to absorb the ancient into the current in terms of craft, in terms of thinking and in terms of old fashion things like walls and staircases and making good windows–the timeless things of architecture.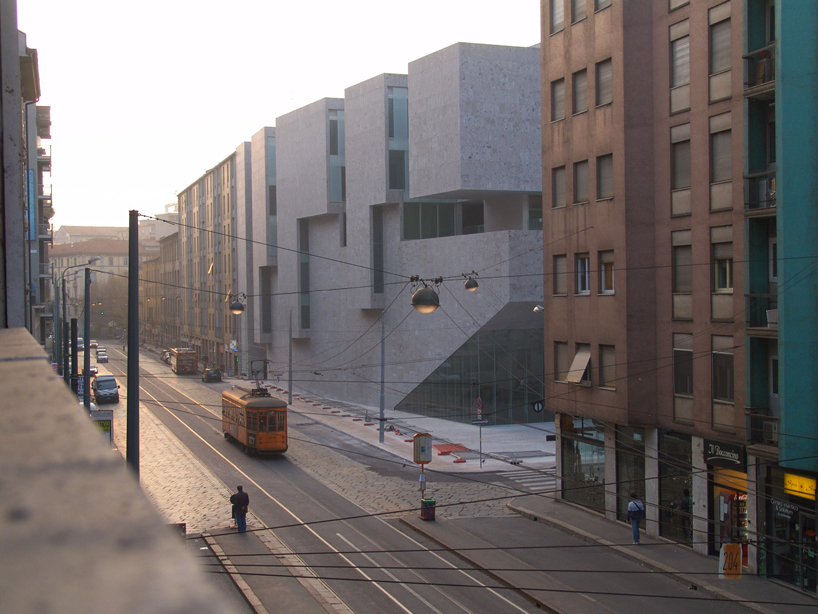 università luigi bocconi, milan, italy – elevation on viale bligny
image by archivio federico brunetti, courtesy of grafton architects
DB: what project has given you the most satisfaction?
SM: I would have to say bocconi university because it's built. there are other projects that are giving us a lot of satisfaction–or we hope will give us a lot of satisfaction–but because of the scope and the opportunity that it gave us, bocconi. the scale was such that we managed to encapsulate almost everything we'd ever done before. we had to draw on all our sources and all our experience in order to make that project. it was more than ten times bigger than anything we'd ever done. it was in milan, italy and it was a university project and part of the grain of the city and we were ready for it; it's funny, it's almost as if we'd been training for many years and then suddenly we could run.
DB: who would you like to design something for?
SM: I don't care who we design for so long as they have a vision and a belief in architecture. you cannot make a good building without one person who has perspective and who sees in your project a representation and expression of that vision and who protects it and supports it so that it becomes a reality. that's the kind of client I want to work with. I don't care if they are rich or poor.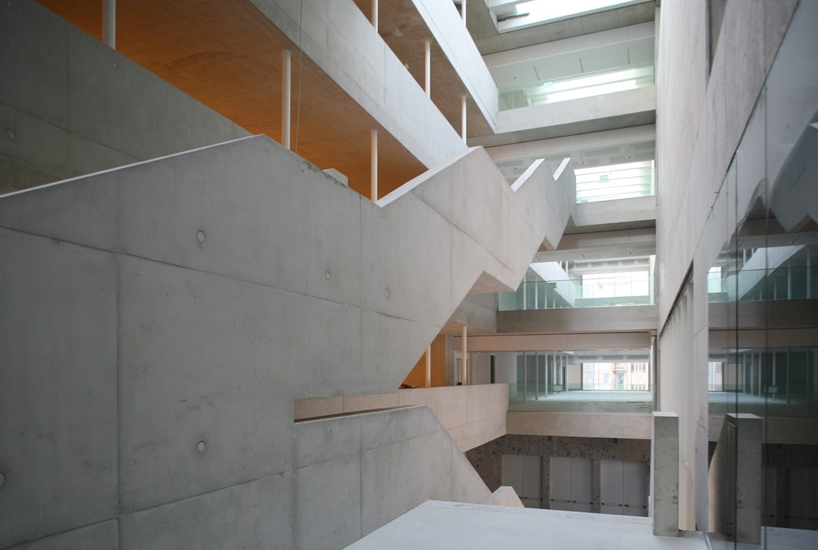 università luigi bocconi, milan, italy – internal main stair to offices at upper levels
image by archivio federico brunetti, courtesy of grafton architects
DB: is there any designer and/or architect from the past that you appreciate?
SM: we were in mantova in the summer and I was shocked by leon battista alberti's 'san sebastiano'. when we arrived at that amazing building to give a lecture, it just hit me in the stomach. that's my most recent experience in terms of rediscovering an architect from the past. italy is amazing. when we were working on bocconi, in the summers every part of italy we went to was completely different and so rich, it was just incredible. last summer we went to siracusa (in sicily), and the duomo there is extraordinary; it's a mixture between a greek temple and a rock church just brought together in one amazing collage of stone. I've never seen anything like that every, it's just completely stunning.
DB: and those still working / contemporary architects?
SM: I always find that hard to answer immediately. I love the work of peter märkli from zurich, alvaro siza, rafael moneo… there are many architects that inspire me. there are colleagues in ireland whose work I admire hugely who make buildings of great depth and craft. my brain has gone dead in terms of names.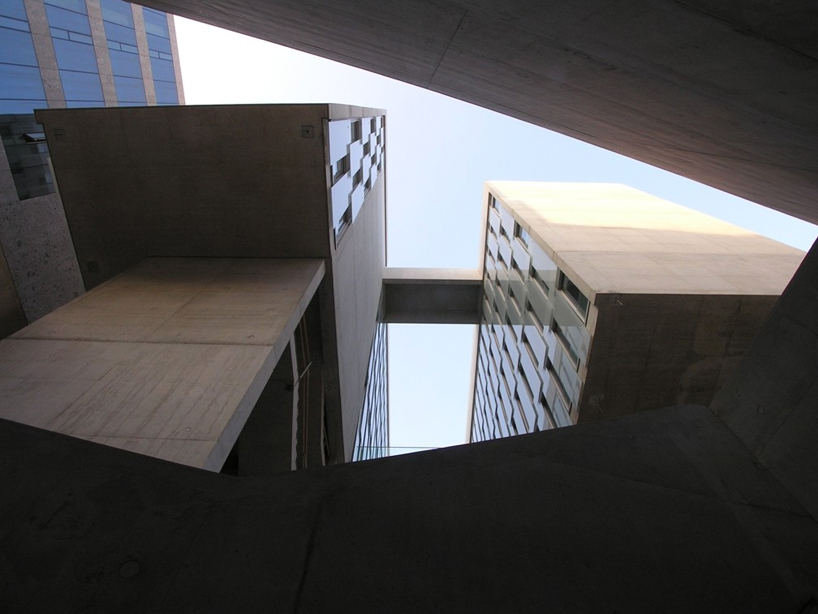 università luigi bocconi, milan, italy – suspended offices bar
photographer: archivio federico brunetti
image courtesy of grafton architects


designboom asks shelley mcnamara of grafton architects: what advice would you give to the young?
video © designboom

DB: what advice would you give to young designers?

SM: I think to develop your own intuition and your own instincts in parallel with acquiring experience and knowledge. going back to keith jarrett I remember him talking about having to work so hard to learn how to play piano at such a level that he could almost be free of it, to fly. so I think it's a great release as an architect especially to realize that architecture is much bigger than the individual, that it's an enormous tradition and that you are just a very tiny part of. I find that very liberating because then you're thinking about how you can stitch it to this enormously rich tradition and make some tiny contribution to it, and that it's like a huge well of knowledge and an experience that you learn from. I think very often young people put pressure on themselves to become geniuses too soon, or to become famous or peak too soon, and sometimes it's important to just have the nerve to learn but parallel with that, to trust one's own instinct. it's like you have to learn, you have to bring knowledge in from the outside and develop your own sense of judgement.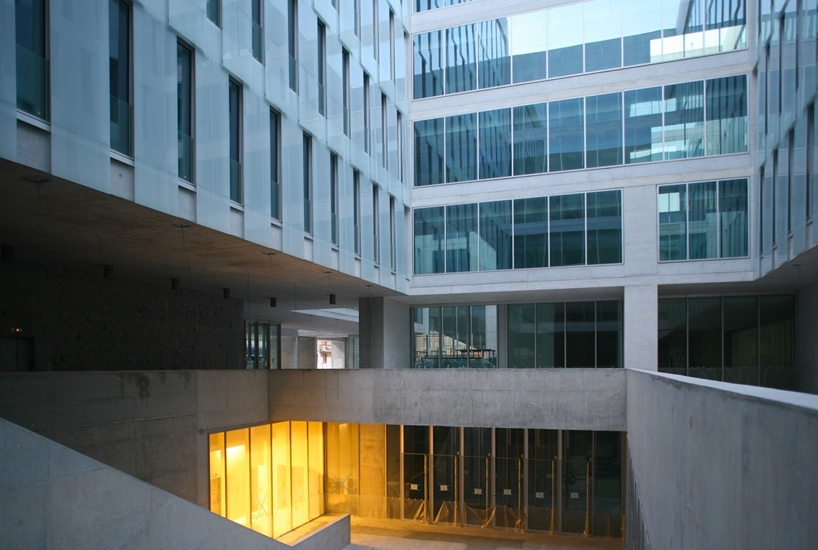 università luigi bocconi, milan, italy – internal courtyard
image by archivio federico brunetti, courtesy of grafton architects
DB: what are your fears regarding the future?
SM: I think the current anxiety, which I agree with in relation to future cities, is the alienation of the individual. kenneth frampton says there are reasons architects have lost the capacity to make spaces which bring people together and it's worrying that a public space is diminishing by virtue of the forces of commerce. that's why I think the theme of this series that ordine degli architetti varese has organized is so important. if we have one challenge, it's to make public space that brings people together.
*designboom met with shelley mcnamara at a presentation organized by the local association of architects, ordine degli architetti varese, as part of the '50+1′ lecture series in which international architects are invited to speak about public space in the city of the future.
—
grafton architects
yvonne farrell (born 1951) and shelley mcnamara (1952) co-founded grafton architects in 1977 after graduating together from the university college dublin. the irish firm won the silver lion award at the 2012 venice architecture biennale and their project università luigi bocconi, milan, italy was awarded the world building of the year in world architecture festival in 2008, for which they were also nominated for the mies van der rohe award in 2009. their portfolio extends to international builds in cities such as rome, italy; toulouse, france; dublin, ireland; and lima, peru.
Save
Save
Save
danny hudson
I designboom
apr 15, 2013
KEEP UP WITH OUR DAILY AND WEEKLY NEWSLETTERS
a diverse digital database that acts as a valuable guide in gaining insight and information about a product directly from the manufacturer, and serves as a rich reference point in developing a project or scheme.
designboom will always be there for you
milan, new york, beijing, tokyo

,
since 1999