two emergency relief shelters designed by shigeru ban have been constructed in the courtyard garden of sydney's sherman contemporary art foundation (SCAF). the project pairs one of ban's paper tube schemes for the 1995 kobe earthquake in japan, with a more recent bamboo-clad design for last year's disaster in ecuador. the two structures are complemented with an exhibition presented within SCAF's interior gallery, which documents some of ban's most important projects and his dedication to humanitarian efforts.

installation view of the two structures built within SCAF's courtyard garden
image by brett boardman, courtesy of sherman contemporary art foundation
the exhibition, which forms shigeru ban's first australian project, concludes SCAF's decade-long program of presenting architectural interventions — a series which began in 2008 with an installation by ai weiwei. 'shigeru ban's 2017 SCAF project echoes the foundation's inaugural 2008 ai weiwei project at a number of significant levels,' explains dr gene sherman, executive director, SCAF. 'born in japan and china respectively in 1957 – these creative titans share a number of preoccupations, which resonate strongly with me personally. via art & architecture they both actively engage with society at large, focusing on the dispossessed, the homeless and the disempowered. their methodologies may differ; their goals clearly intersect.'

the bamboo-clad design was developed for last year's earthquake in ecuador
image by brett boardman, courtesy of sherman contemporary art foundation
the interior exhibition spotlights shigeru ban's japanese pavilion for expo 2000, as well as the celebrated 2013 cardboard cathedral in christchurch, new zealand. an immersive scaled version of the cardboard cathedral forms the centerpiece of the display, complemented by a four-meter scale model of ban's japan pavilion, and selected components of his work.

the interior of the bamboo-clad scheme
image by brett boardman, courtesy of sherman contemporary art foundation
'architects mostly work for privileged people, people who have money and power,' says shigeru ban. 'power and money are invisible, so people hire us to visualize their power and money by making monumental architecture. I love to make monuments, too, but I thought perhaps we can use our experience and knowledge more for the general public, even for those who have lost their houses in natural disasters.'

ban's designs use locally-sourced and readily available materials
image by brett boardman, courtesy of sherman contemporary art foundation
for more than 20 years, shigeru ban has been turning cheap, locally sourced materials into emergency shelters that provide temporary accommodation. beginning with his UN consultancy work during the 1995 rwanda conflict — where he first proposed shelters made from paper tubes — ban has gone on to evolve and refine his designs, which now comprise bamboo, fabric, paper, and recycled composites.
on display until july 1, 2017, 'the inventive work of shigeru ban' represents the final project to be presented by SCAF before the foundation evolves into a center for the exchange of ideas on contemporary culture.

the structure is topped with a thatched roof
image by brett boardman, courtesy of sherman contemporary art foundation

the adjacent shelter features walls made of our paper tubes
image by brett boardman, courtesy of sherman contemporary art foundation

the interior of the scheme, which was designed in 1995
image by brett boardman, courtesy of sherman contemporary art foundation

the japanese architect has been creating emergency shelters for more than 20 years
image by brett boardman, courtesy of sherman contemporary art foundation

ban's designs now comprise bamboo, fabric, paper, and recycled composites
image by brett boardman, courtesy of sherman contemporary art foundation

the structures are complemented with an exhibition presented within SCAF's interior gallery
image by brett boardman, courtesy of sherman contemporary art foundation

models documents some of shigeru ban's most important projects to date
image by brett boardman, courtesy of sherman contemporary art foundation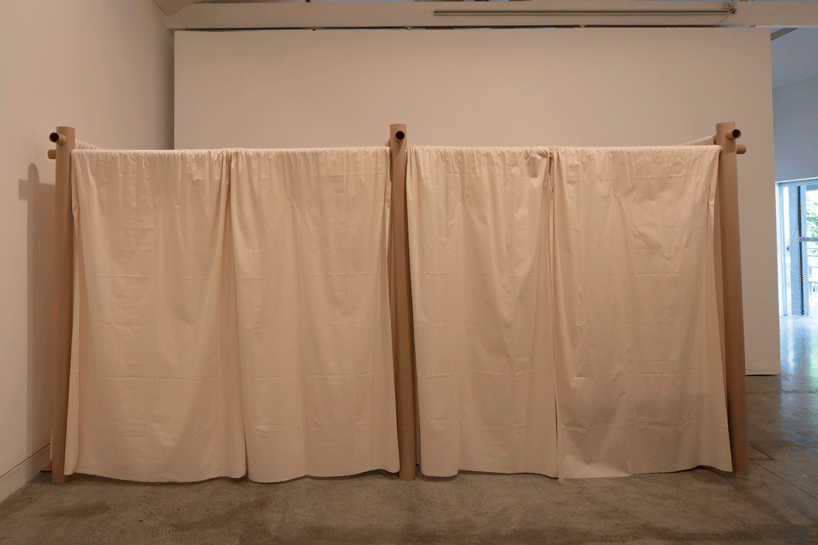 the interventions spotlight ban's dedication to humanitarian efforts
images by brett boardman, courtesy of sherman contemporary art foundation

visitors can step inside an immersive scaled version of the cardboard cathedral
image by brett boardman, courtesy of sherman contemporary art foundation
Save
Save
Save
Save
Save
Save
Save
Save
Save
Save
Save
Save
Save
Save
Save
Save
Save
Save
Save
Save
Save
Save
Save
Save
Save
nov 01, 2017
nov 01, 2017
oct 22, 2017
oct 22, 2017
oct 20, 2017
oct 20, 2017
oct 10, 2017
oct 10, 2017
oct 06, 2017
oct 06, 2017
oct 02, 2017
oct 02, 2017
oct 06, 2017
oct 06, 2017
oct 01, 2017
oct 01, 2017
sep 04, 2017
sep 04, 2017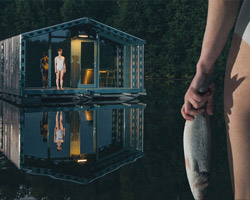 aug 07, 2017
aug 07, 2017
jul 25, 2017
jul 25, 2017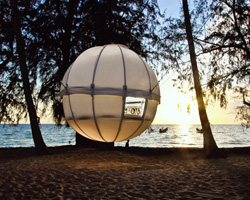 jul 18, 2017
jul 18, 2017
aug 18, 2017
aug 18, 2017
jul 25, 2017
jul 25, 2017
jun 13, 2017
jun 13, 2017
jun 02, 2017
jun 02, 2017
may 15, 2017
may 15, 2017
dec 15, 2016
dec 15, 2016