mar 15, 2014
SHJworks installs fire shelter at papay gyro nights 2014
SHJworks installs fire shelter at papay gyro nights 2014
image © simon hjermind jensen
all images courtesy of simon hjermind jensen
this year's papay gyro nights festival for video art, sound art, experimental film, music and architecture on papa westray in the orkney islands in scotland, saw the construction of 'fire shelter' during a workshop led by simon hjermind jensen of SHJworks. the sculptural object became the heart of the event. the domed pavilion is made of bent plywood panels that are stitched together to enclose a fire pit and warm attendees.  its shape is an acoustic amplifier, allowing music to resonate within the walls. seating at the perimeter creates a small communal place for reflection and relaxation, where poetry and song could be shared.  an opening at the top lets smoke escape, while still permeating the air with its perfume.

fire shelter in the context of the festival
image © simon hjermind jensen
the 'fire shelter' was simply made with wood, rope, and a jigsaw. its form references nomadic tents that were once made with similar low-tech methods. despite its simplicity, it proved strong against frigid february storm-force gales, and continues to withstand winds recorded at 76 mph or 122, 4 km/h. heavy stones provided anchors for the structure, which aid in its sturdiness in the harsh elements.

the ovular construction references nomadic tents and traditional tailoring
image © simon hjermind jensen

built during the festival, the domed pavilion is made of plywood and rope
image © simon hjermind jensen

(left): entrance to the pavilion
(right): looking up from inside
images © simon hjermind jensen

a warm glow emanates from the structure at night
image © ivanov & tsz man

fire shelter became a community gathering place for the sharing of stories, music and poetry
image © simon hjermind jensen
oct 07, 2013
oct 07, 2013
jul 24, 2013
jul 24, 2013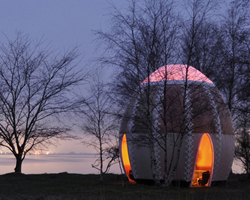 jan 21, 2013
jan 21, 2013