a studio in barcelona
six n. five founder ezequiel pini has pioneered a style of digital art which merges architectural visualization with a surreal, dream-like atmosphere. the contemporary studio's fictional spaces are often defined by their thoughtful color palette, soft textures, and quiet ambience. with a background in graphic design, ezequiel's work has extended into the realms of architecture, landscape design, and fashion. because his spaces are not restricted by the boundaries of a physical site, he can design for any place he wants. this freedom has led him to envision japanese garden scenes, ruins overrun by desert sands, and even a dwelling for a new space-age.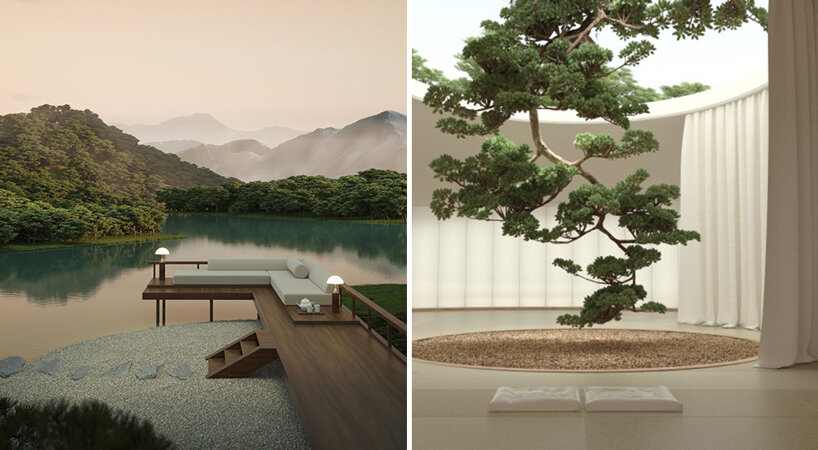 japanese gardens, read here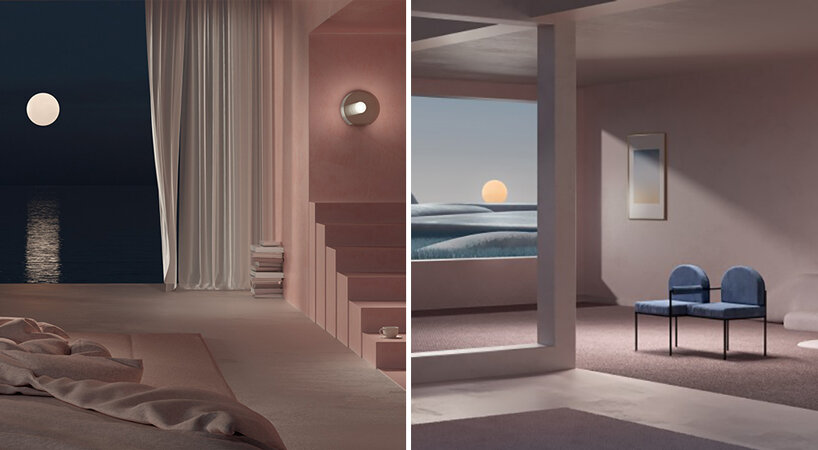 'the wait,' read here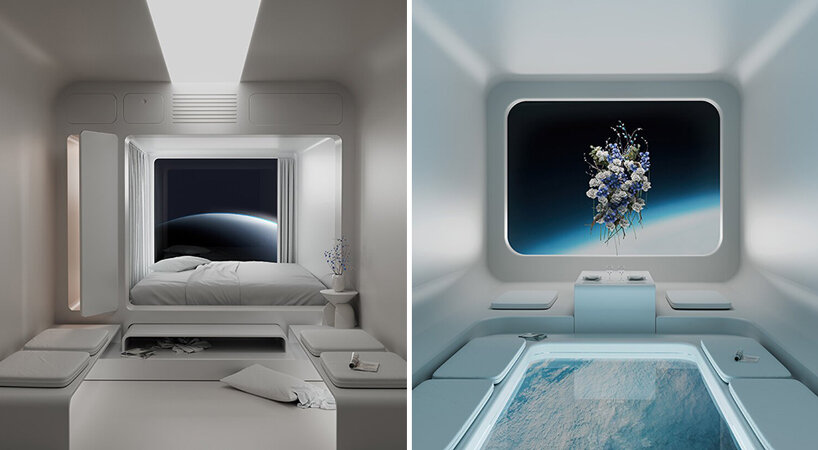 'what if?' read here
designboom spoke with ezequiel pini ahead of being awarded the golden madonnina trophy 2021 of milan's THE DESIGN PRIZE in the category 'communication'.
the artist has now faced a new challenge — to materialize his own dreamed studio. together with interior designer isern serra, they could get the same serene, harmonious style into a large, double-height workspace nestled away from the streets of barcelona.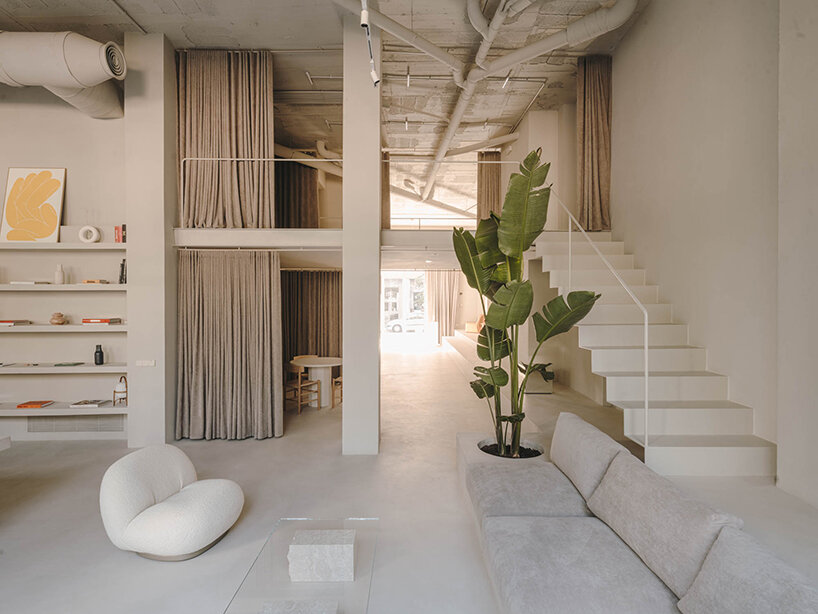 images by salva lopez | @salvalopez
a dialogue with six n. five
designboom (DB): can you both speak about the collaborative process with isern serra? what did you learn from each other?
ezequiel pini (EP): this has been our first personal project together where it involved not only a physical project but also an important step materializing our office. I had known isern serra's work for some years, we actually met some time ago at a conference in barcelona. I thought his work and style would be ideal for the project of our office, because of his approach and some elements I found similar to ours. being a different field from mine, I trust his work 100% and he has given all his experience in the design and development of this type of projects, with great ideas and proposals.
I must admit that at the beginning it was quite difficult for me to make concrete decisions on some proposals, perhaps due to lack of experience. we have been through several phases in the design process, which at one point I was struggling to have a clear idea or being able to move forward on a certain path. that's where I analyzed my work process, and I realized that we needed renders or visualizations. that way we could both be sure about some aspects and decide which way to go.
the years of experience in the digital world have reconditioned me to look at almost immediate results and to go testing in the same process. I think the lesson learned has been to give in, trust and understand each other's forte in order to enhance them.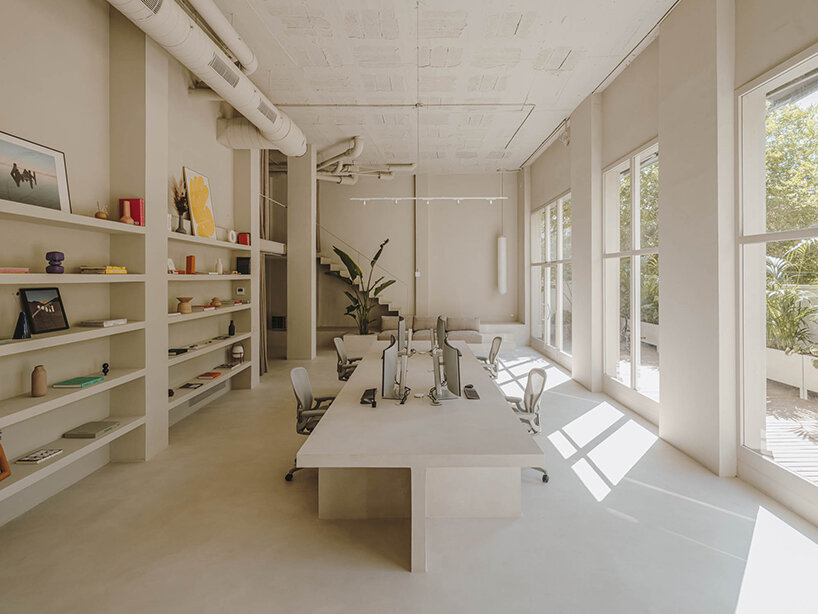 DB: what were some unique challenges in the planning of your own studio space?
EP: after all these years having worked in small spaces and coworkings, we already knew the limitations of this setting and subsequent desire to have our own office. I think the main challenge was that all those expectations can coexist harmoniously in the same place. as we have started to explore objects in real life, I had the idea of having a showroom, a mini workshop with a 3D printer, a VR and chill area and also a cooled room where all the computers can be installed. in addition to a large kitchen, meeting room, storage for our objects, an area for conferences and presentations and a coffee bar. having high ceilings has helped a lot to create a space with height leaving enough room for the rest.
DB: many of your spaces have no physical site or a fictional site — how do you begin? what informs the decisions at the start of your design process?
EP: regarding our work, all these years we have focused on creating without the limitations that may exist in the real world. somehow trying to take advantage of the benefits of the digital world that allow us to create unreal worlds. my background is in graphic design, and although we create digital spaces and objects, I do not have much knowledge of technical issues of architecture, construction and industrial design. thus, I would say that our designs start by prioritizing the conceptual and aesthetic.
we spend a lot of time making the result look as real as possible so we can play with the viewer's confusion. depending on the project or idea, I like to collaborate with professionals from other backgrounds such as photographers, industrial designers, architects, interior designers. to learn about other processes, methods and techniques of design.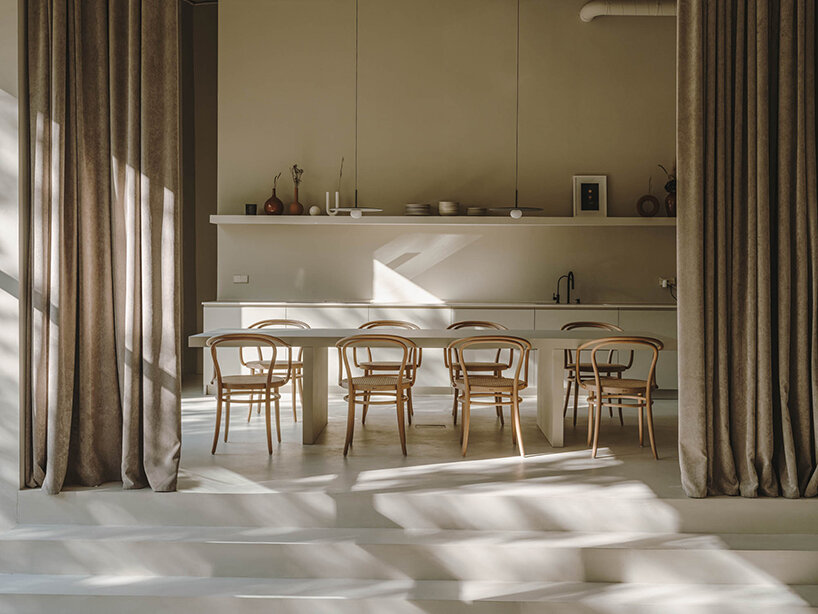 DB: although your work is mostly digital, do you use physical models or sketch by hand?
EP: we normally start our processes 100% digital. whether for the initial sketch, using some simple geometric figures as placeholders or 3D models. having the advantage of visualizing it quickly and realistically, allows us to decide some aspects during the design process. which occasionally lead to unexpected connections between shapes and materials, creating something new.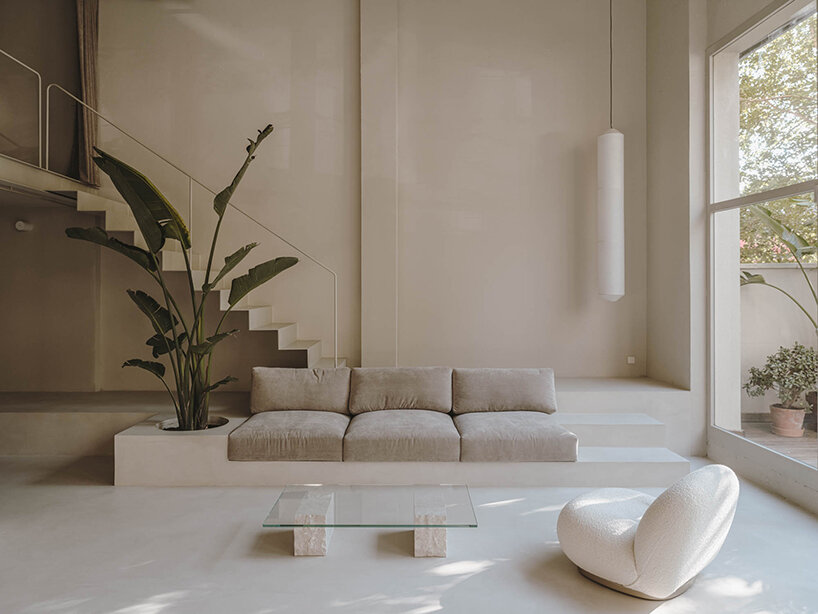 DB: what originally led you to become a designer? can you tell us the origins of six n. five?
EP: as a teenager I used to help my father create visual content for his gym, although I wasn't sure what career or field it was, I enjoyed doing it. back in 2003 in argentina, I took part, along with some other students, in designing the website for the school i attended. when I finished high school, what related the most was graphic design, so without hesitation I enrolled in this career at the university of buenos aires. while going to college in the evening, during the day I worked in related tasks, first as a web programmer, then as an animator and web designer.
by the time I finished my career, which took much longer than it should have, I had already known 3D and I was confident that it would give me an infinite amount of tools to achieve my ideas. six n. five was born after working for a period of time in madrid in a studio called serial cut. having to return to buenos aires, the desire to show the world a new way of designing, along with this latest experience, has led to the birth of 6n5.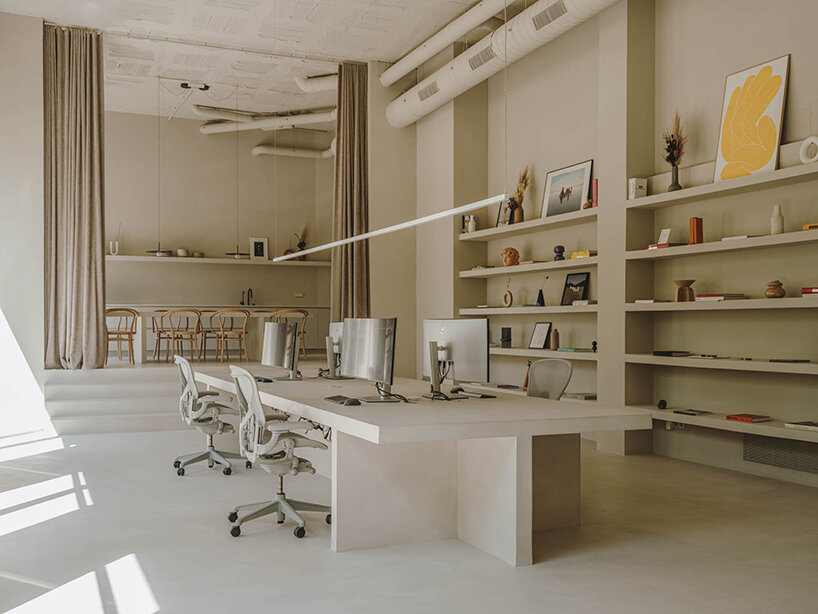 DB: which artists, architects, or designers working today do you most admire?
EP: there are many but I would like to mention the two, that besides admiring for many years, I have known and even collaborated in several projects. in the architecture world, the work and mind of ricardo bofill is amazing, works that he created a long time ago are still stunning and a trend in the design world in general. if I have to mention an artist, I think daniel arsham is my favorite. he has a very particular and versatile style that allows him not only to bring his work to the best galleries and art exhibitions, but also to collaborate with the most prestigious brands in the world.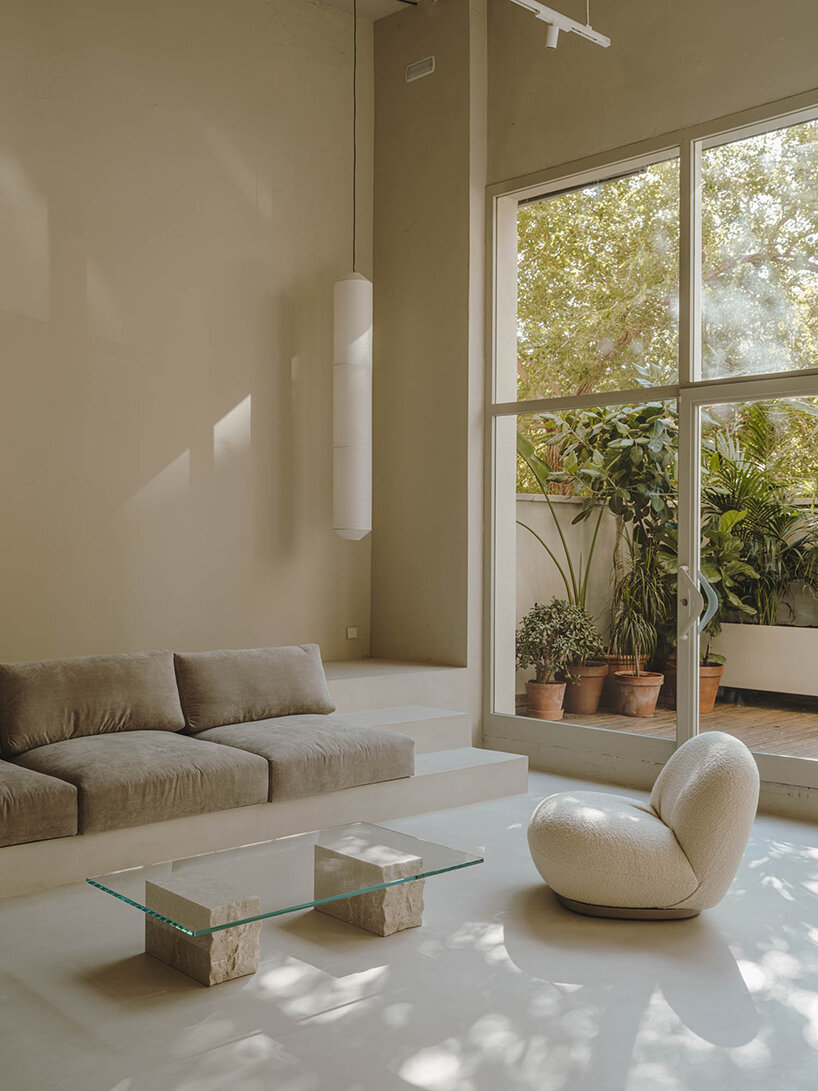 DB: who or what has been the biggest influence on your work?
EP: I think several things have influenced my work. I have practiced taekwon-do since I was 4 years old, and in the last 10 years I have been able to do it professionally. I would say that this sport — along with the values of my family — has given me the discipline to succeed and has created a core foundation to achieve great results. on the other hand, passion and curiosity have been fundamental in this artistic journey. I think it is essential to have that desire to learn something new, adapting to change and starting over if needed.
I have also been positively influenced by having met great people, leaders, friends and professionals along the way.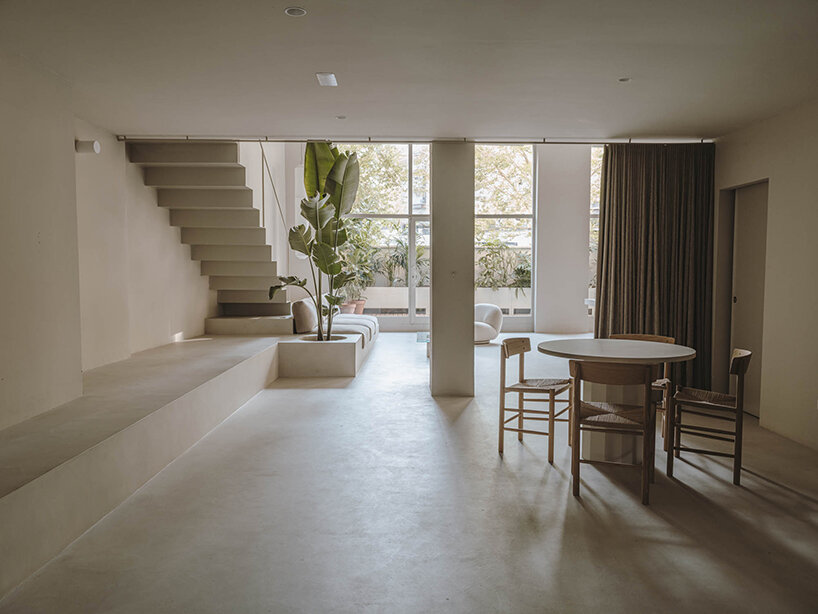 DB: how do you think your practice has evolved over the past few years?
EP: during these years, both myself and the studio have been through several stages, the first stage focusing more in still life photography and in achieving realism despite the technical and rendering limitations at that time. the curiosity to explore other styles and scales has guided us to approach the world of architecture, space and landscape design mostly, and also recently exploring the design of physical and digital objects.
we have done some experimental work for the fashion world, and a virtual reality app and now with interventions in art galleries that are being encouraged to exhibit digital art. the fact that I get easily bored of the same thing, has helped to keep me active and eager to explore and learn more.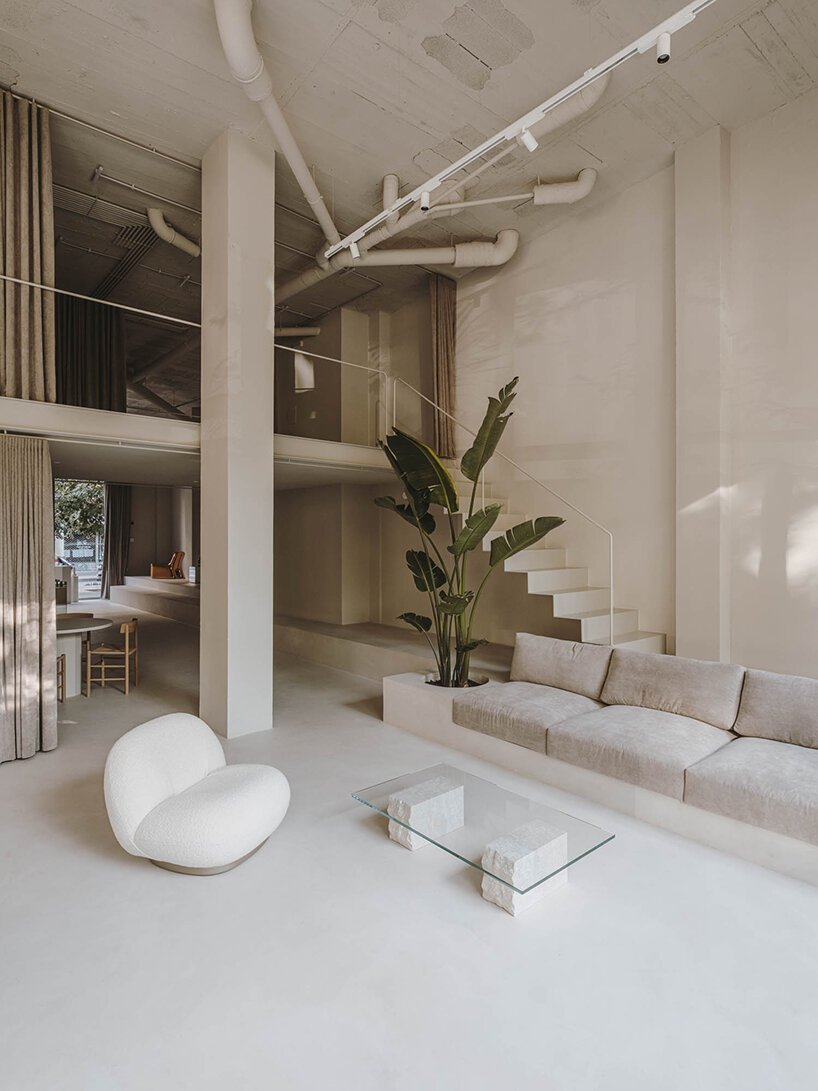 DB: what are you currently interested in and how is it influencing your work?
EP: I would say that the core engine of the studio is design and art in general. currently, my interest is more linked to new technologies and how we can use them in our work. over the last two years, during the pandemic-driven forced digitalization experiment, we have heard about NFTs and how this technology can bring authenticity to a digital piece. additionally, it has helped digital artwork to finally be legitimized as a form of artistic expression as well. it is in its initial stage and has a lot of artistic and creative potential for the future.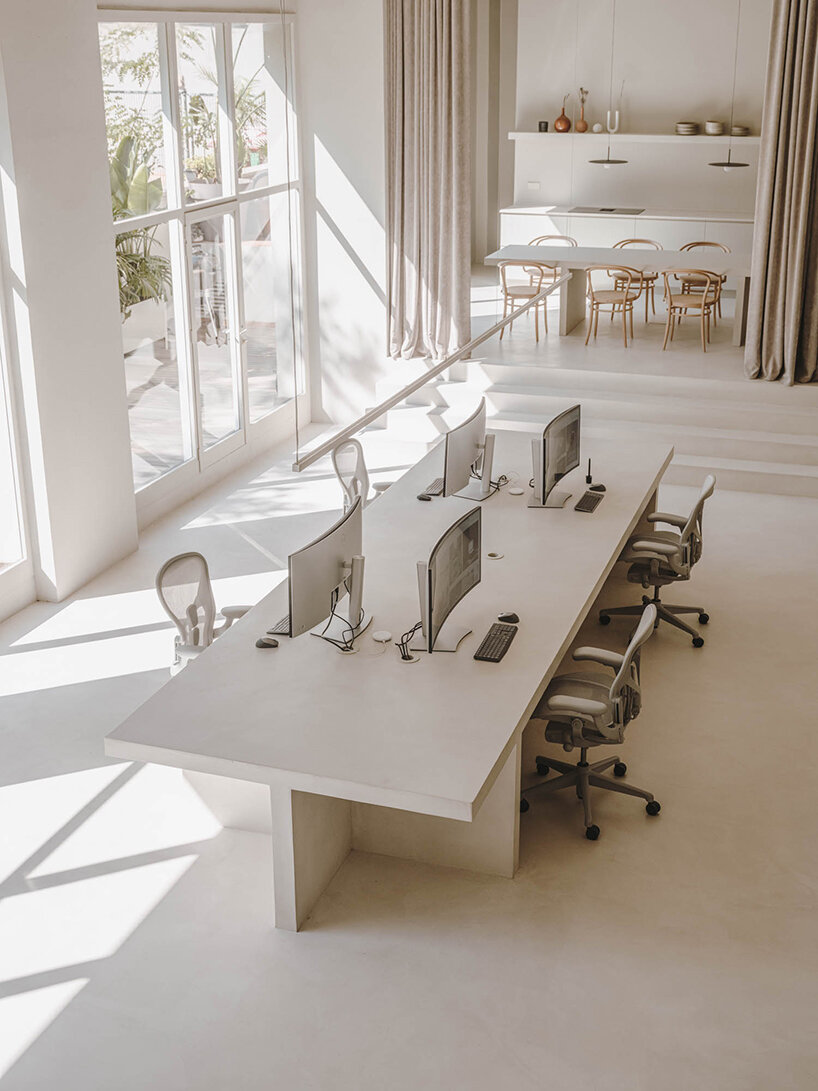 DB: what is the best advice you've received and what advice would you give to young architects and designers?
EP: the first three essential words to someone who wants to reach a goal are; passion, dedication and commitment. passion is doing what you deeply love. dedicate to it as much time as possible with full commitment. be aware that you will sacrifice time, relationships, and sometimes pleasure. knowing that most people are not prepared to do this, it is clear that sometimes you will fail, you will feel bad, or that you will never be able to accomplish your goal.
in those moments of doubt, go back to work and remember some of the following words: consistency, confidence & persistence. it will take time, but you will end up being where you wanted to be sooner than you realize.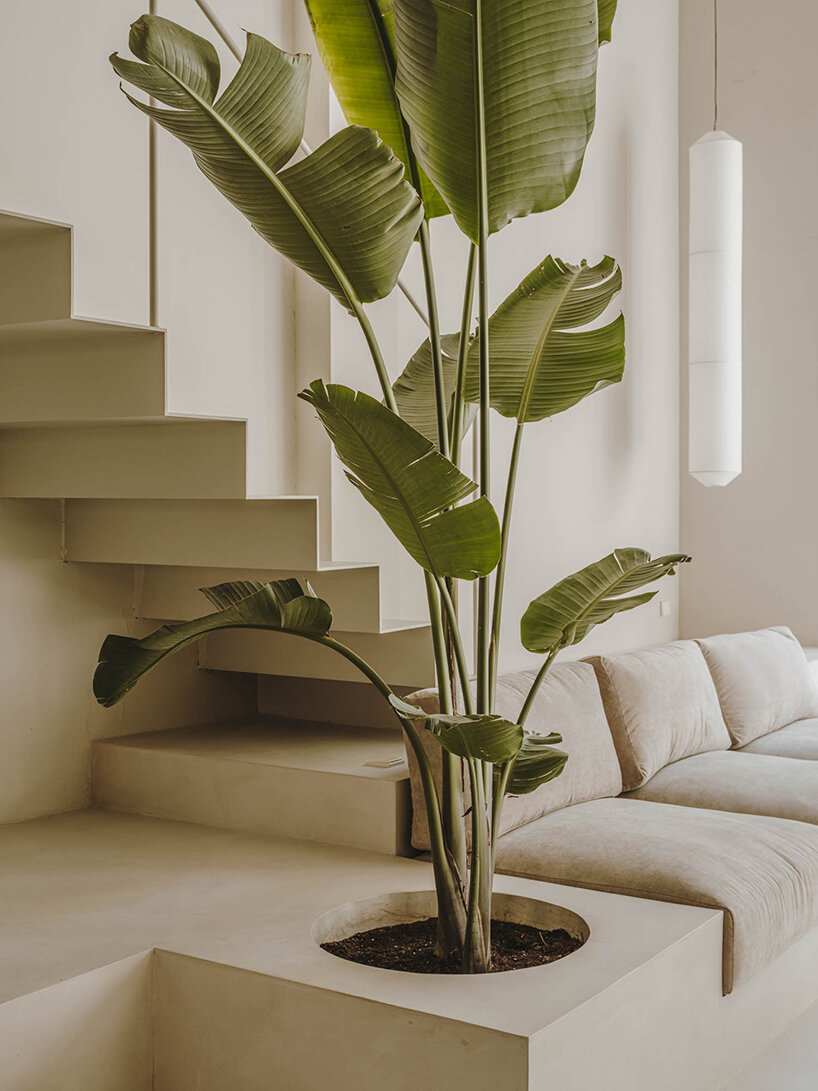 THE DESIGN PRIZE is an annual award program that celebrates excellence on a global scale. initiated in 2017 and curated by designboom, with patronage by the city of milan, THE DESIGN PRIZE recognizes both the extraordinary achievements and little sparks of beauty and delight that have emerged over the past 12 months.
project info:
interior design: isern serra | @isernserra, six n. five | @sixnfive
construction: tegola rosso
photography: salva lopez | @salvalopez
KEEP UP WITH OUR DAILY AND WEEKLY NEWSLETTERS
a diverse digital database that acts as a valuable guide in gaining insight and information about a product directly from the manufacturer, and serves as a rich reference point in developing a project or scheme.
designboom will always be there for you
milan, new york, beijing, tokyo

,
since 1999