multidisciplinary architecture firm snøhetta has completed the new faculty of fine art, music and design (KMD) at the university of bergen in norway — the second largest cultural building in the city after the 1,500-seat grieg concert hall. the firm's new 14,800 sqm cross-disciplinary faculty is organized along two axes, one internal, dedicated to students and staff, and one external, open to visitors. these axes cross each other in the 1,300 m2 and 19,000 m3 project hall, one of the most prominent and dominant features of the building.

surrounding the 52-meter-long project hall, one will find 32 workshop-cum-display spaces
in an effort to free students and staff from limitations by surfaces and materials, snøhetta's KMD building has been designed to both foster creativity and to withstand harsh treatment, which is inevitable in an art school. surrounding the 52-meter-long and 24-meter-wide project hall, one will find 32 commodious workshop-cum-display spaces. these spaces are equipped with specialized infrastructure and heavy machinery for woodwork, ceramics, metalwork, plaster, printmaking, textiles, 3D modelling and printing, video, sound art, and photography.

900 seawater-durable crude aluminum elements protrude from the wall at varying distances
in regards to its materiality, the building is a clean-cut, environmentally friendly and durable building focused on materials that will withstand the rainy norwegian climate and a high degree of rough use, wear, and tear. the pre-fabricated raw aluminum elements that clad the building's exterior compose a puzzle of depth, breadth and length. the crude aluminum surfaces will gradually age and naturally oxidize, heightening the variations in colors and textures.

the firm used materials such as pine wood block flooring, birch veneer, and raw aluminum

the scheme is the reflection of the faculty's ambition of stimulating cross-disciplinary exchange

a total of 9 acres are dedicated to outdoor areas, including green areas, and open plazas

cantilevered box-shaped windows emerge from the façade

the building's entrance is connected to the large outdoor public plaza, 'kunstallmenningen'

social and administrative spaces have been designed for people to work and relax together

the project hall and the 410 rooms surrounding it have been designed to foster creativity

the KMD building at sunset

acting as a common space as well as an artistic area, the project hall hosts various events
Save
Save
aug 31, 2017
aug 31, 2017
aug 22, 2017
aug 22, 2017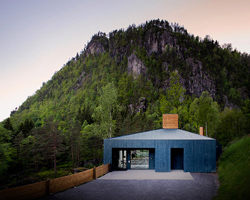 jul 18, 2017
jul 18, 2017
jun 29, 2017
jun 29, 2017
jun 18, 2017
jun 18, 2017
jun 07, 2017
jun 07, 2017
oct 30, 2017
oct 30, 2017
oct 27, 2017
oct 27, 2017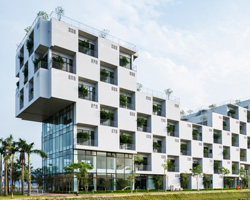 oct 24, 2017
oct 24, 2017
oct 22, 2017
oct 22, 2017
oct 13, 2017
oct 13, 2017
oct 10, 2017
oct 10, 2017
oct 30, 2017
oct 30, 2017
oct 23, 2017
oct 23, 2017
aug 31, 2017
aug 31, 2017
jul 13, 2017
jul 13, 2017
jun 01, 2017
jun 01, 2017
may 24, 2017
may 24, 2017