this year, the oslo opera house — the home of the norwegian national opera and ballet — will celebrate its 10-year-anniversary. since opening its doors in april 2008, the harbor-front institution, with its accessible marble roof, has become a symbol of the city. forming part of a wider masterplan that has made more of the waterfront accessible to the public, the snøhetta-designed project is acclaimed for being a social monument as much as a sculptural one.
the opera house is one of three case studies to be examined at RESONATE lisbon, a one-day conference that will explore the relationships between architecture, art, and sound. as part of the event, designboom will moderate a discussion with kjetil thorsen, snøhetta's founding partner, who will speak in depth about his firm's design. ahead of the conference, we caught up with thorsen who gave us detailed insight on the project's history, as well as other topics. read the interview in full below, and find out more about RESONATE lisbon here.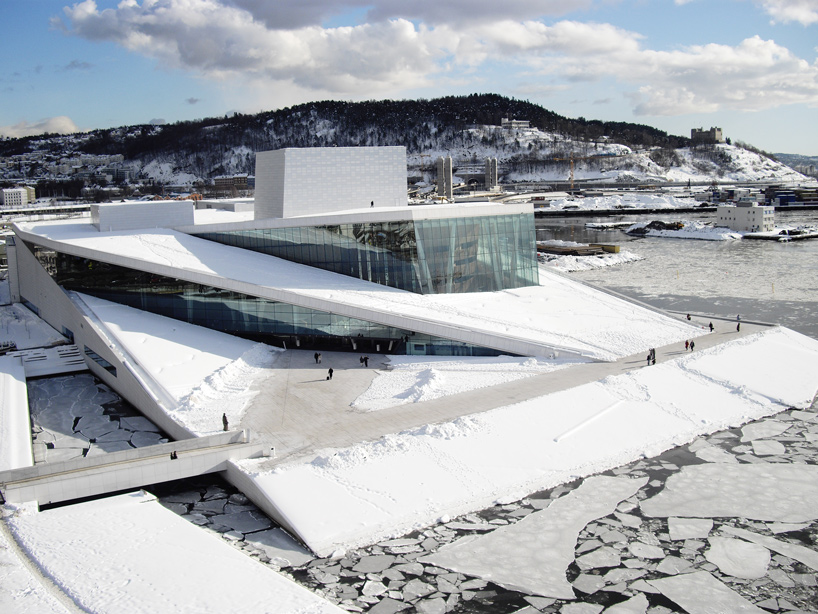 in the winter months, ice often forms along the ramp and snowdrifts alter the form of the building
image © birdseyepix (main image © thomas harryson)
designboom (DB): can you start by explaining how snøhetta was commissioned to build the oslo opera house?
kjetil thorsen (KT): this was an open, anonymous and international competition in 2000. about 160 participants from all over the world made proposals and we were awarded the first prize. after about three months of negotiation with the client, statsbygg, we were awarded the commission.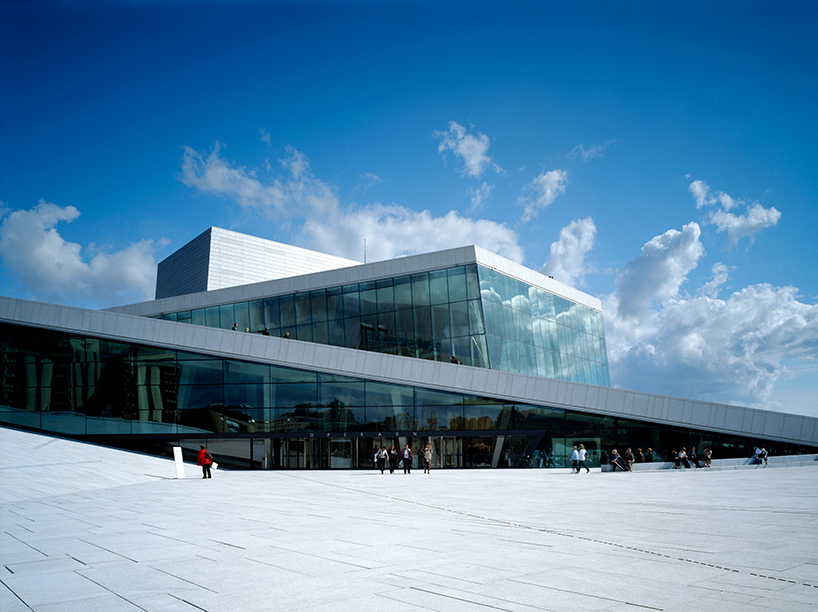 the opera house creates a strong visual connection between oslo's downtown and eastern areas
image © gerald zugmann
DB: what were the key aspects of your design?
KT: opera houses normally have clear historic references. we wanted to rejuvenate this typology to let the opera and ballet arts also become part of a possible future. this notion led us to create a building closer to a public not specifically familiar with opera, and to create an object of a more common performative character. the building itself became a tool of interactive dialogue between a larger public and the arts. the roof is publicly accessible and by allowing such an intimate relationship between the public and the building, we achieved a sense of public ownership to the object.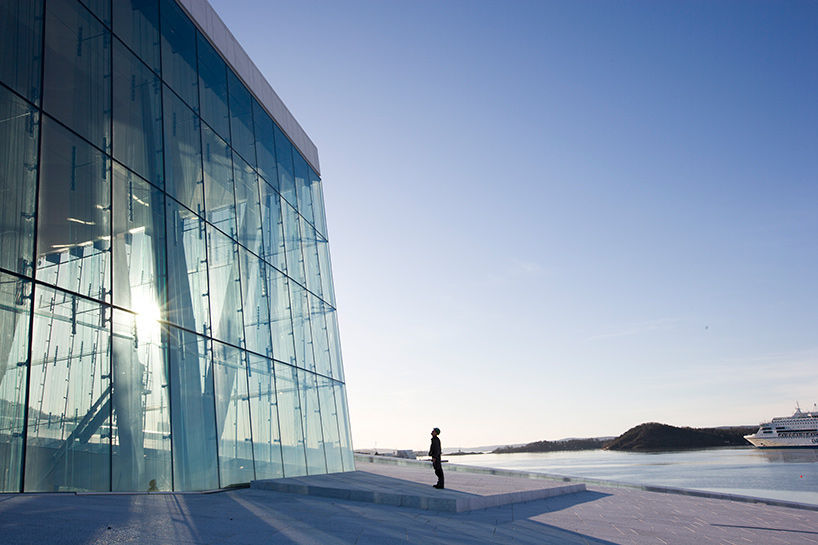 the marble roof was designed by the artists kristian blystad, kalle grude, and jorunn sannes
image © trond isaksen, statsbygg
DB: what logistical challenges did the site present?
KT: as in most projects, separating delivery and public without creating a back side can be a challenge. we decided that the production part with wood, metal and paint workshops, tailors, wig and costume makers and other handicrafts could be located along the perimeter of the building, allowing the public a view into the production of performances. the location of the service entrance would thus have a logical connection to the back of house areas emphasizing the importance of the production for the actual performances. this entrance is also facing the river 'akerselva', historically the industrial part of oslo. the main entrance may be reached over a bridge enhancing the pedestrian movement towards the entrance and emphasizing the different thresholds of experience before entering the lobby. this approach connects to the main station and the city center.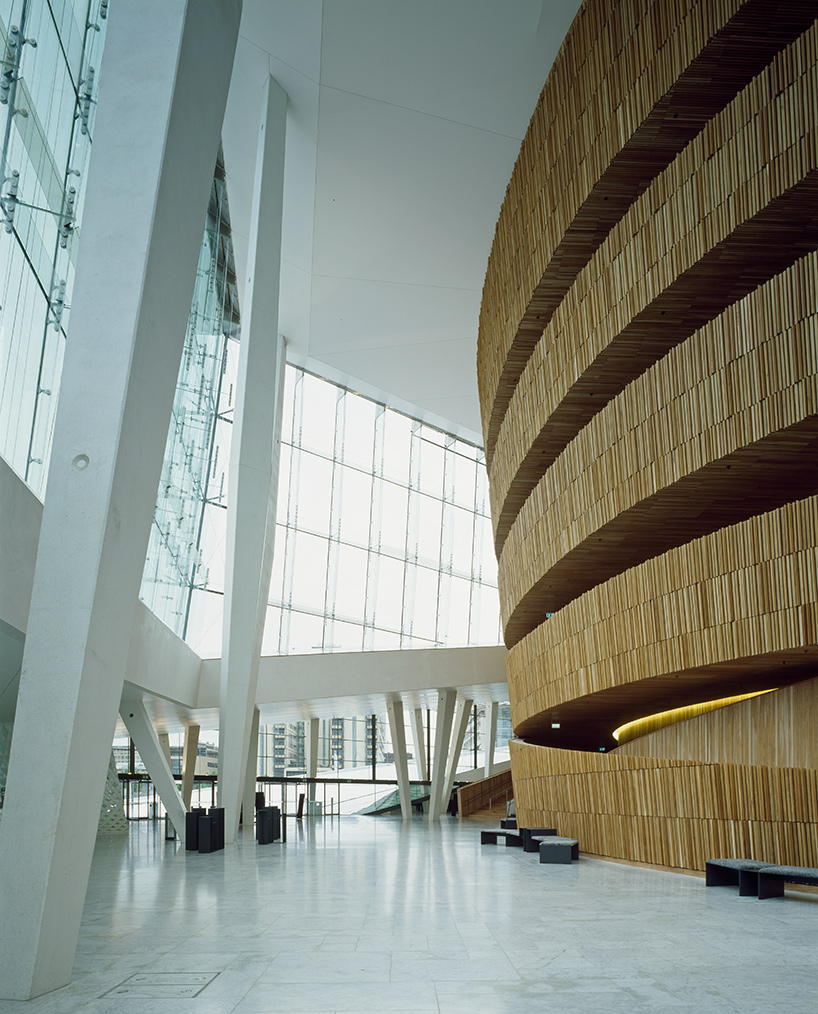 the building's lobby is free and open to the public 24 hours a day, 7 days a week
image © gerald zugmann
DB: you have said that the project is somewhat of a 'social monument'. 
how important is the integration of public space, both internally and externally?
KT: it is of utmost importance to leverage users and to remove preconceived separations in the population. even in a country like norway, one continuously needs to create situations that remind us of the hard struggle to achieve equality and democracy. a social monument of oblique character reminds us how absolute the horizon is. it suggests a 'we' instead of 'I'.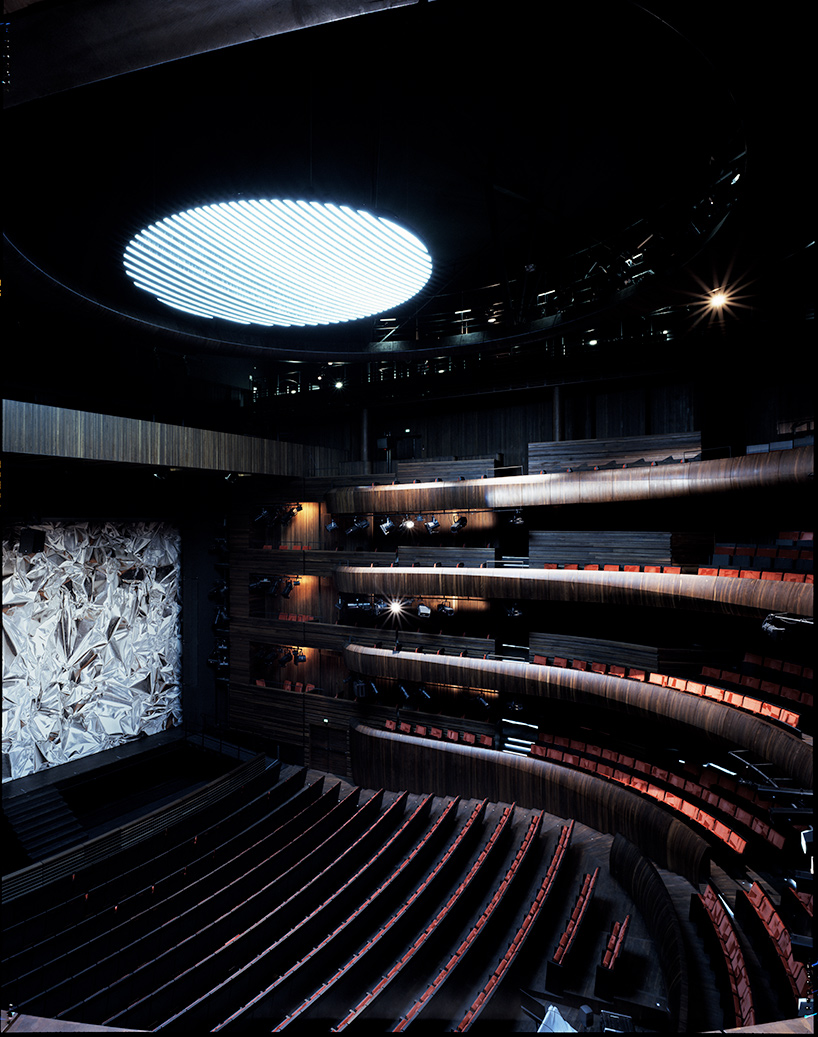 the main hall's chandelier consists of hand-cast glass bars that are lit from behind with LED lights
image © hélène binet
DB: snøhetta also designed the project's interiors. how important is this holistic approach to architecture?
KT: we are not fanatic about having to do complete designs in larger projects, but the interiors of an opera house are naturally public by definition. to knit together all design intentions, down to objects like door-handles, became important for the overall design concept. every element became part of the same story, knitting different experiences together.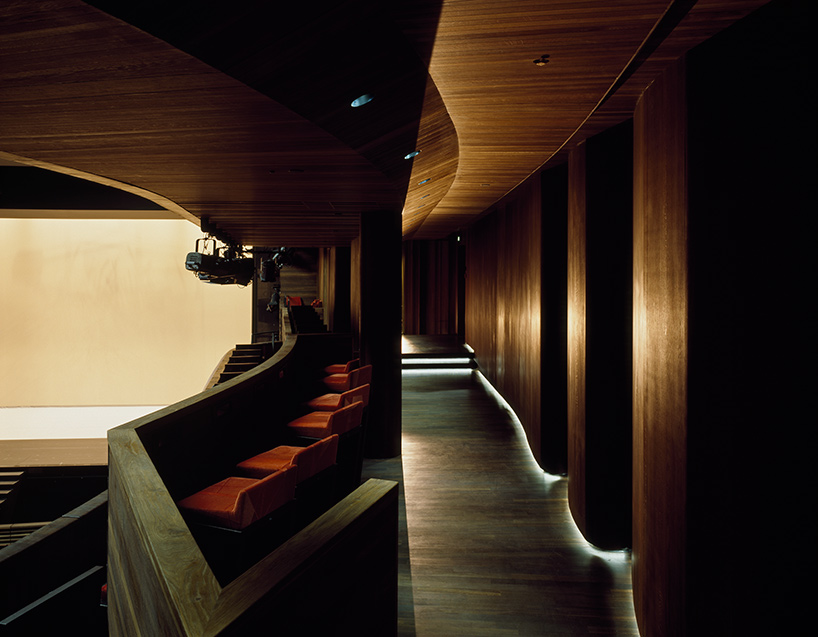 the main hall is designed as a horseshoe-shaped room reminiscent of classical theaters of the past
image © gerald zugmann
DB: snøhetta's work covers everything from architecture to brand design. 
how do you approach different projects with a variety of clients, scales, and mediums?
KT: the driving force behind snøhetta is made up of architects, graphic designers, landscape architects, interior architects, urbanists, product designers, and artists. together, we form an interdisciplinary team collectively shaping our surroundings. regardless of our different backgrounds and knowledge, we approach most projects the same way, namely through a workshop methodology we call 'idea works'. this methodology is based on transpositioning different professions within the workshop. in this creative process, different professions temporarily swap professions during conceptual and creative processes. by liberating ourselves from preconceptions and routine, we make room for new ideas to emerge, and as a result we achieve unique and contextual designs. for instance, the inclusion of artists into the creative process is of great importance, and the development of an artistic expression becomes an integral aspect of the design concept.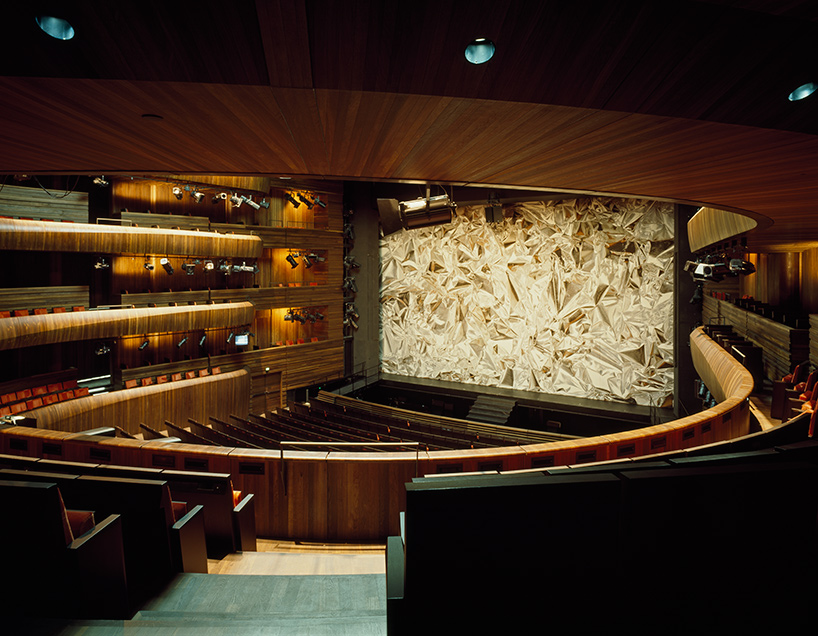 the opera has three theaters and a variety of practice and rehearsal spaces
image © gerald zugmann
DB: compared to now, how many people were working in snøhetta's office at the time of the competition?
KT: since the competition snøhetta has grown to more than double size and today we are around 210 people in oslo, new york, innsbruck, san francisco and stockholm. at the beginning of 2018 we also opened an office in paris and a project office in hong kong.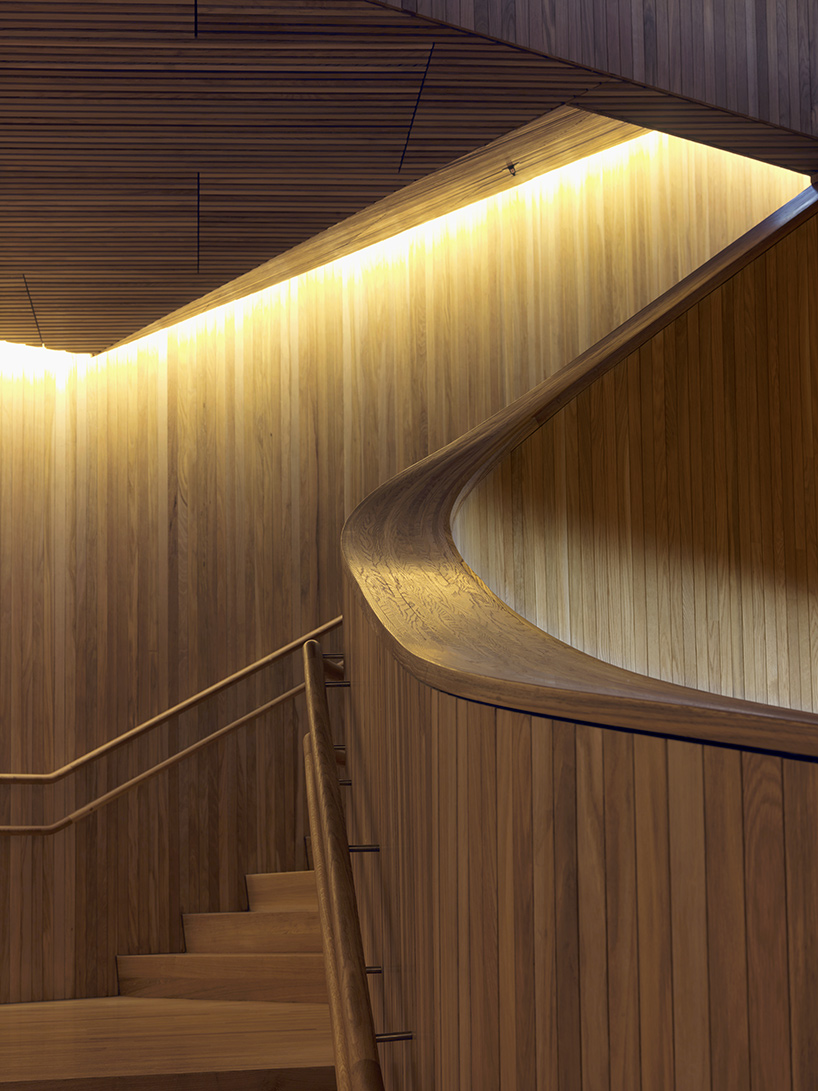 the project's interiors were also designed by snøhetta
image © jiri havran
DB: your website describes your projects as 'examples of attitudes rather than designs'. what does this mean in the context of the opera house?
KT: attitudes have content. designs are the tools to express this content.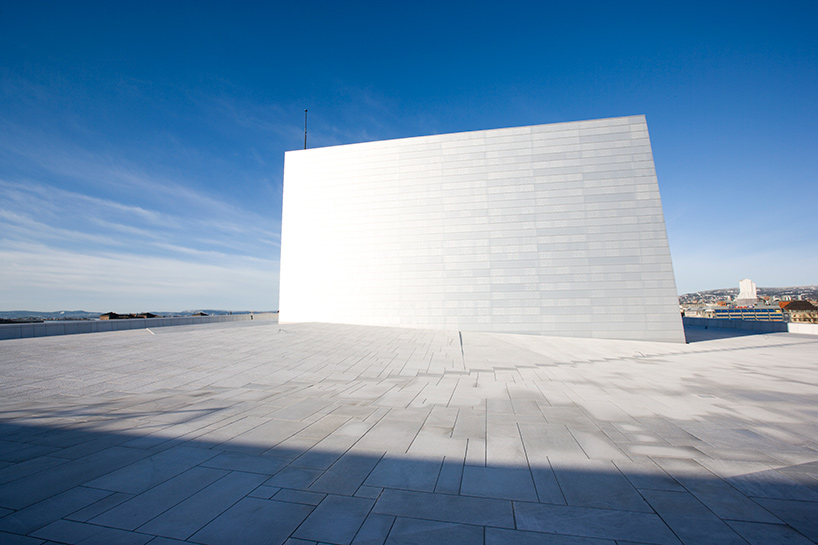 the opera house will celebrate its 10-year-anniversary in 2018
image © gerald zugmann
DB: this april, the opera house will have been open for 10 years. 
are you pleased with the way the project has been received?
KT: very pleased. it has been full almost every night since the opening. millions of people have visited the roof, future operagoers, and we are currently helping the opera with the preparations for their 10 year anniversary.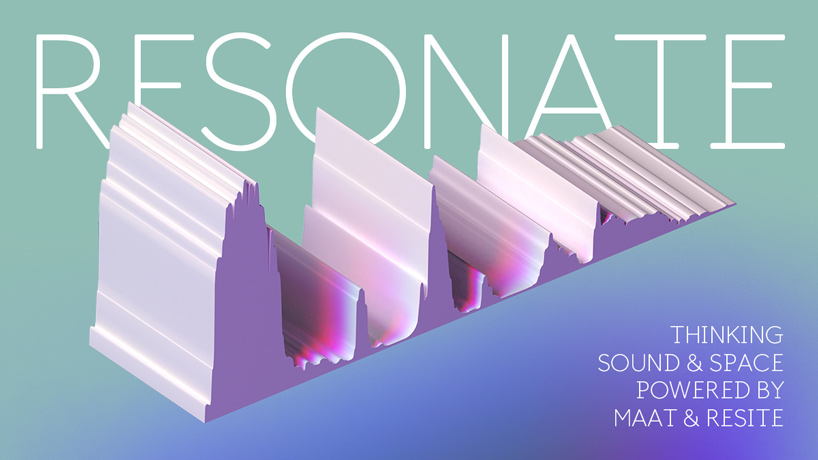 RESONATE lisbon is a one-day conference organized by MAAT and reSITE aimed at an exclusive architecture, tech and art audience, focusing on architectural soundscapes, the technological innovation of sound environments, and the creation of ground-breaking acoustic experiences. the event is presented in collaboration with meyer sound.

apr 26, 2020
apr 26, 2020
apr 17, 2020
apr 17, 2020
apr 07, 2020
apr 07, 2020
mar 17, 2020
mar 17, 2020
feb 24, 2020
feb 24, 2020
jan 31, 2020
jan 31, 2020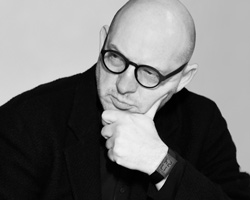 may 07, 2020
may 07, 2020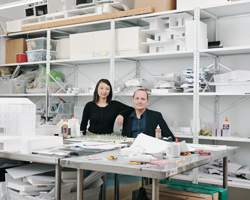 apr 19, 2020
apr 19, 2020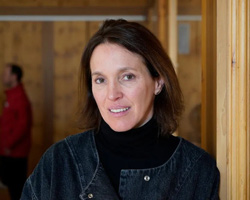 mar 13, 2020
mar 13, 2020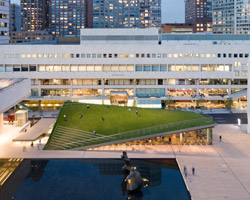 mar 19, 2018
mar 19, 2018
feb 27, 2018
feb 27, 2018
jan 18, 2018
jan 18, 2018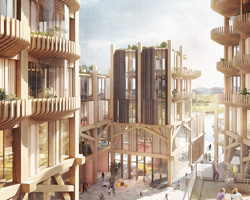 may 07, 2020
may 07, 2020
jan 08, 2020
jan 08, 2020
dec 09, 2019
dec 09, 2019
a diverse digital database that acts as a valuable guide in gaining insight and information about a product directly from the manufacturer, and serves as a rich reference point in developing a project or scheme.