may 13, 2014
snohetta renovates powerhouse kjorbo office buidling in norway

snøhetta renovates powerhouse kjorbo office buidling in norway
all images courtesy of snøhetta / powerhouse
international architectural office snøhetta is one of seven companies collaborating on 'powerhouse kjørbo', a renovation project termed 'the world's most environmentally friendly office building'. located just outside the norwegian capital of oslo, the team's intention is to develop and construct buildings that produce more energy than they use over the course of their lifetime. the other organizations involved include consultants asplan viak, property management firm entra, construction company skanska, aluminum companies hydro and sapa and the environmental organization ZERO.

solar panels are positioned on the roof of the structure, meeting all expected energy needs
the design team believes that the project is completely unprecedented, with no record of a typical office building being converted to generate more power than it consumes: 'as far as we know, this is the first building in the world that has been renovated into an energy-positive structure. it is the unique collaboration we have had from the very start that has made this possible,' explained ståle rød, chairman of the powerhouse consortium and CEO of skanska norway.

walls, ceilings and windows are secured and insulated with external sun shading
the scheme involves the complete refurbishment of two 1980s structures that previously consumed an annual amount of 250kWh per square meter. as part of the renovation works, solar panels – capable of supplying over 200,000kWh each year – will be positioned on the roof of the structure to meet expected energy needs. all walls, ceilings and windows are secured and insulated with external sun shading and internal solutions that reduce cooling requirements in summer. inside, all areas are upgraded, converting the workplace into a twenty first century office space.
'by using existing technology combined in new ways, we have come up with simple and logical solutions that make it possible to transform an ordinary office into a building that produces more energy than it consumes,' commented kjetil trædal thorsen, director and partner of snøhetta.

the building's entrance and reception foyer

all internal areas are upgraded converting the workplace into a contemporary office space

combined ventilation shaft and stairway
project info:
location: bærum, norway
typology: office, rehabilitation
client: entra eiendom
area: 5,200 sqm / 55,972 sqf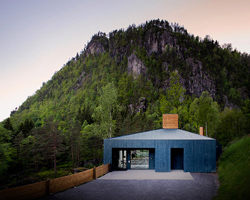 jul 18, 2017
jul 18, 2017
jun 29, 2017
jun 29, 2017
jun 18, 2017
jun 18, 2017
jul 13, 2017
jul 13, 2017
jul 10, 2017
jul 10, 2017
jun 01, 2017
jun 01, 2017