dec 16, 2014
snøhetta's tilted zero energy house completed in norway
snøhetta's tilted zero energy house completed in norway
photo © bruce damonte
all images courtesy of snøhetta
in a continued effort to produce ecologically conscious structures, the research center on zero emission buildings and design office snøhetta partnered up to develop a pilot house near the norwegian town of larvik. now completed, the dwelling serves as a platform for assisting knowledge of 'plus houses', which produce more energy than they use. the demonstration residence's distinctive tilt towards the southeast instigates its environmental performance, with a sloped roof surface clad in photovoltaic panels. the solar energy collectors are complemented by geothermal wells on the site, resulting in a total gain able to service the house with surplus to power an electric car year-round.
the house's performance is instigated with its tilt to the southeast, with photovoltaic panels integrated on the roof
photo © bruce damonte
to reach its classification goals, the project is required to document and verify at least 100% CO2 offsetting, with building integrated technological systems negating carbon emissions incurred from burning of fossil fuels. for its novel efforts, the ZEB pilot house has been nominated for the 'the european union prize for contemporary architecture – mies van der rohe award 2015'.
for more information on the ZEB pilot house, see here for our previous article prior to the dwelling's completion.
a stone wall props the volume up while serving to stabilize thermal changes
photo © bruce damonte
in consideration of the dwelling's emotive and livable qualities, the design sought to retain many home-like elements that are generally non-quantifiable. this includes the spatial layout, daylighting, surrounding garden site, and inclusion of a pool (heated by building integrated generation systems).
large fins shade the house's upper storey windows
photo © bruce damonte
photo © bruce damonte
the dwelling is arranged around an outdoor courtyard clad in brick and stacked logs
photos © bruce damonte
large sliding glass doors connect both the living room and kitchen to the outdoor patio
photo © bruce damonte
a skylit staircase passes by the central brick wall
photo © bruce damonte
the house's bedrooms are located on the upper level
photos © bruce damonte
photo © bruce damonte
environmental performance diagram
photo © snøhetta
project info:
location: ringdalskogen, larvik, norway
typology: zero emission demonstration building
size: 220 sqm (house), 220 sqm (site)
completion date: september 17, 2014
client: optimera and brødrene dahl (saint gobain)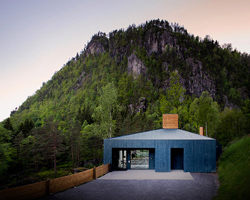 jul 18, 2017
jul 18, 2017
jun 29, 2017
jun 29, 2017
jun 18, 2017
jun 18, 2017
jul 13, 2017
jul 13, 2017
jul 10, 2017
jul 10, 2017
jun 01, 2017
jun 01, 2017