feb 27, 2013
SO? architecture wins young architect program in istanbul
'sky spotting spot' by SO? architectureall images courtesy of SO? architecture
moma PS1 has recently expanded their annual young architects program from the original new york location tothe MAXXI museum in rome and now intheir newest branch at the istanbul modern. joining the ranks of the winners for the previous two international winners, CODA and bam!, turkish practice SO? architecture and ideas has been announced the winner of the first young architects program international in istanbul.
walkthrough
video © SO? architecture
located in the courtyard entrance next to the istanbul modern structure, the installation by SO? architecture and ideas features a series of posts holding round mirrored diskshigh above the ground that reflect the scenery below and create dancing shadows during the day. the posts are floating in the bosphorus below theground plane where the river's waterline reaches under the courtyard space, constantly swaying the shades that create a playful scene of shadows and reflections of light during the day and night, a reflection of the kinetic energy in the river that provided so many important resources for the city.
chading the courtyard outside the istanbul modern
reflecting light at night as it swivels in the ground
istanbul modern venue
shading and reflecting characteristics during the night and day
(left) reflects sunlight during the day(right) reflects ambient lighting onto courtyard
sections
(left) istanbul modern courtyard(right) tire and net seating component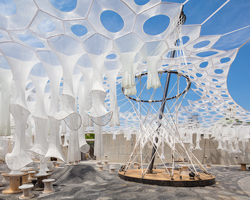 jun 27, 2017
jun 27, 2017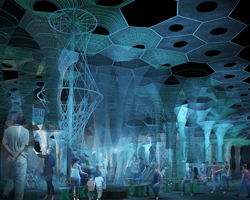 feb 17, 2017
feb 17, 2017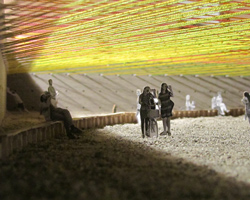 feb 02, 2016
feb 02, 2016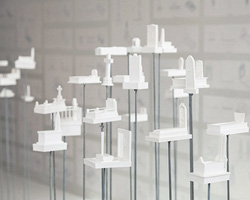 nov 19, 2016
nov 19, 2016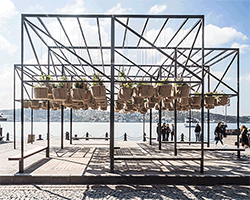 jun 09, 2016
jun 09, 2016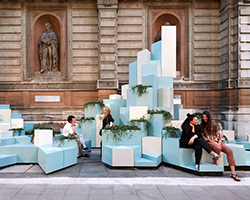 jul 03, 2015
jul 03, 2015