US studio SO-IL and french firm laisné roussel have been selected to redevelop a complex plot in paris along the river seine. the competition-winning scheme, named 'l'atelier de l'arsenal', occupies place mazas — a site located at the end of the bastille axis and at the junction of the canal saint martin and the seine itself. the proposal seeks to integrate the site into the city's historic fabric while simultaneously presenting a new and flexible urban strategy for the region.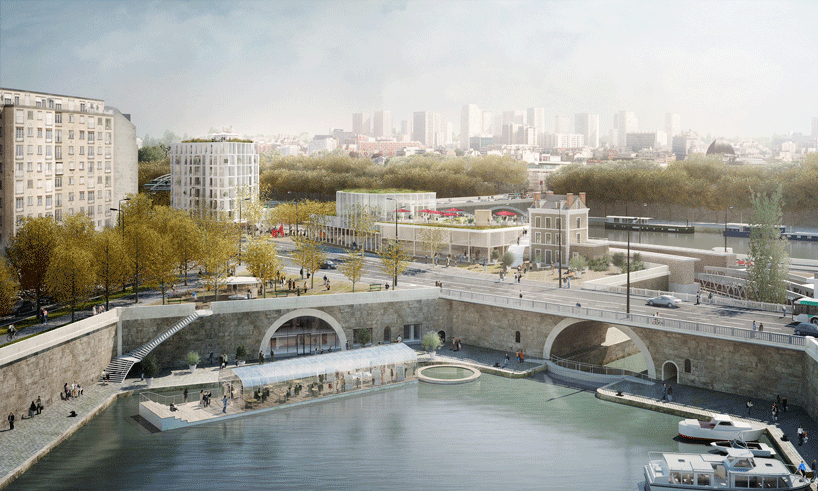 all images by weiss images © SO-IL / laisné roussel
the plans developed by SO-IL and laisné roussel divide the site in two. the first area includes a seven-storey structure, comparable in scale to the neighboring haussmanian buildings. constructed from locally sourced timber, the volume features a co-living housing program, with several shared interior and exterior spaces for residents. a public restaurant is also included on the ground floor.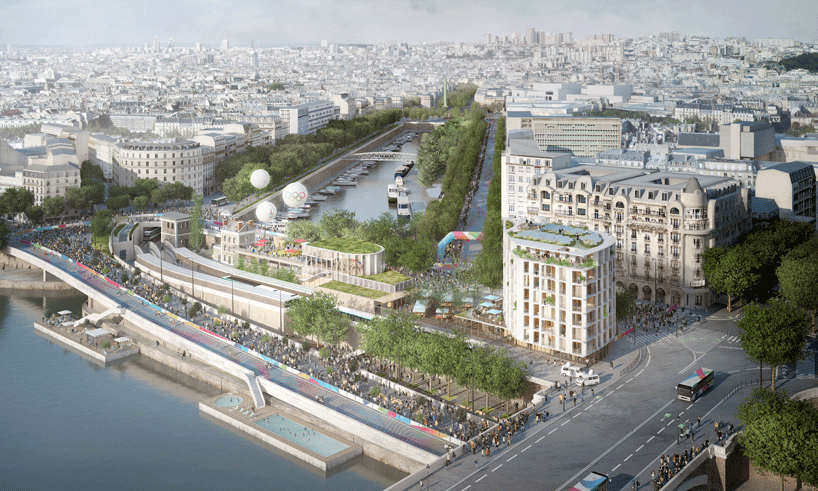 aerial view of the flexible site, looking from pont d'austerlitz
located on the axis of bastille, the second area is dedicated to public activities. here, three new squares have been created, alongside a re-purposed lockhouse, a temporary pavilion capable of hosting a range of events, a fabrication lab, an event room, and a terrace that offers views across the basin. the design also incorporates a homeless facility already established on site. a public swimming pool, as well as a pool for biodiversity research and water quality monitoring, also form part of the plan.

view from quai de la rapée showing the residential building (left) and the temporary pavilion (right)
'our proposal suggests a dynamic approach in city making, one that considers history as well as the complexity of today's conditions while allowing room to accommodate future transformation,' says ilias papageorgiou, partner at SO-IL.
'the design of the atelier de l'arsenal is motivated by our conviction that architecture is everyone's business,' adds nicolas laisné and dimitri roussel. 'in our view, urban resilience and the collective practices developed for and by users are two major challenges for the cities of tomorrow.'

axonometric view from the arsenal basin
project info:
location: place mazas, paris, france
client: REI habitat, icade promotion
architects: SO-IL, laisné roussel
team: atelier georges, manifesto, office for cities, WoMa, yacht club paris bastille, aurore, colonies, institut du monde arabe, base tara, cluster EMS, innogur, elioth, acousteb, sinteo, maitre cube, francilibois
3D images: weiss images
surface area: 60,000 sqf / 5,590 sqm
Save
Save
Save
Save
Save
Save
Save
Save
Save
Save
Save
Save
Save
Save
oct 11, 2017
oct 11, 2017
oct 03, 2017
oct 03, 2017
sep 30, 2017
sep 30, 2017
sep 29, 2017
sep 29, 2017
sep 26, 2017
sep 26, 2017
sep 20, 2017
sep 20, 2017
oct 20, 2017
oct 20, 2017
sep 29, 2017
sep 29, 2017
sep 26, 2017
sep 26, 2017
jun 24, 2017
jun 24, 2017
jun 22, 2017
jun 22, 2017
mar 15, 2016
mar 15, 2016
SO-IL
(16 articles)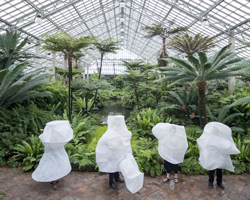 sep 12, 2017
sep 12, 2017
apr 04, 2017
apr 04, 2017
dec 06, 2016
dec 06, 2016