nov 07, 2013
SO-IL realizes spiky expanded metal installation in beijing
SO-IL realizes spiky expanded metal installation in beijing
all images courtesy of SO-IL

brooklyn-based firm SO-IL have realized 'spiky' – a canopy made from a series of conical forms – as part of the 5th china international architectural biennial 2013. the modular installation has been derived from the team's local material research, which led them to use expanded metal mesh — a standard economic product manufactured in a nearby northeastern region of the southeast asian country. SO-IL studied and employed cutting techniques to create controlled geometric forms by lacerating their choice medium with a design that sees the flat sheets become three-dimensional forms. the funnel-shaped modules are created through steel poles that are pushed through their core, and which also serve as the work's vertical support system. 'spiky can be arranged in compositions ranging from nine to twenty-five of the infundibular modules.

look up through one of the cones
providing shelter is the starting point of architecture, protecting us from the elements. often our roofs are angled or flat, heavy and opaque, but sometimes we experience a more ephemeral condition–a light transparent structure that allows for a totally different relationship with our surroundings. located in a large public plaza in beijing olympic park, adjacent to the national stadium, the flexible and gestural system of 'spiky' falls between the boundaries of architecture and art, provoking one's perception of art as a component of public space, and how we interact with our built environment. the optical effects of the piece frame the world around us, feeling at once solid and porous, drawing visitors in to discover its structural beauty.

detail of the steel poles which push the flat metal sheets into three-dimensional forms

the individual modules ready to be expanded into their final conical forms

study models

geometric control diagrams
project info:
client: 5th china international architectural biennial 2013
architect: SO-IL, florian idenburg (principal), jing liu (principal), ilias papageorgiou (associate principal), iannis kandyliaris, nile greenberg, tianci han, dichen ding
location: beijing, china
program: pavilion
area: 100 m² / 1076 sf
budget: undisclosed
status: completed october 2013
credits: a. zahner co. and slaich bergermann and partner LP (constructability and engineering advice)
photography: SO-IL
SO-IL
(16 articles)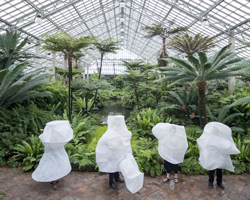 sep 12, 2017
sep 12, 2017
jul 21, 2017
jul 21, 2017
apr 04, 2017
apr 04, 2017