oct 07, 2012
SOFTlab: beaux arts ball
'beaux arts ball 2012' by SOFTlab, brooklyn, new york image © alan tansey
the architectural league of new york recently held its annual beaux arts ball in the williamsburgh savings bank in brooklyn, new york. the theme for this year's event revolved around the word 'tender' which draws its influence from the building's history and the many different meanings the script can be associated with. the installation was developed by new york city-based firm SOFTlab in collaboration with natasha jen of pentagram specifically for this event. to encourage the visitors to utilize the large space, a net filled with pillow like mylar balloons was hung over the main gathering area to indicate the party and dance floor. as the visitors moved through the bank, the floating objects allowed for glimpses of the existing vaulted ceiling, while the mezzanine level offered views of the pillow surface as a solid entity. lighting played a major element to the installation as it created several layers of reflection against the shinny pieces.
mylar pillows cushioned on a nylon net image © alan tansey
image © alan tansey
hanging graphic cards with time stamps image © alan tansey
a field of hanging tickets containing a graphic time code allowed a sense of exchange among the visitors as it permitted admittance at precise times to a sound installation by david rife of arup in the downstairs vault. the passes were hung from the net and were backed with an iridescent material that changed color as they rotated in the space. the soundtrack was driven by stock market data and relied on the acoustical properties of the room to create a three dimensional sound environment. the seating was constructed out of nylon nets filled with shredded paper.
sound installation in downstairs vault image © alan tansey
seating filled with shredded paper image © alan tansey
reflecting surfaces image © architecture league
(left) view from mezzanine level  (right) visitors interacting in the space images © architecture league
codes changing colors image © architecture league
detail image © architecture league
installation video © SOFTlab
project info:
client: the architectural league of new york materials: nylon net, mylar, shredded paper year: 2012 size: 4000 sq. ft. design team: michael szivos, ben halpern, carrie mcknelly, liz kelsey, lindsey may graphic design: natasha jen of pentagram sound installation: david rife of arup
dec 21, 2015
dec 21, 2015
nov 13, 2015
nov 13, 2015
oct 21, 2015
oct 21, 2015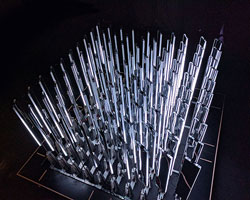 aug 04, 2017
aug 04, 2017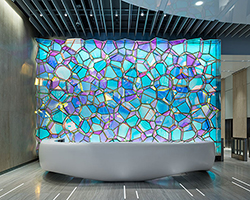 jul 18, 2017
jul 18, 2017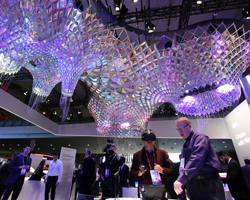 mar 03, 2017
mar 03, 2017