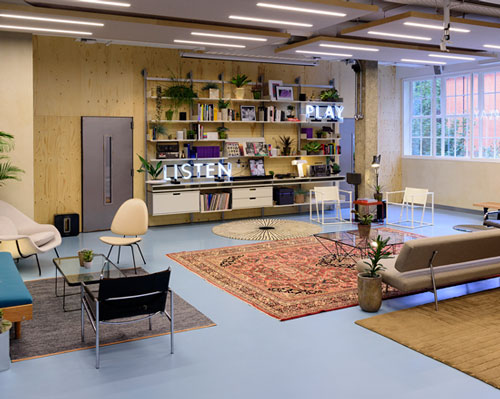 oct 20, 2015
SONOS studio launches creative music hub in east london

SONOS studio launches a creative music hub in east london
photography by ed park
music company SONOS studio has launched their latest creative hub in london, UK, with one already existing in los angeles. the social and collaborative space aims to connect artists and the public through interactive and unique experiences in music, art and technology. with a deep focus and appreciation for music, and the creatives that push the industry's boundaries and shape its future, SONOS studio was born as a means of offering unique, acoustically tunable spaces where anyone can go to hear music as it should sound. after the SONOS studio LA opened its doors in 2012, the company started to scope out other locations where the concept of this type of space would fit in, deciding on london as the home of its second locale.

the studio offers a contemporary hang-out space that retains the building's original architectural integrity
'london was a natural choice, taking into account how much it influenced music,' explains tom panton who heads up the new studio. 'we wanted somewhere busy, a place that works in the daytime where the people we want to speak to are right on the doorstep. it has to have a real community feel.'
based in the city's shoreditch area, the SONOS studio takes over what was originally a printworks, but more recently a large catering kitchen. 'we were excited when we found this building, just off redchurch street (…). we've preserved the architectural integrity of the building while also lining it completely acoustically, so there's a foot of mineral wool and a triple-skinned wall,' continues panton.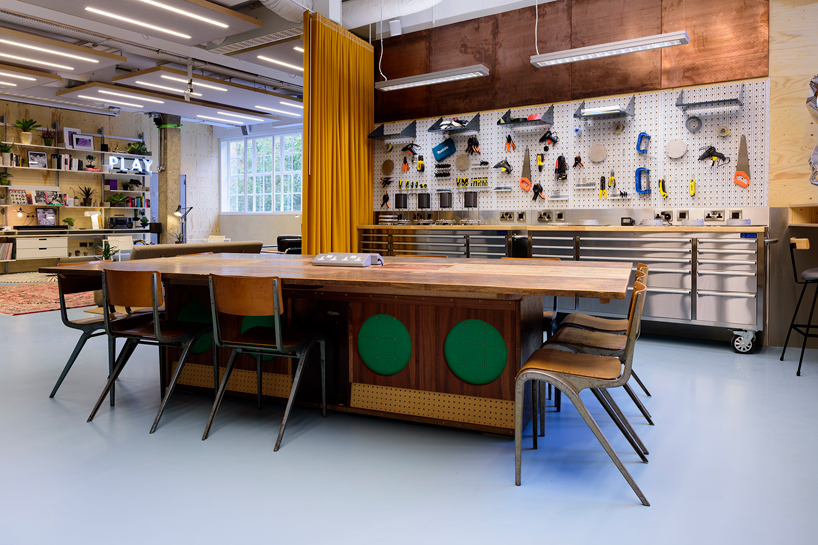 a soundsystem-influenced worktable by andrew stafford sits within the workshop
brinkworth was assigned the task of designing the two-storey interior into a 'home' for SONOS, faced with the challenge of offering a contemporary, social and collaborative hub for the music and creative communities of london, whilst at the same time providing the right acoustics throughout to enjoy music, out loud. they were also asked to preserve the building's industrial heritage, while also equipping it in such a way that it functions as a state-of-the-art listening space, workshop and meeting place. in response, brinkworth has retained the original crittal windows screening the insides of them by a line of mobile and vertical louvres to improve the overall acoustics. additionally, the original aggregate concrete columns of the structure have been sandblasted back to highlight their genuine finish; while a timber floor that has been rescued from the former BBC world service studios at bush house on the strand in london, has been installed, giving it new life at the SONOS studio.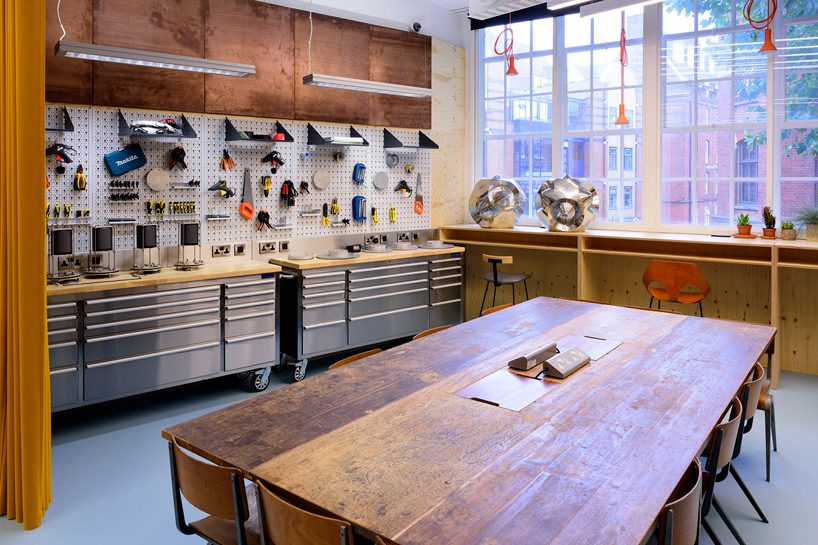 view of the workshop where the public can dabble with specially installed equipment and sound kits
the atrium entrance sees the construction of a 'sound-lock' mid-lobby that ensures that the listening experience within is not interrupted by noise from outside, as people arrive and leave. the ground floor's main listening area is topped with a specially 'tunable' modular ceiling that can be lowered, shaped and adapted depending on the type of music or sound that is being played at any given event. this level also hosts a café and bar area that is run by magnus reid, founder of the C.R.E.A.M. café at protein studios.
via a remodeled staircase, one can make their way upstairs to a workshop area where they can dabble with specially installed equipment and sound kits. two separate anterooms are positioned at the back of the atelier area — one standing as a programmable, immersive listening gallery, and the other as a more intimate listening zone.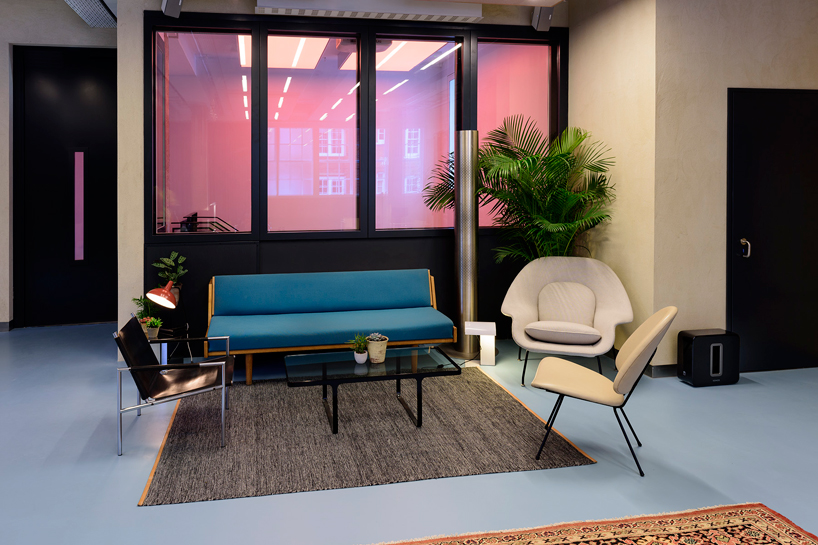 the interior offers the intimacy of a home-studio with modern furniture by the likes of vitsoe and tom dixon
the overall setting of the SONOS studio london strikes a casual atmosphere that makes visual references to sound history throughout, via various design details such as the incorporation of bathroom tiling that is also seen at stax records, to the use of the same shade of blue used at abbey road. 'obviously the functionality and making sure it works for SONOS is a big concern, but it's important to respect what you've got there already,' explains emma wynn of brinkworth. 'we always like to respect the building that we start with.' other references to the sound and music industry can be seen in the art that has been selected by curator and publisher freddie forsyth, which include a video collage by ewen spencer, works by jack marshall, a one-off commissioned jack featherstone video piece; as well as a series of sam coldy prints and a soundsystem-influenced work table by designer andrew stafford that is based on a 1974 dennis morris photograph of the admiral ken sound system taken outside the studio's building. 'all the work is about art inspired by technology, and ways of experiencing sound,' freddie forsyth explains. 'each artist was briefed in the same manner, and each one of them has then put together a playlist of music that inspired their work, which will be playing alongside that work.'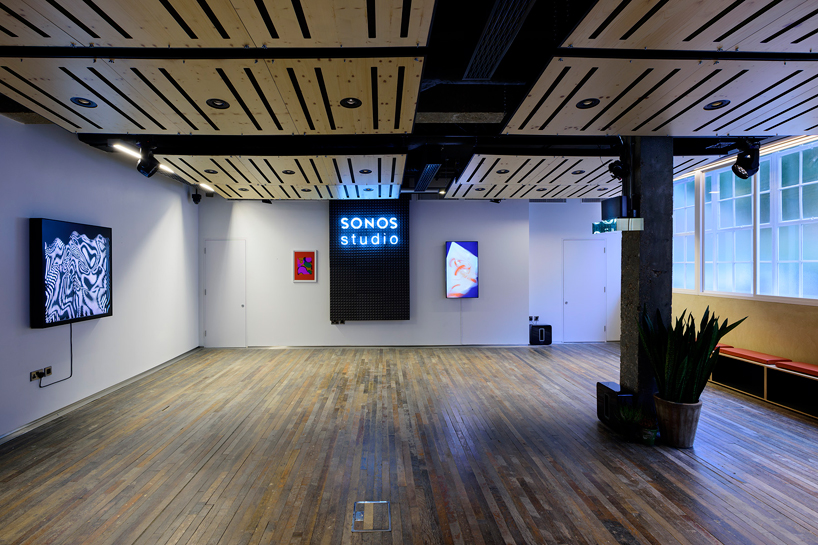 the wooden floors are rescued from the former BBC world service studios
the interior offers the intimacy of a home-studio with modern furniture and fittings from the likes of vitsoe and tom dixon, as well as mid-century vintage stores including béton brut and peanut vendor in east london; while kvadrat fabric is used for the acoustic curtains and the lining of the baffles and louvres that help soundproof the space. SONOS studio london is illuminated through an architectural system of lighting that is offset by smaller, domestic table lamps, all of which are individually controllable for brightness. the entrance is lit by a vertical line of fluorescent batons which make a nod to the interior of the trouw club in amsterdam.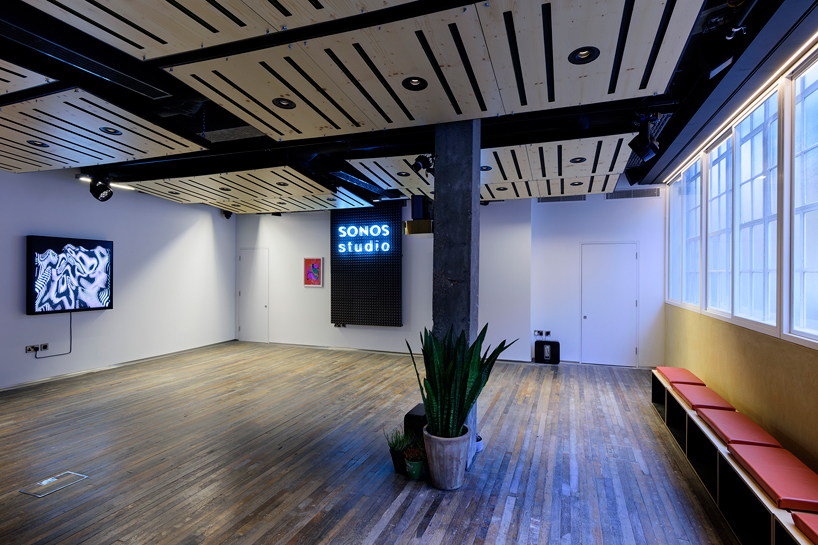 general view of one of the SONOS studio london open spaces
with the london venue complete, SONOS' head of sound experience giles martin is very optimistic about the sonic opportunity that the public space offers: 'one of the cool things about doing the studio is that we can do stuff which makes people pay attention and listen in a different way. the funny thing about sound is that it's a bit like wine – I was happy at university drinking cheap cabernet sauvignon, because that was the norm. and similarly, as listeners we've become very instant. this is all about listening, not just hearing.'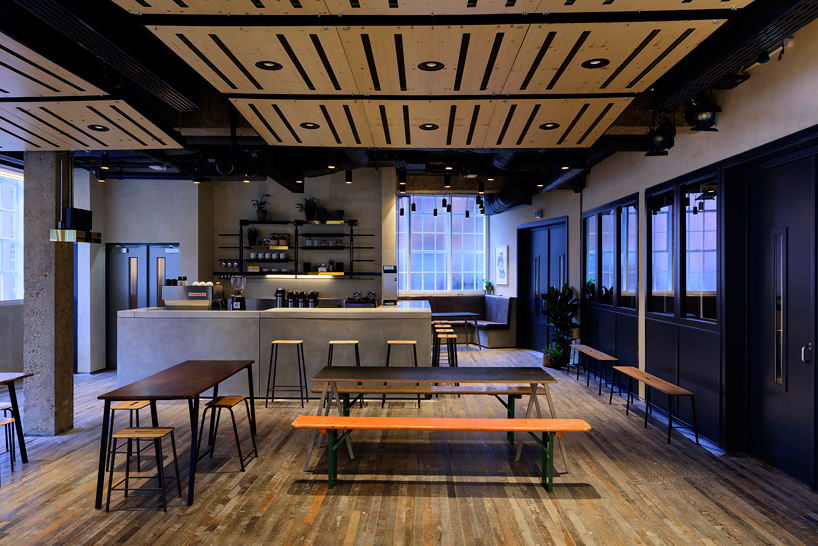 SONOS studio london hosts a café and bar area that is run by magnus reid, founder of C.R.E.A.M. café
SONOS studio london is a simple concept: an old building, rooted in the industrious part of the city that has been updated in order to remain relevant to the community around it, devoted to experiences that are built around art, music and technology — a true place for listening.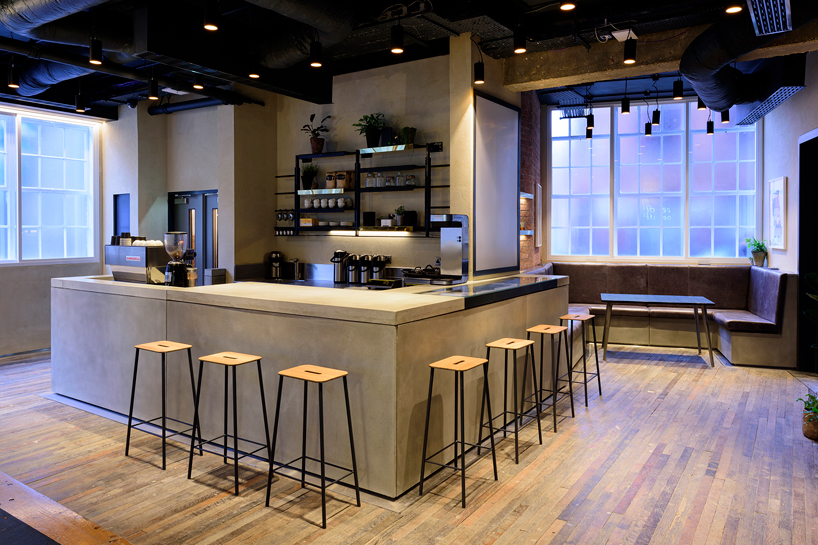 alternative view of the café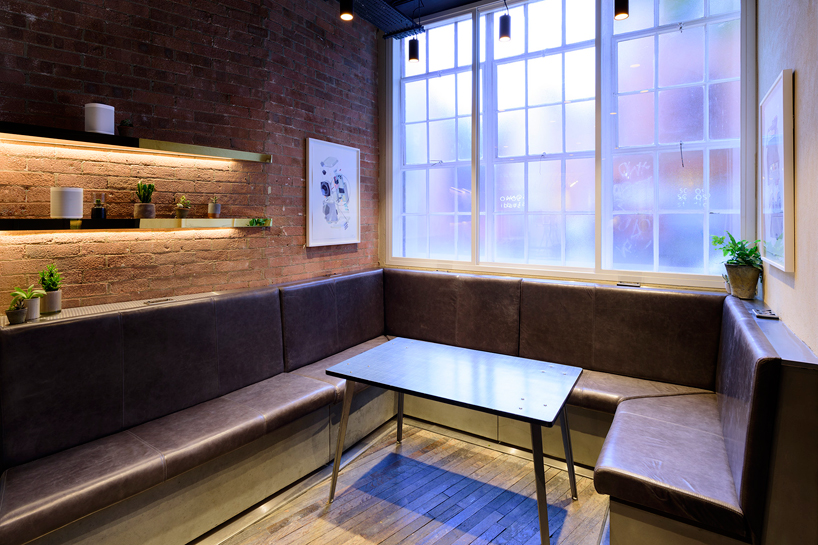 bench seating offers a cozy atmosphere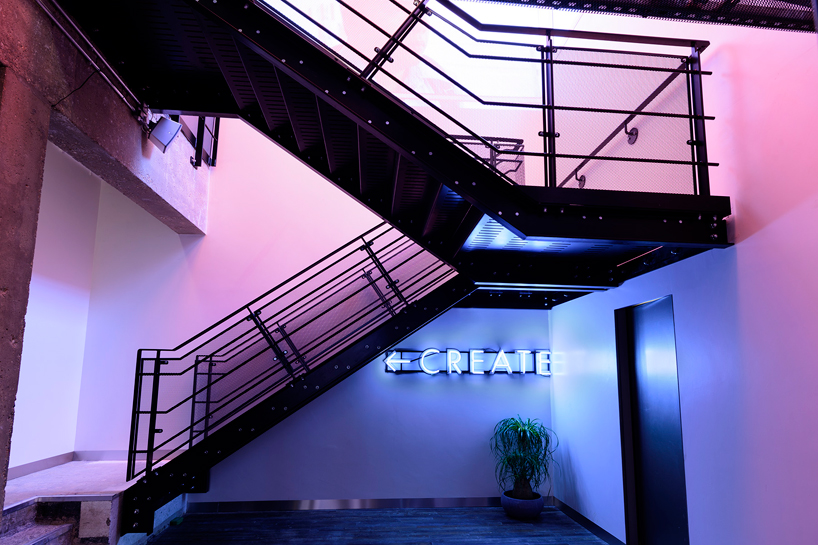 a remodeled staircase guides visitors between the floors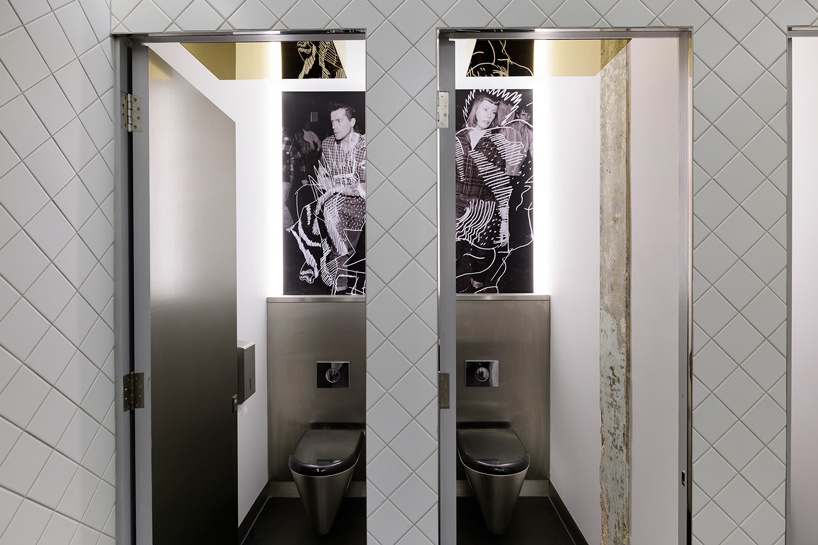 the bathroom tiling draws on those seen at stax records

the 'making of' the SONOS studio in london
video courtesy of SONOS
oct 18, 2015
oct 18, 2015
jul 24, 2010
jul 24, 2010
SONOS
(5 articles)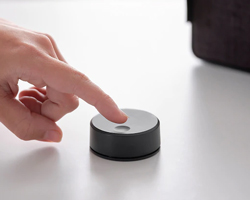 sep 12, 2019
sep 12, 2019
aug 16, 2018
aug 16, 2018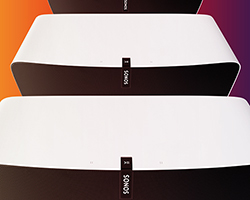 oct 02, 2015
oct 02, 2015
a diverse digital database that acts as a valuable guide in gaining insight and information about a product directly from the manufacturer, and serves as a rich reference point in developing a project or scheme.